LeConte Mountain Lodge
Select check-in and check-out dates
Please select the nights you would like to reserve using the availability calendars.
Bedrooms: 10 Bathrooms: 8 Sleeps: 31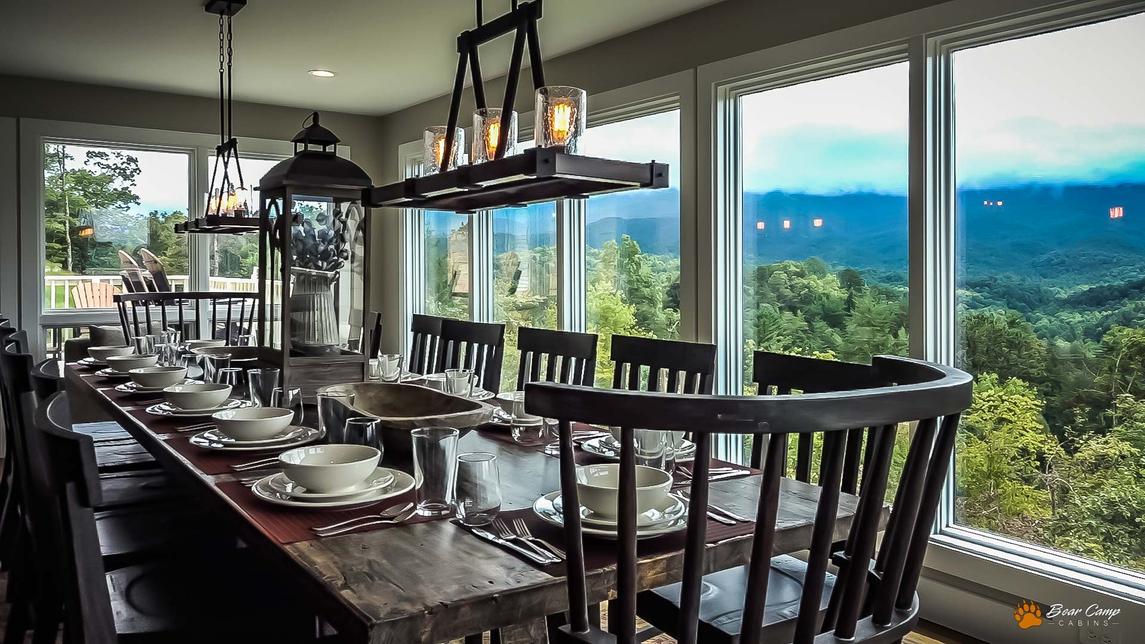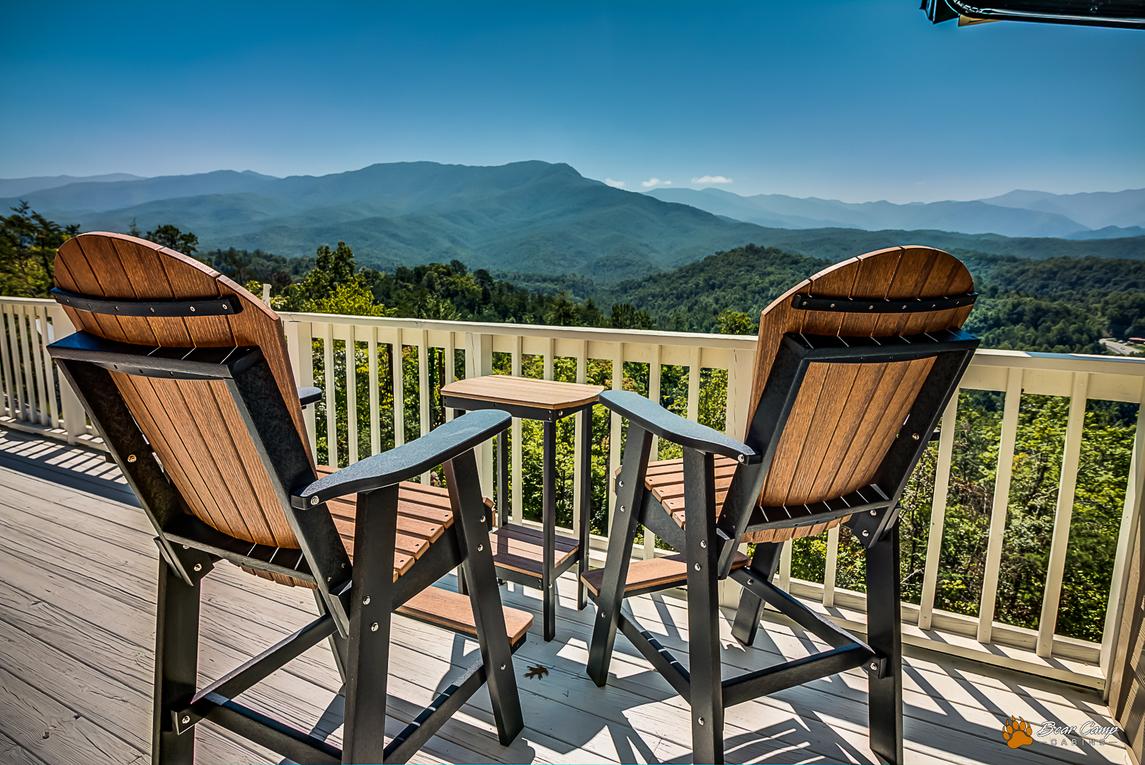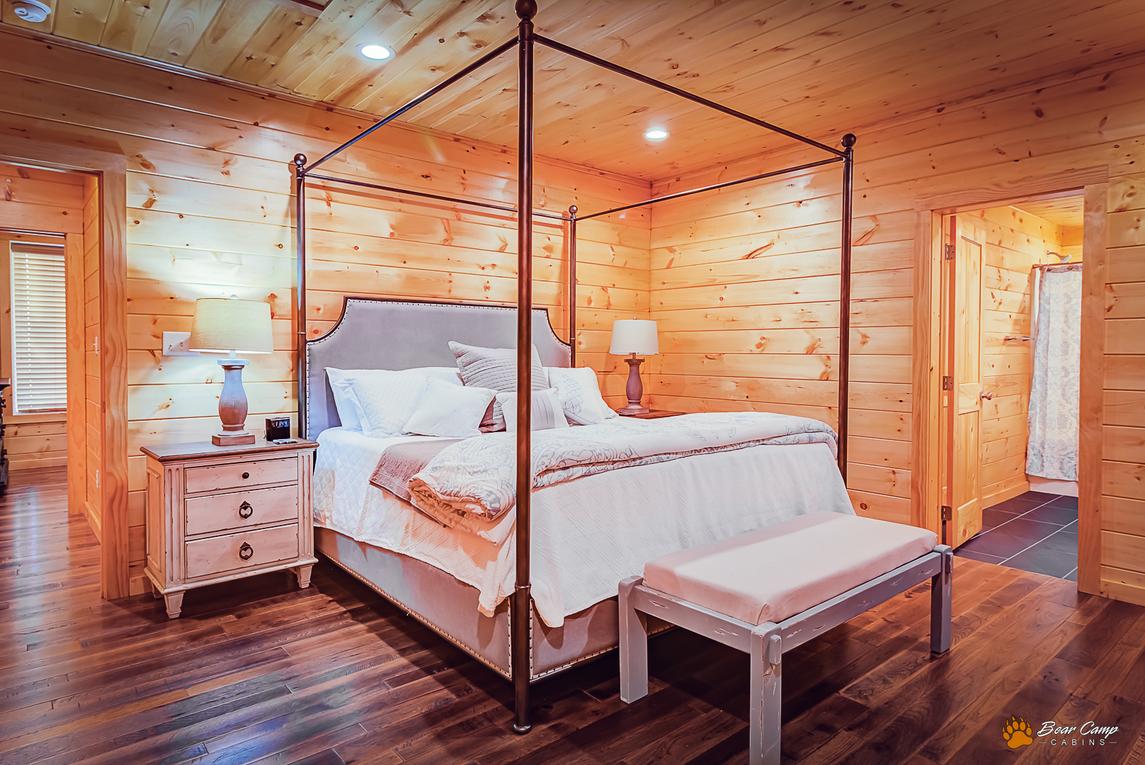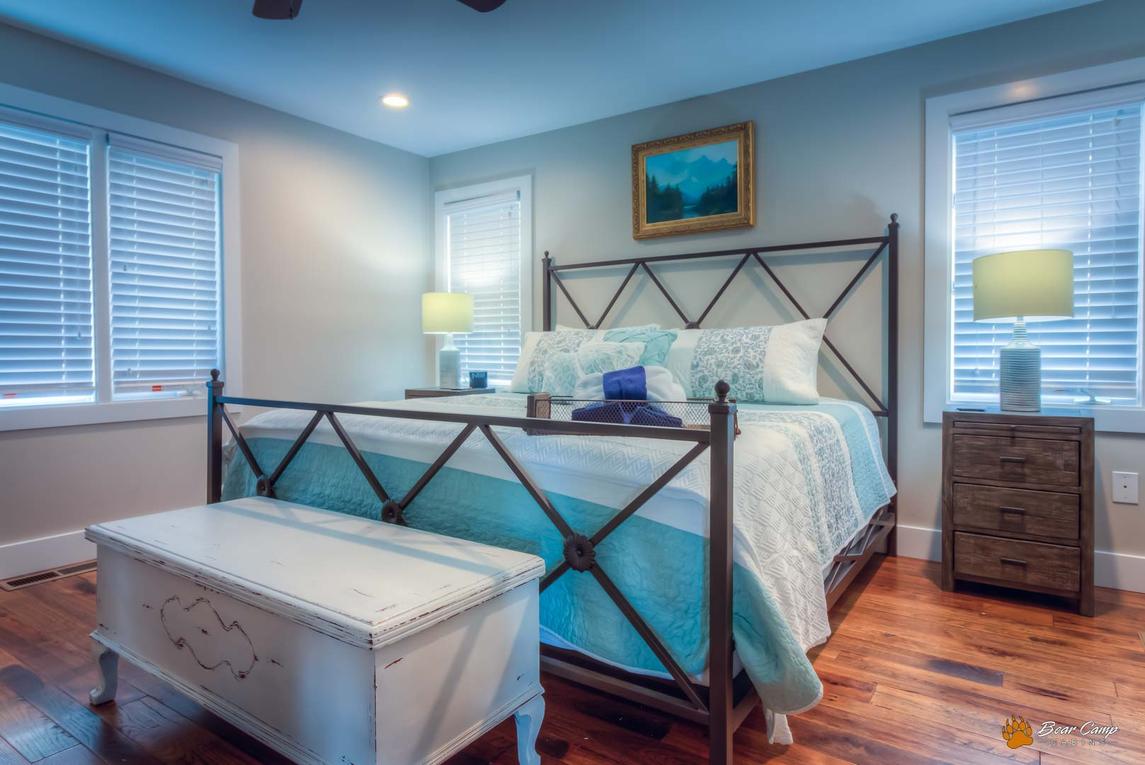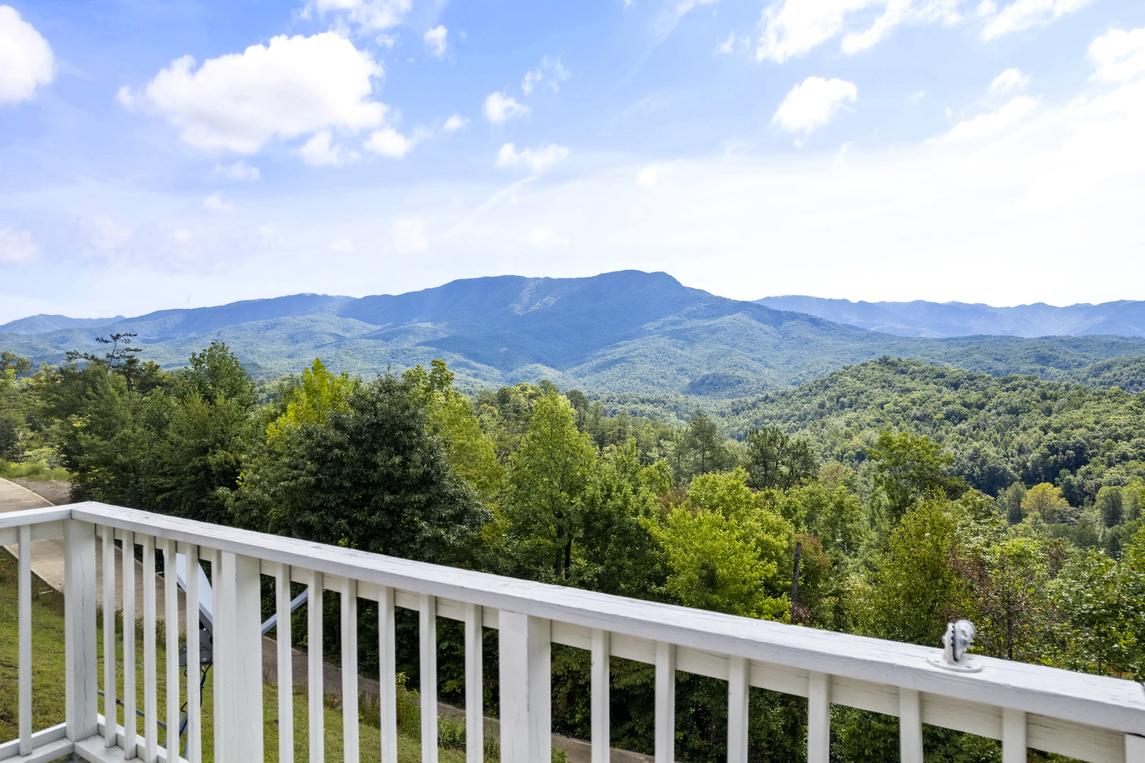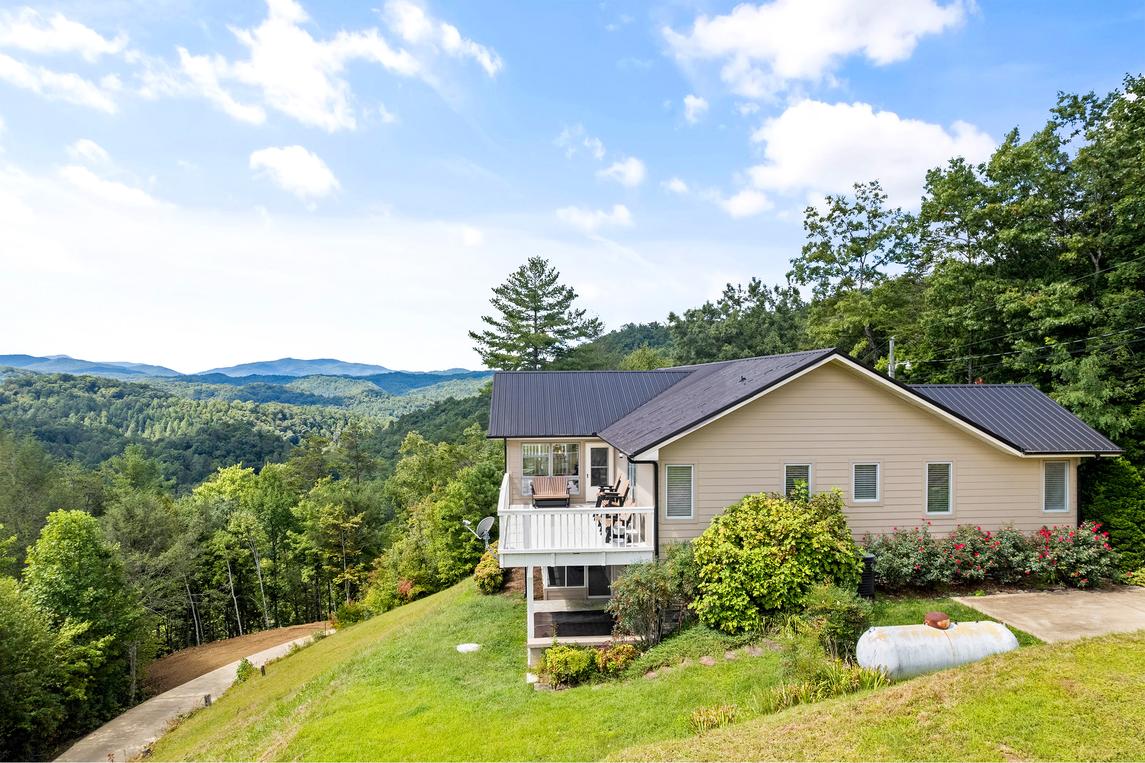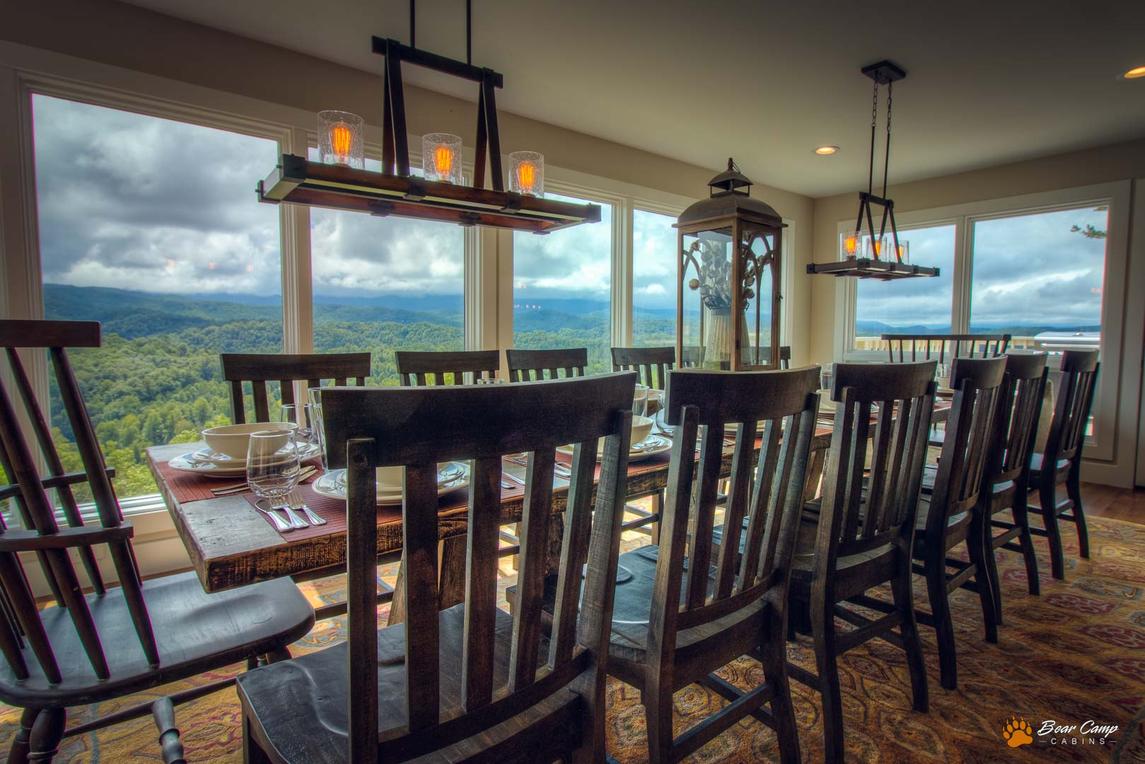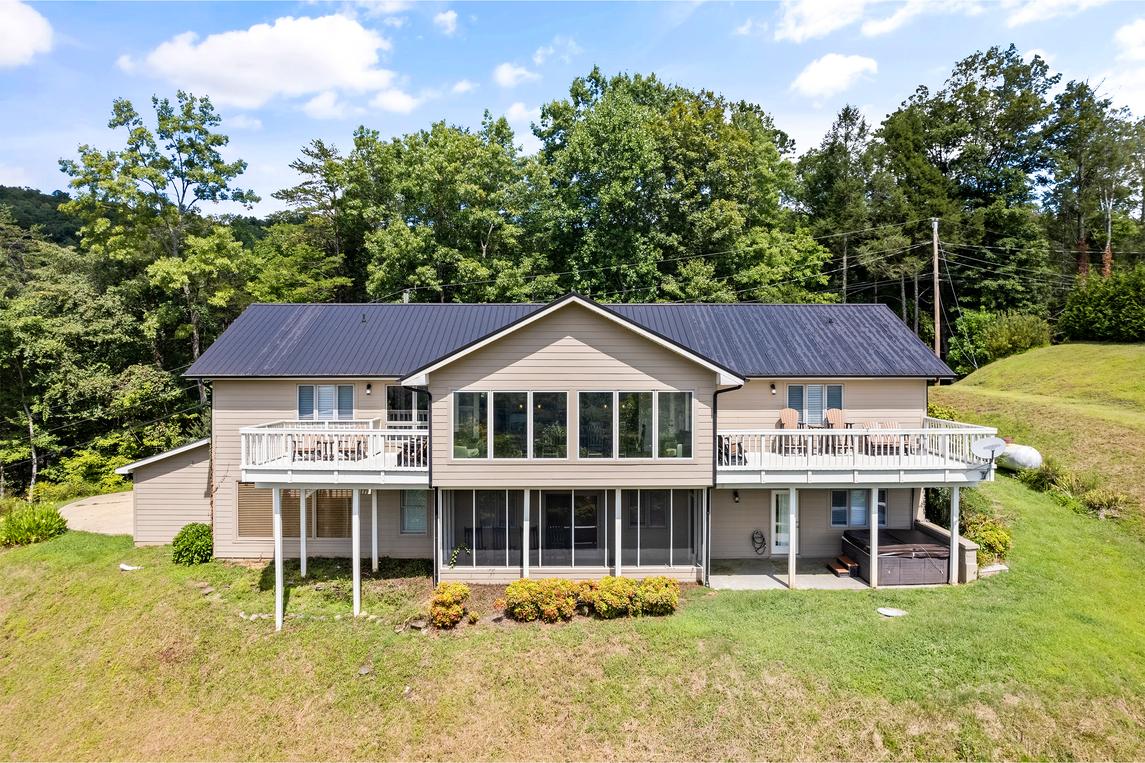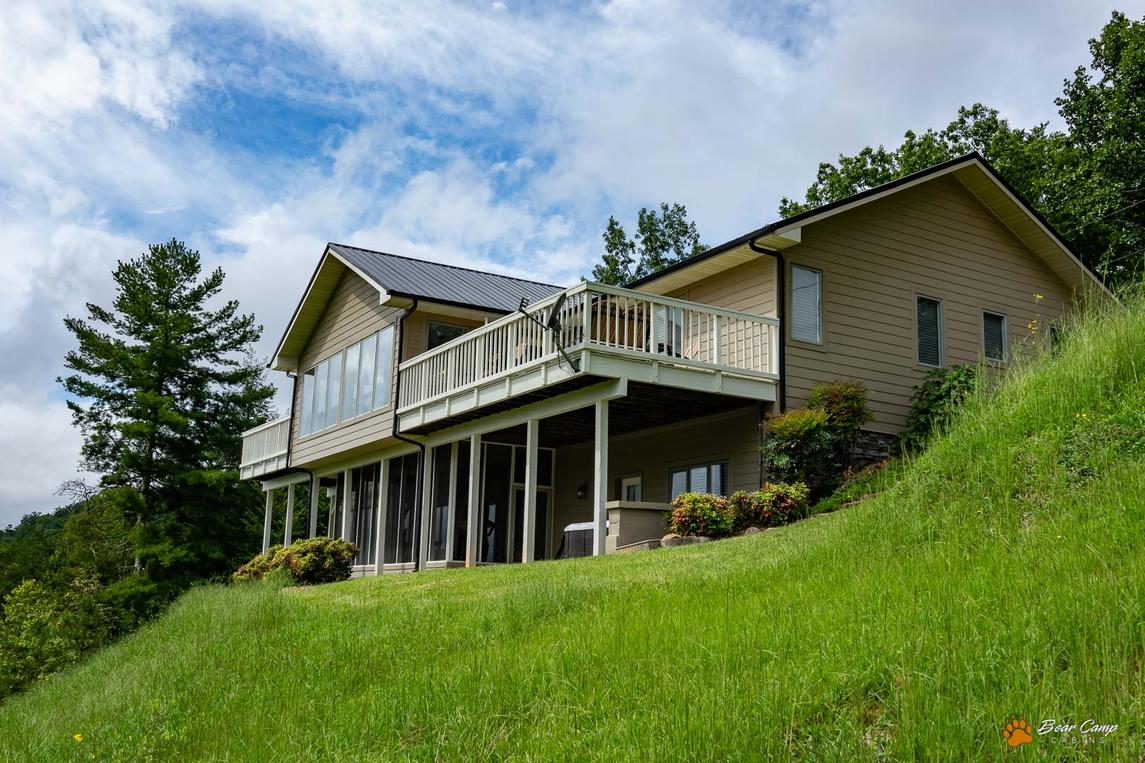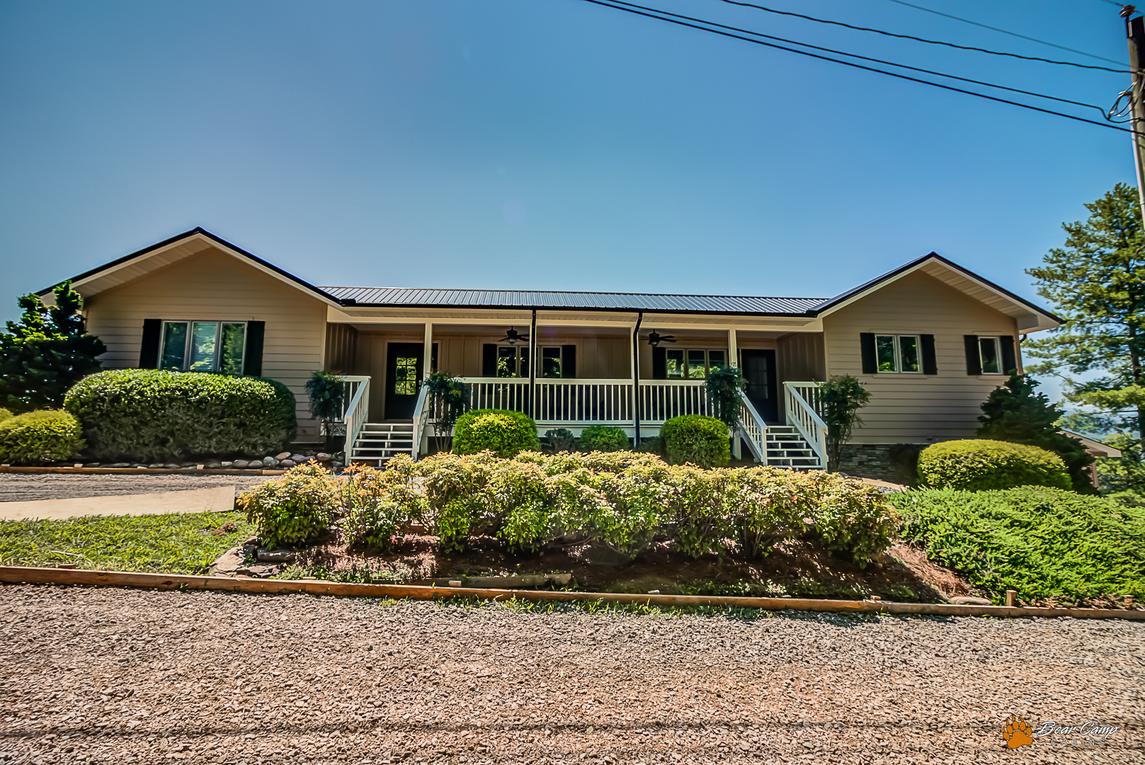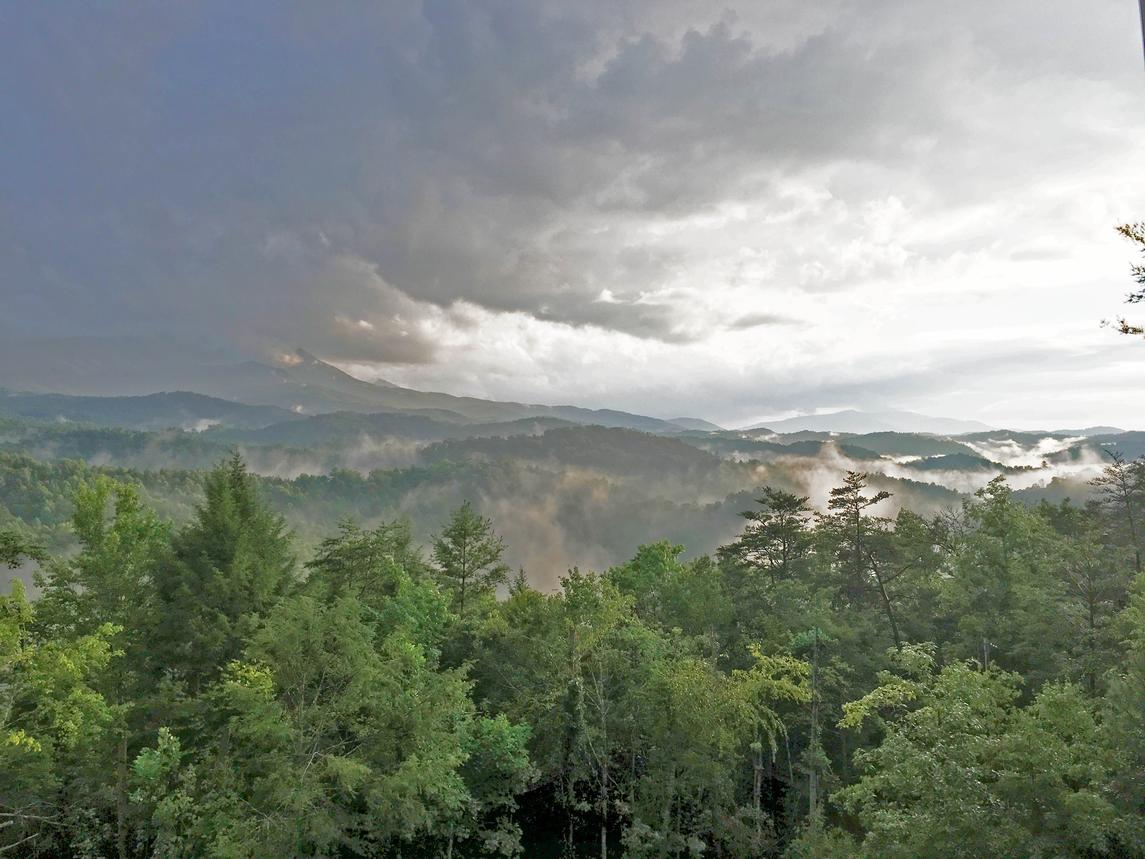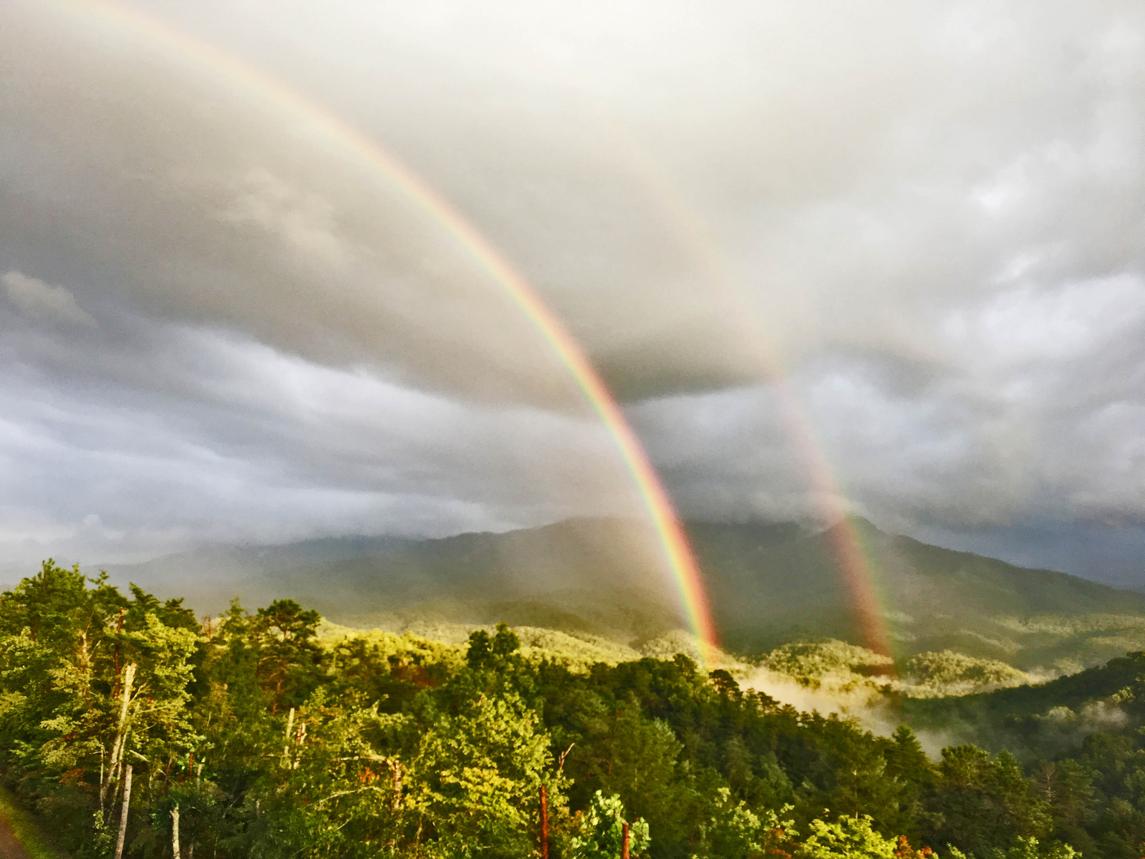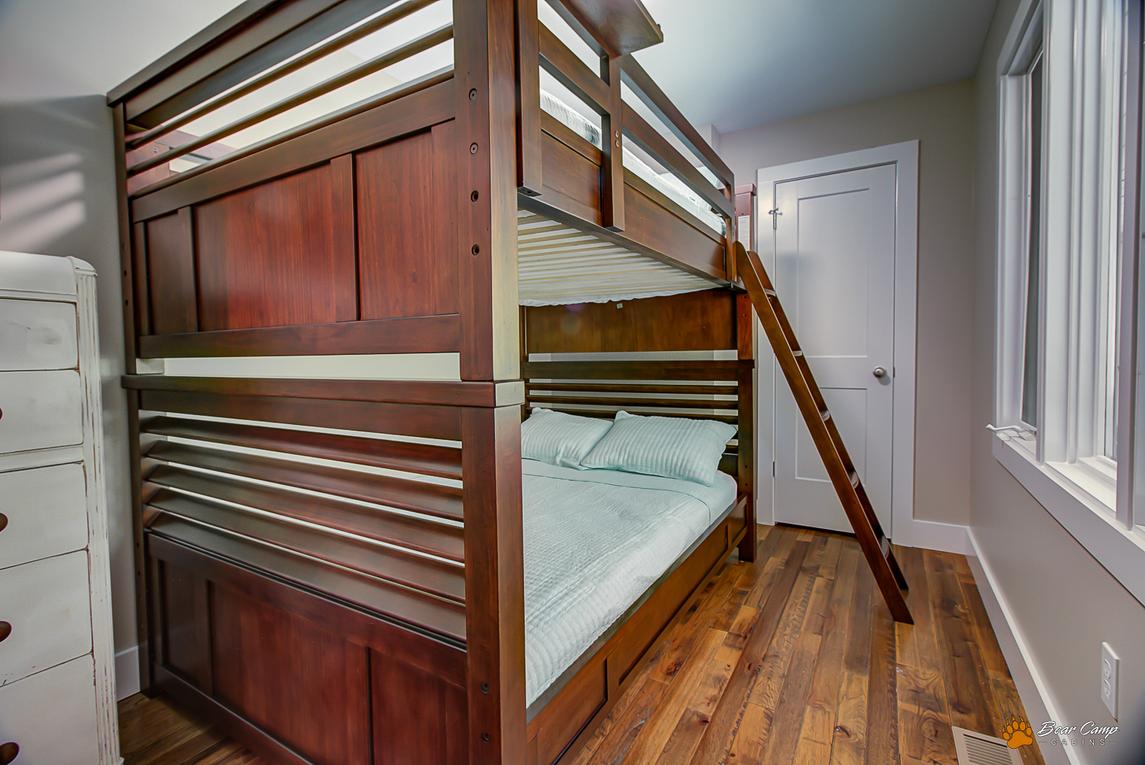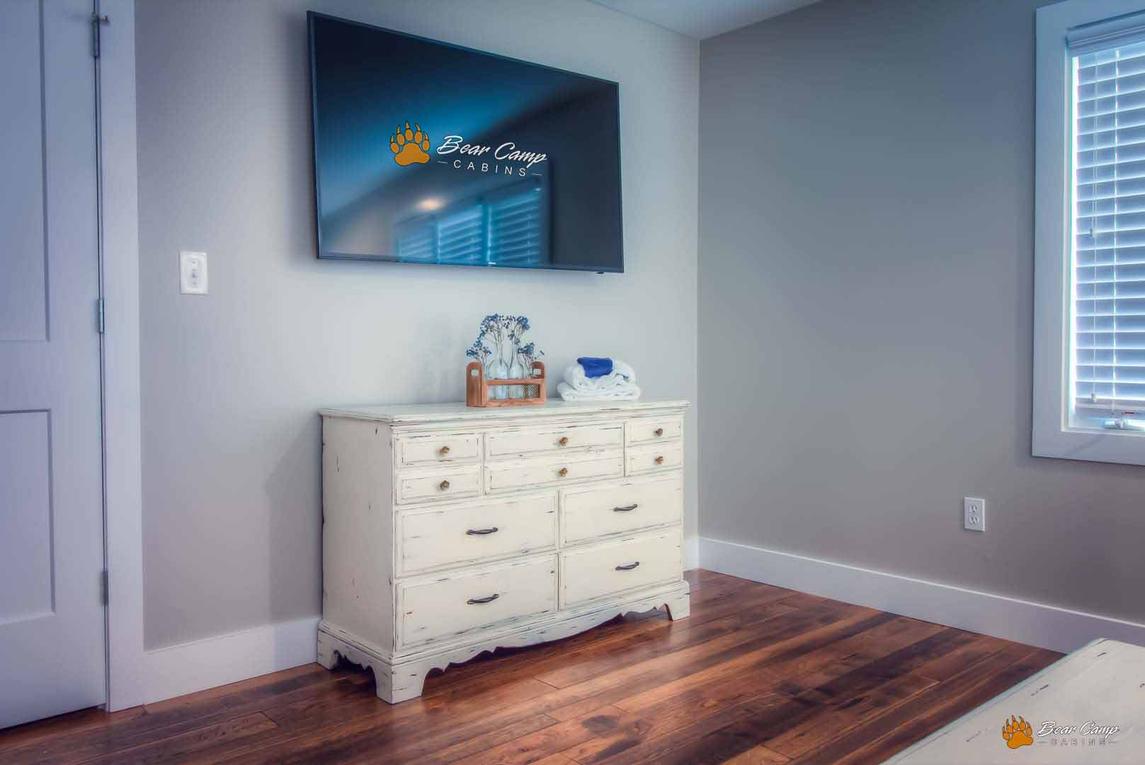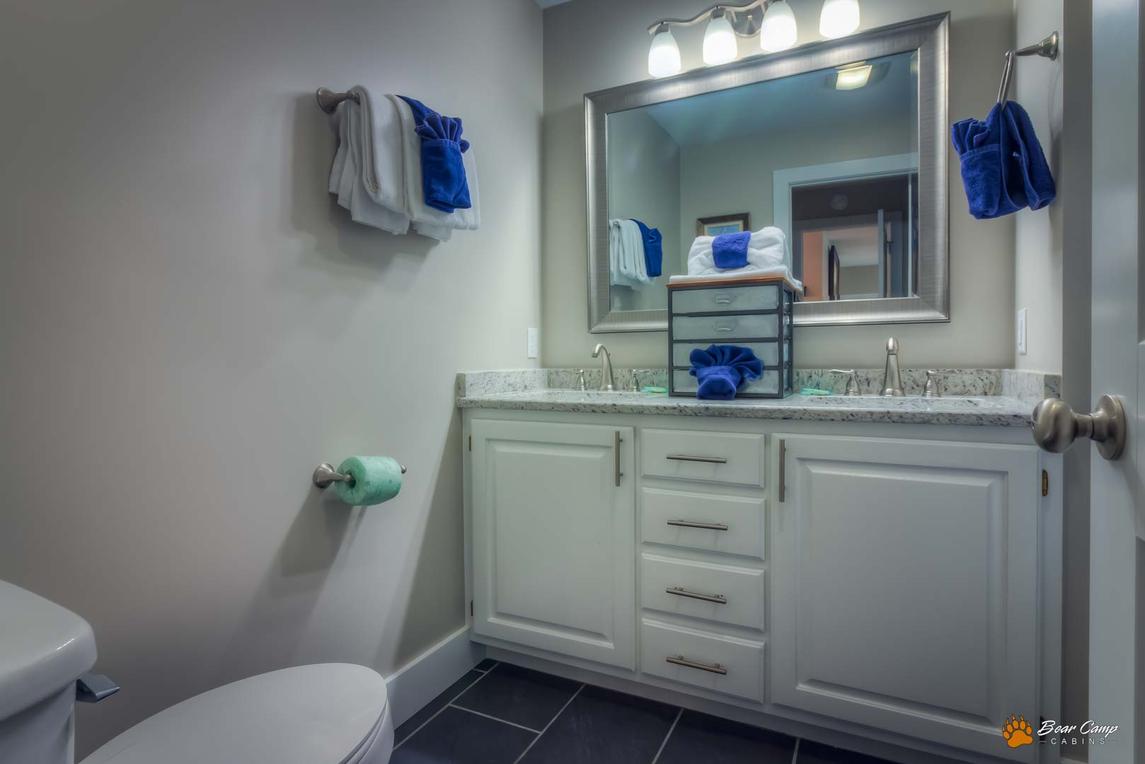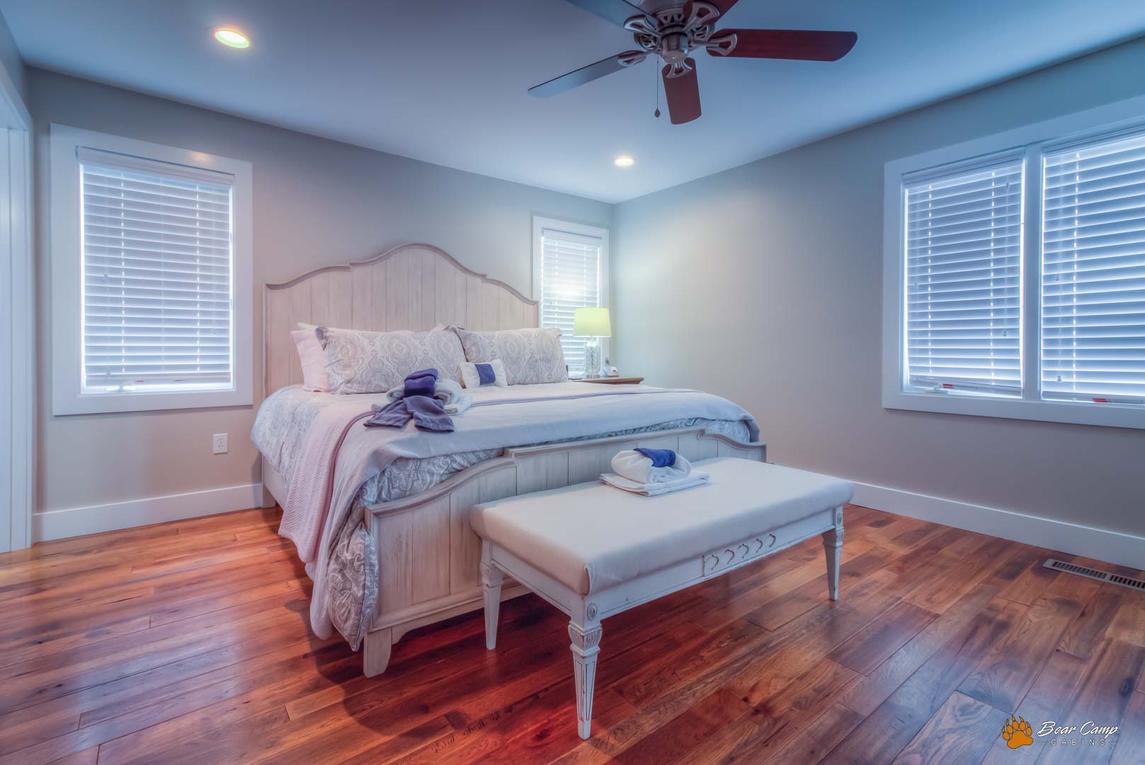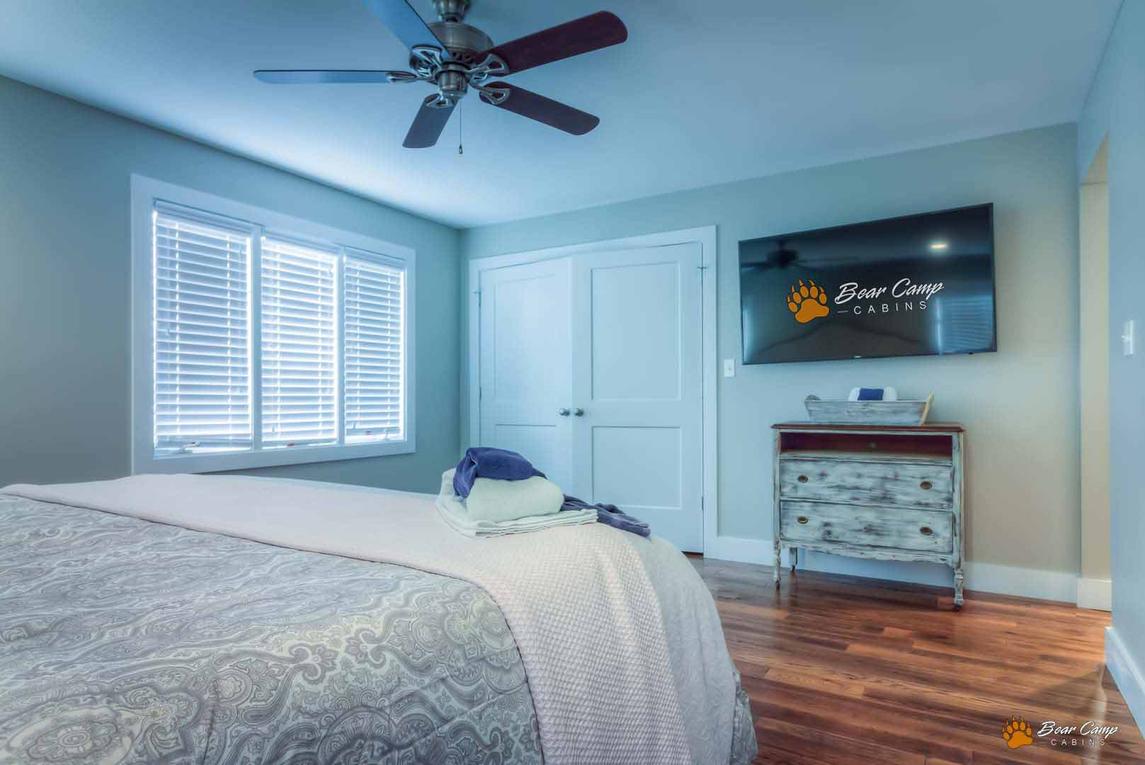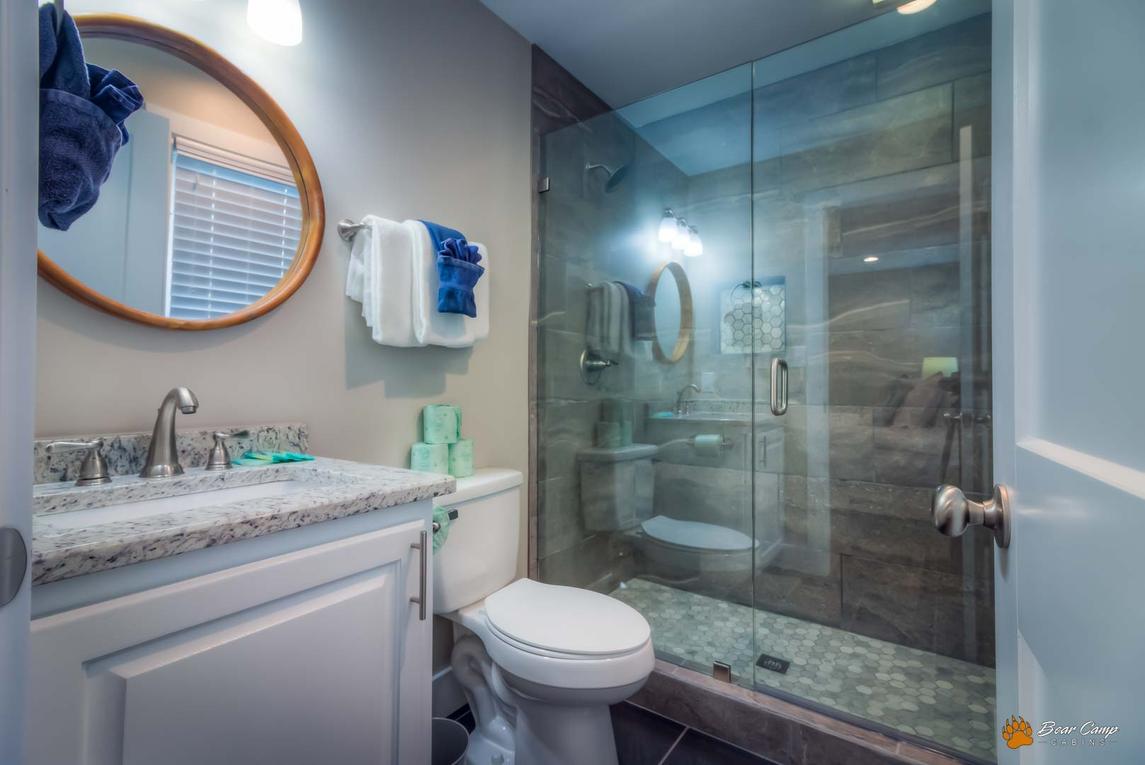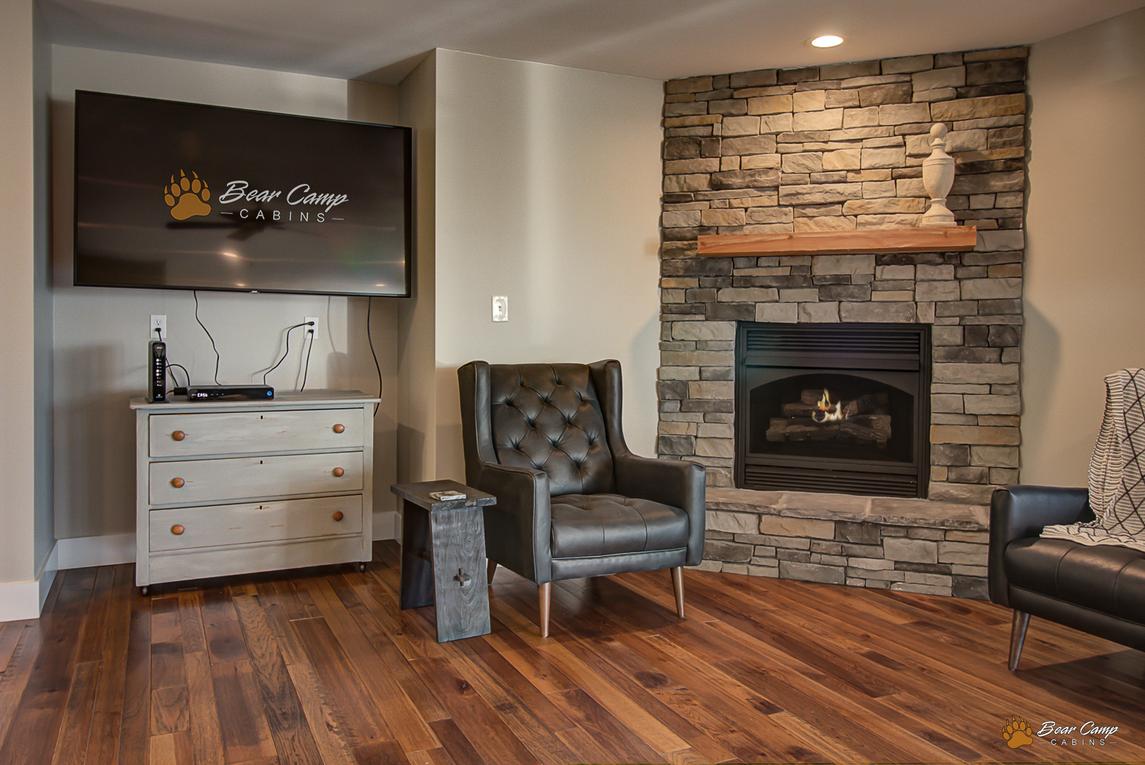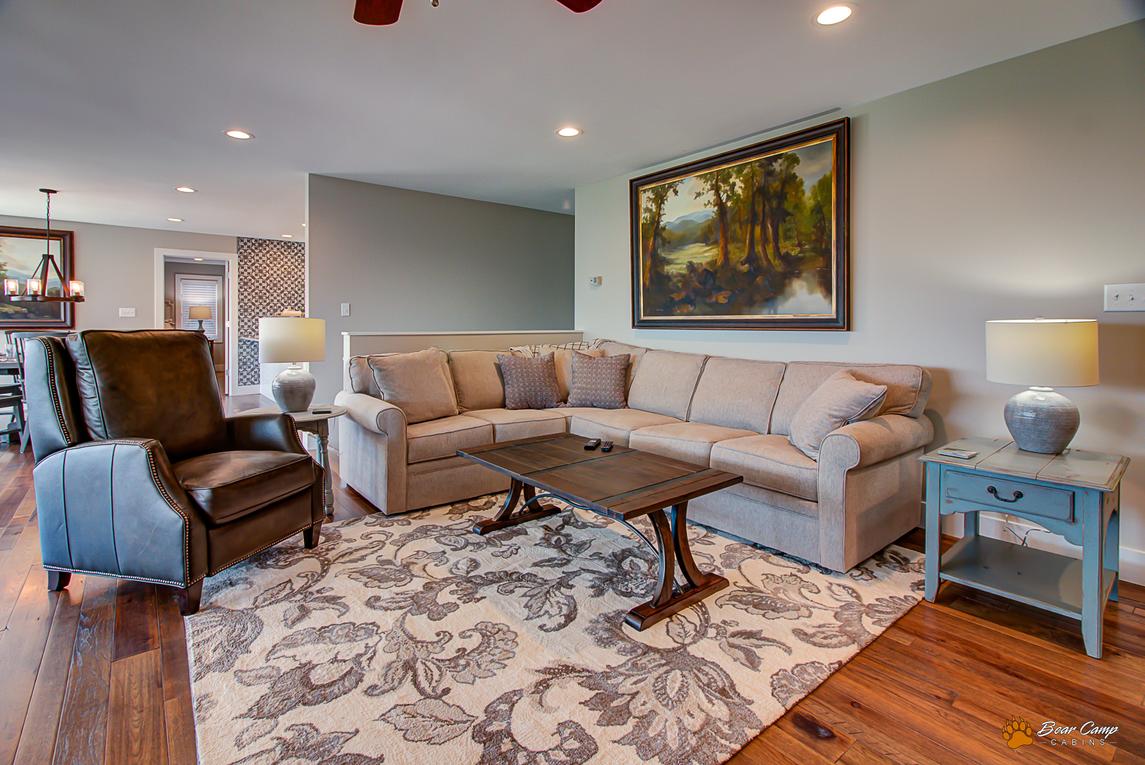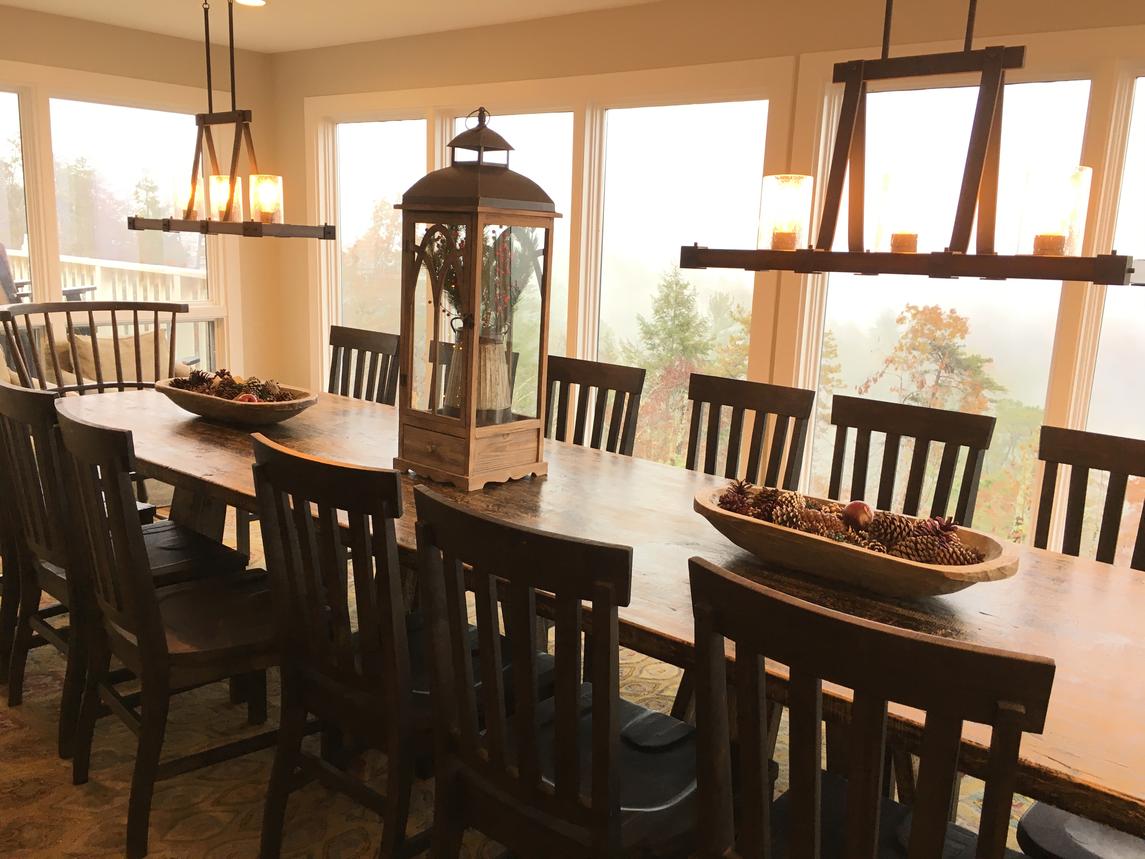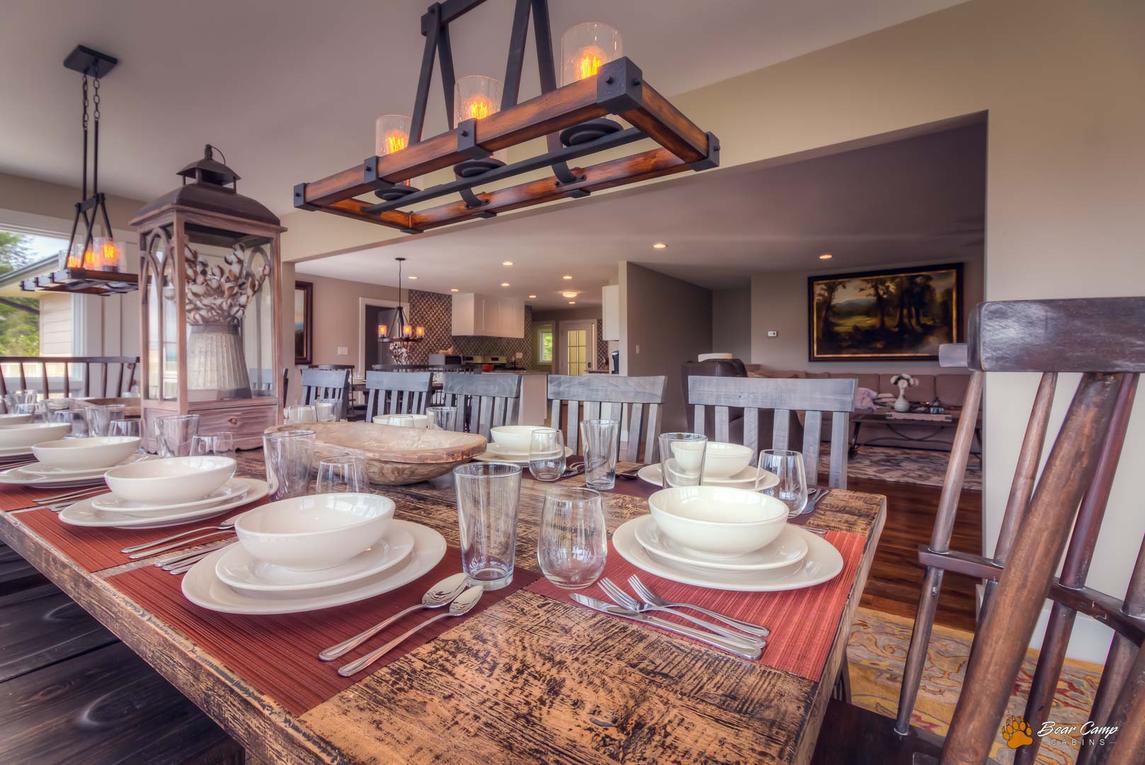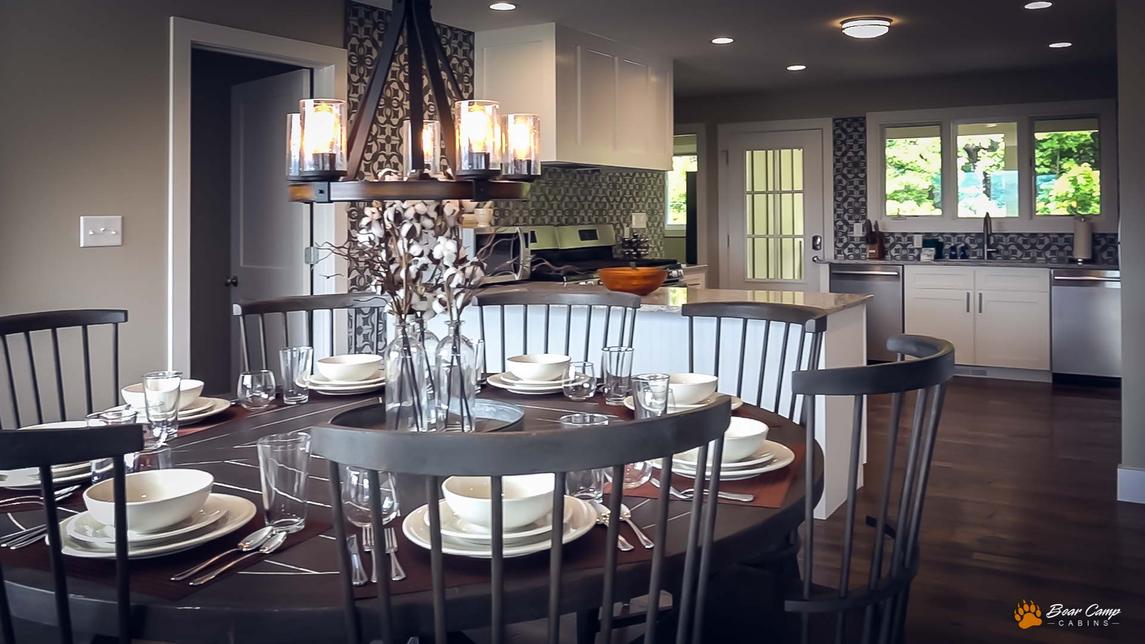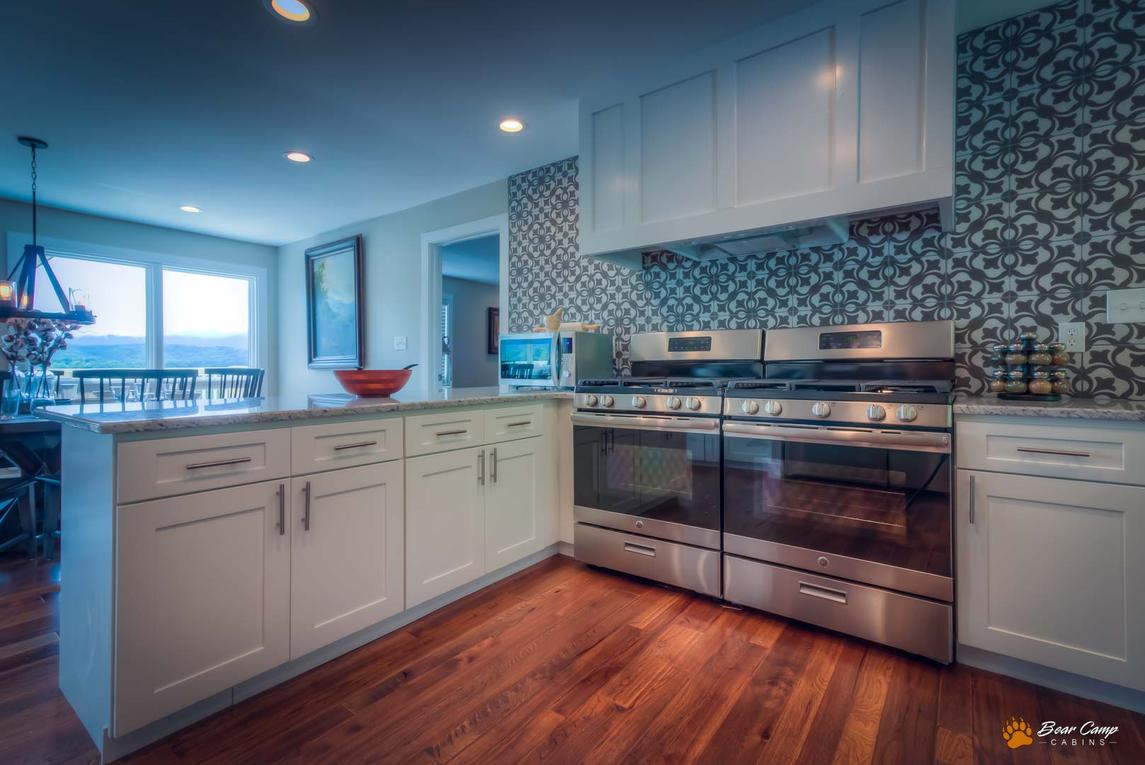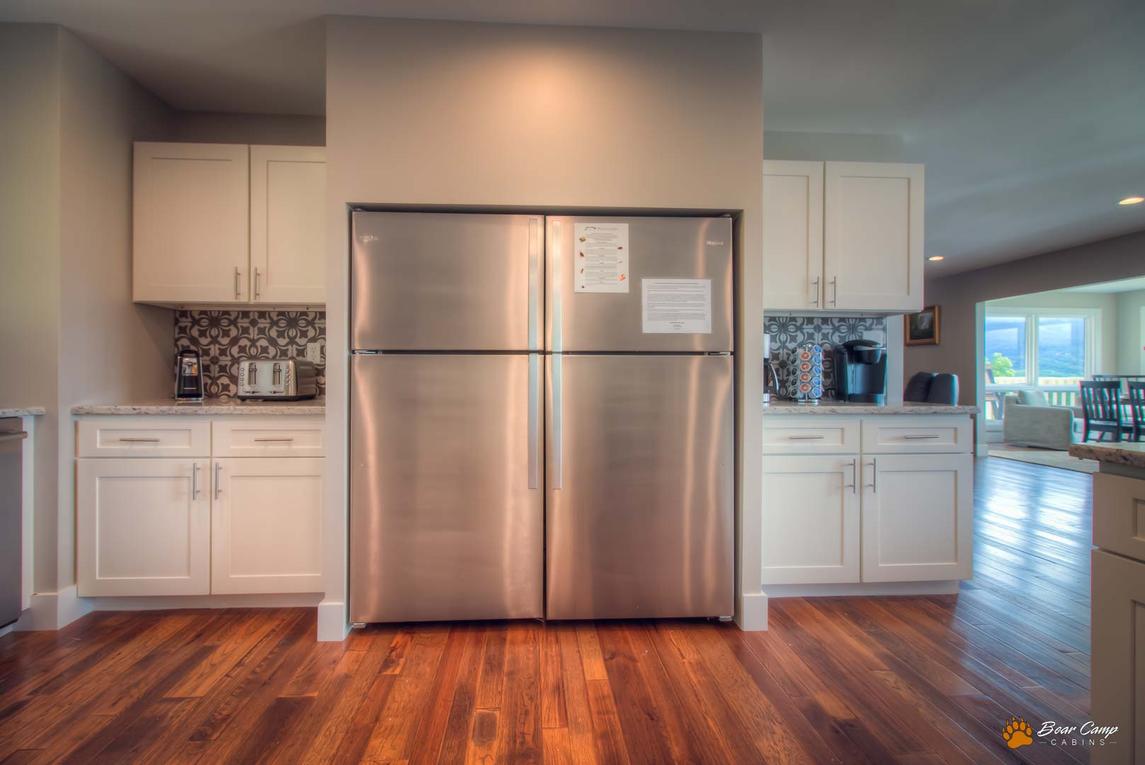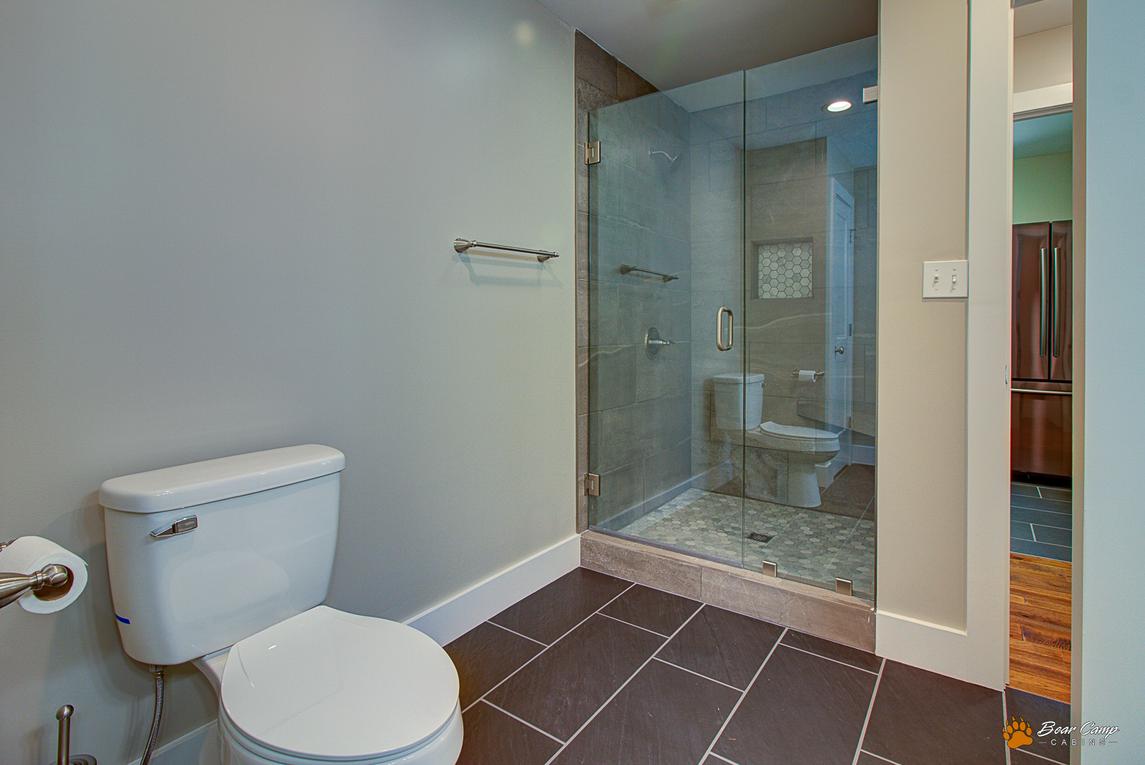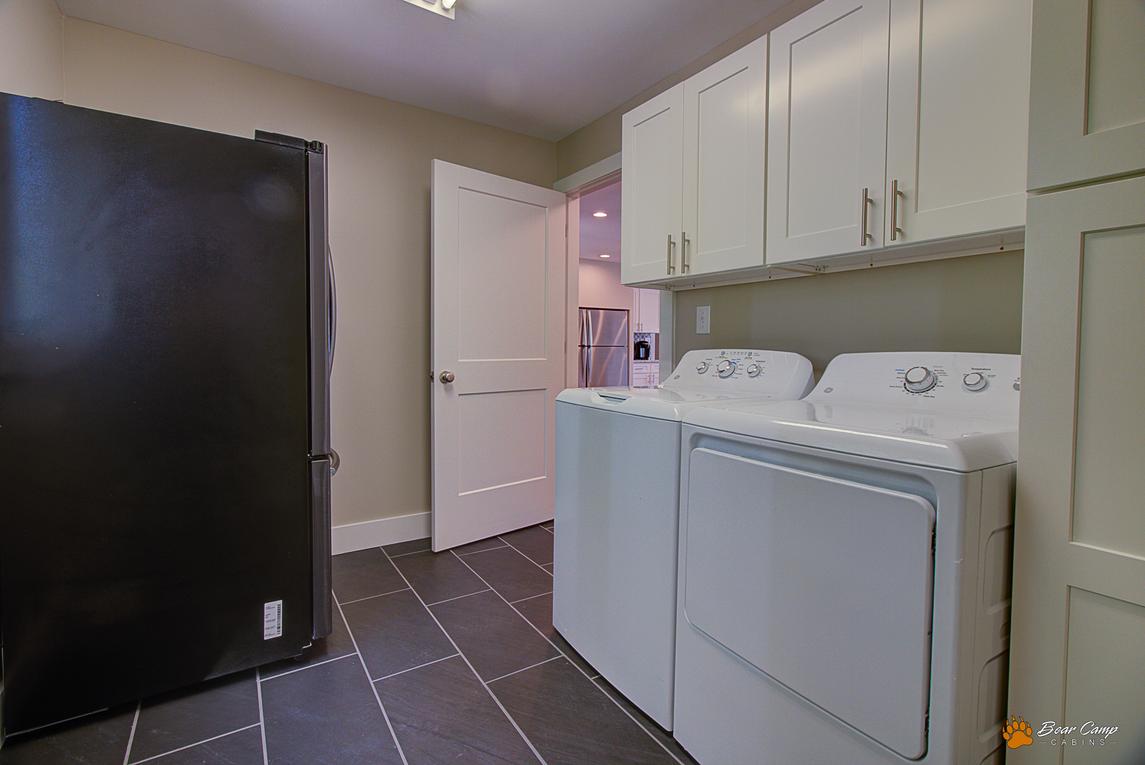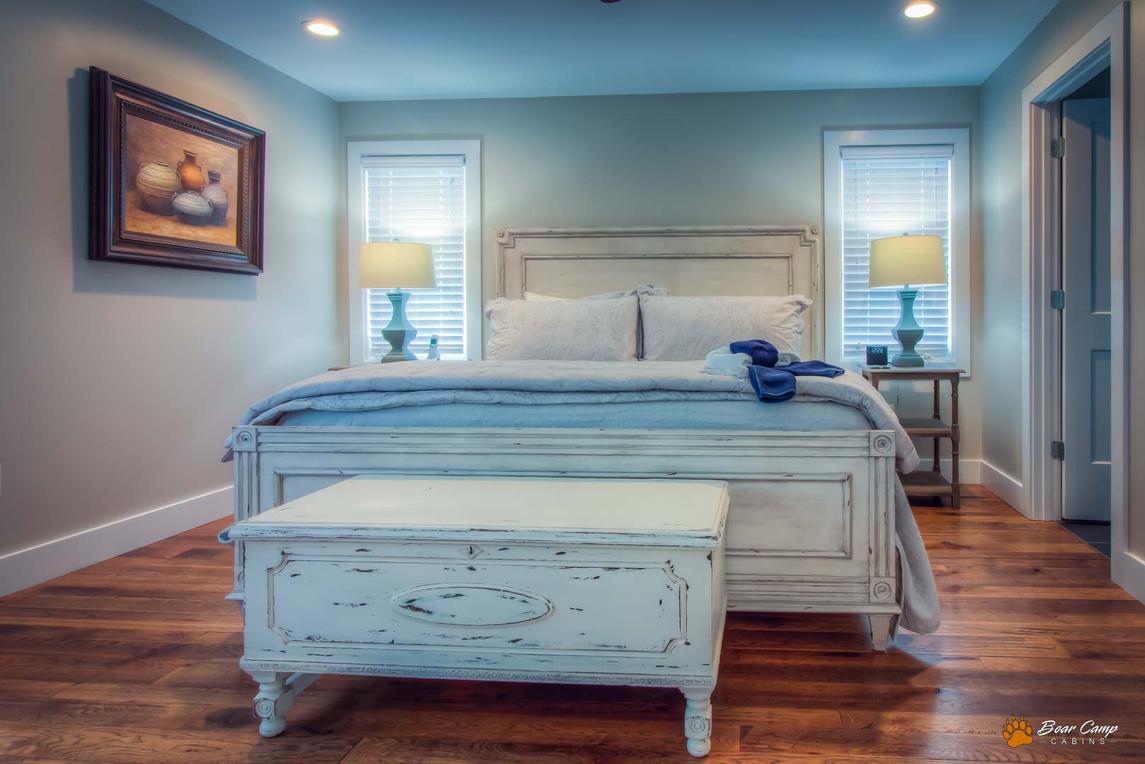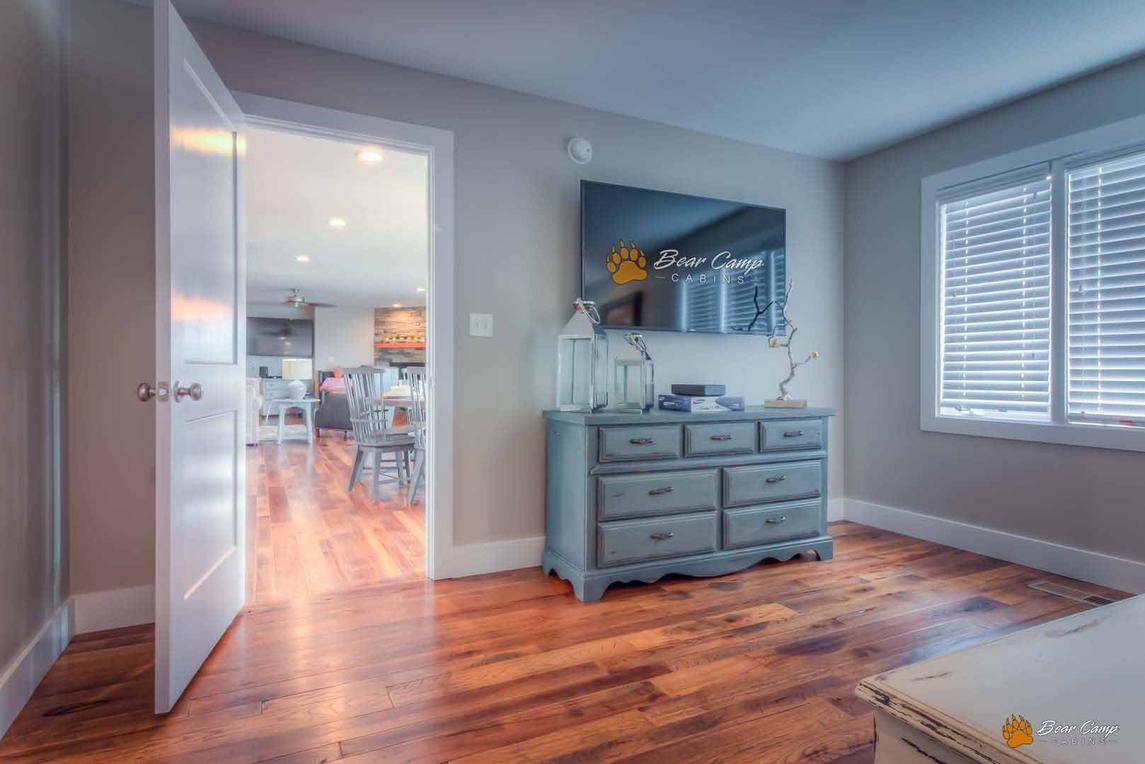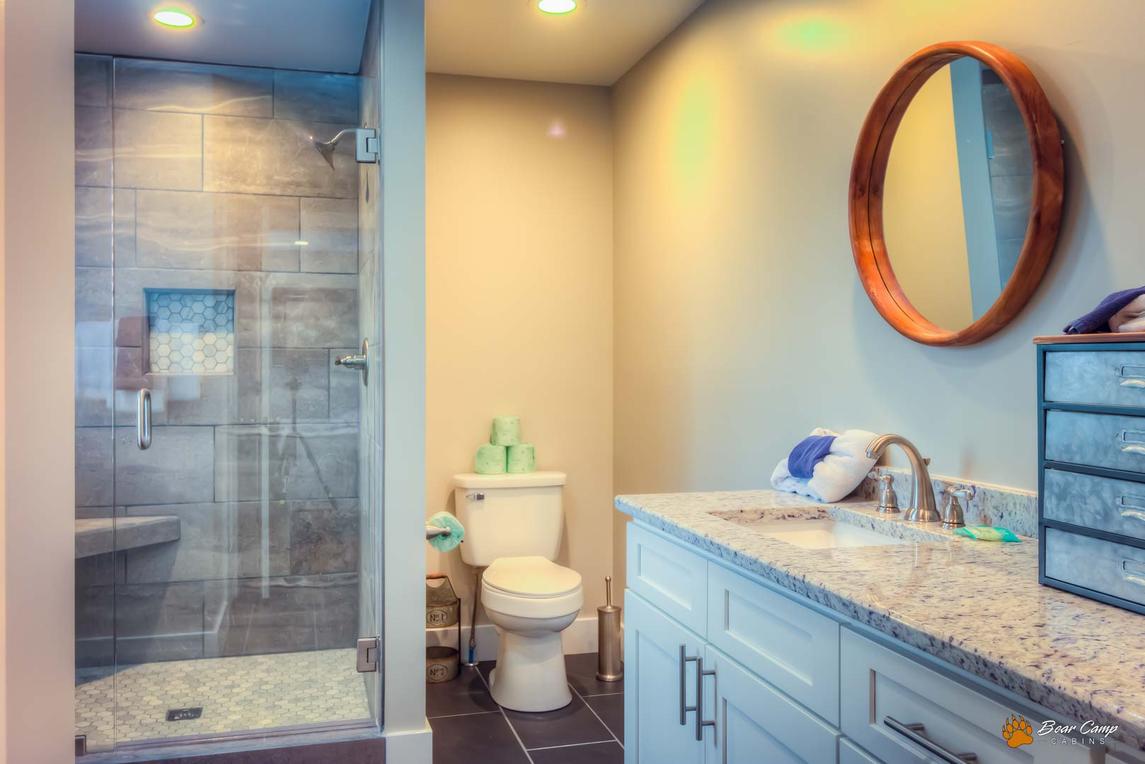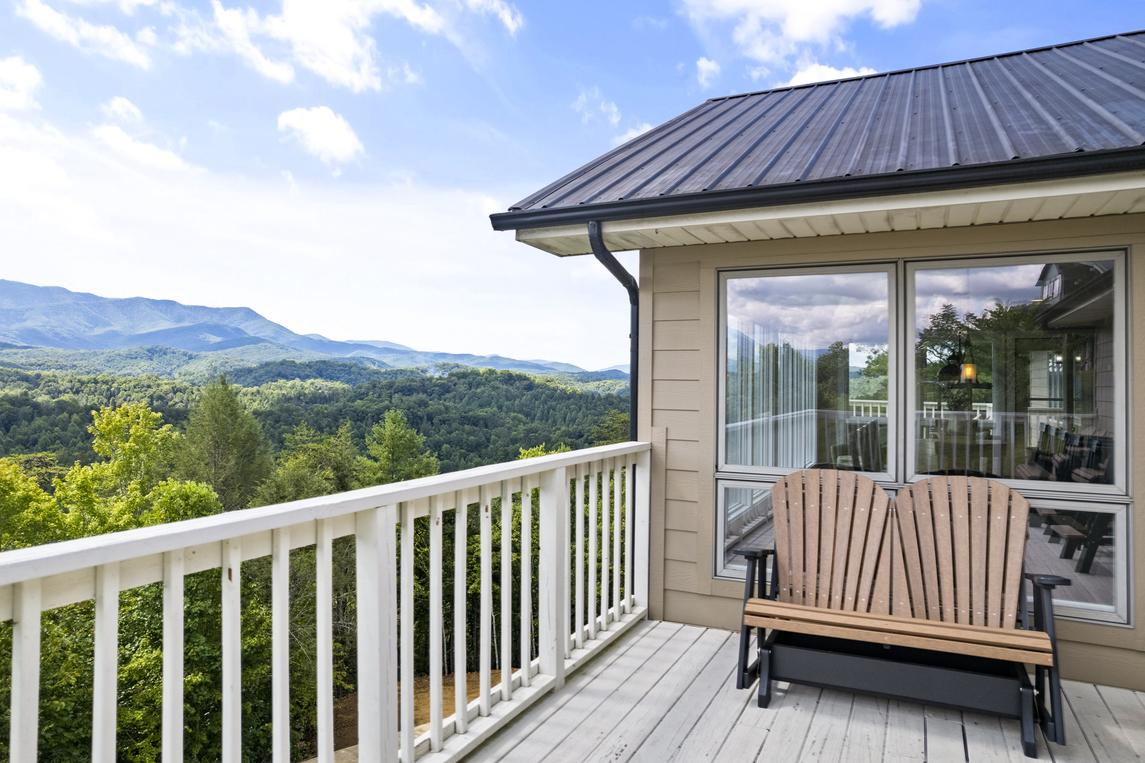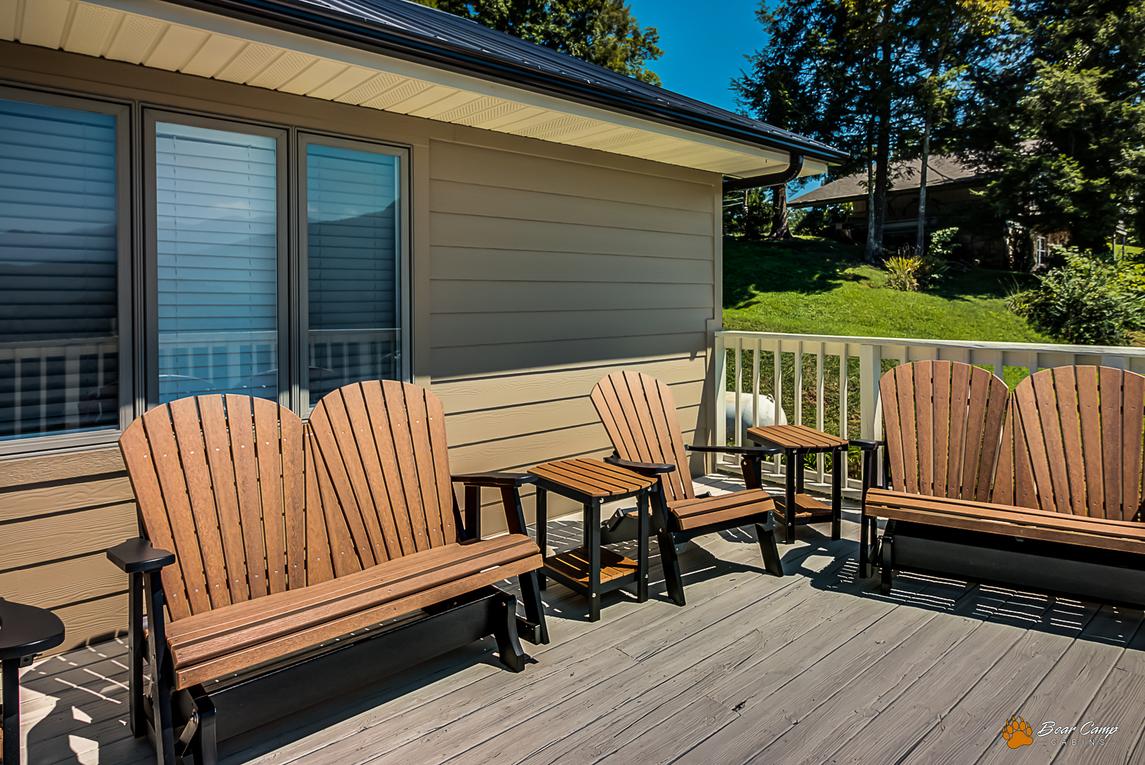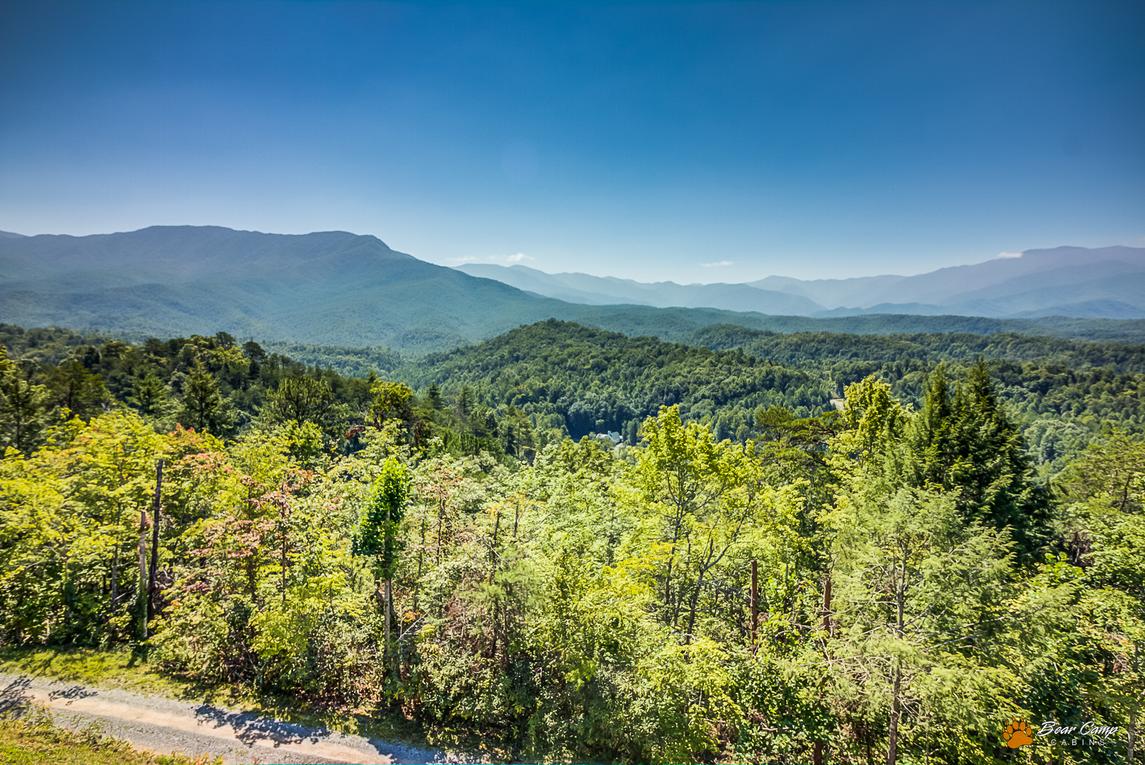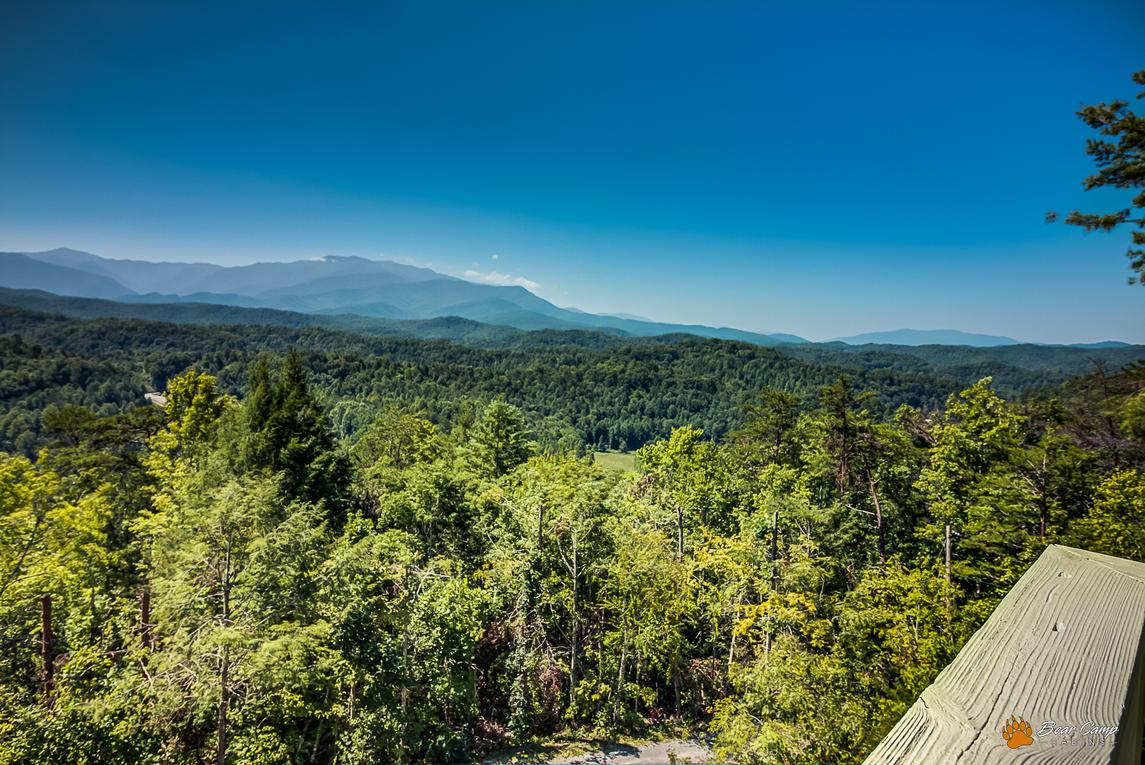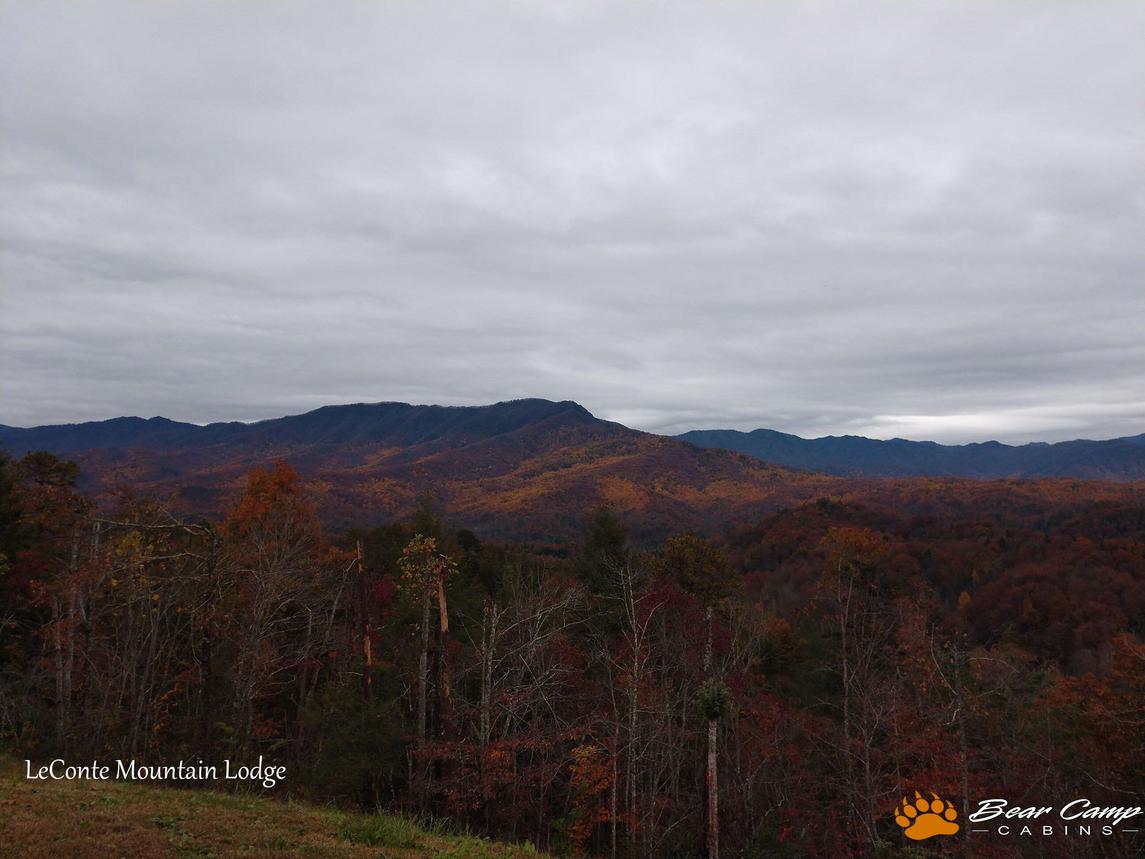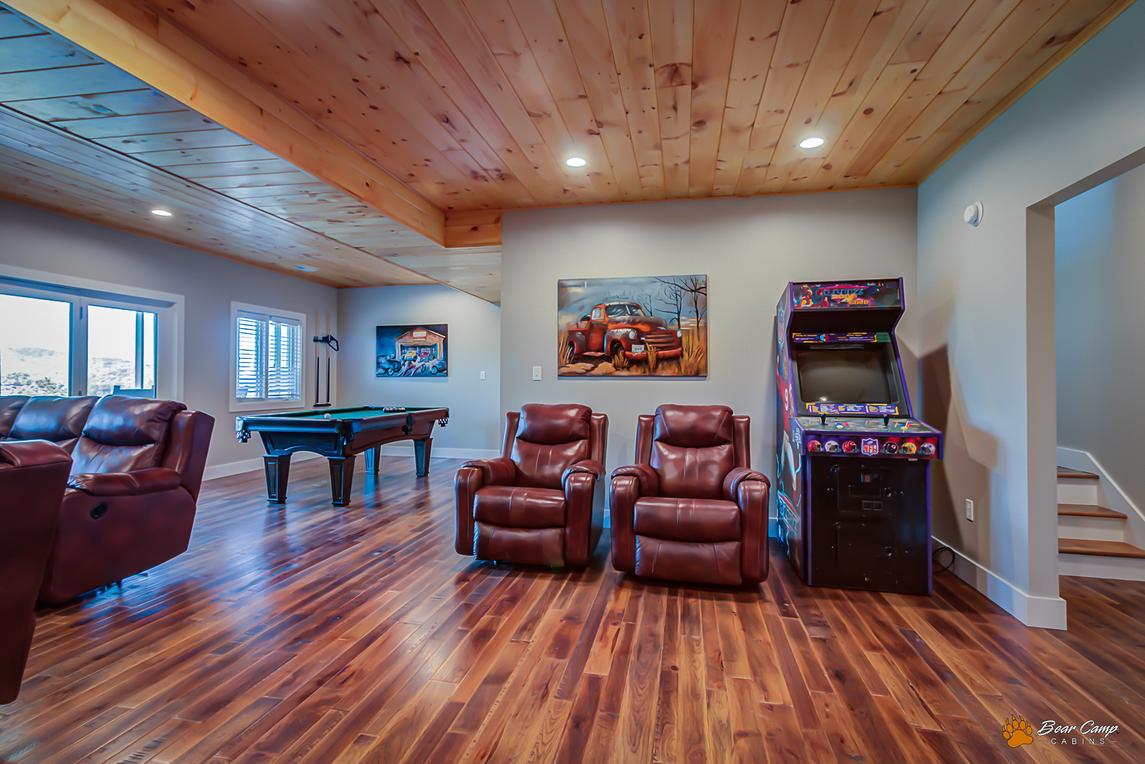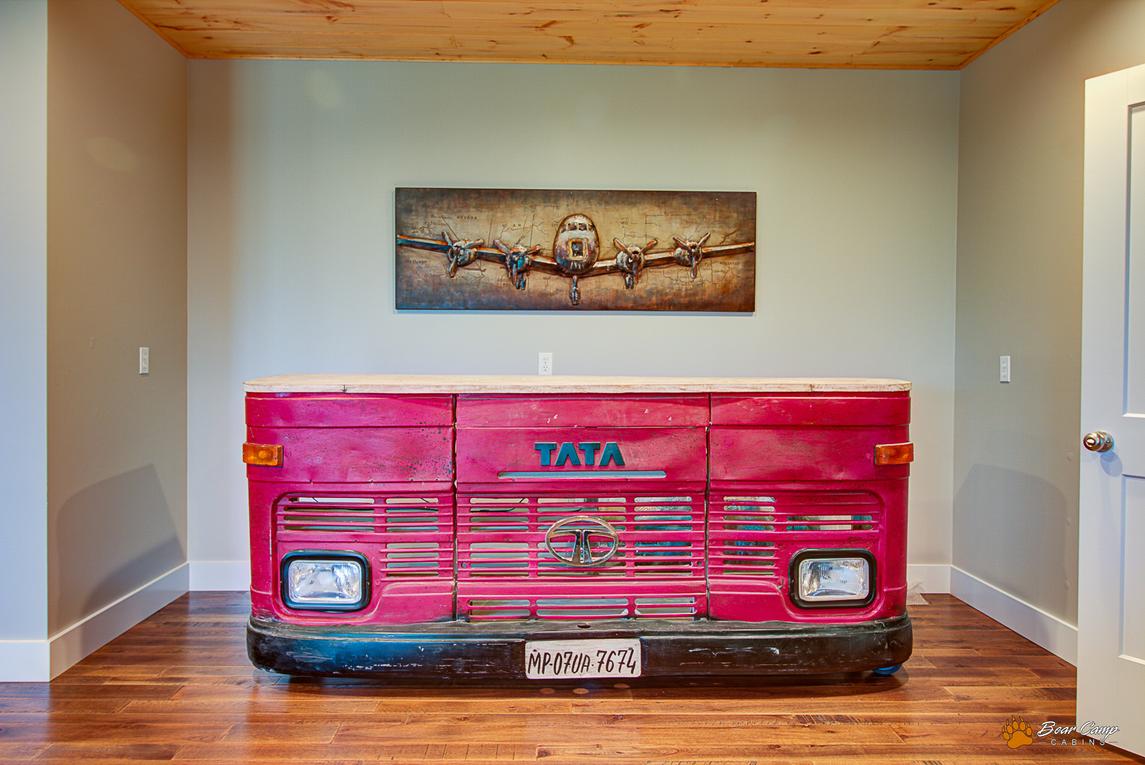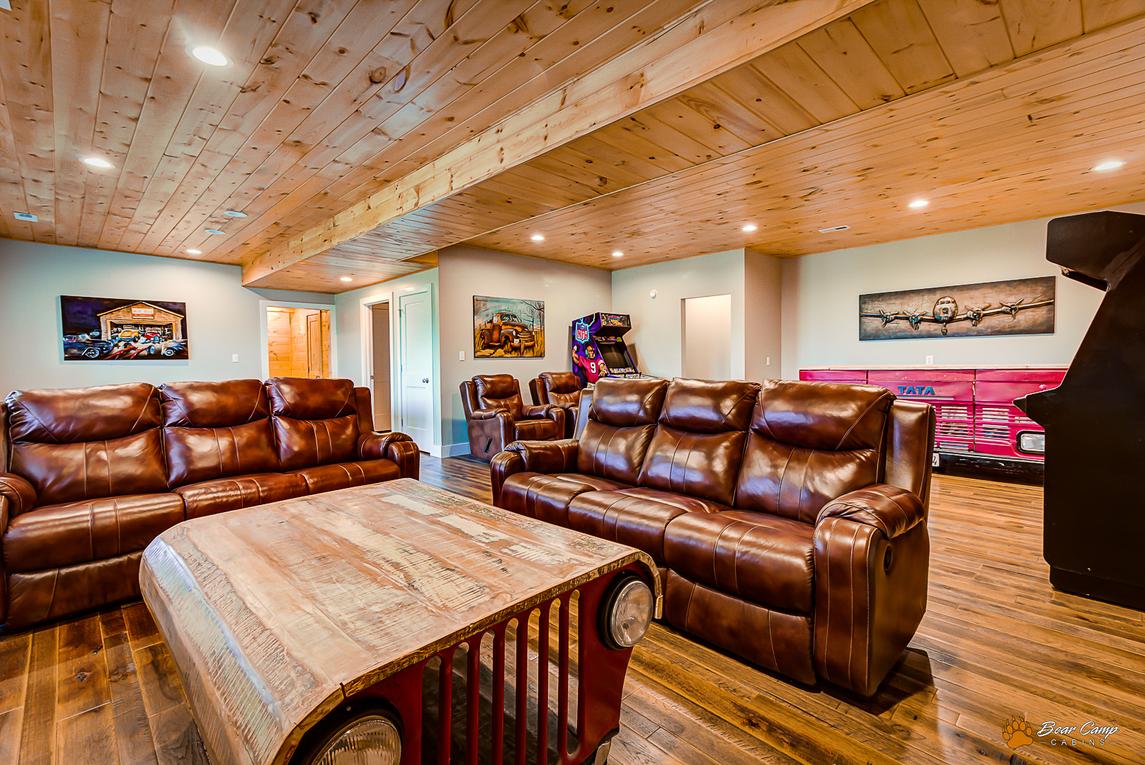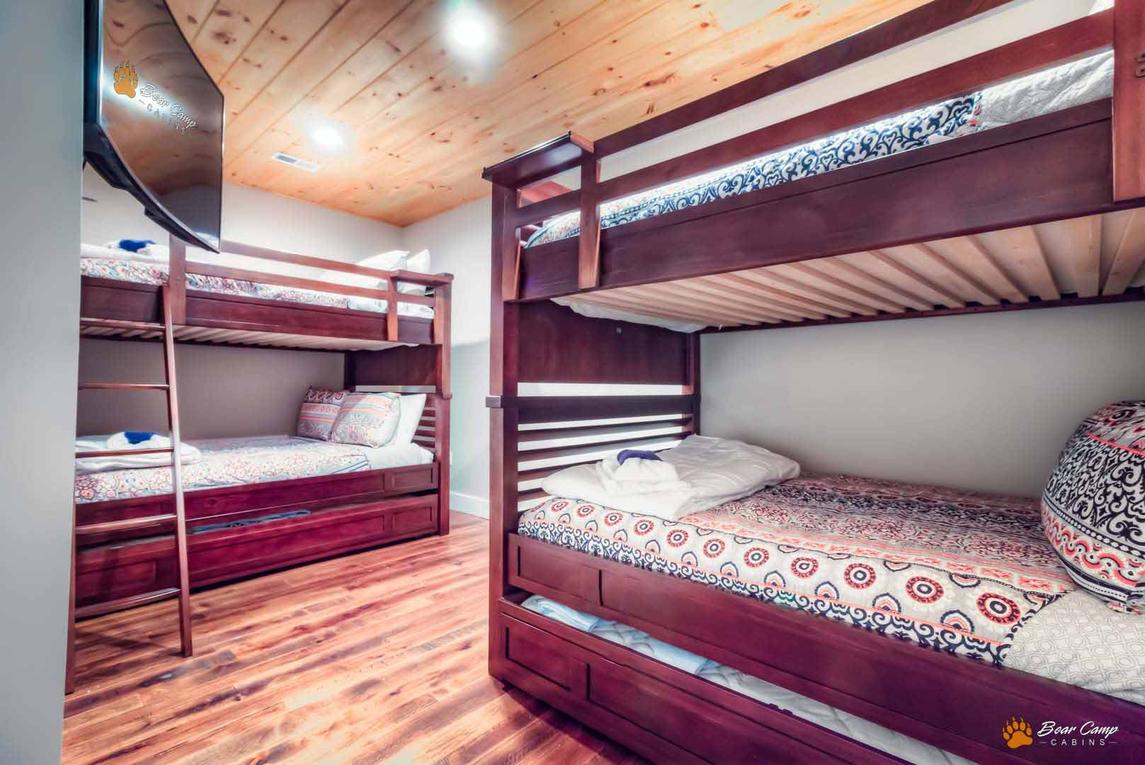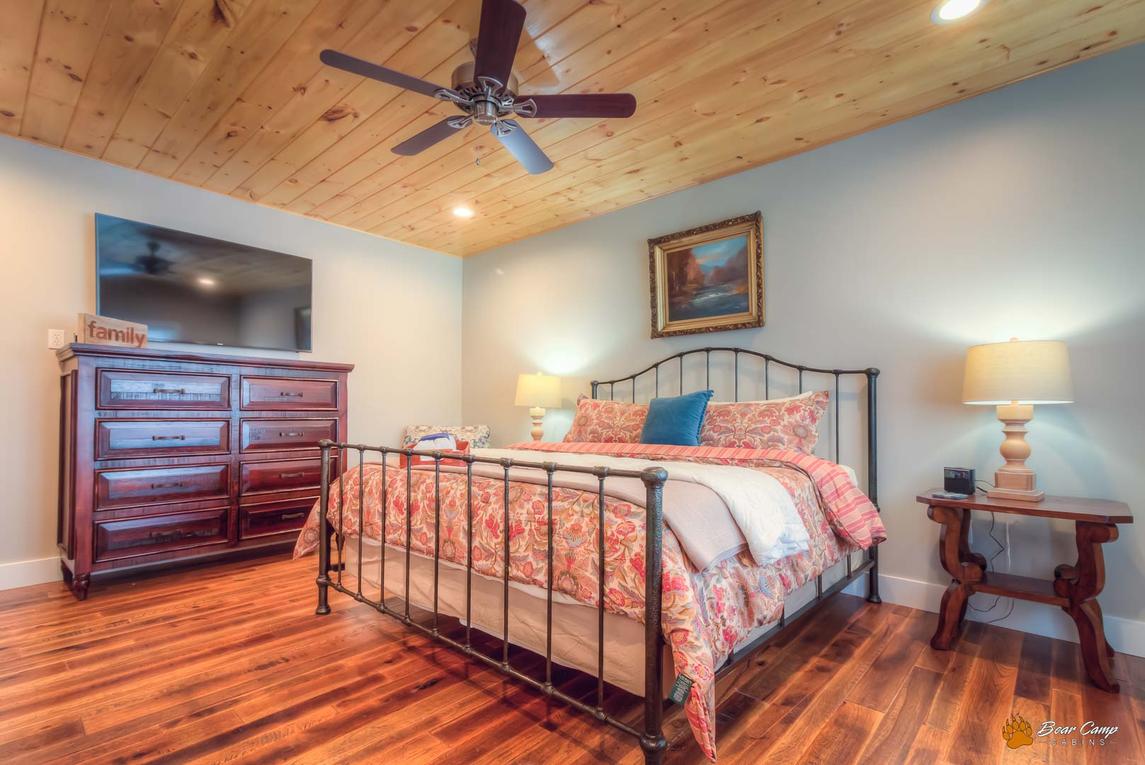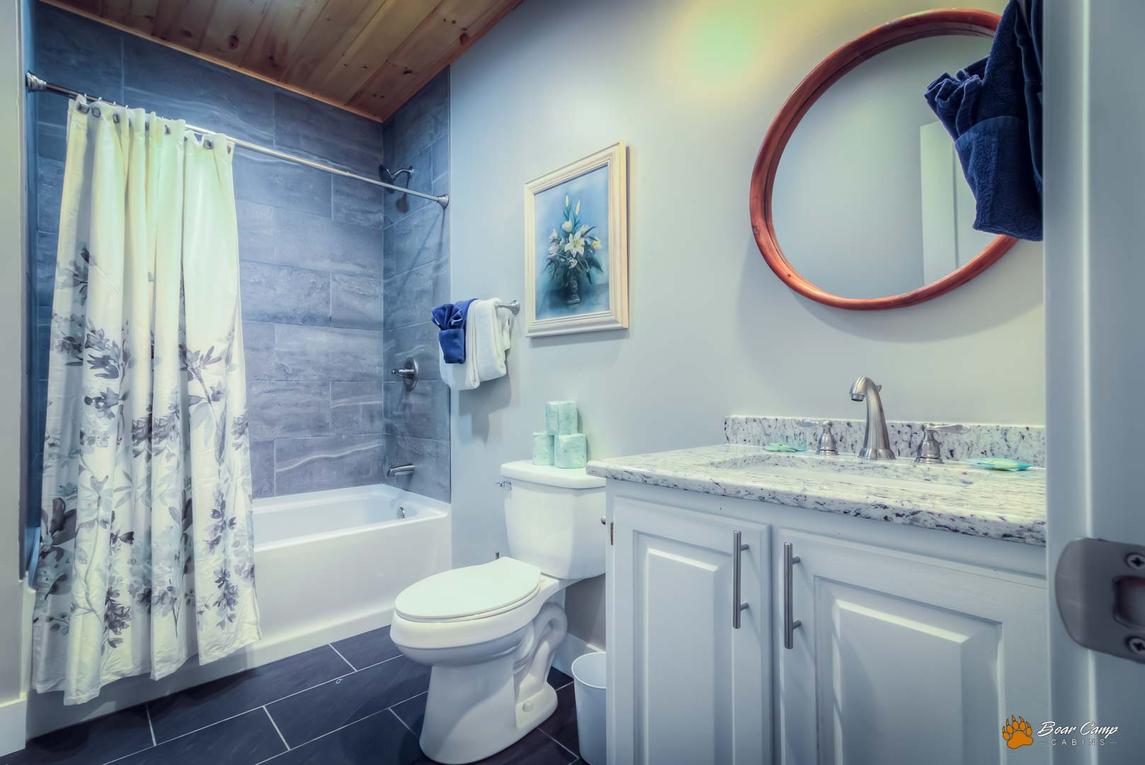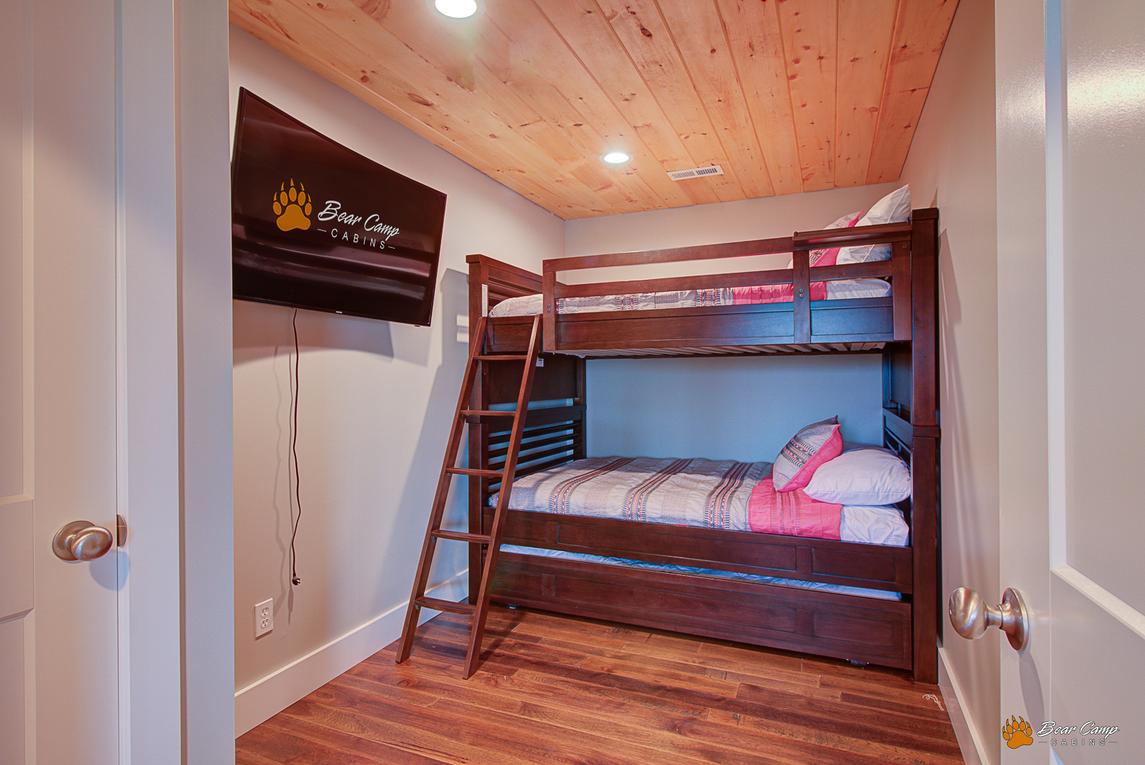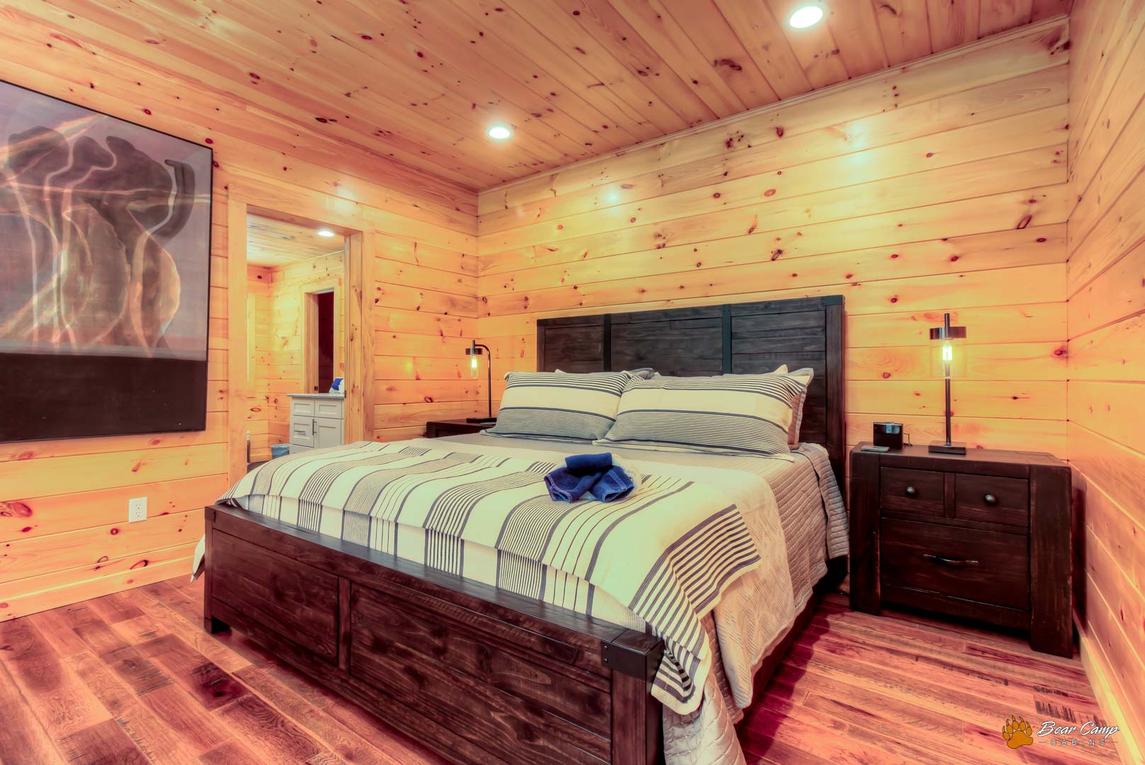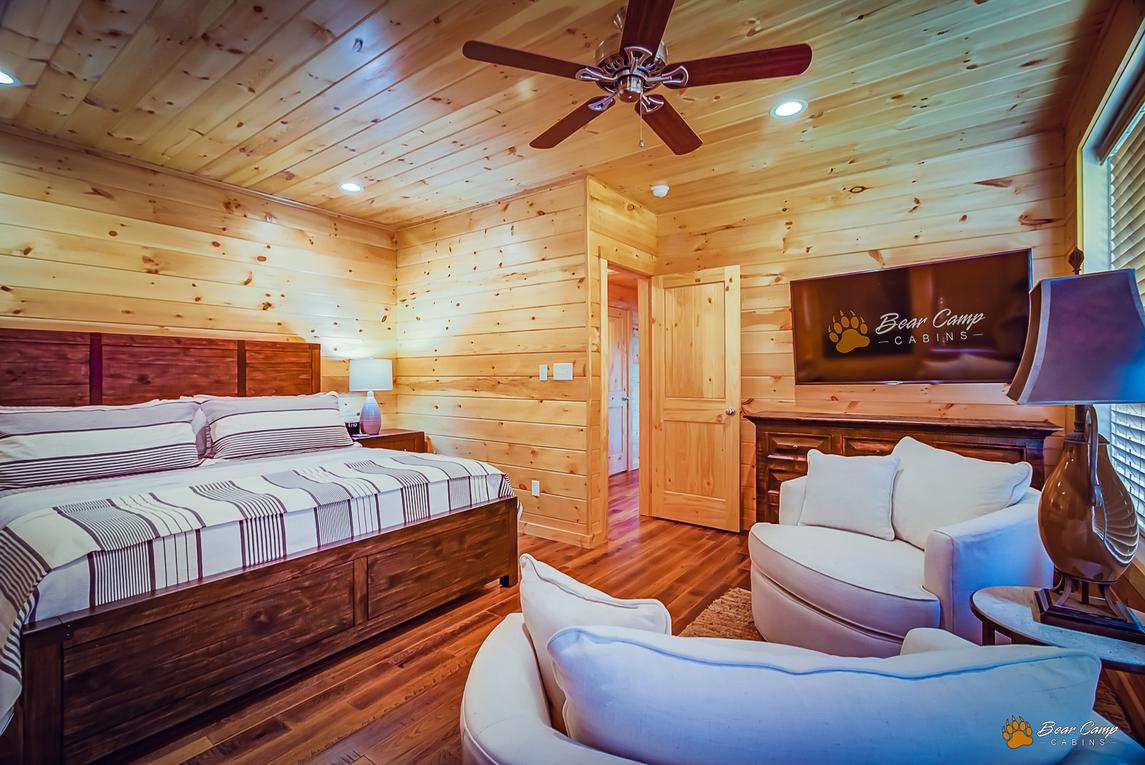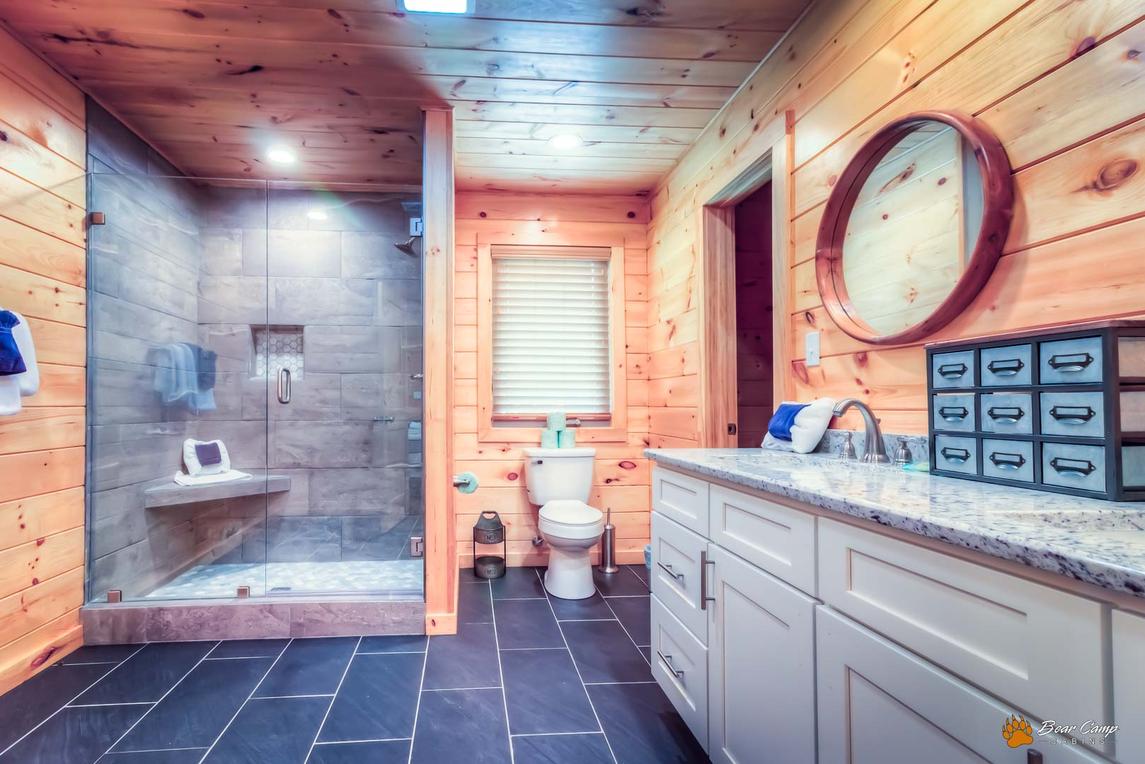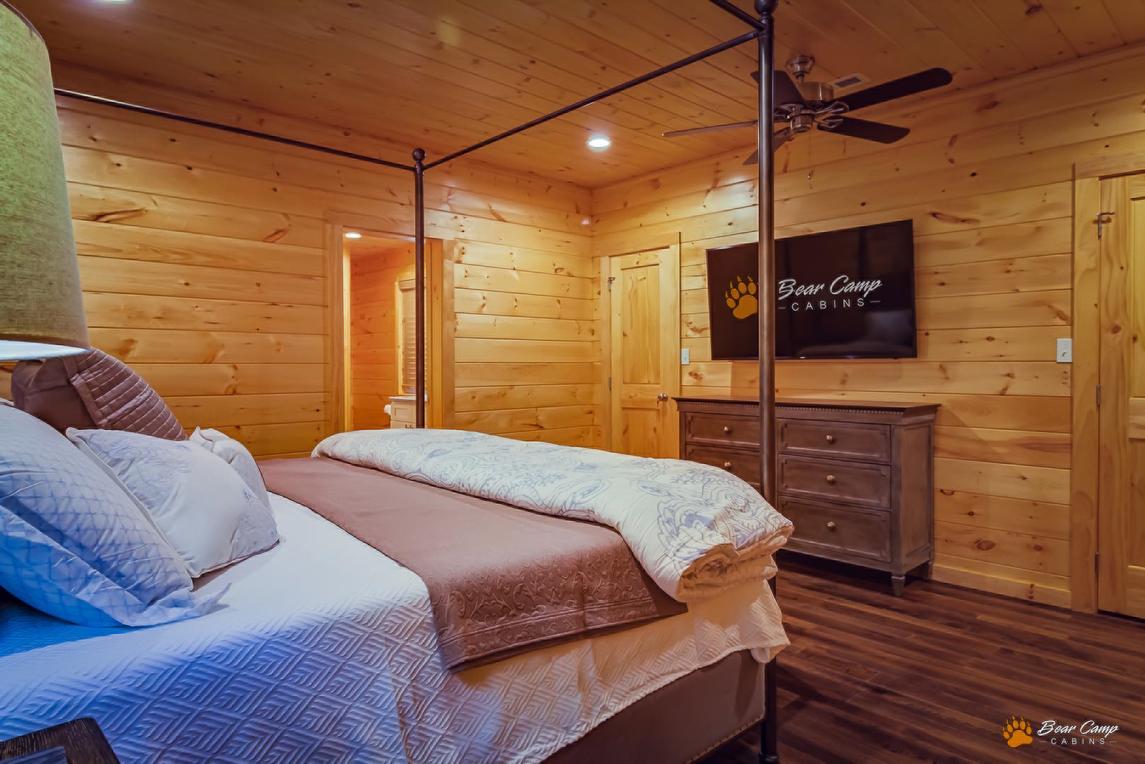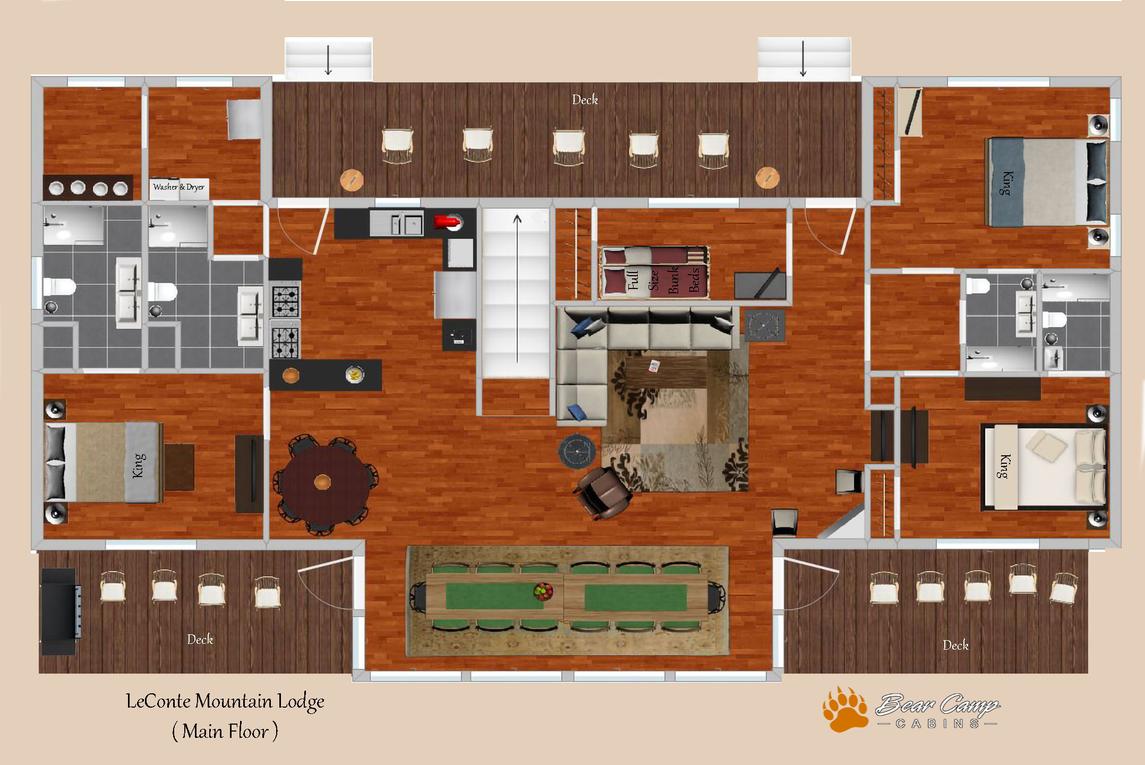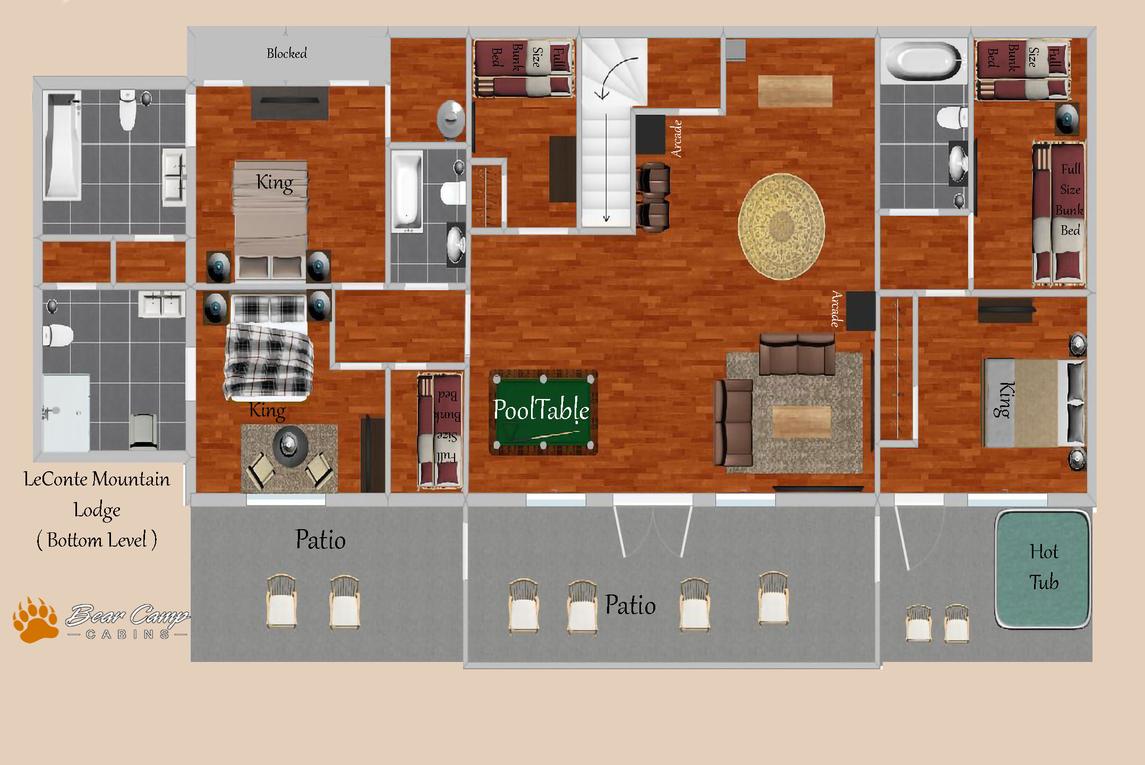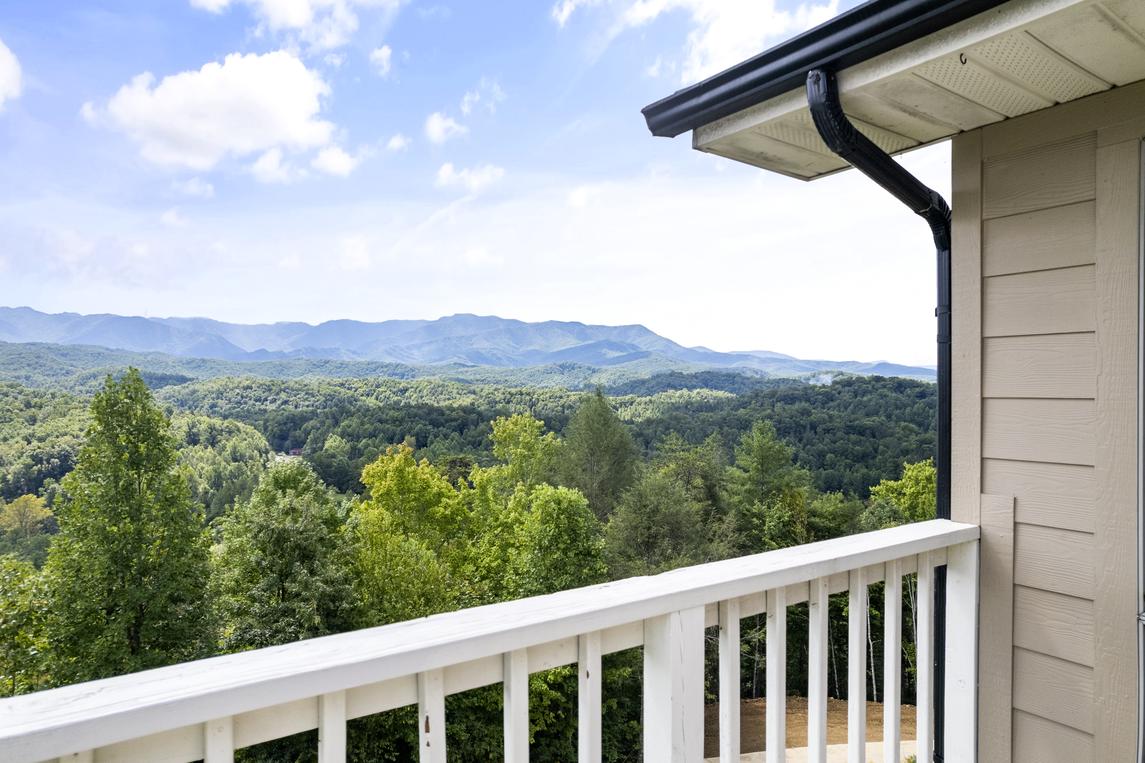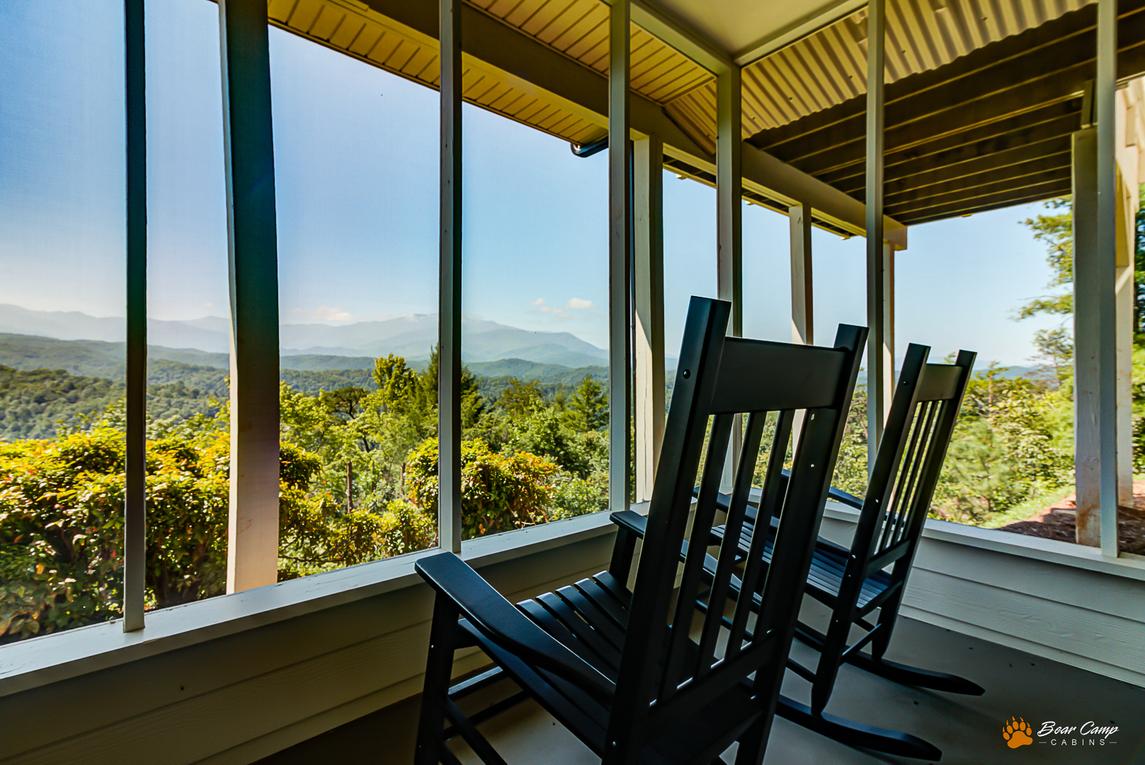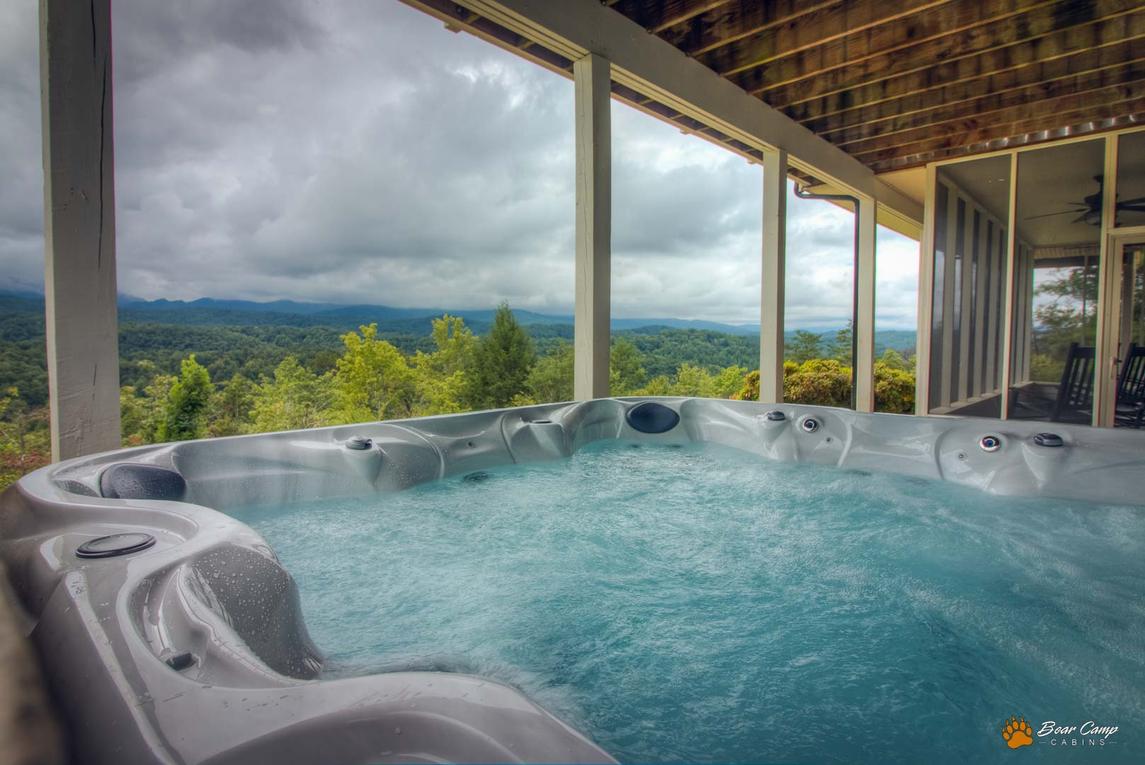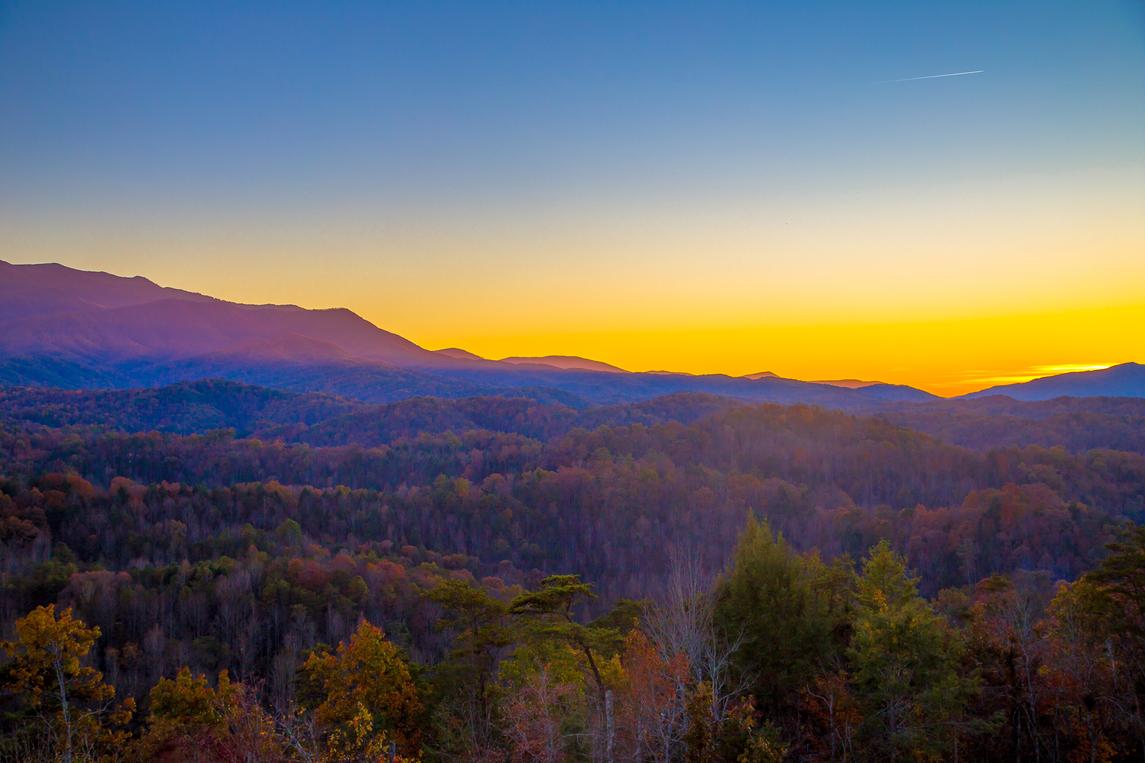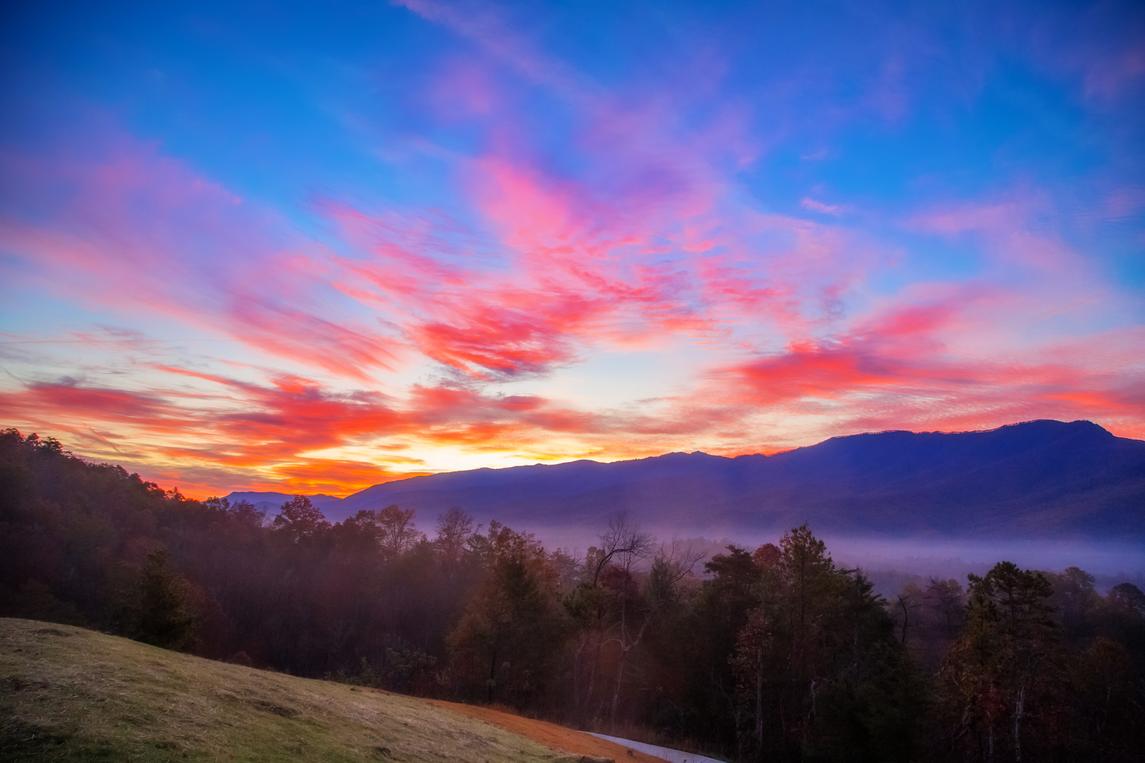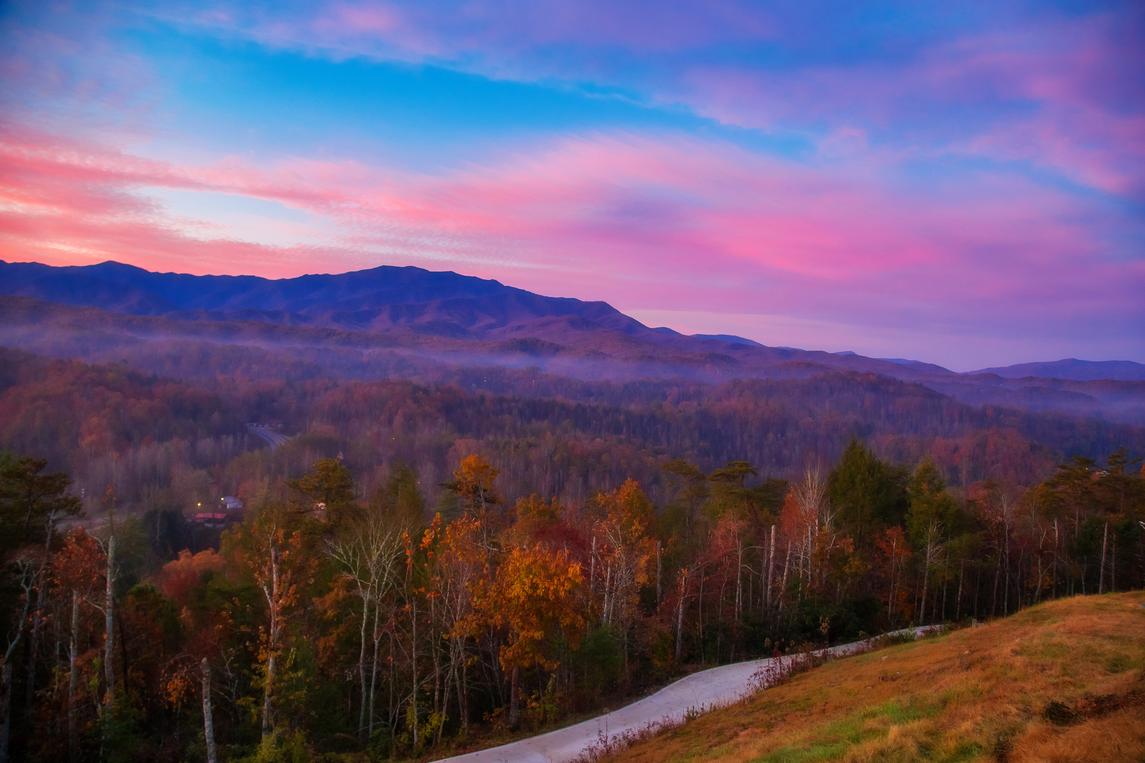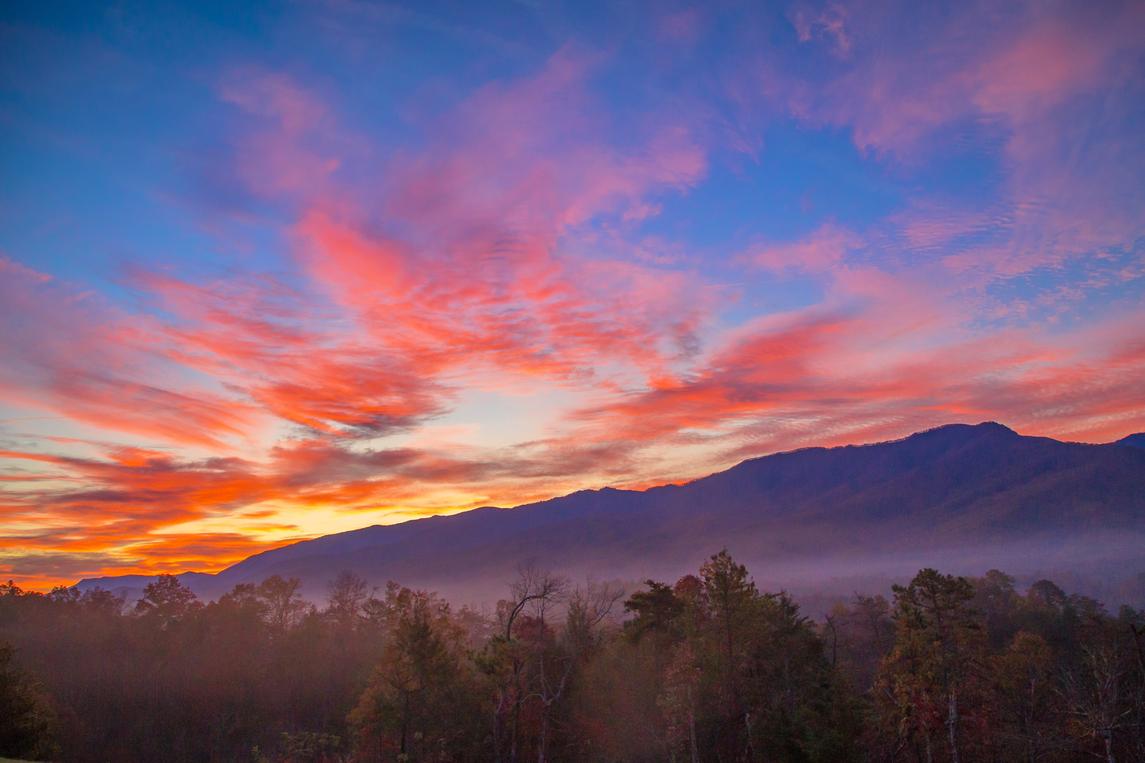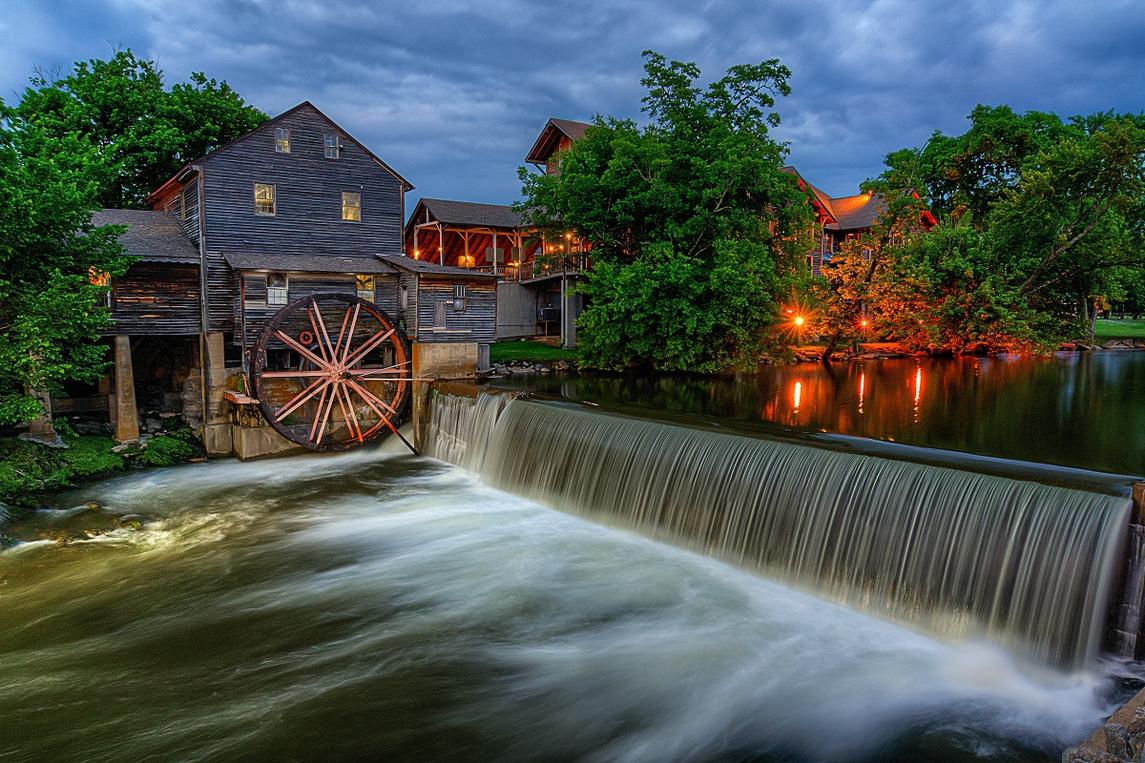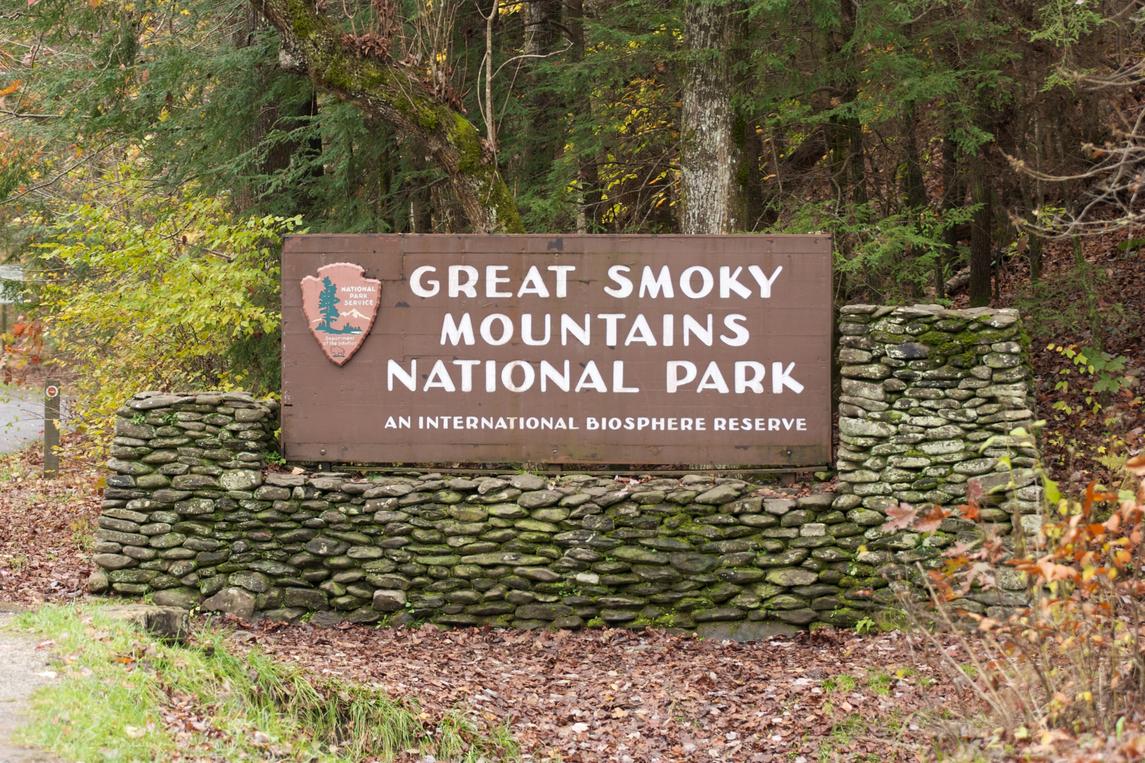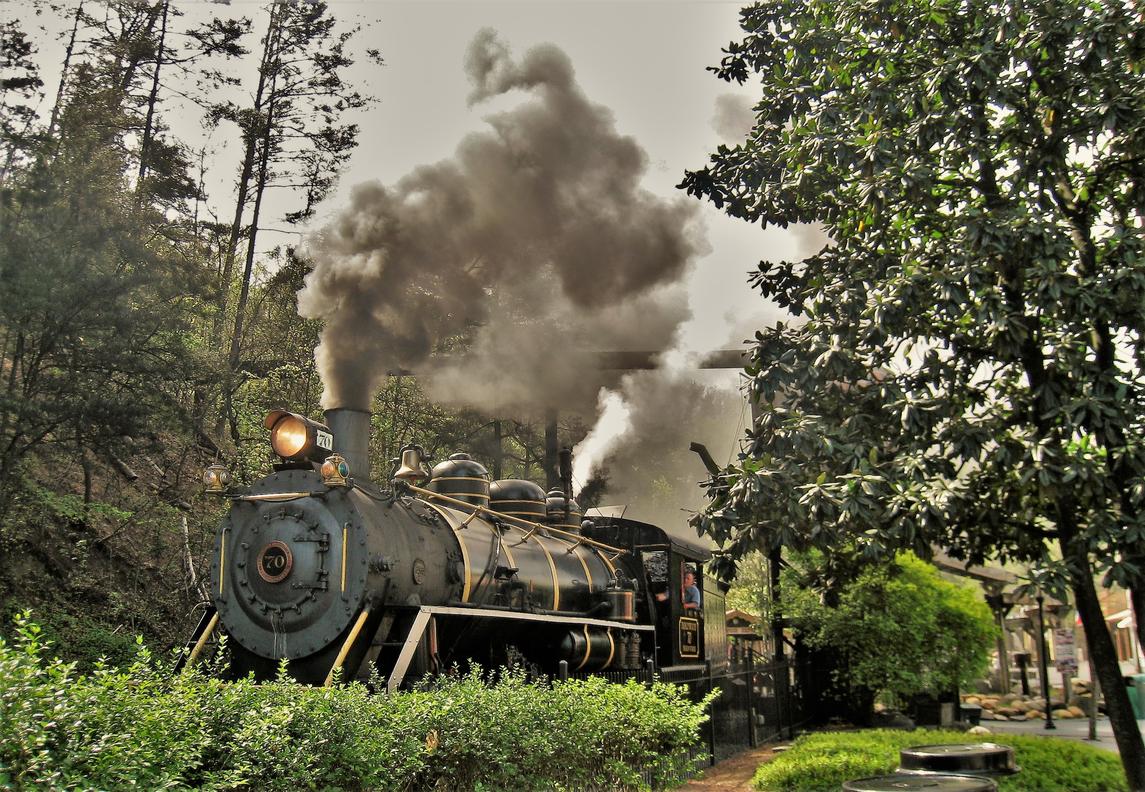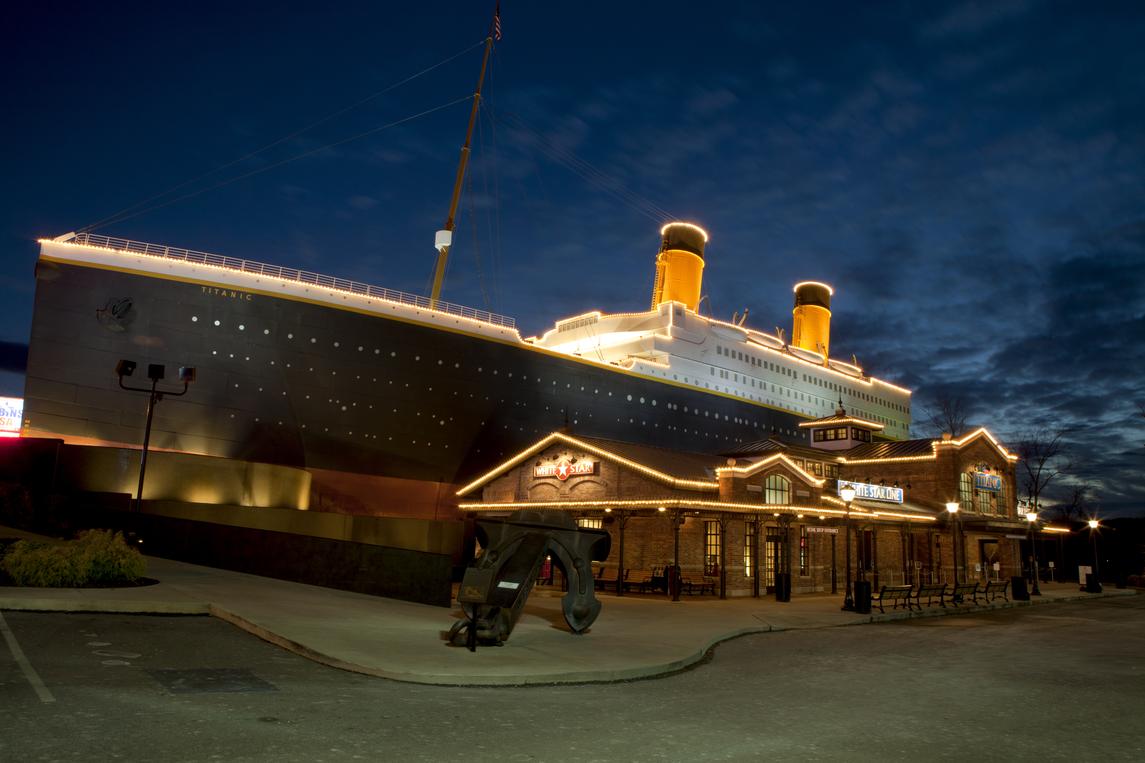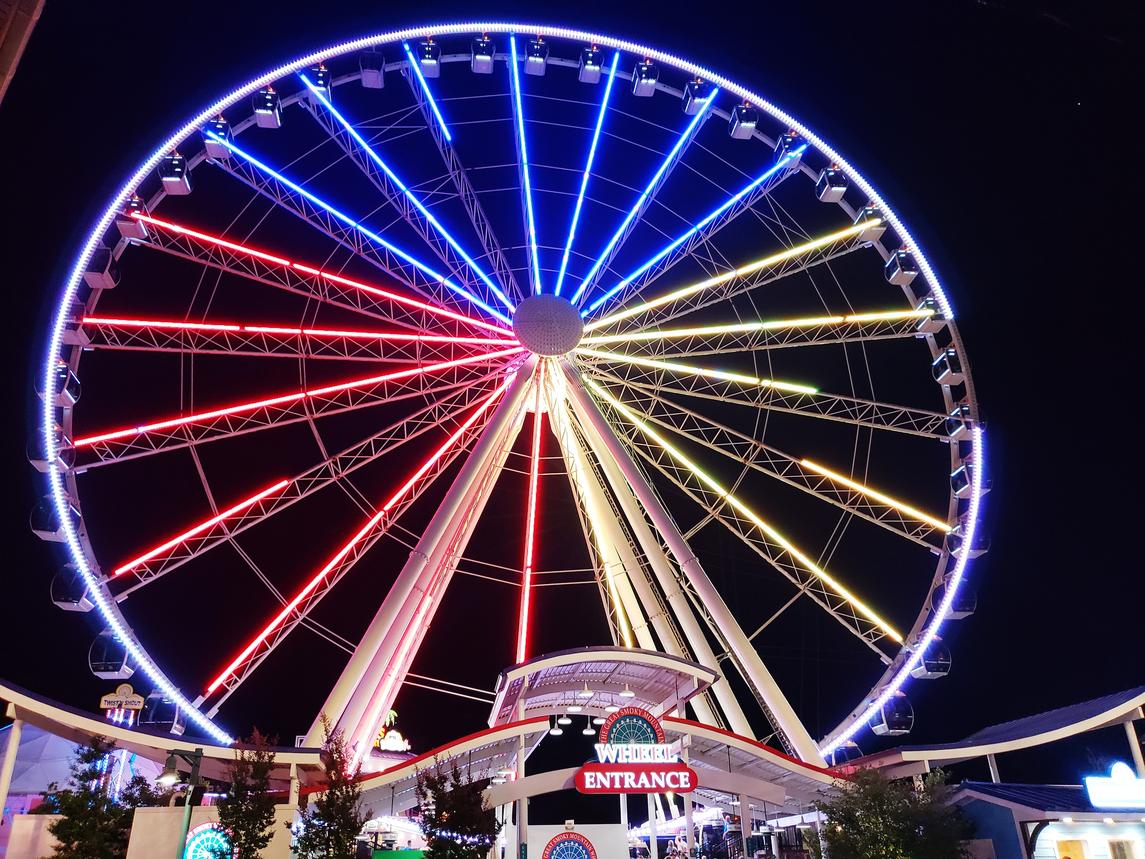 Description
Amenities
Reviews
---
"LeConte Mountain Lodge" is a new 4800 Sq. Ft. luxury chalet located in the beautiful Gatlinburg area with mountain views as far as the eye can see. This 10-bedroom 8-bathroom 2 level chalet (6 King Beds,10 Full Beds, 3 Twins w/ Trundles) is nestled at the top of its own mountain community with views of Mount LeConte that will absolutely take your breath away. The roads going to the chalet are completely paved and will accommodate 10 vehicles comfortably for parking and would be considered motorcycle and trailer friendly at the rider's discretion. If you are needing a chalet for large gatherings, then this is the perfect place for you. Whether you are coming for an athletic event, family reunion, church group, wedding, or just wanting to get together with family and friends, "LeConte Mountain Lodge" has it all for groups up to 35 people. With 6 steps to enter this gorgeous chalet, be taken back by the spacious floor plan, all the windows overlooking the mountain views, beautiful decor, and all the amenities the chalet has to offer. On the main level, you will have a very spacious living room with comfortable seating to spend time with family and friends. Kick back and enjoy the sectional couch after a long day at a sporting or church event while watching your favorite show on the large Flat screen TV. On those cold winter nights, grab a blanket and cup of hot chocolate and curl up in front of the gas fireplace. Just off the living room you will have 2 large King master bedrooms, each having Flat screen TVs and their own bathrooms, one with a walk-in shower only and the other one with a tub/shower combination. There is also one Full-size bunk room with a Flat screen TV on this level. Just around the corner from the living room is the beautiful upgraded fully equipped kitchen with 2 stoves, 2 dishwashers, and 2 refrigerators. Enjoy your meal while taking in the spectacular view from all the windows by the dining table which will seat 14 with an additional dining table with seating for 8. Just off the kitchen is the laundry room with another full-size refrigerator and another full bathroom with a walk-in shower only and a double vanity. Adjacent to the dining room is the Master suite with a King size bed, Flat screen TV, and a large private bathroom with a double vanity and a walk-in shower only. As you travel downstairs, you will be amazed by all the unique furnishings. Enjoy the 2 leather couches while watching your favorite sports teams on one of the 2 large Flat screen TVs, or kick your feet up on one of the 2 leather recliners after a long day of sightseeing. If you are a pool shark, there is a pool table for your enjoyment. If playing pool is not for you, then enjoy one of the 2 stand up arcade gaming systems. Just off the game room is a King size bedroom and a bedroom with 2 Full size bunk beds with a trundle under each, both rooms have a Flat screen TV. These two bedrooms will share a full bathroom with a tub/shower combination. Also located on this level are 2 more bunk bed rooms, one of which is a small kids room with a full size bunk bed and TV and one with a full size bunk with a trundle that can accommodate adults or children. These 2 rooms will share a full bathroom with a tub/shower combination. Just off the bunk bed rooms are 2 large King size Master bedrooms each with their own private full bathroom with walk-in showers only and double vanities, and each bedroom having Flat screen TV's. On the lower level deck, you will have a screened in porch with rocking chairs to enjoy while taking in the serene beauty of Mount LeConte. After a long day, jump into the new bubbly hot tub and soak all your cares away while taking in the beautiful mountain views that surround you. On the upper level deck, enjoy the gorgeous mountain views while relaxing in one of the 2 gliders or other deck furniture, while drinking your morning coffee. If you enjoy cooking out on those spring or summer nights, there is a charcoal grill for your use, just bring your favorite food to grill, and then you're ready to go. If you are wanting to spend time with family or friends, having a church gathering at the Convention Center in Gatlinburg, or bringing a sports team to play at Rocky Top Sports World, then "LeConte Mountain Lodge" is the perfect chalet for you and your group. If a luxurious, amazing chalet with mountain views as far as the eye can see is what you are wanting for your next mountain vacation, then look no farther than "LeConte Mountain Lodge." What are you waiting for? Book this gorgeous chalet today!!!!!
Video: https://youtu.be/zeeTpEa7gG0
Walt Young
Everything was perfect for us. We sat back enjoyed the amazing view everyday.
Dana Armstrong
Me and my family had an amazing time. Everything was beautiful. Mountains were breathtaking.
Mary Lyons Thomas
The cabin was perfect. The amenities were outstanding. We had absolutely everything we could have needed or wanted. Thank you for making sure every detail was taken care of for an outstanding family trip!
Mary Lyons Thomas
We so appreciate it our time at your cabin! The accommodations were perfect for us, and the amenities were above and beyond. We were not lacking any thing that we needed to make our stay perfect. Thank you for making it extra special and so clean!
Soledad Torres
Travelled with family to spend thanksgiving away. This house provided all of our needs and plenty of amenities. We got to travel during a time that the World Cup was on and having a TV in all the rooms allowed us to watch the games and everyone else to enjoy watching something else. Will definitely book in the future.
Debbie Wilder
Just wanted to take the time and tell you all how immaculate, tidy, and amazing this cabin is. Our entire family has been impressed with every aspect of the home. The cleaning service has done a great job! I love the simplicity of it…. Not a ton of decoration, but classic, with all the necessities and utterly spotless! We will definitely book again!! Thank you!
Steve Zittle
Beautiful place with plenty of room.
Robert L. Smith
The lodge was even better than expected. It is not often that the pictures for these types of things are 100% accurate. They were. The accommodations were great and the views were breathtaking.
Diane Reidy
We totally enjoyed our stay! The views are spectacular!! The drive up to the lodge is a little stressful if you're not use to mountain driving but you get use to it. The lodge is very comfortable as are the beds. It was very clean & well appointed. The pictures & description on the website are accurate. We had no problems during our stay. It was a pleasure working with the staff prior to our stay. No complaints, just happy customers!
Jane Hemenway
It was easy working with Bear Camp Cabins. Our tv needed servicing and they were quick to fix it. I sure wish we had booked directly with them and not VRBO. We were charged a large service charge from VRBO, and at times, VRBO was not very friendly during our correspondences. The View was spectacular! And, the house was very, very clean! We loved all the rooms and filled them up! The kitchen had tons of dishes, bowls, mugs, and glasses and we used all of them too. We enjoyed taking turns preparing meals and having multiple refrigerators, dishwashers, and stoves made it easy. The dining area was perfect for our big group. We would recommend staying here. Did I mention the View? It was amazing!
Kathy Smith
The cabin was beautiful! Everyone was impressed with the choice.
Tammi
The view from the balcony is breathtaking. Will definitely recommend this place to my friends.
Christopher Mosher
The property, amenities and the view were outstanding. Accessing and getting settled at the lodge was well planned by Bear Creek and we will definitely consider their properties for future events.
Katie Crenshaw
We had a great time!
Thuy Le
awesome cabin and very peaceful
Tamaron JACOX
Cabin was spacious and clean. Wonderful views
Carol Hendrix
Absolutely perfect. Beautiful house and surroundings. House was stocked meeting every need. Thank you for a wonderful visit to the Gatlinburg area.
Jennifer Hostetler
We visited this home July 2021. We loved the location and breath taking view! The home is beautiful and roomy for all 24 of us! Overall, the house was clean. The rental process was simple. We enjoyed our week very much! I'd like to mention a few things that need addressed or weren't disclosed to us: Addressed: 1)The landscaping needs care. Overgrown bushes blocking part of front steps. 2)Screened in porch was dirty. It looked as though it hadn't been swept, there was a lot of dirt and dead bugs. 3)Some sheets had stains on them. 4)Pinball machine wasn't working. We called maintenance the day after we arrived to tell them. They did not come to fix it. 5)Trash was full (from us), we called and it did not get picked up during our stay. 6)Hot pads and more (or larger) garbage cans in kitchen are needed. Disclosure: 1)2 rooms have no door. That's not mentioned in the description. 2)Trundle beds don't open the whole way, they can't be slept on. They are useless. Not sure why they are included in the bed count. Again, our stay was delightful. We would rent this place again. But I thought it was only fair to mention these issues that need disclosed or cared for. Thanks.
Padma R Regmi
It was awesome experience. We enjoyed
Christine Vick
Beautiful cabin! Had everything we needed and the view is outstanding!
Kristen Mains
The views are absolutely perfect. Everything was modern and updated!
Crossroads Baptist Church
We took our staff for staff retreat and planning. We rented the LeConte Mountain Lodge. It was amazing for our group and the Bear Camp Cabins did everything to make our stay very welcoming and easy. Will definitely use them again!
View response from BearCamp
Thank you so much for staying with is we love when our guests are happy
Rick Chansui
Our group of 12 stayed at the LeConte Mountain Lodge during our trip to Tail of the Dragon. Everyone loved the house. Probably the cleanest rental I've ever stayed at. Great location and views and tons of space. Would definitely try to stay here again if I ever travel to that area.
View response from BearCamp
Thank you so much and we would be honored to have you stay with us again anytime
Brenda Smith
We hosted our family getaway at the LeConte Mountain Lodge in January! It was perfect for us. There was ample space and facilities for our group of 26. The kitchen was fully equipped and seating for meals easily prepared in the large space was possible. The children thoroughly enjoyed the game room and a few, the hot tub. A memorable weekend in the beautiful Smoky Mountains was ensured by this company.
View response from BearCamp
Thank you so much for this awesome review.
Tamesha S Kinloch-Carte
Words can't express how impressive this cabin was. My family and I were absolutely amazed by the design, decor and functionality of this property. As a Wedding and Event Planner, attention to details and great customer service is very important to me. This cabin had it all. Let's not talk About how breathtaking the view of the mountains were. Also, did I mention they had two stoves and a total of4 refrigerators? I highly recommend this cabin and will definitely be back!
Kevin Wood
We stayed at Leconte Mountain Lodge and it was perfect for a family reunion of 23 people. The views were amazing and the lodge was spotless
Sheila Stephens
This place is AMAZING! When we were looking for a place for our family reunion, we almost passed this one up because it had no reviews at all. We called the number for the company that manages it and they said that there were no reviews because it had just finished getting built and nobody had stayed in it yet. The explanation made sense and the pictures looked great, so we booked it. When we got to the office to check in they had cookies on the counter for all of us and everyone was really friendly. The lady who checked me in went over a lot of stuff about maintenance, bears, emergencies, and trash. She also told me about the show tickets that they give you. That saved us a good amount of money! We get to the cabin and OH MY GOODNESS! This cabin has everything. Plenty of room for all of us, comfy beds, fantastic views of the mountains, something to keep everyone in my family entertained, a very relaxing hot tub, and a kitchen big enough to cook for an army because there's 2 of everything! It was clean, everything looked brand new, and there was even a surprise waiting for us when we got there. I wont ruin it for the next person who stays by saying what it was but I can tell you it was nice and very thoughtful. We will be coming back to this cabin for all of our family reunions from now on. My whole family had a great time and we all recommend this cabin. THIS PLACE WAS AWESOME!!!