Bear Creek Falls Retreat
Select check-in and check-out dates
Please select the nights you would like to reserve using the availability calendars.
Bedrooms: 4 Bathrooms: 5 Sleeps: 10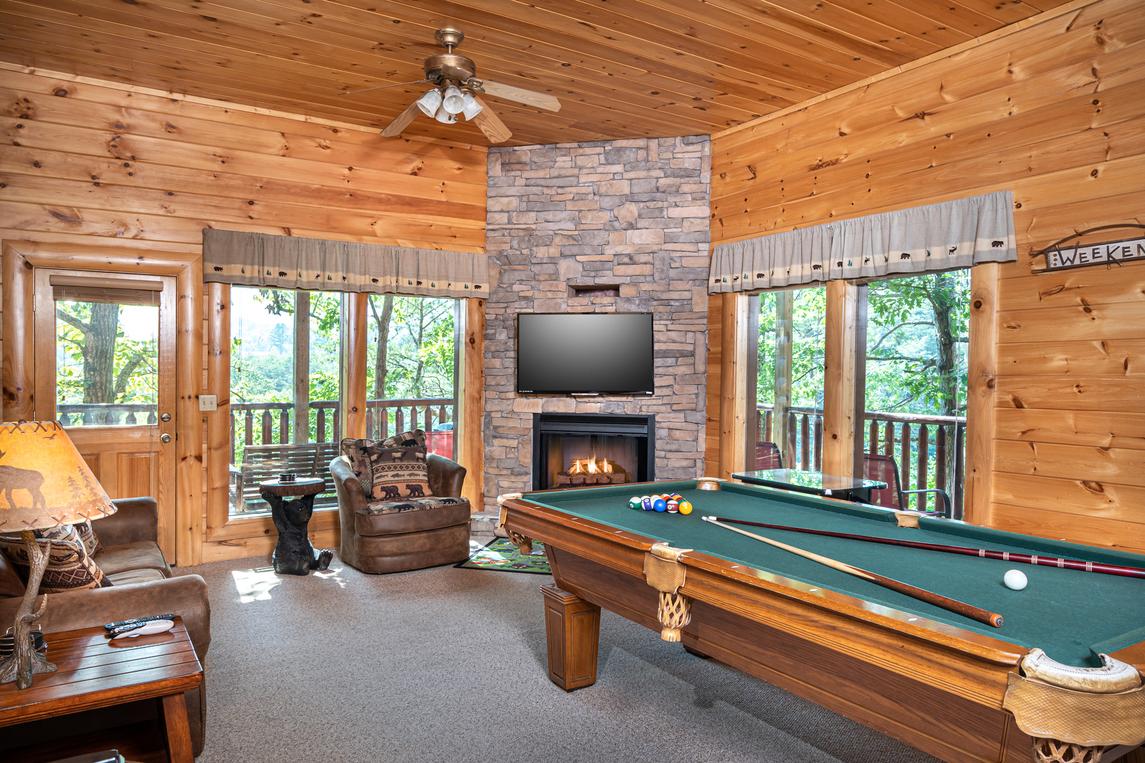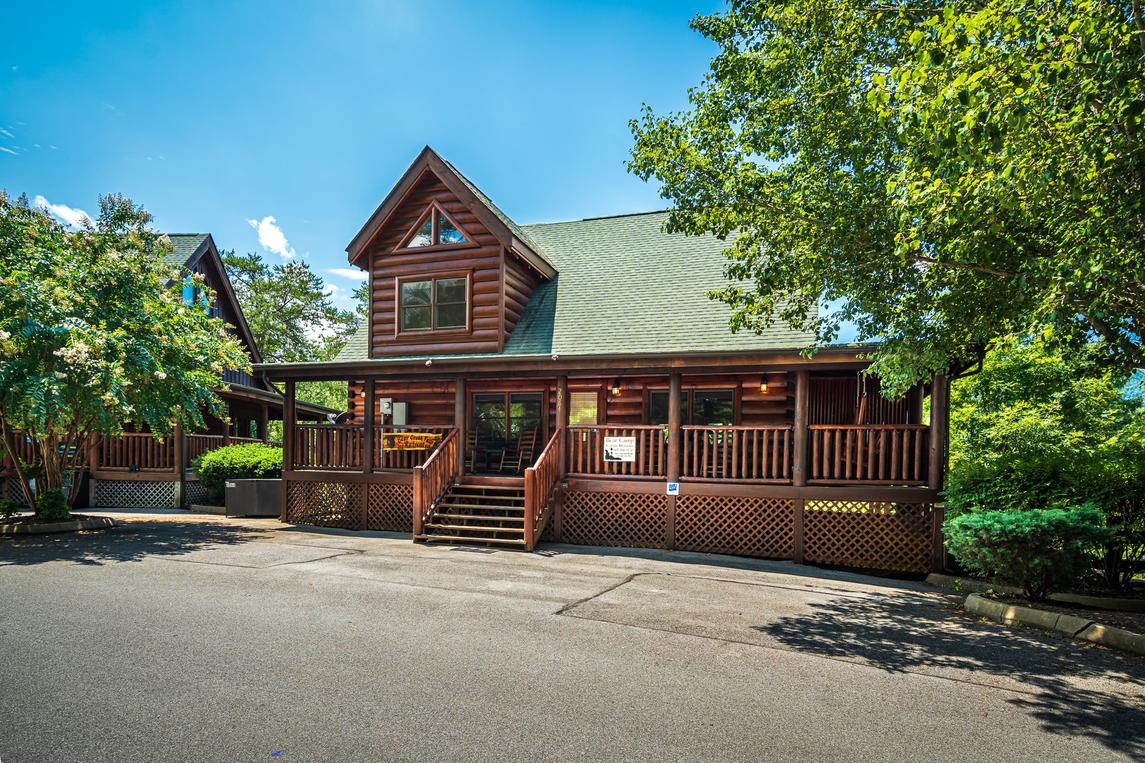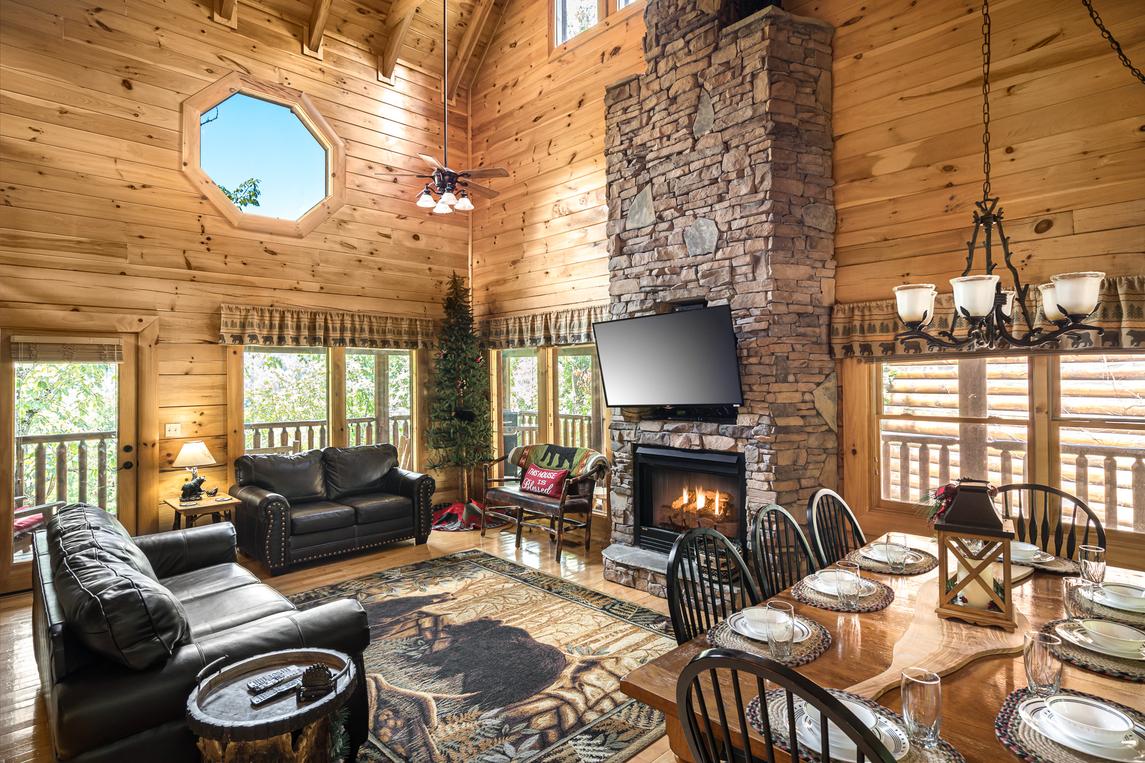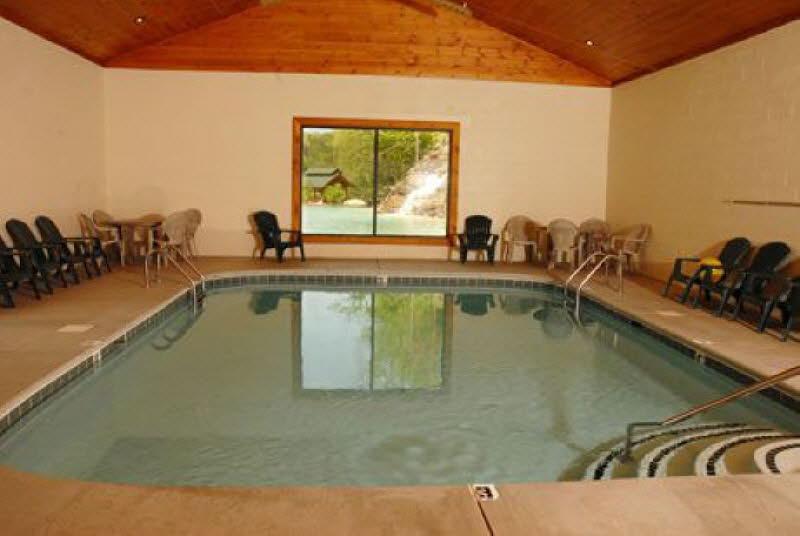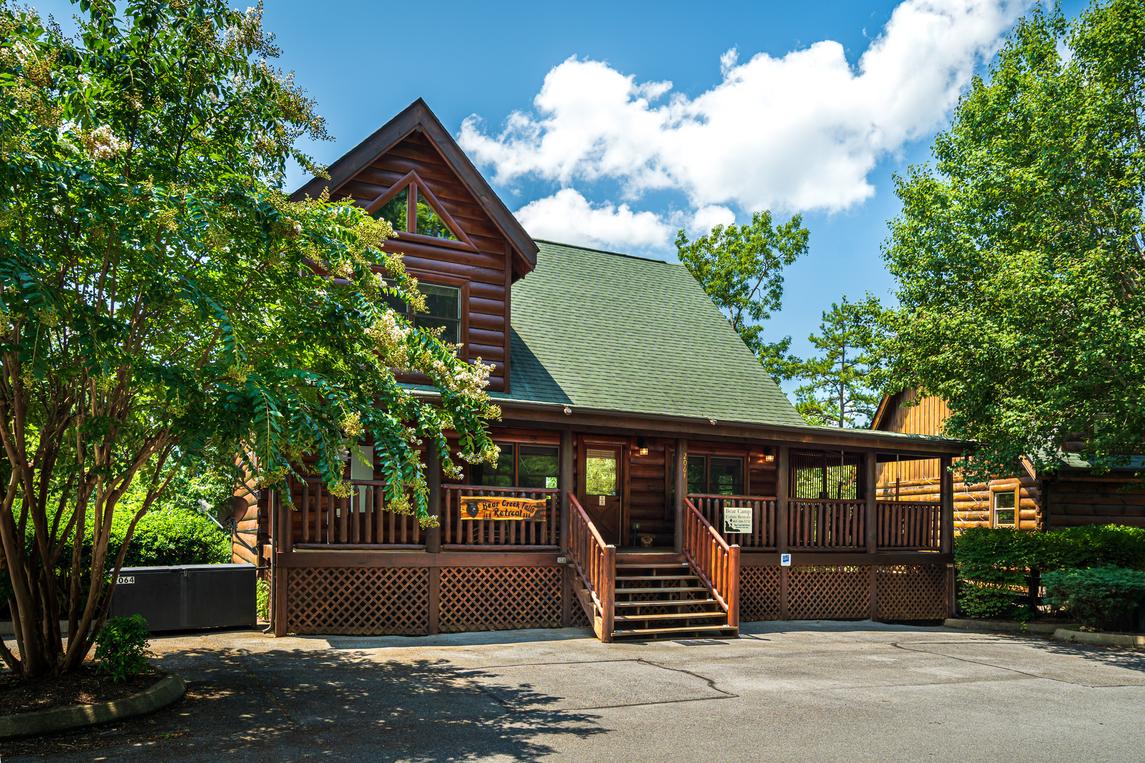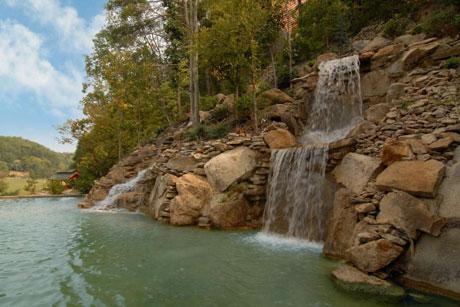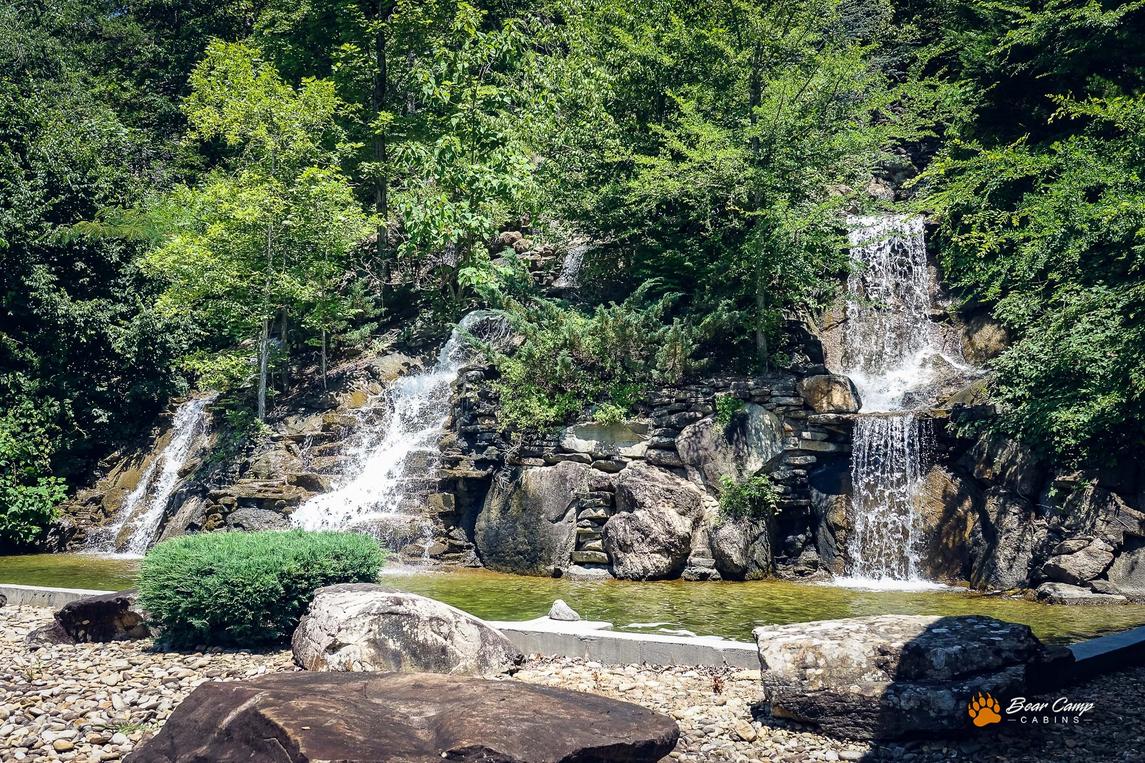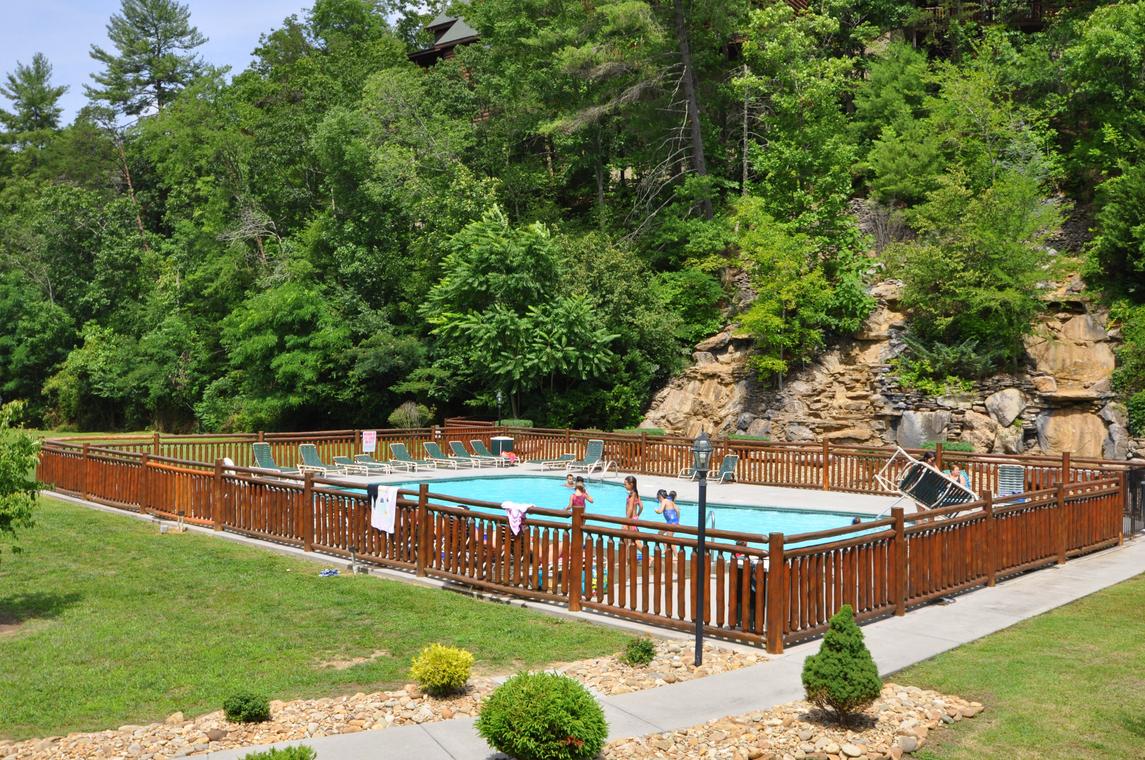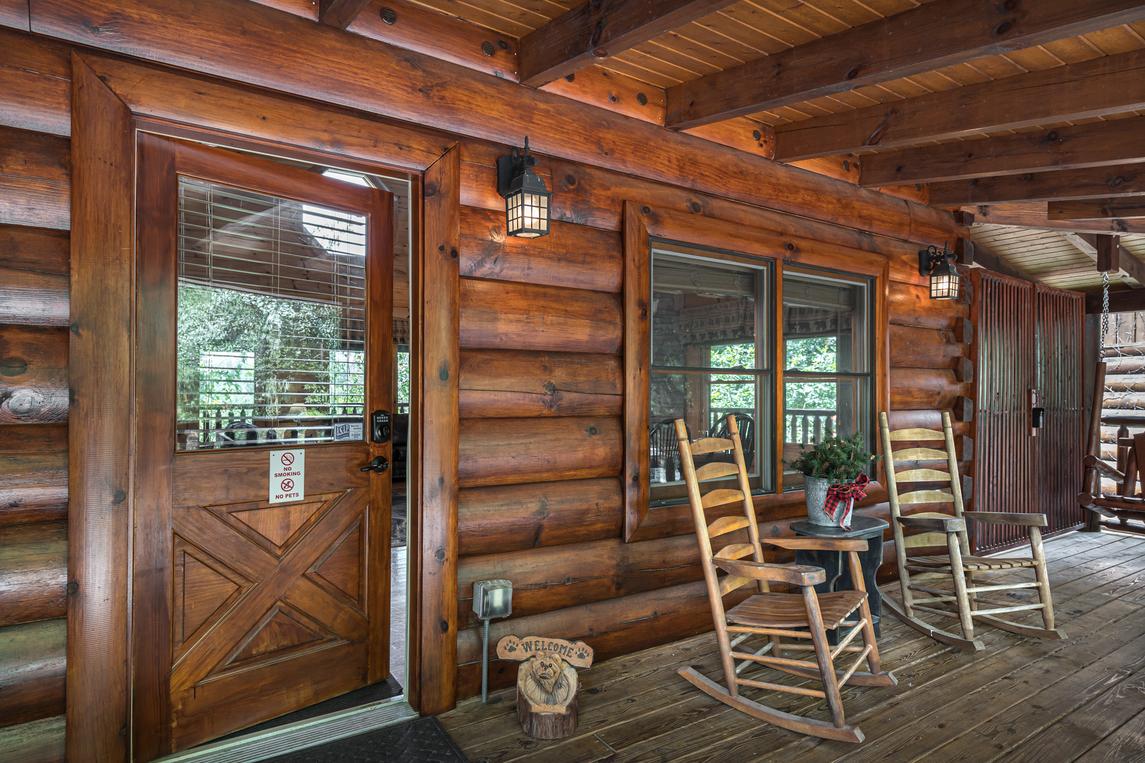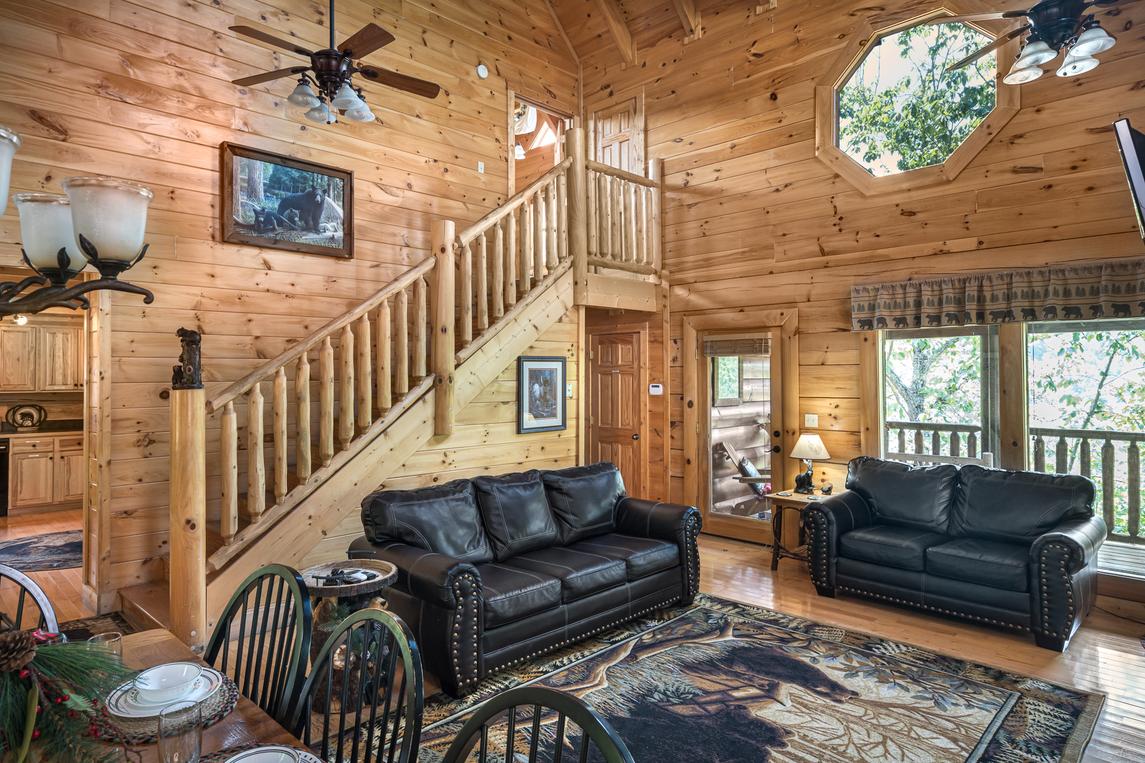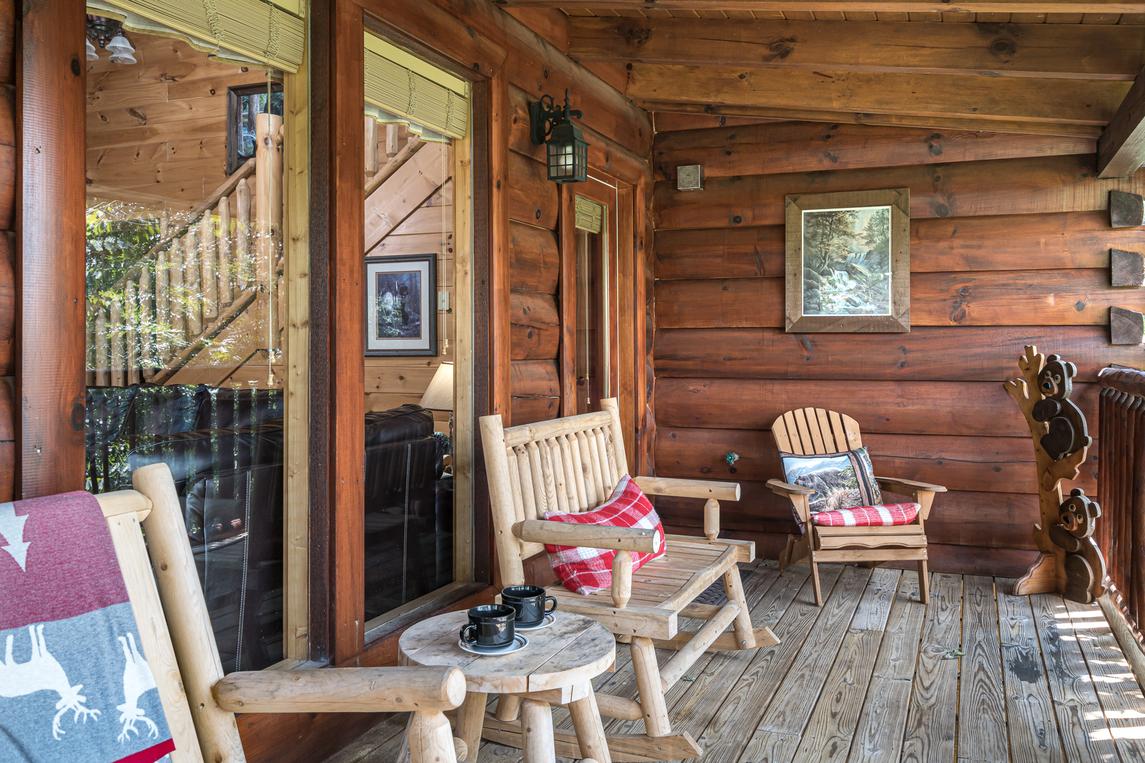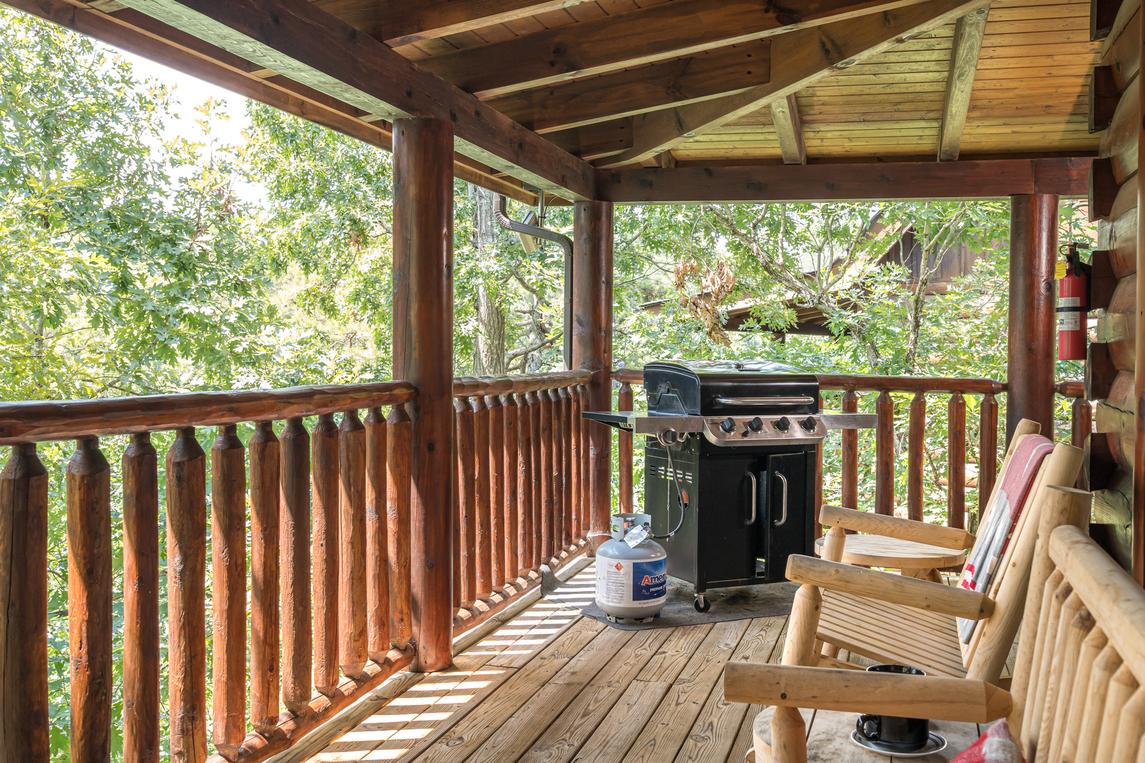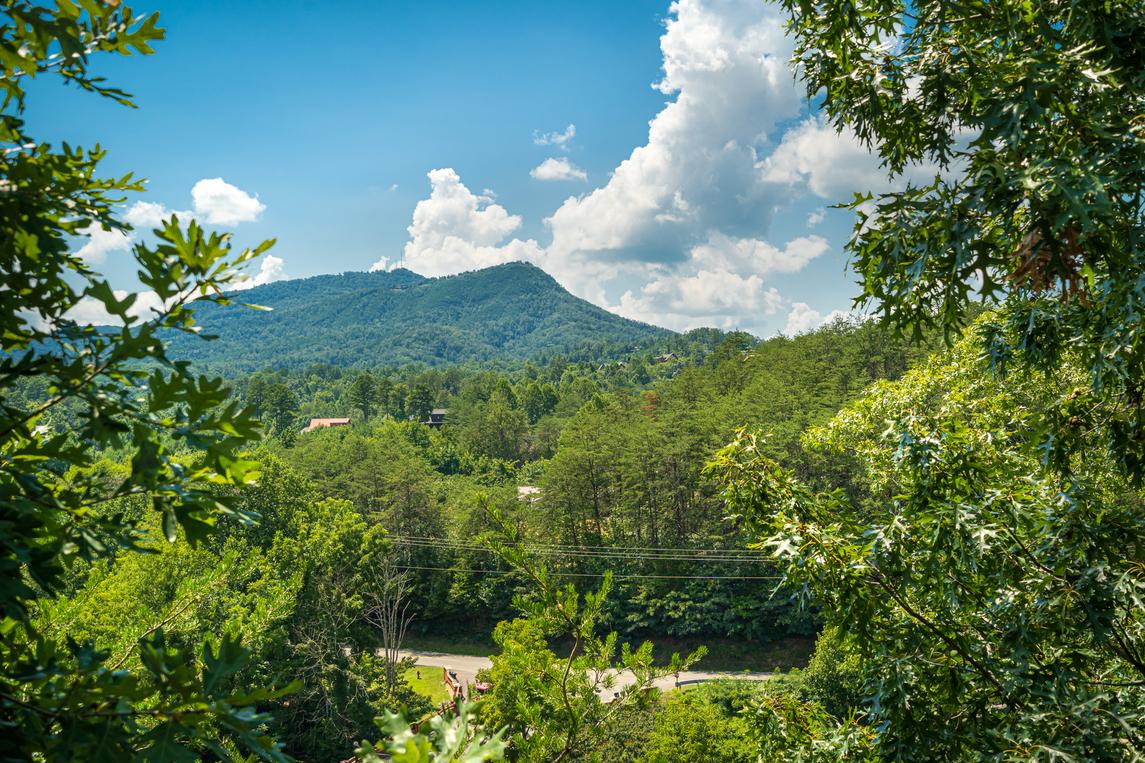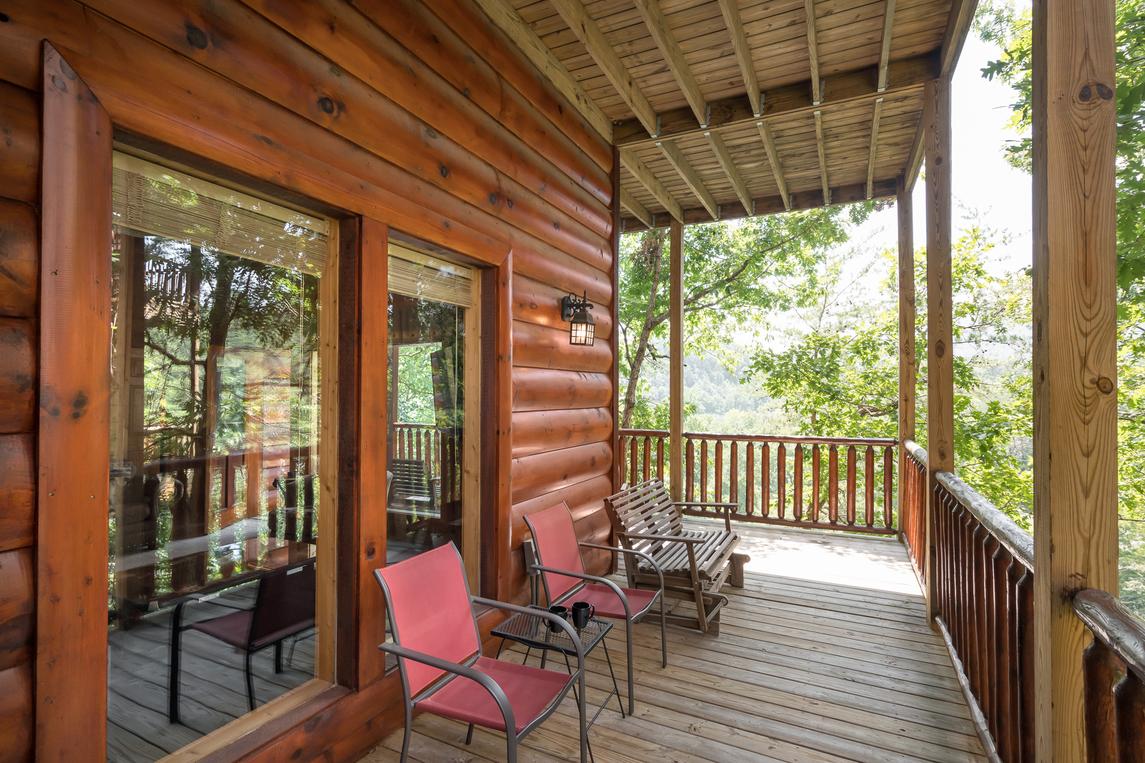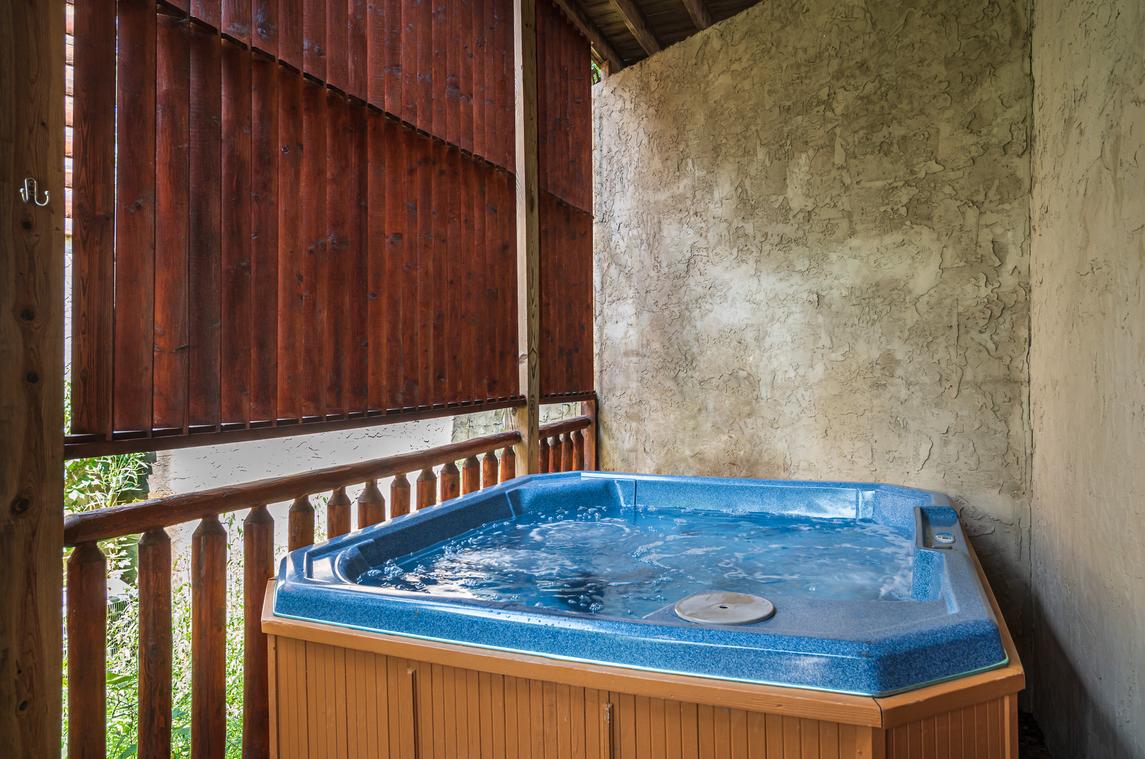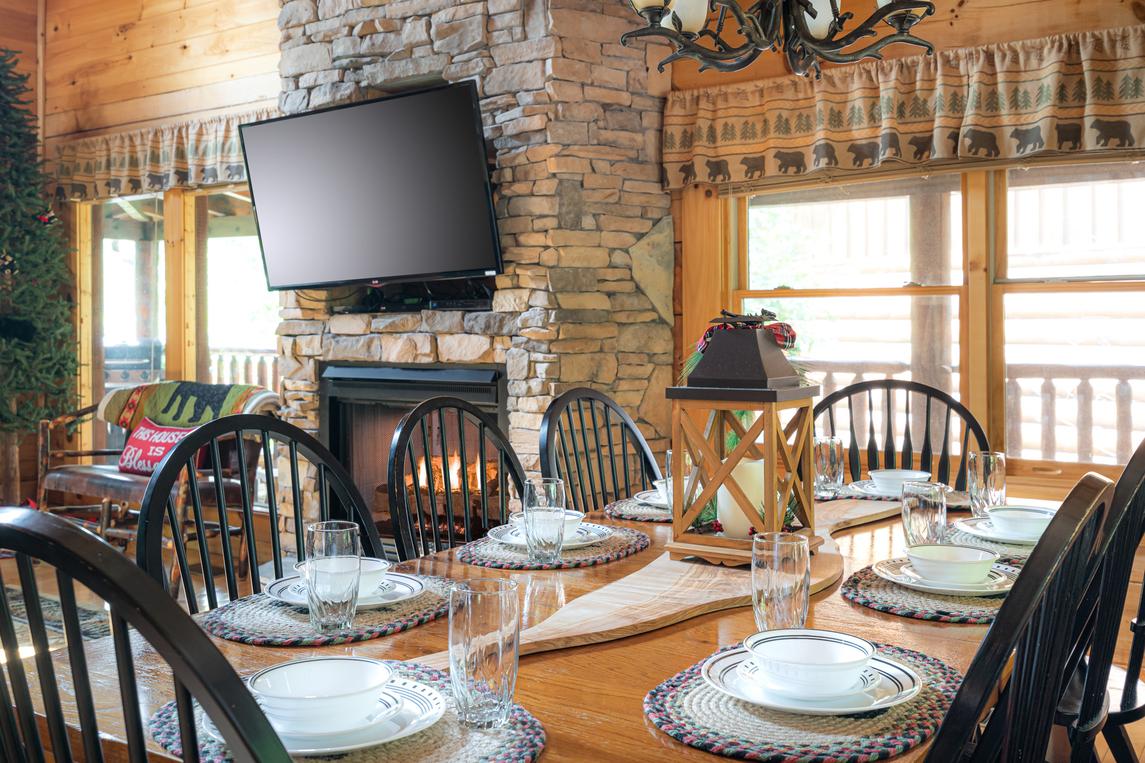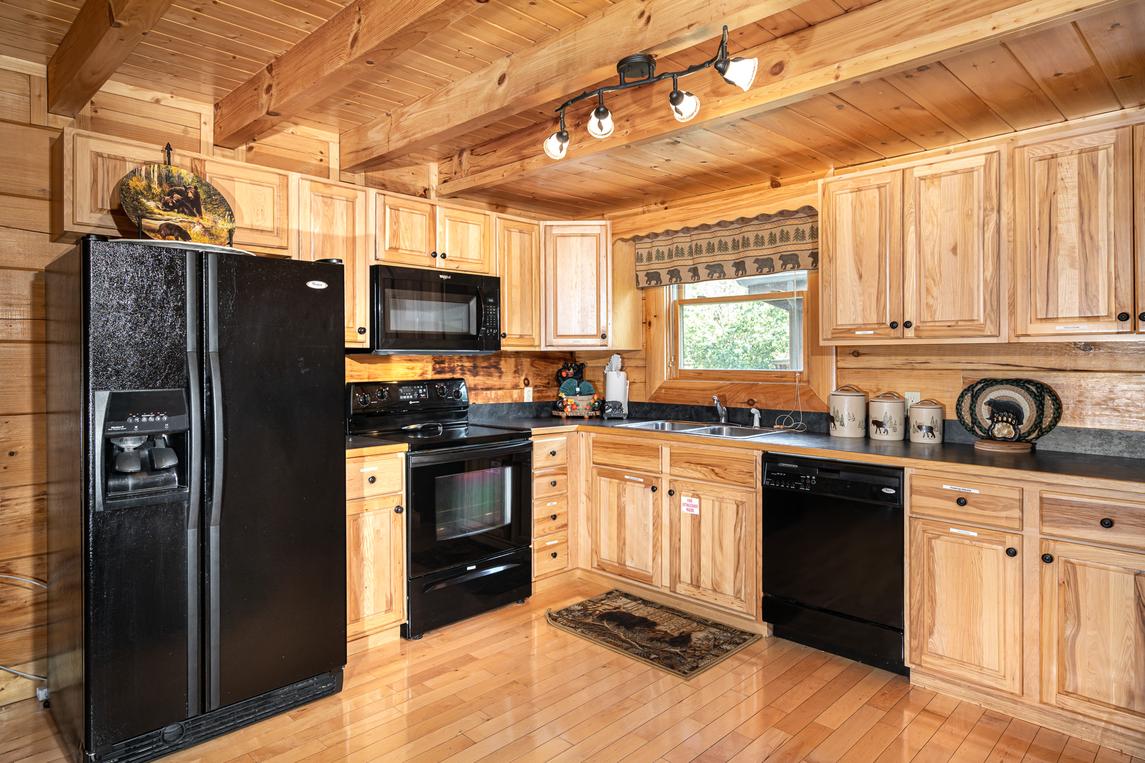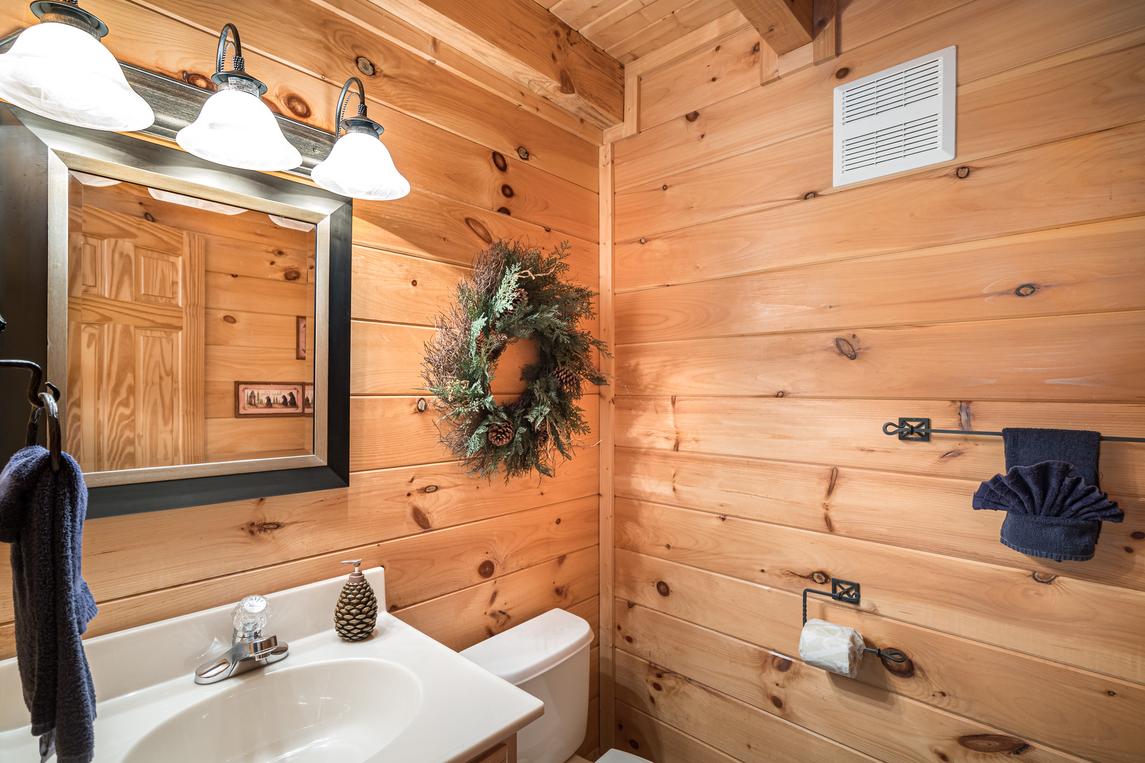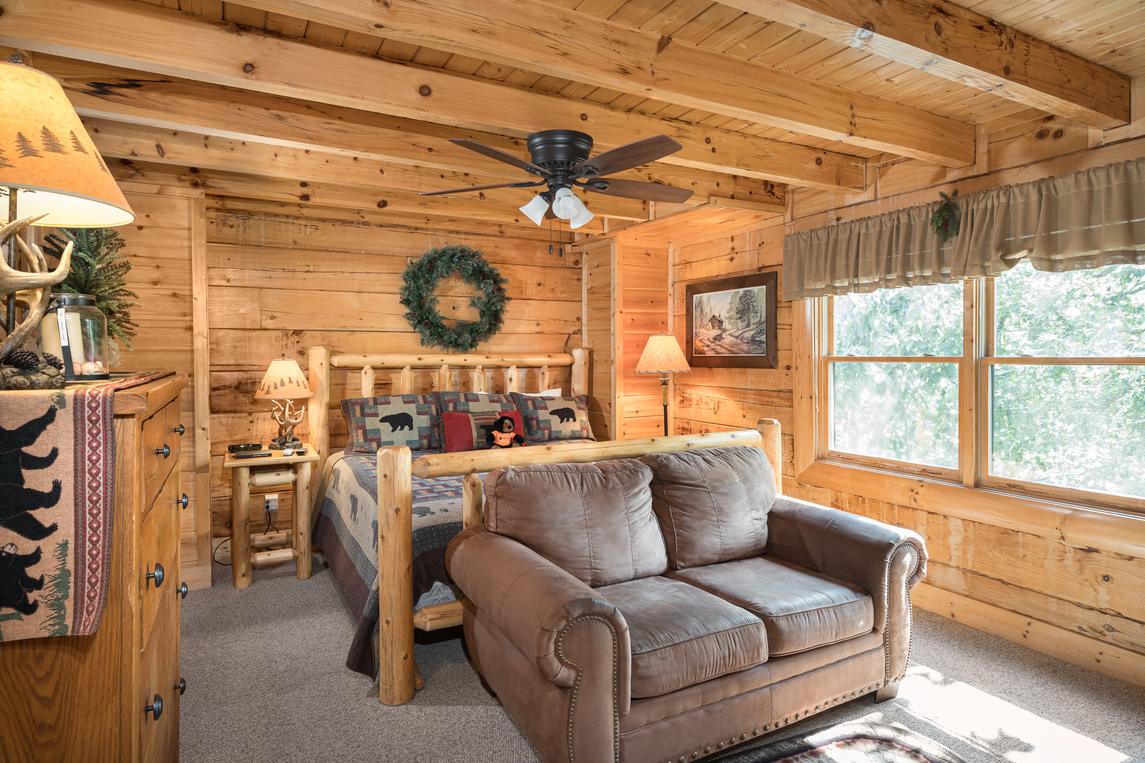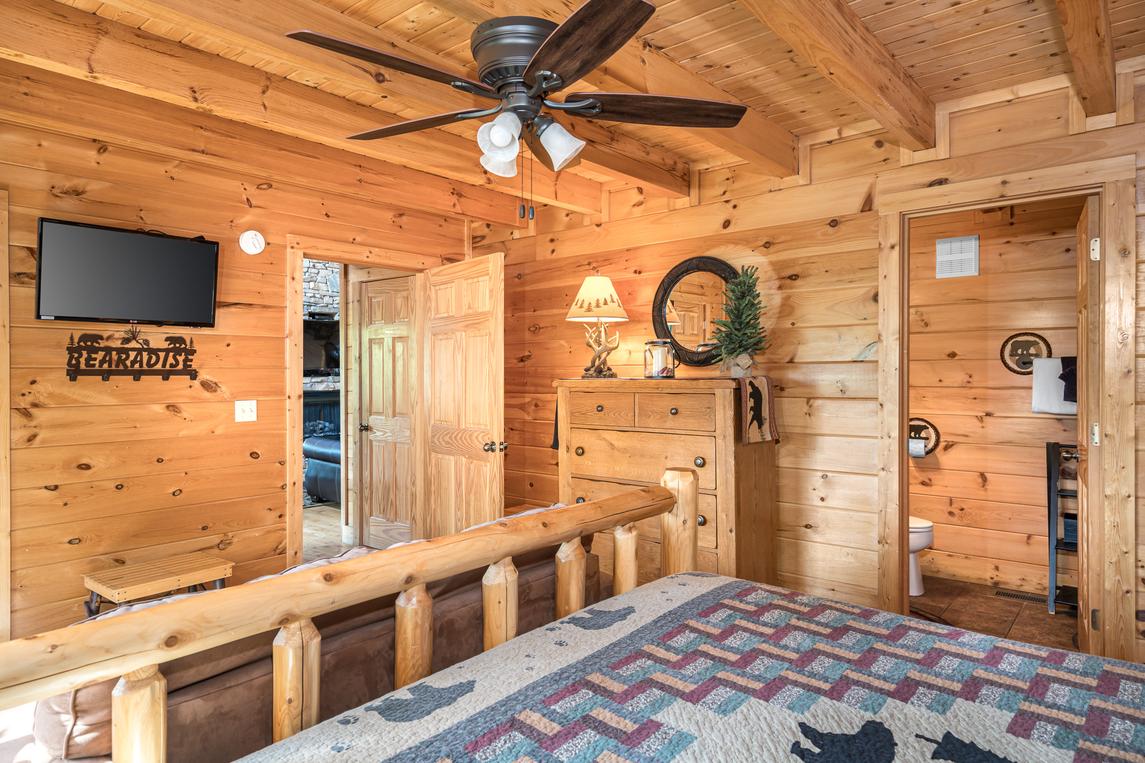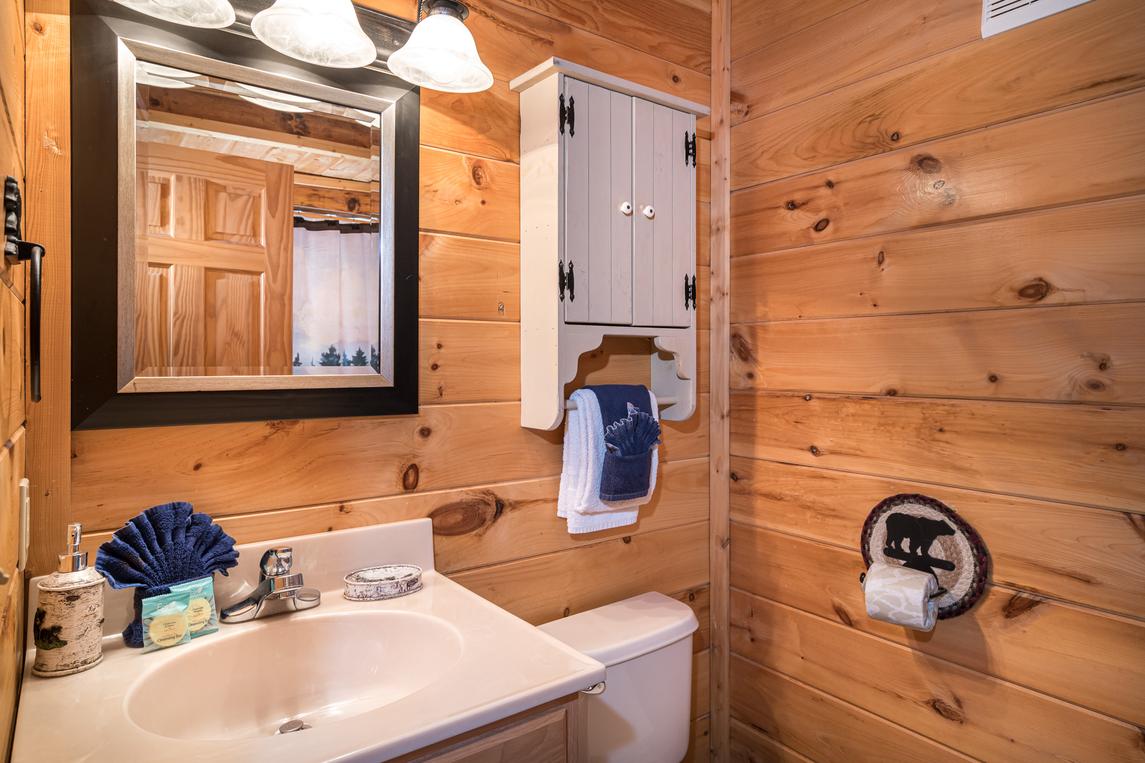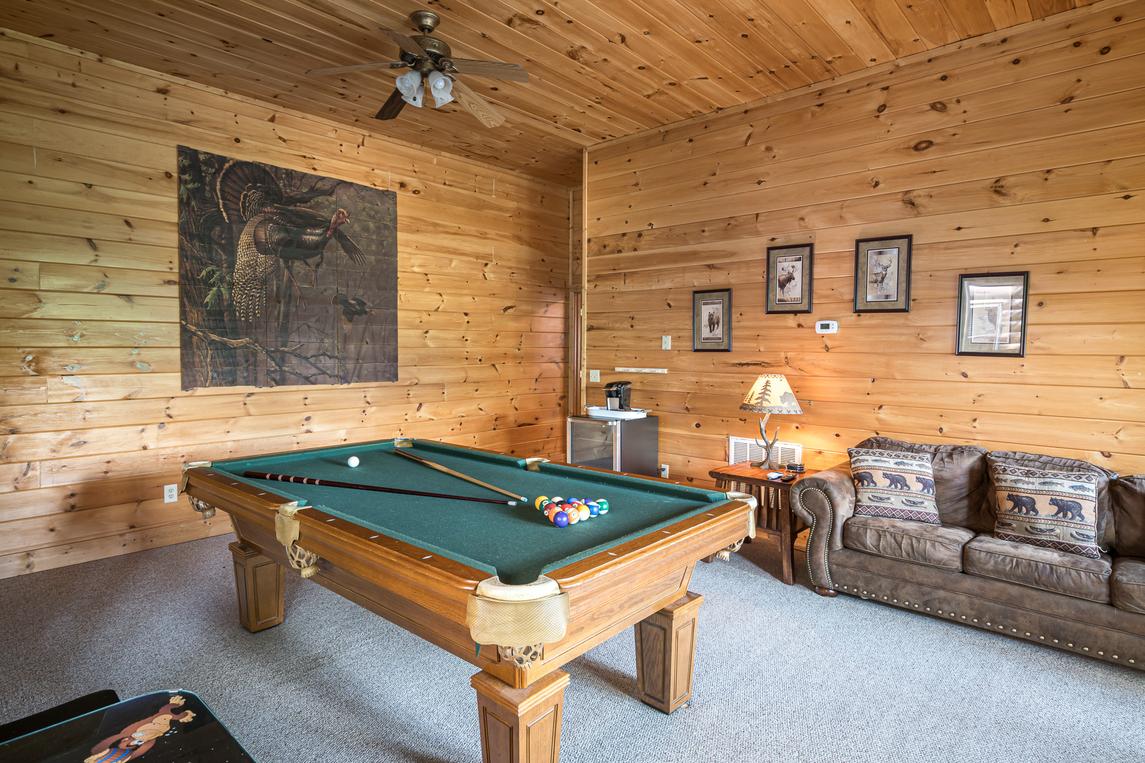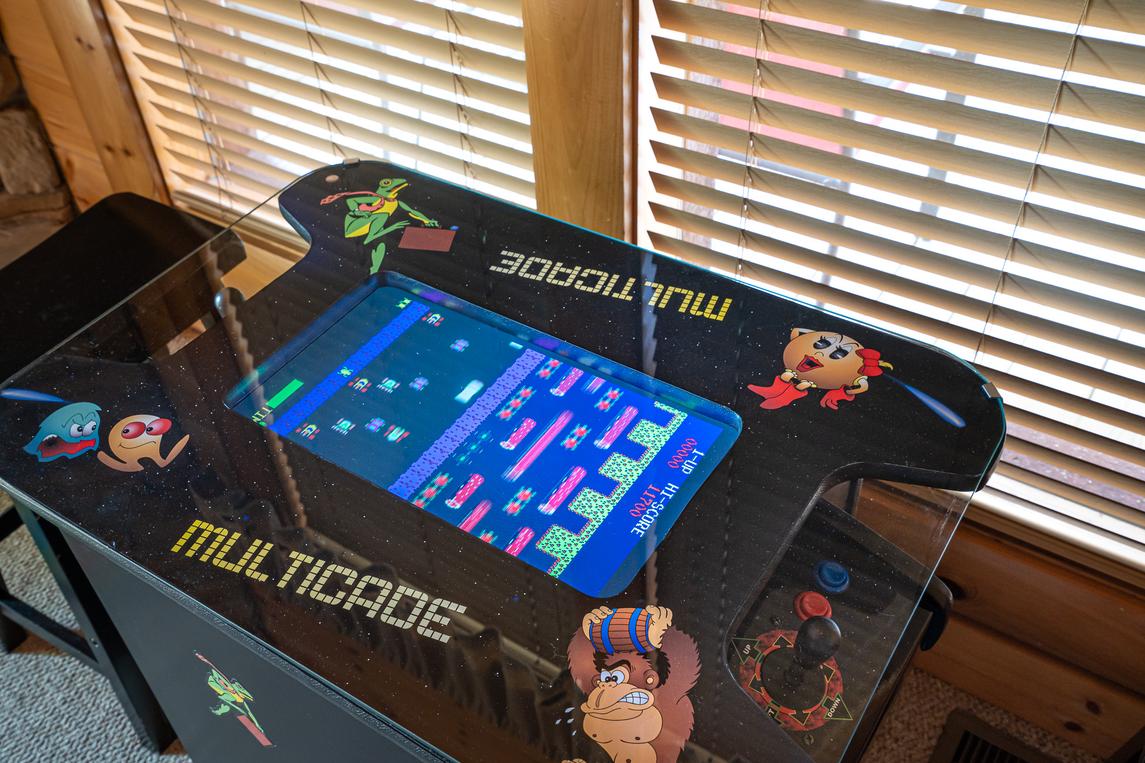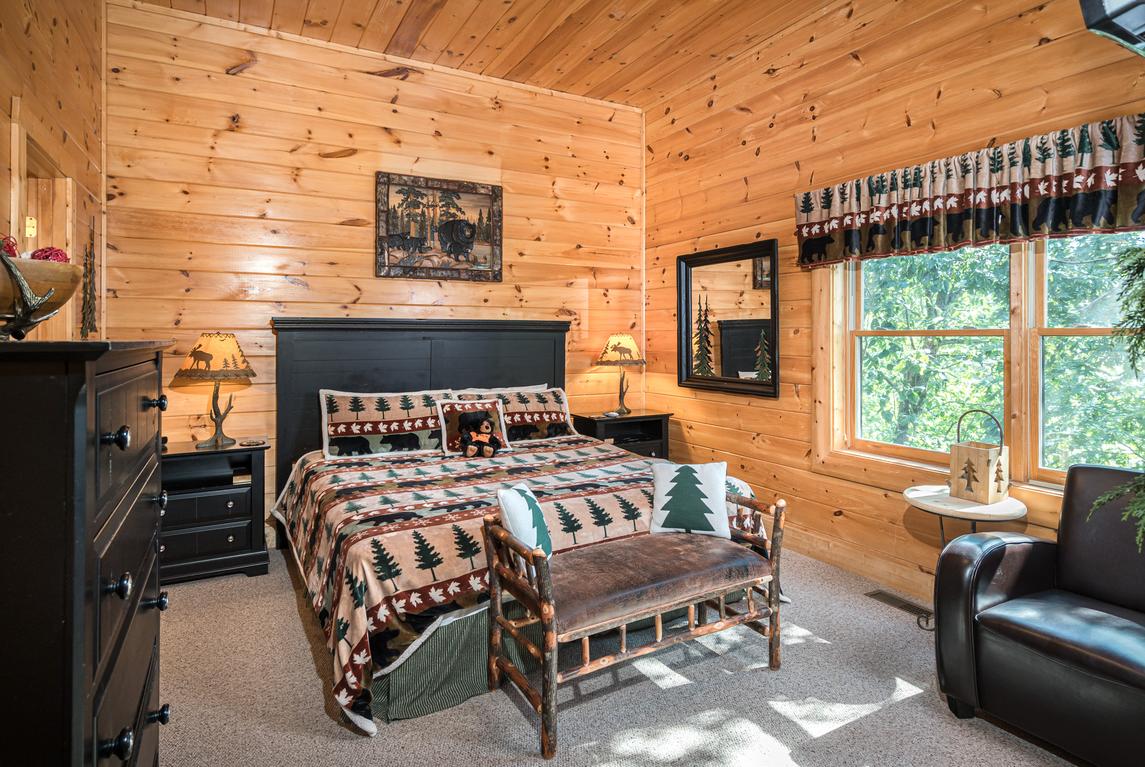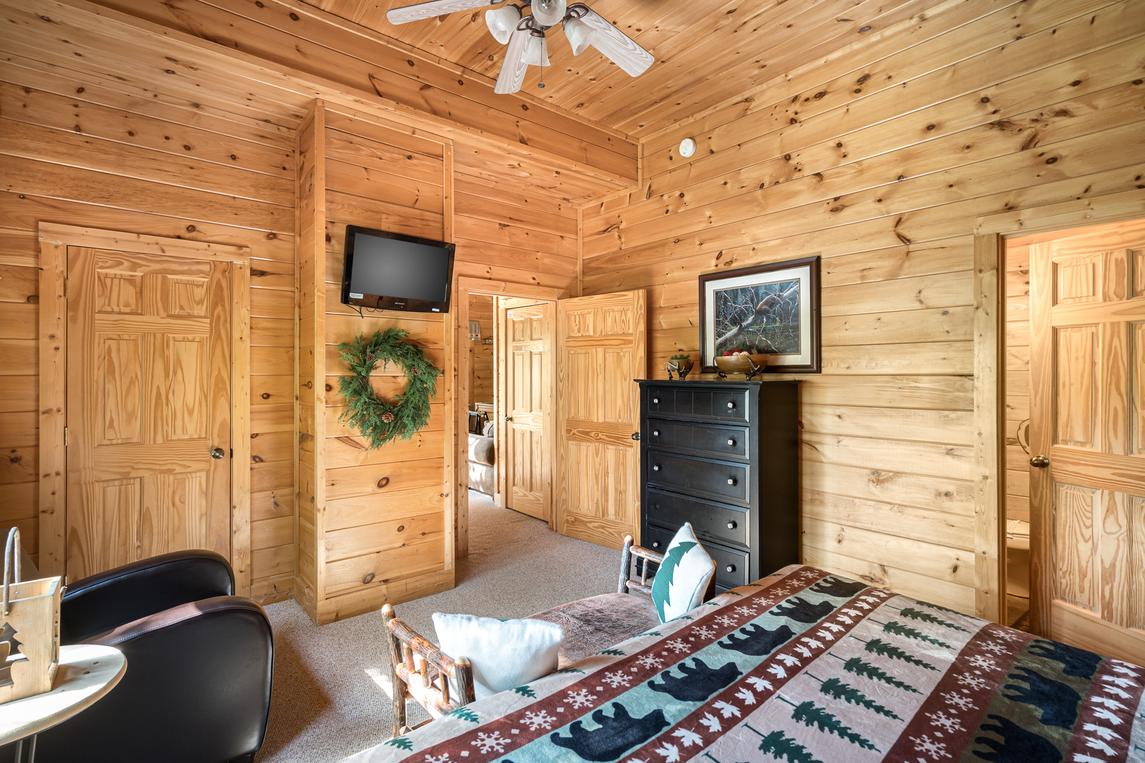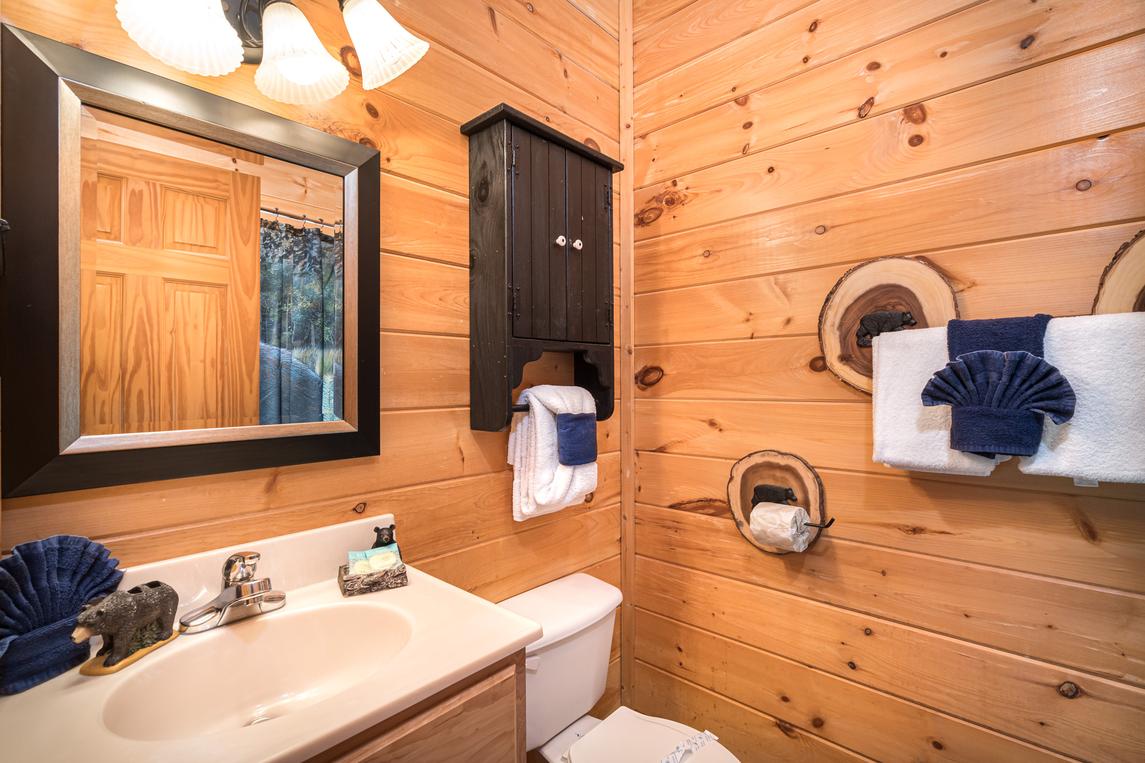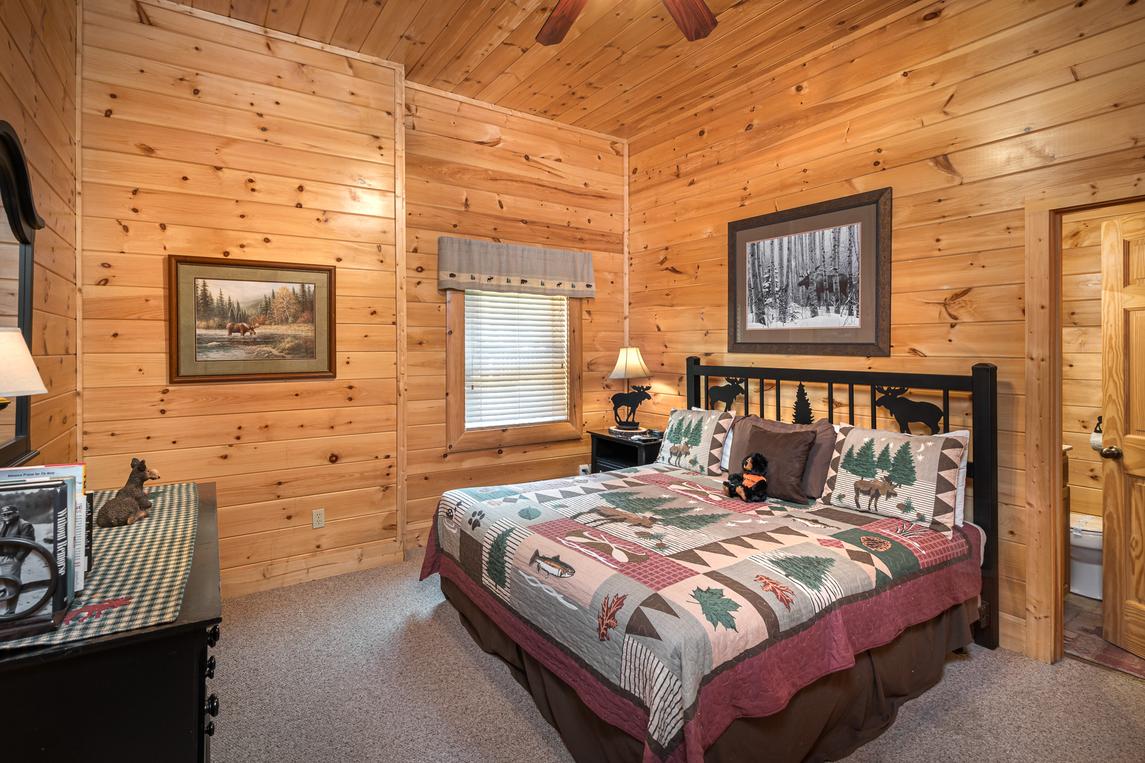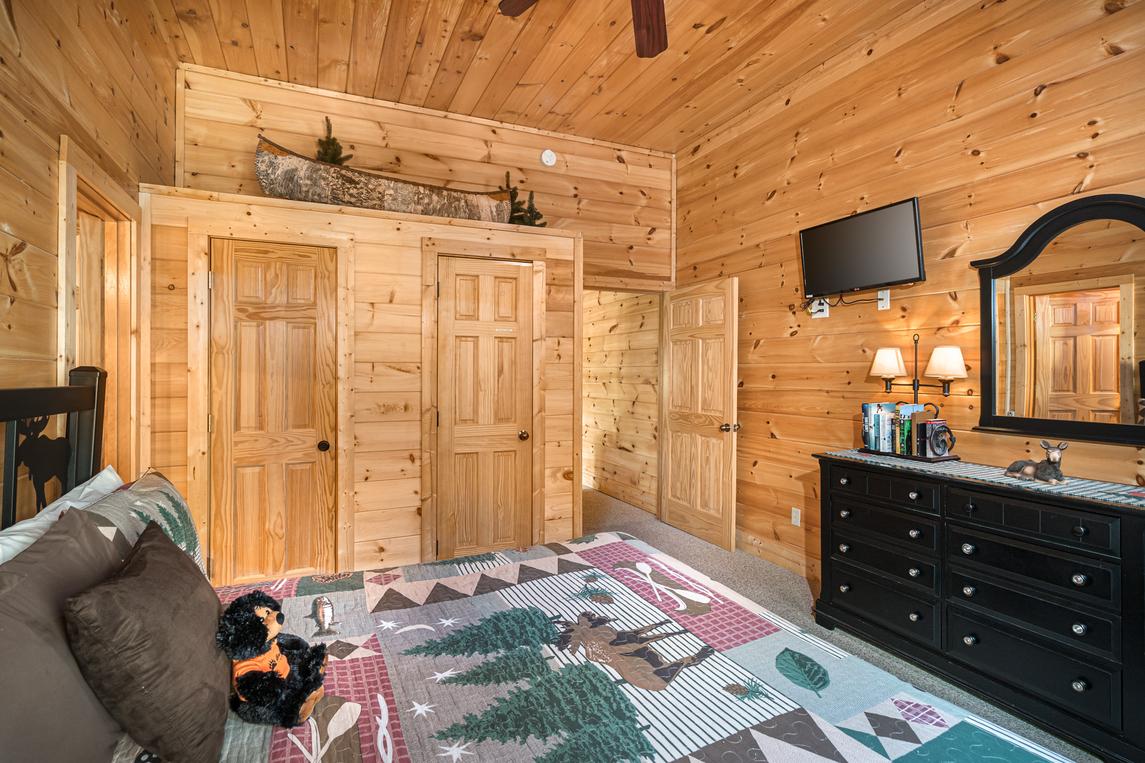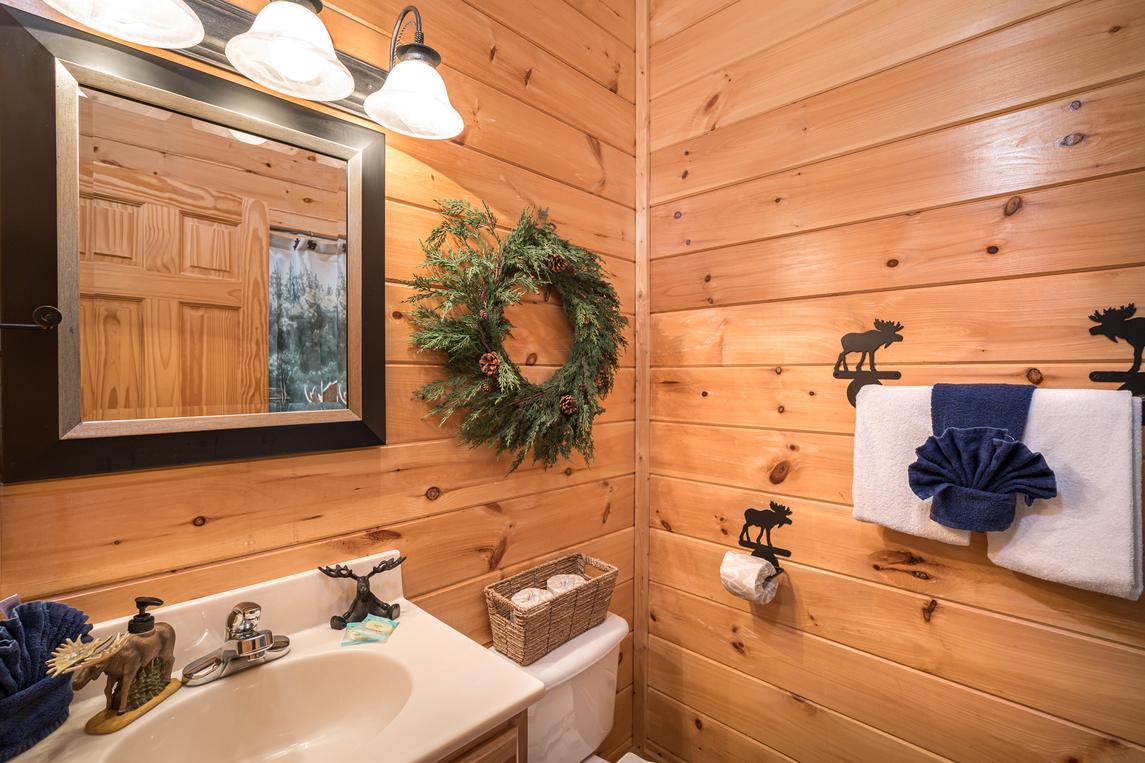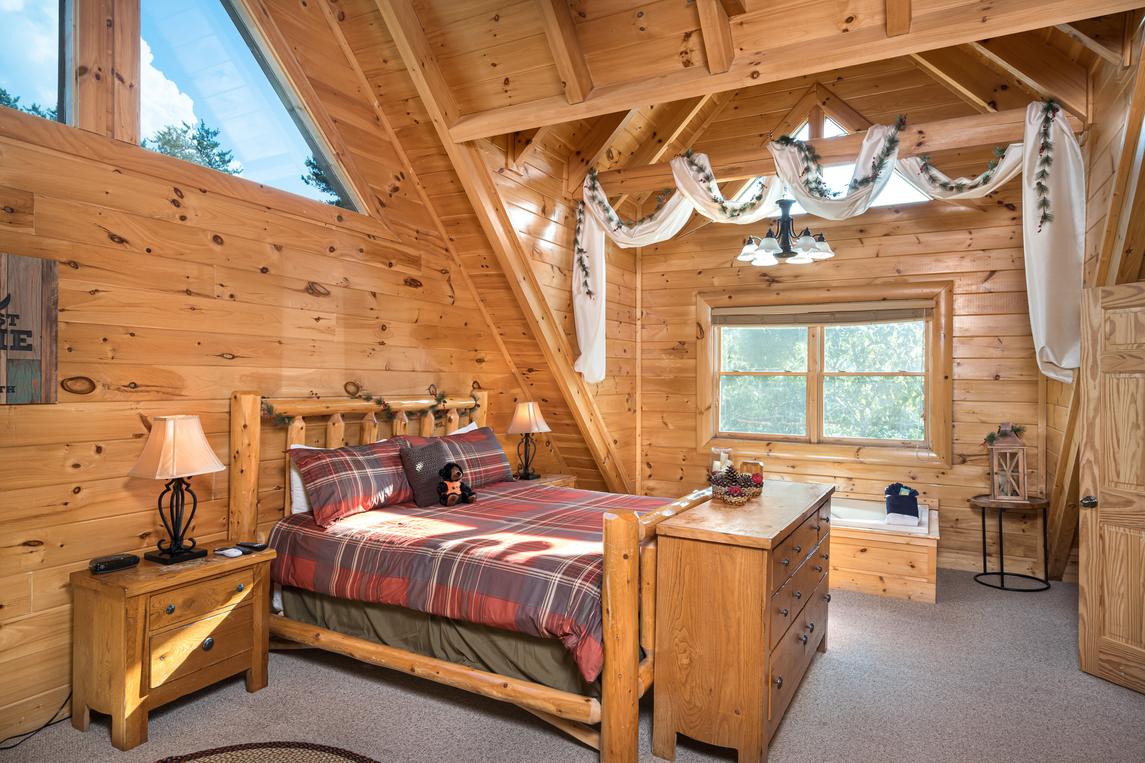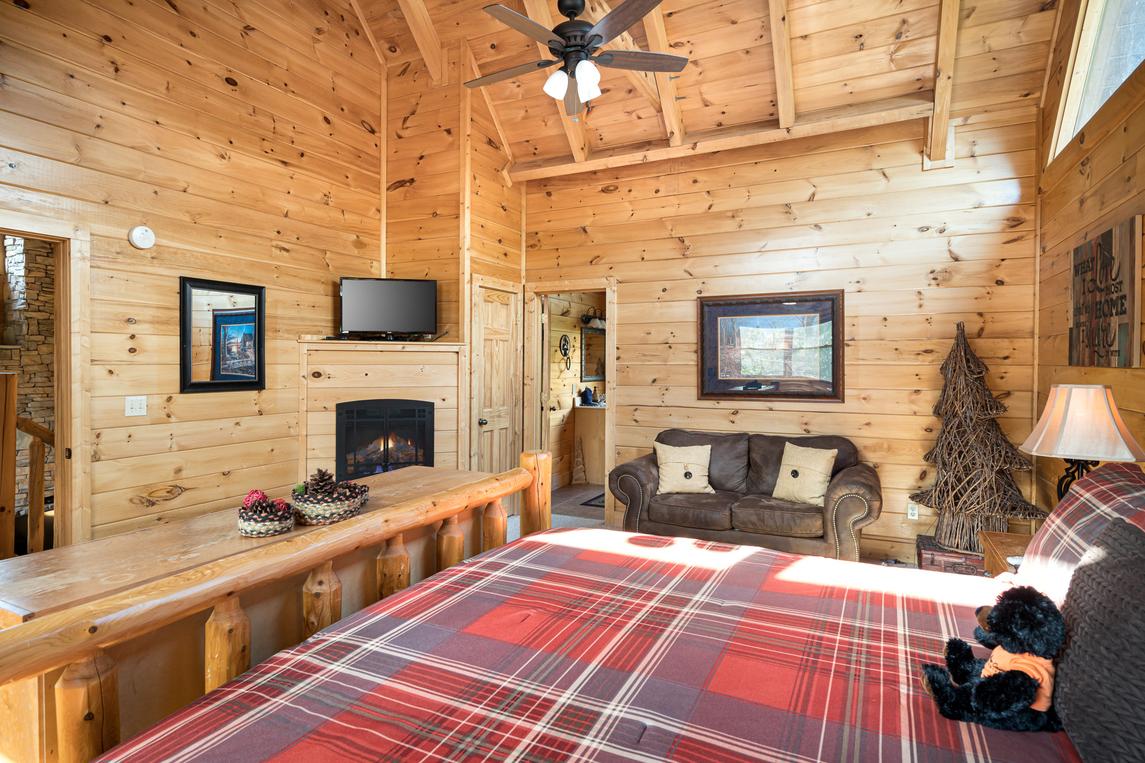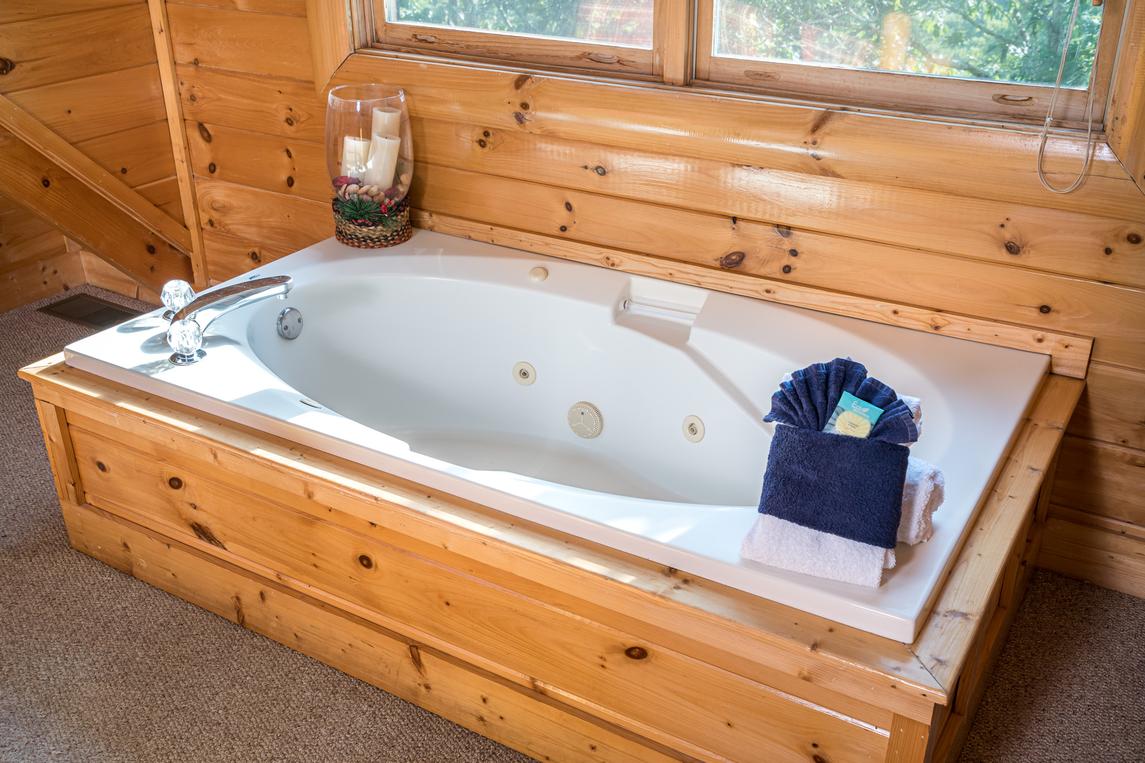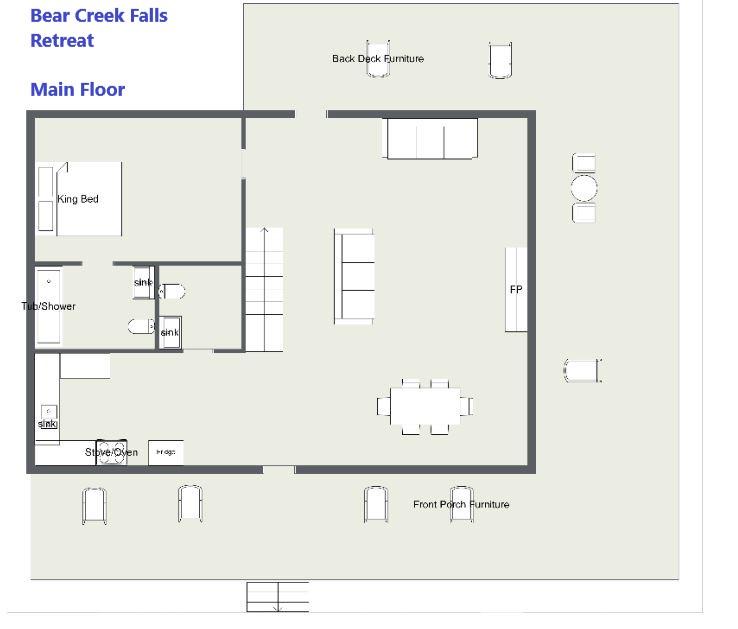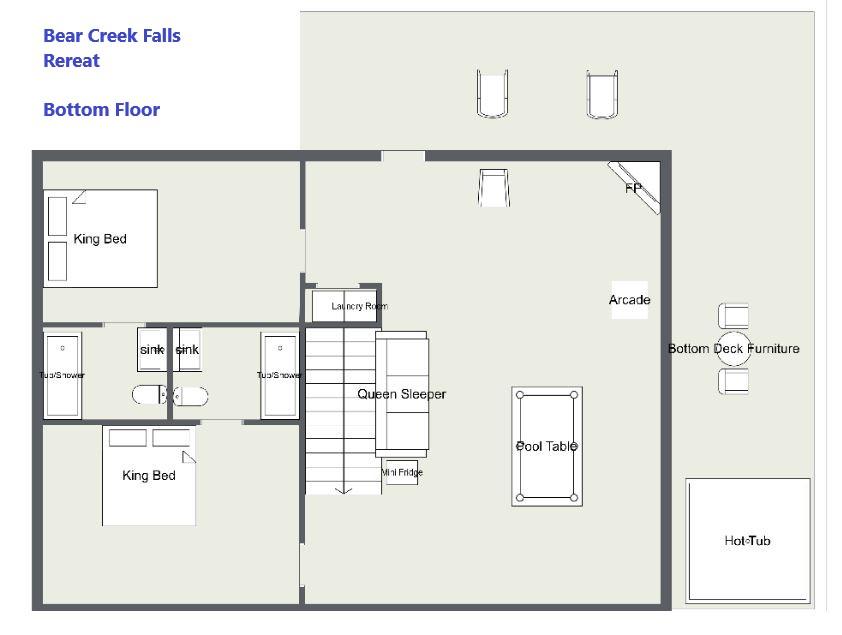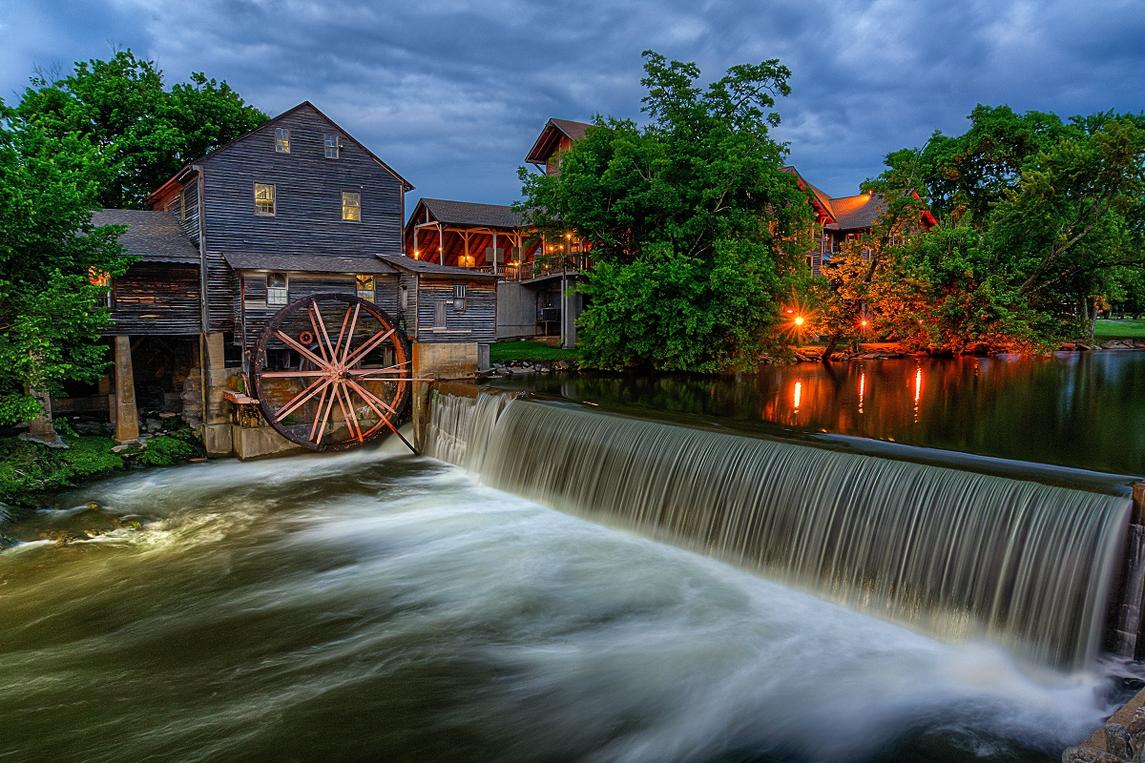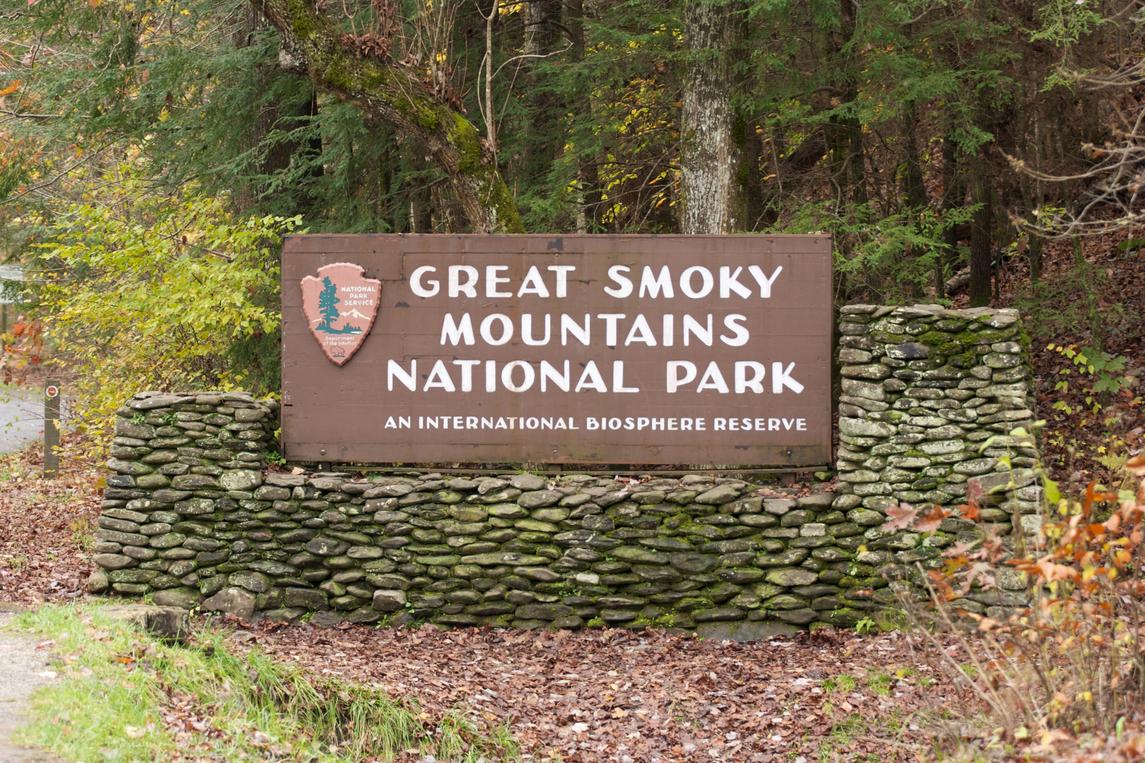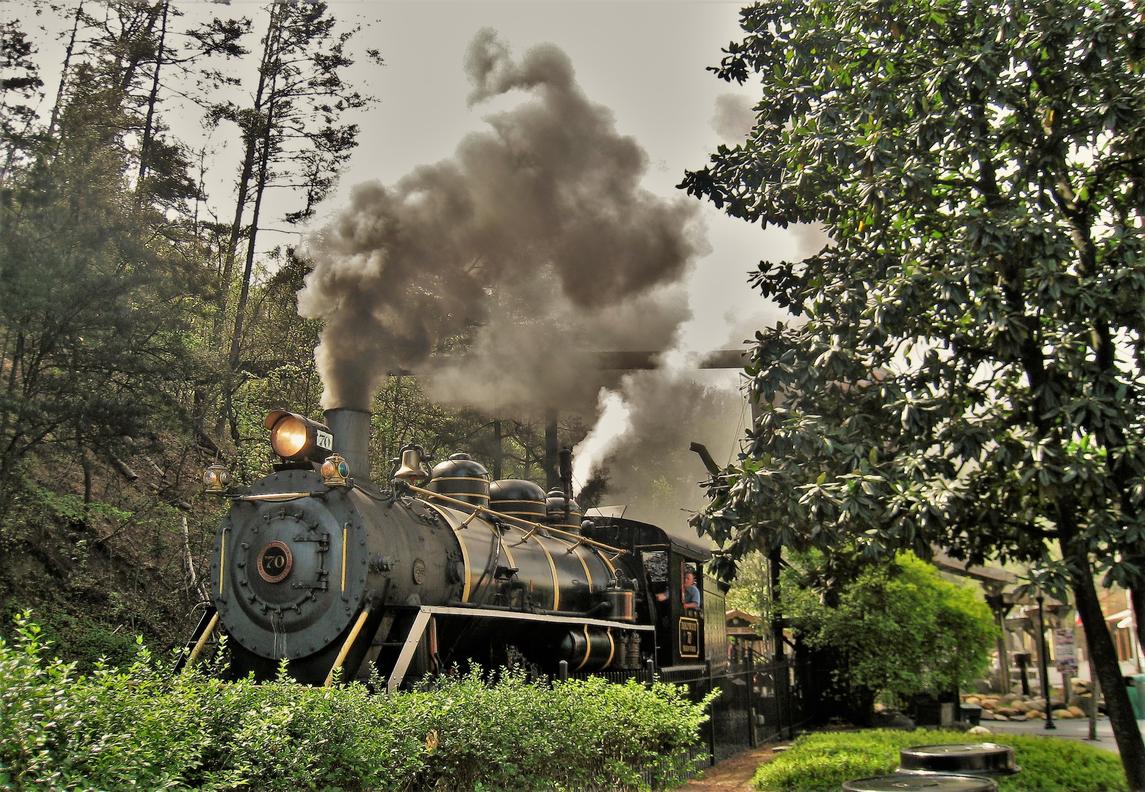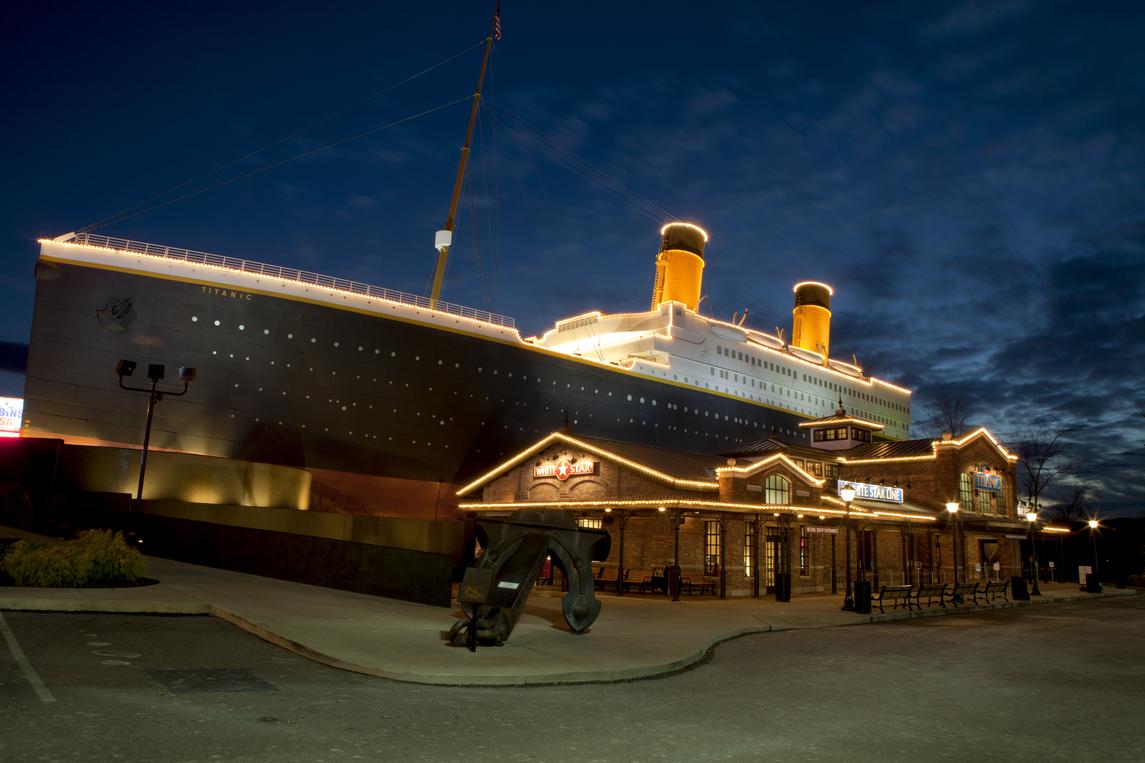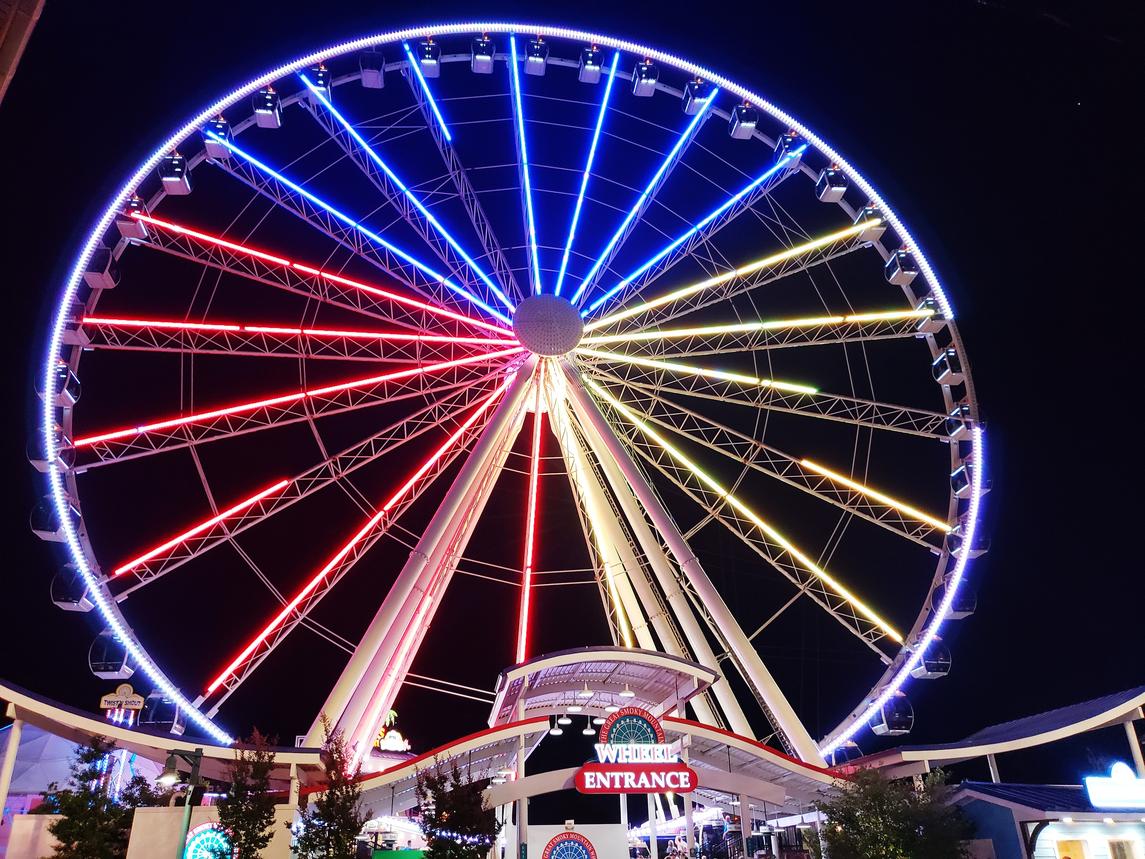 Description
Amenities
Reviews
---
"Bear Creek Falls Retreat" is paradise on earth and if you are looking for the perfect place to have a special and memorable vacation, this is it! This beautiful log cabin boasts soaring ceilings, beautiful décor, top of the line furnishings, sounds of the waterfall, lush wooded views and entertainment galore!
Located in Bear Creek Crossing, a gated community just outside of Pigeon Forge. This resort community is motorcycle friendly and offers several amenities which include an on-site putt-putt course, an indoor pool for winter, and a relaxing outdoor pool during the summer with a triple waterfall backdrop.
This cabin can comfortably accommodate up to 10 guests with the 4 bedrooms located throughout the 3 spacious levels. The master bedroom located in the upper level, has a king bed, flat screen TV, wonderful jacuzzi, a private bath and its own electric fireplace and love seat. There is a king bedroom on the main level with a private tub/shower combo bathroom with a flat screen TV. In the lower level, there is also 2 king bedrooms both with private tub/shower combo bathroom and flat screen TV's. You will be able to enjoy comfort and privacy as guests head to rest for the night.
In the game room, kids and adults of all ages will love playing around and hanging out. Featuring a pool table, a 55-inch flat screen TV, queen sofa sleeper, a lovely electric fireplace, and an arcade game Ms. Pac Man. You will also find a mini refrigerator, Keurig coffee maker, high speed internet, and the washer/dryer is on this level.
Whether you're preparing a gourmet meal or just a quick snack, the beautiful kitchen is well equipped to handle anything. Beautiful wood cabinets with space you really want to spend time in. It has all the essentials, and a dining table with room for 8 is just steps away.
Out on the deck, lush wooded views surround you. Unwind at the end of a long day with a soak in the hot tub, or have a cup of coffee while relaxing in the rocking chairs and listening to the waterfall below. A gas grill on the deck is great for cookouts, so pick up some steaks while you're in town and enjoy a peaceful meal on a nice night.
Boasting lovely wooded views, luxurious and spacious interiors, lots of great amenities, and a convenient location, "Bear Creek Falls Retreat" will provide you with everything you will need or want to ensure that you have a most memorable vacation!
This cabin is not pet friendly. Don't miss out — Call us today to book this gorgeous cabin!
Video: https://youtu.be/EErnxP1P9c4
Casey Davis
My family thoroughly enjoyed our stay. The cabin was roomy, comfortable, and relaxing. It was also located near main attractions, so traveling was convenient.
Amy Wilson
Been coming to the area for over 20 years and this was our first experience with Bear Camp cabin rentals and Bear Creek Falls Retreat. It did not disappoint! This is the cleanest cabin we have stayed in. It was beautifully decorated. All furnishings were in excellent shape. Beds were comfy and blanket supply was generous. The layout was perfect for our group. Everyone had plenty of their own space. Our favorite thing was cracking the windows and hearing the waterfall below. So relaxing. Thank you for sharing your amazing cabin with us. We will be back!
Teresa Wright
The house was very nice!!! Decorations, furniture, and layout were all awesome! One of the cleanest places we have ever stayed in!! Will definitely book with Bear Camp Cabins again! The website was the best site to book a cabin on. I love the floor maps and the 3D views of the houses/cabins. That makes it so much easier to choose a house based on handicap and other needs. Thank you so much!!
Randy L Browning
Everything was great! We had a great stay
annette toland
Everything was very nice and very clean we enjoyed our stay
Norma F Pruitt
We all enjoyed our stay this weekend. The cabin was perfect. There was plenty of everything we needed. We look forward to coming back someday. Thank you so much.
Ronda Grube
We enjoyed this cabin. Plenty of room for 4 couples with private baths. Close to attractions and had access to a nice pool. We have stayed with Bear Camp Cabins now 3 times and have not had any issues. Thanks
Julie Garcia
It was awesome. I couldn't get my door code to work and the staff was very helpful. The cabin was clean and we had a great time. Thank you again.
Stephanie Simon
Gorgeous cabin!!
James Richard Burton
Nice and very clean cabin. Had everything we would need. Close to all Pigeon Forge attractions. Would stay here again.
Danielle dupre
Cabin was great.
Morgan Tharp
The cabin was very and had plenty of space. The beds are big and comfortable. I would stay here again.
Dawn Marsh
Cozy cabin & nice little housing community! We enjoyed our family weekend very much.
Rodney Safford
The cabin was amazing
John Hall
Worth every penny! Our friendcation was amazing! Definitely booking again.
Paula Oscai
Excellent cabin! Decorated for Christmas beautifully!! Plenty of room and lots of extras. The only thing we struggled with is cell service. It's very in and out. If you aren't worried about cell service then this is the perfect cabin.
Gary Van Hoorebeke
The cabin was very clean and set up perfectly.
Thomas D Shipp
Nice cabin.
Annmarie Potts
Great cabin...beautiful setting! Will absolutely come back again!
Brett E Nelson
We had a great stay & the cabin was beautiful! Plenty to do. The a/c went out on Thursday but was repaired quickly. On the negative side, the rugs used have the edges curing up & were easy to trip on. I would definitely do it again!
Charles Roberts
Nice place clean easy to get to will go back again
Margaret M Hiemer
Bear Camp Cabins were very accommodating when we had an issue with a previous cabin we had rented. They found us an even better location. The house was just beautiful, even better than the pictures. Everything was well taken care is and we felt very welcome there. Plenty of parking with 4 cars, easy to have each member of the family be able to come and go if they wanted to. The pool and golf course was great when you just wanted to hang around and relax. We highly, highly recommend then, we are hoping to book with them again.
Charles Roberts
Nice place clean easy to get to will go back again
Jill Friedersdorf
The cabin was beautiful with adequate supplies for our group of 7. It is hard to beat the view of the woods and the mountains. Check in and check out was easy. *the cabins are a bit of a drive to the main road and restaurants and attractions.
Andrea Knowles
We had a great time. 4 nights 5 days. The cabin was beautifully decorated with Christmas decor. The views were gorgeous and the staff was friendly (via phone due to COVID). Check in was extremely simple and the area is beautiful. The cabin had all of the kitchen items we needed and was comfortable. Get past the ladybugs and you'll have a great time.
Melissa Cook
This was the first time I've used this cabin company. We arrived in town and as promised, at 3pm on the dot I got my door code. The cabin was beautiful! Clean and very nicely decorated for Christmas. My only complaint (if I HAVE to) is that the mattress on the main level could have been a little more comfortable. Other than that we found absolutely no fault in this property. We'd like to stay again next year!The cabin was true to description right down to the list of "starter" toiletries like toilet paper, soap, paper towels, etc. I received a call from the office on my second day making sure everything was good with the cabin and that we didn't need anything. We were warned that there were only so many towels provided so we brought detergent and washed our own. Booking, Checkin, and checkout was a breeze! I've just read the reviews on this company and can't help but think they are not legitimate reviews... this cabin and the company were wonderful! I think the cabin was called "Bear Creek Falls Resort".
Henry Dunbar
I was completely surprised at how helpful and quick this company was with a problem like this on a holiday weekend.
Kent Mueller
Great - would be better if didn\'t have to go to office to check in and straight to the cabin
View response from BearCamp
Thank you for staying with us at Bear Camp Cabin rentals. We are pleased to hear that you enjoyed your stay and we look forward to seeing you again. Also, I wanted you to know since your feedback was great other than the check-in we have decided to rethink our check-in procedures. We want to ask you, if you have the time and the opportunity, to share your review on Google as well. If you should choose to do so, we have provided the link for you below. https://www.google.com/search?client=firefox-b-1-d&q=bear+camp+cabins#lrd=0x885bff0f58f2d9b7:0xf584b259913b323d,1,,,
Mary DeAngelo
Beautiful setting. Great space for our family. Enjoyed all the activities in the area and the free tickets.
View response from BearCamp
Thank you for staying with us at Bear Camp Cabin rentals. We are pleased to hear that you enjoyed your stay and we look forward to seeing you again. We would like to ask you, if you have the time and the opportunity, to share your review on Google as well. If you should choose to do so, we have provided the link for you below. https://www.google.com/search?source=hp&ei=Ri2gWpifF42YzwL4vpSgBg&q=bear+camp+cabins&oq=bear+camp+cabins&gs_l=psy-ab.3..35i39k1l2j0l6.12600.14579.0.14692.19.17.0.0.0.0.98.1244.16.17.0....0...1c.1.64.psy-ab..2.17.1320.6..46j0i131k1j0i20i264k1j0i46k1j0i10k1.83.OOa2n-yvOuo#lrd=0x885bff0f58f2d9b7:0xf584b259913b323d,1,,,