Brown Bear Lodge
Select check-in and check-out dates
Please select the nights you would like to reserve using the availability calendars.
Bedrooms: 4 Bathrooms: 4 Sleeps: 12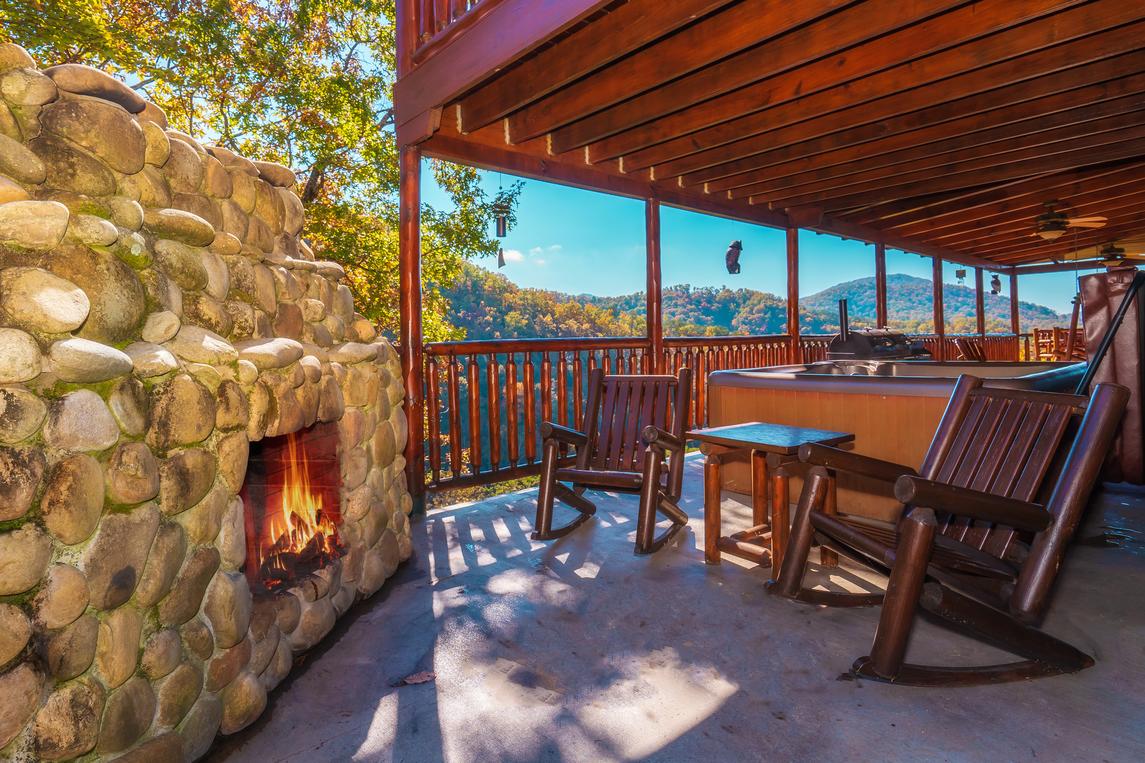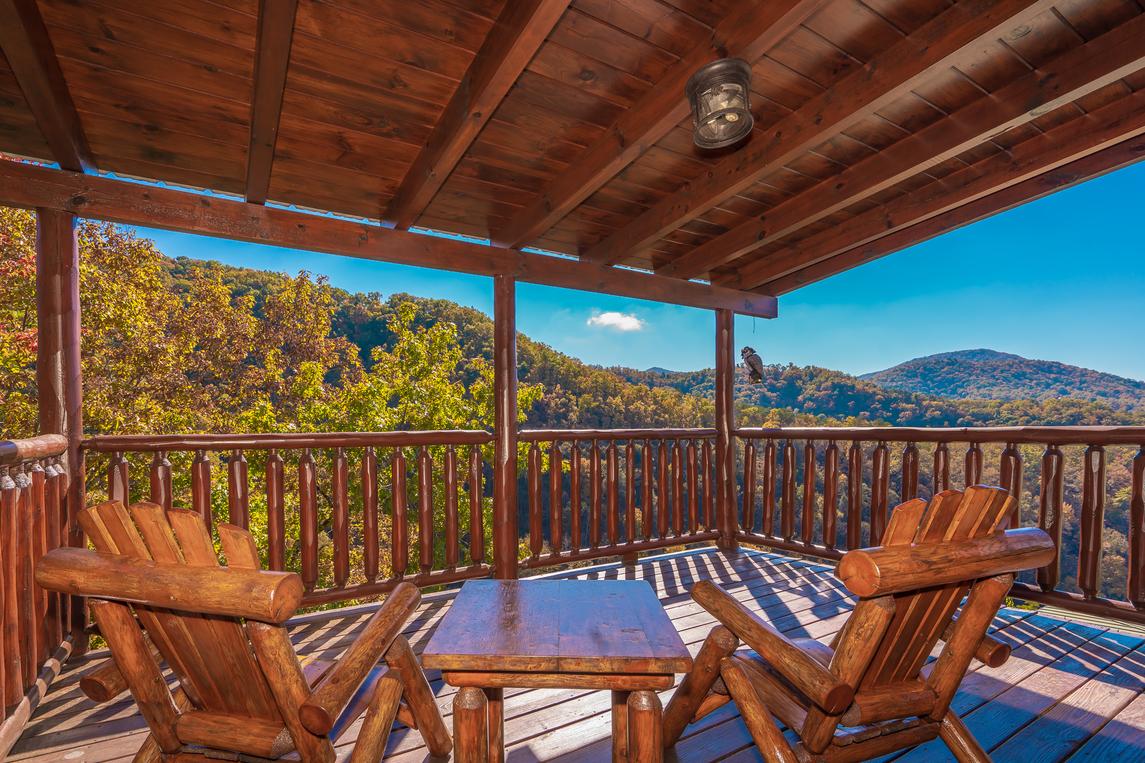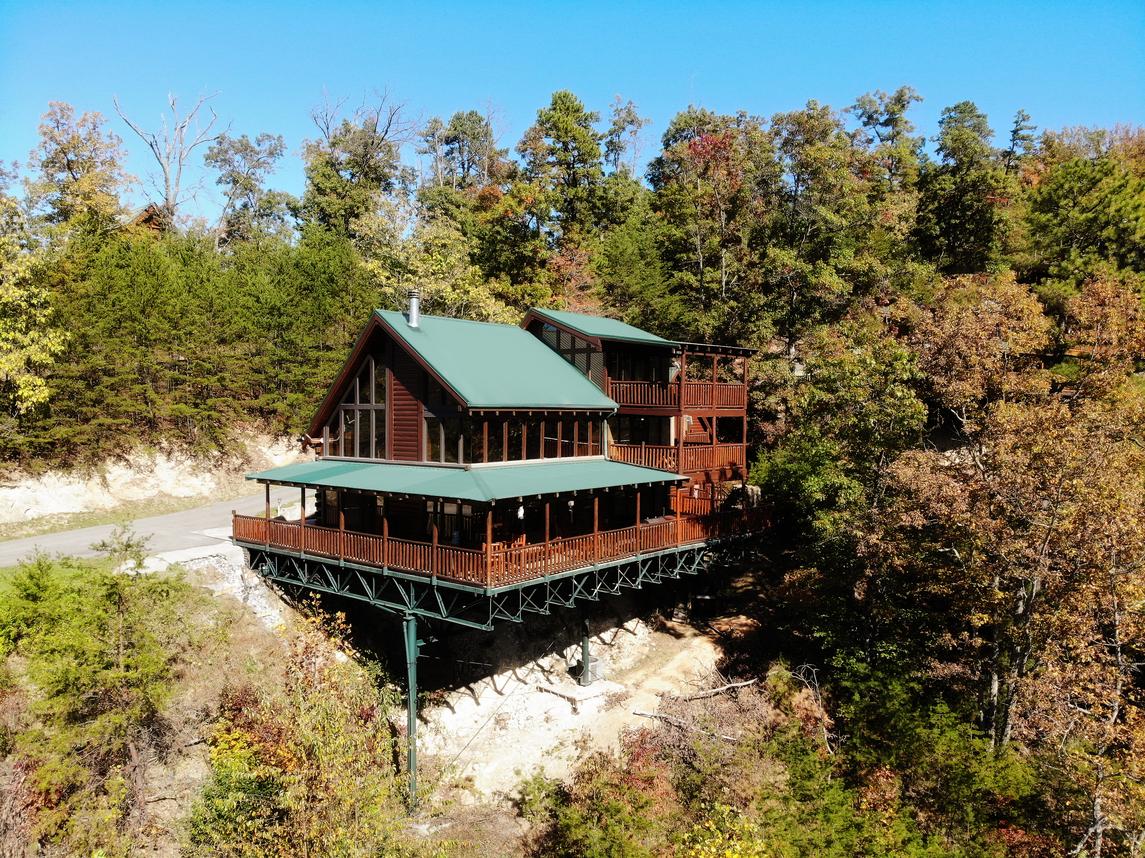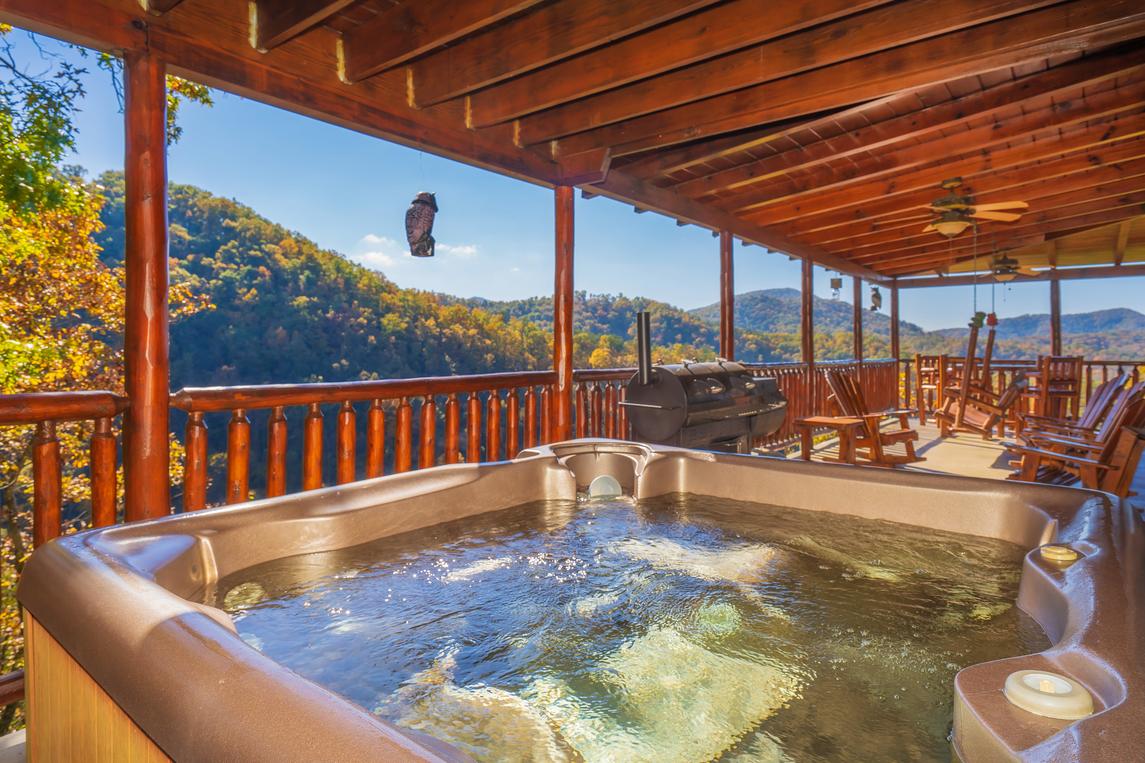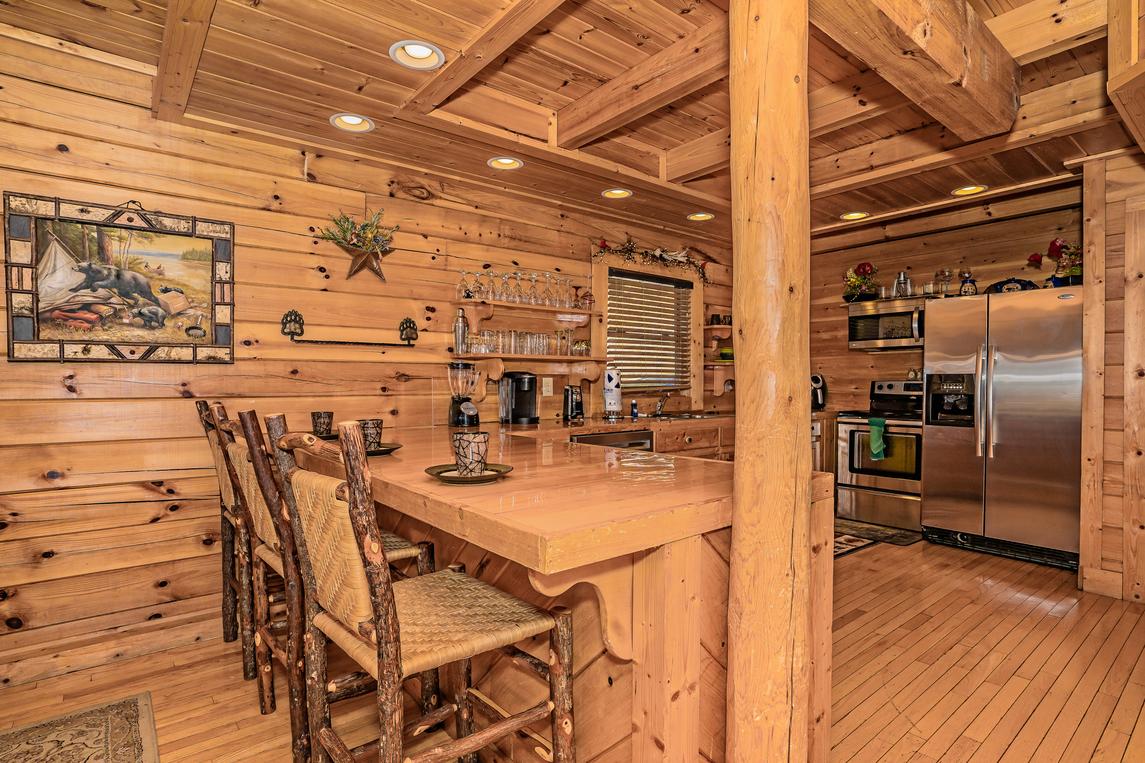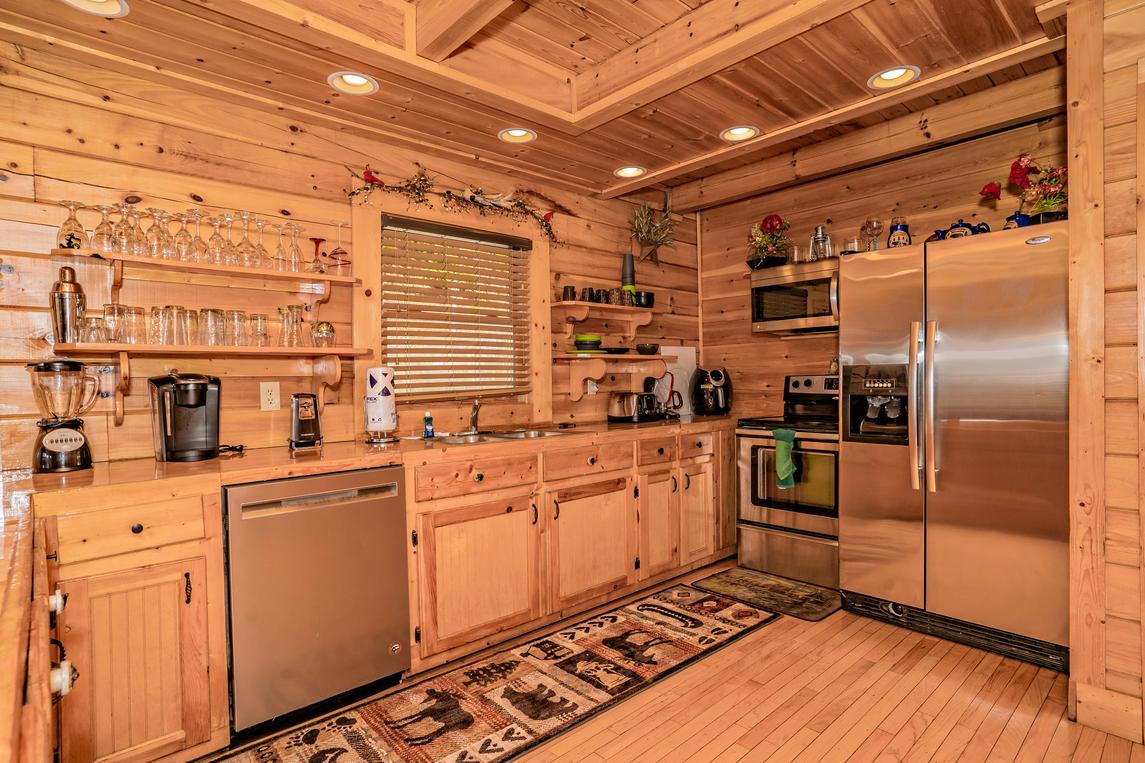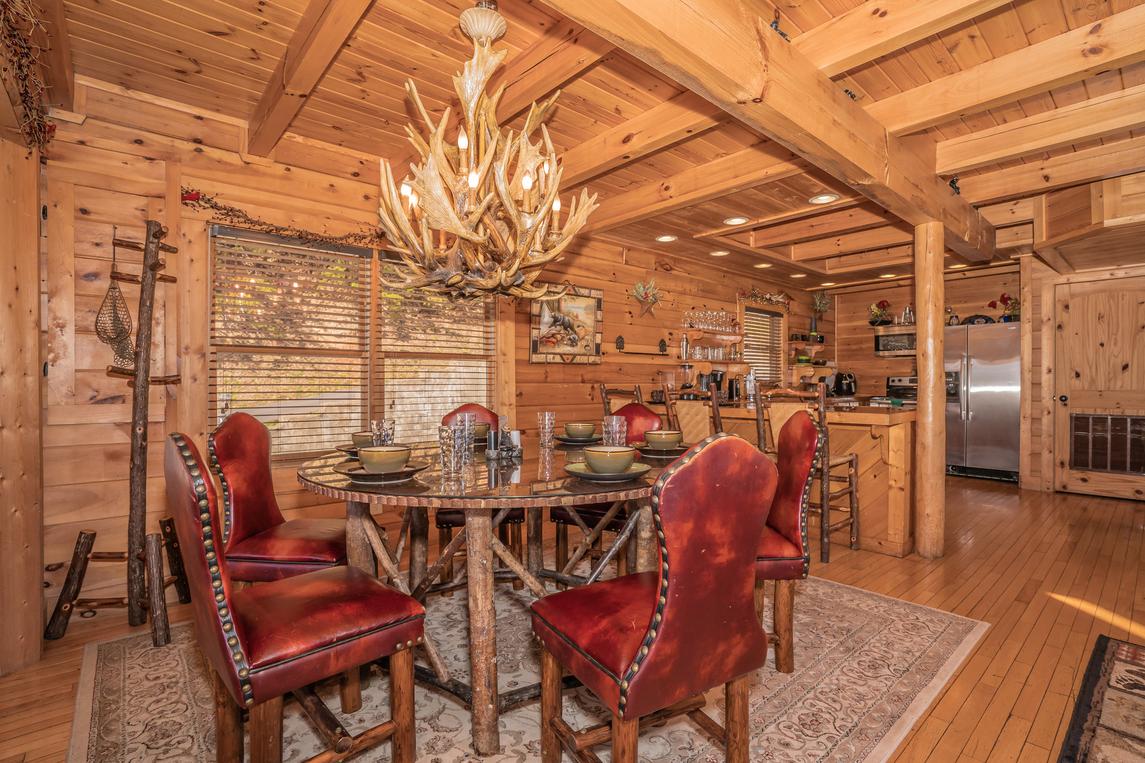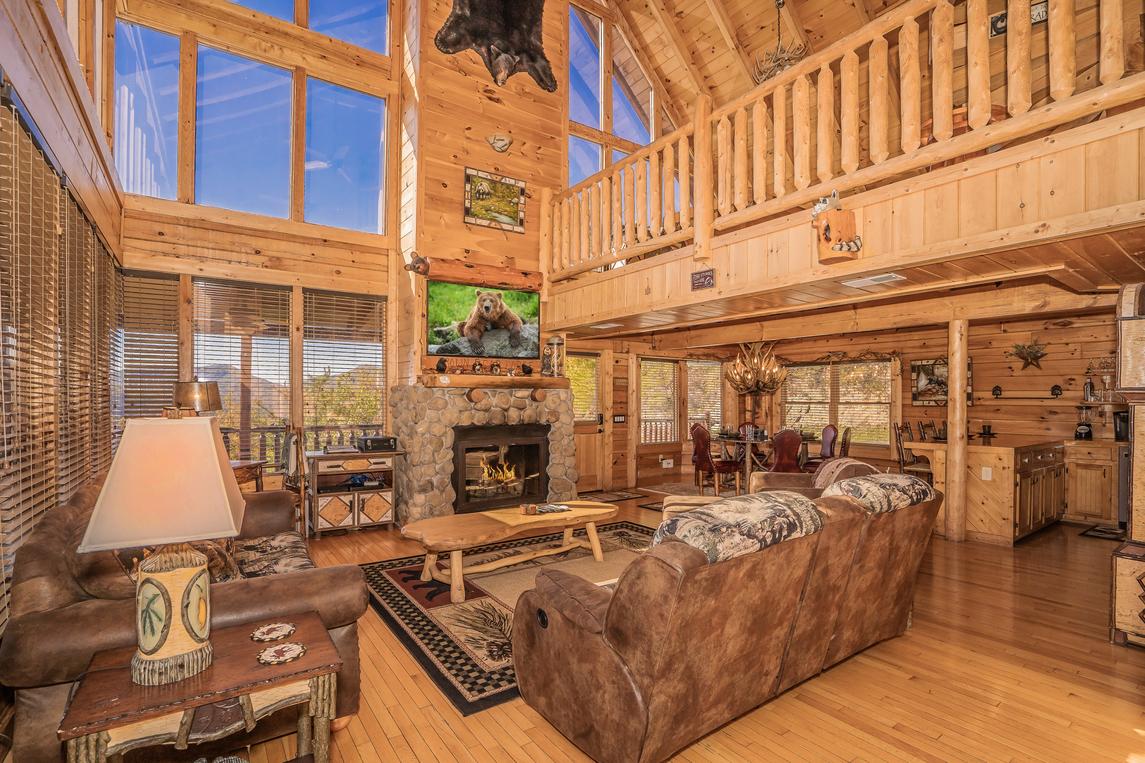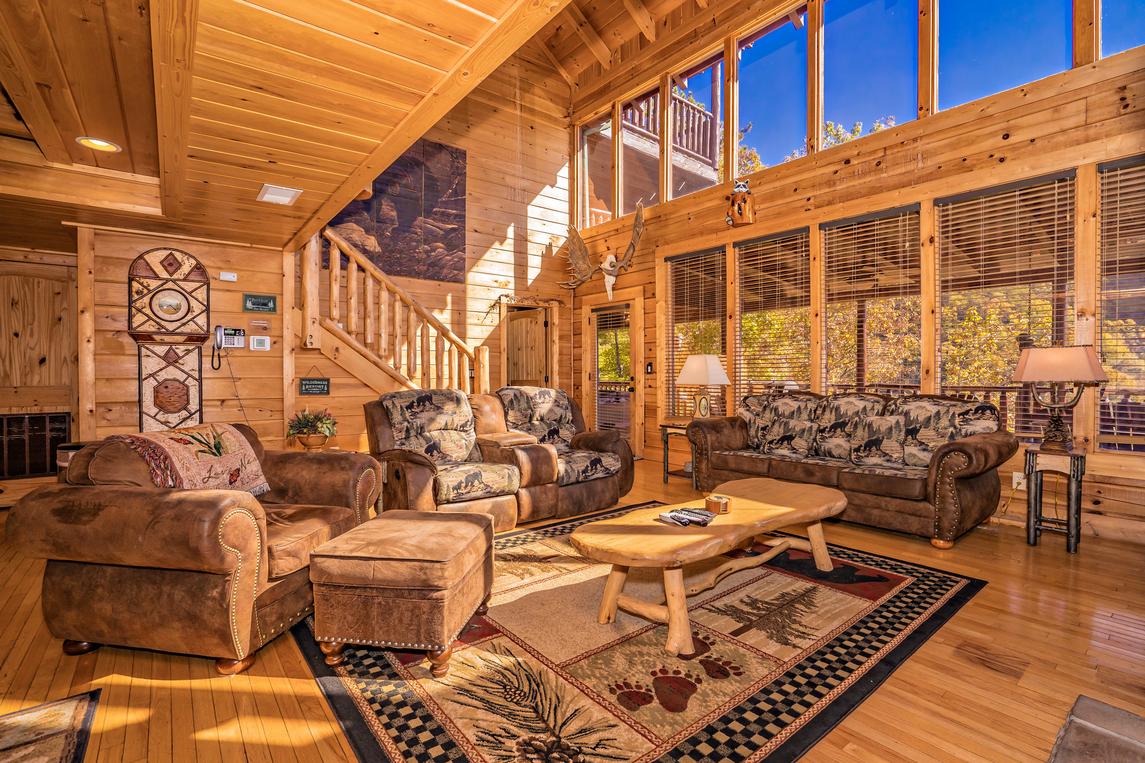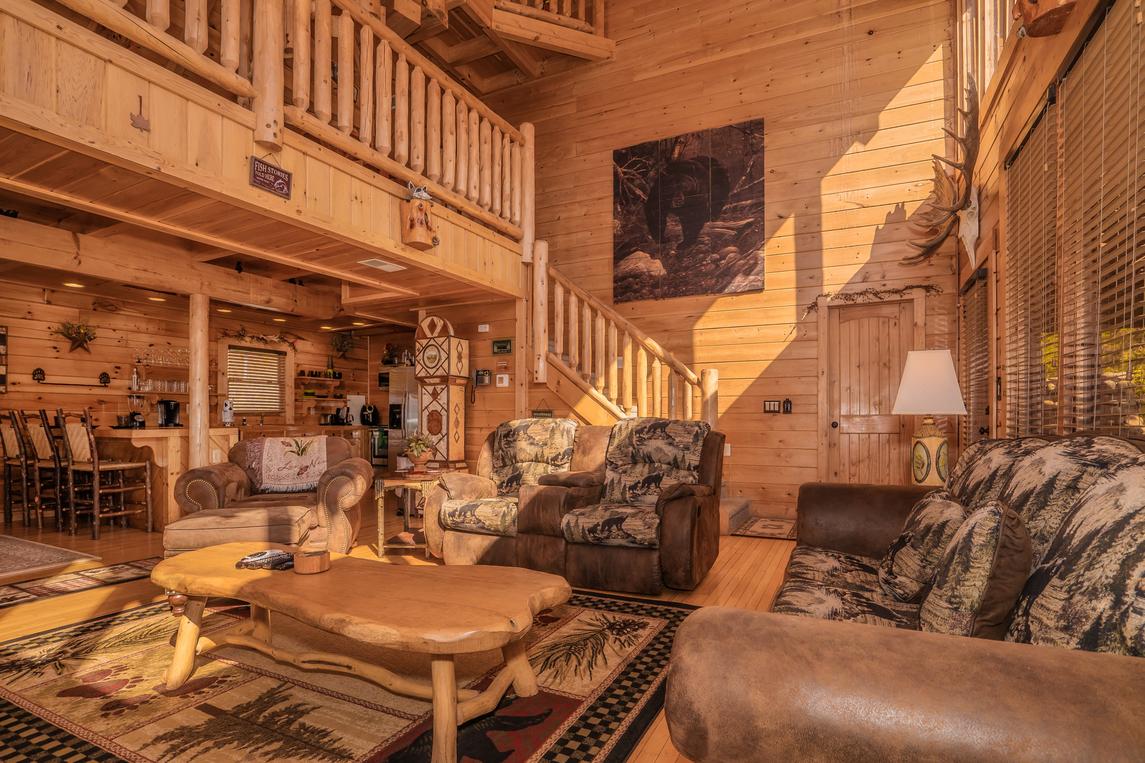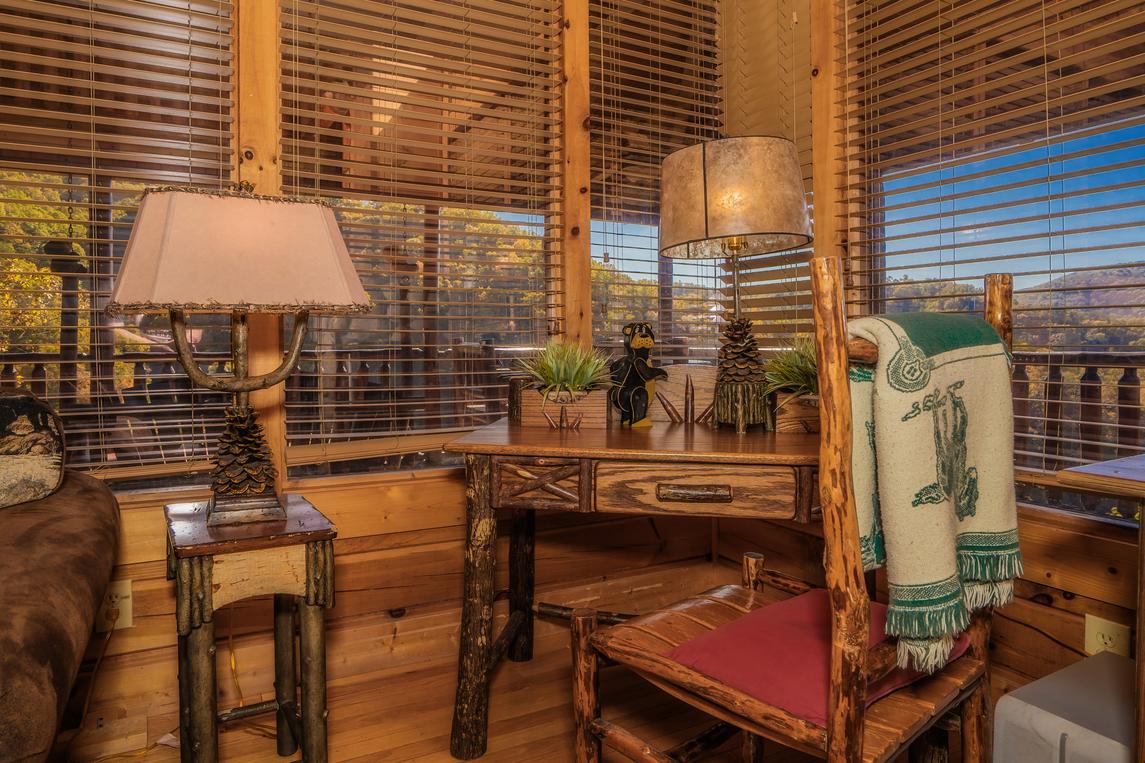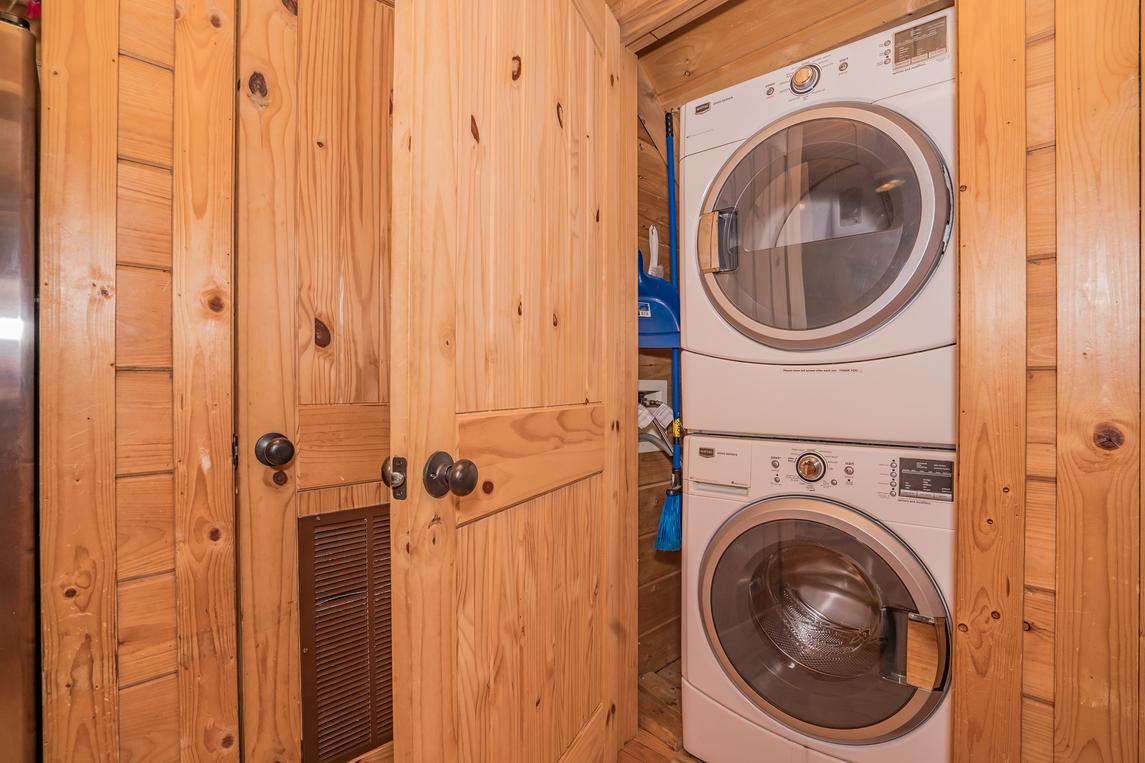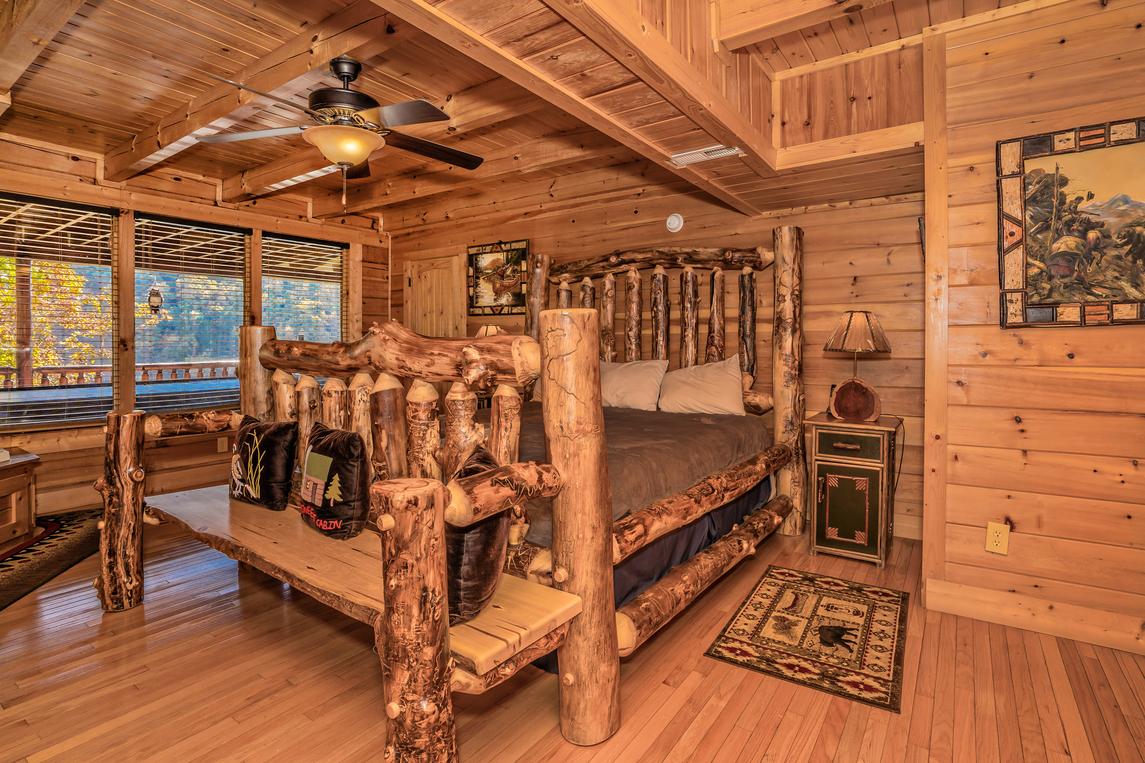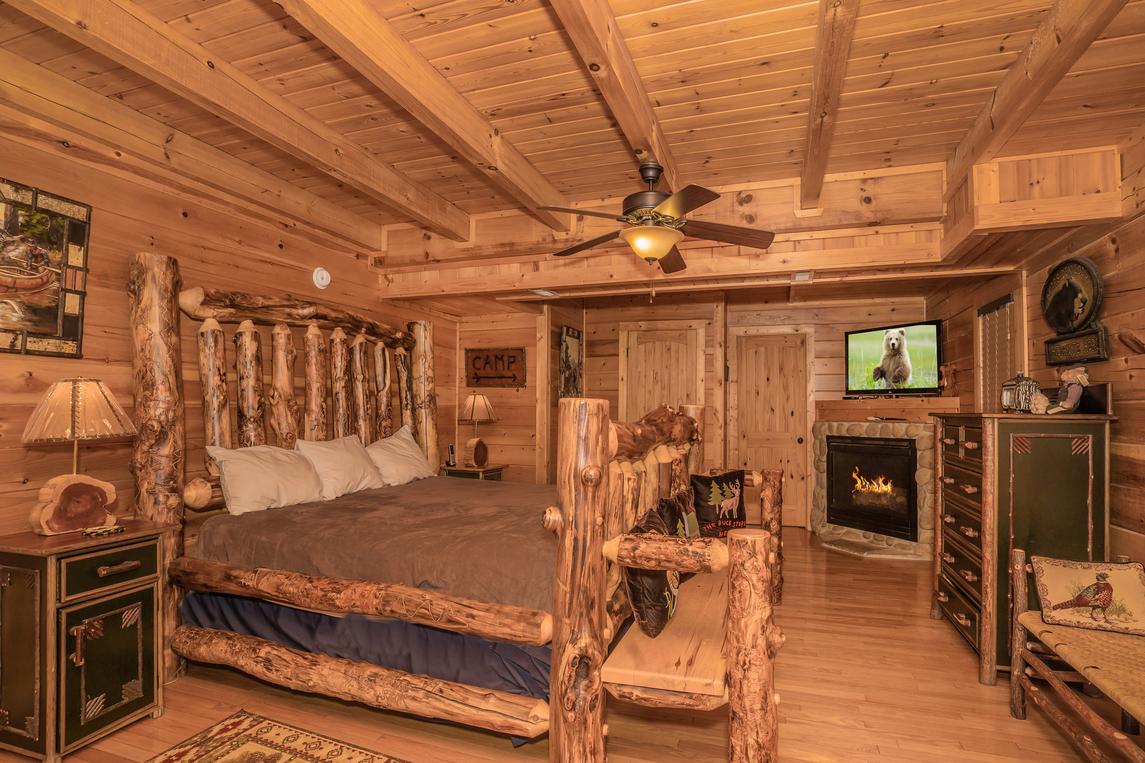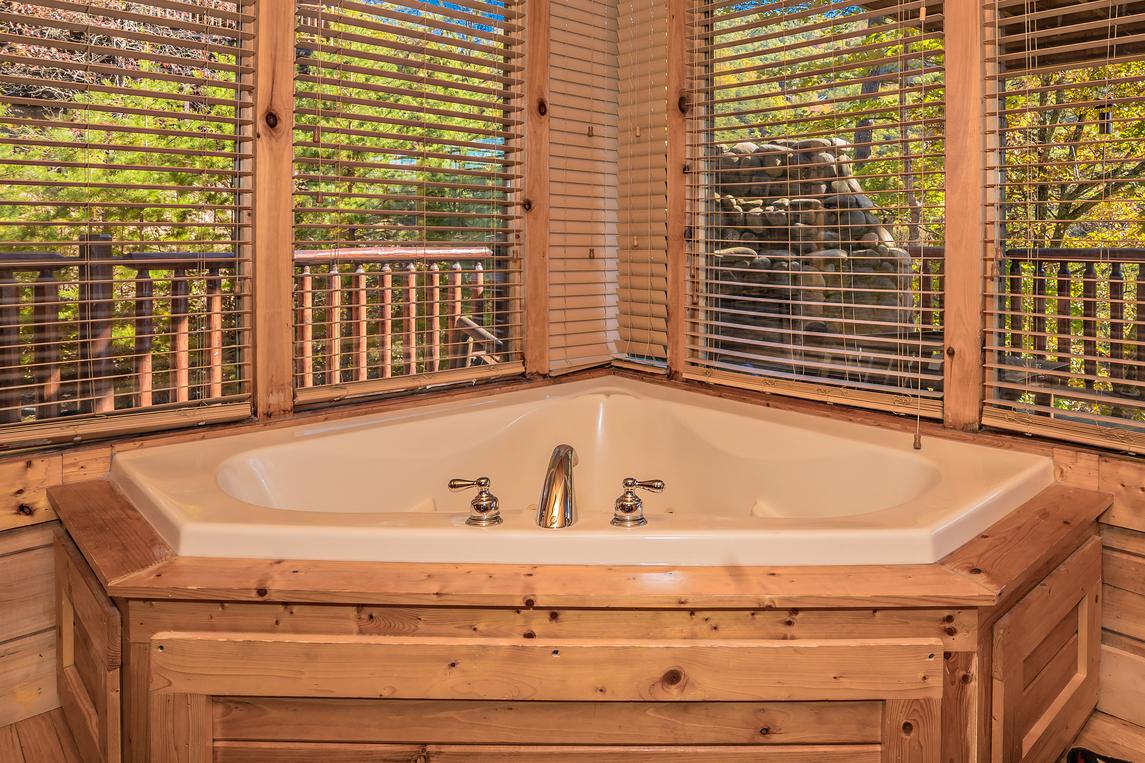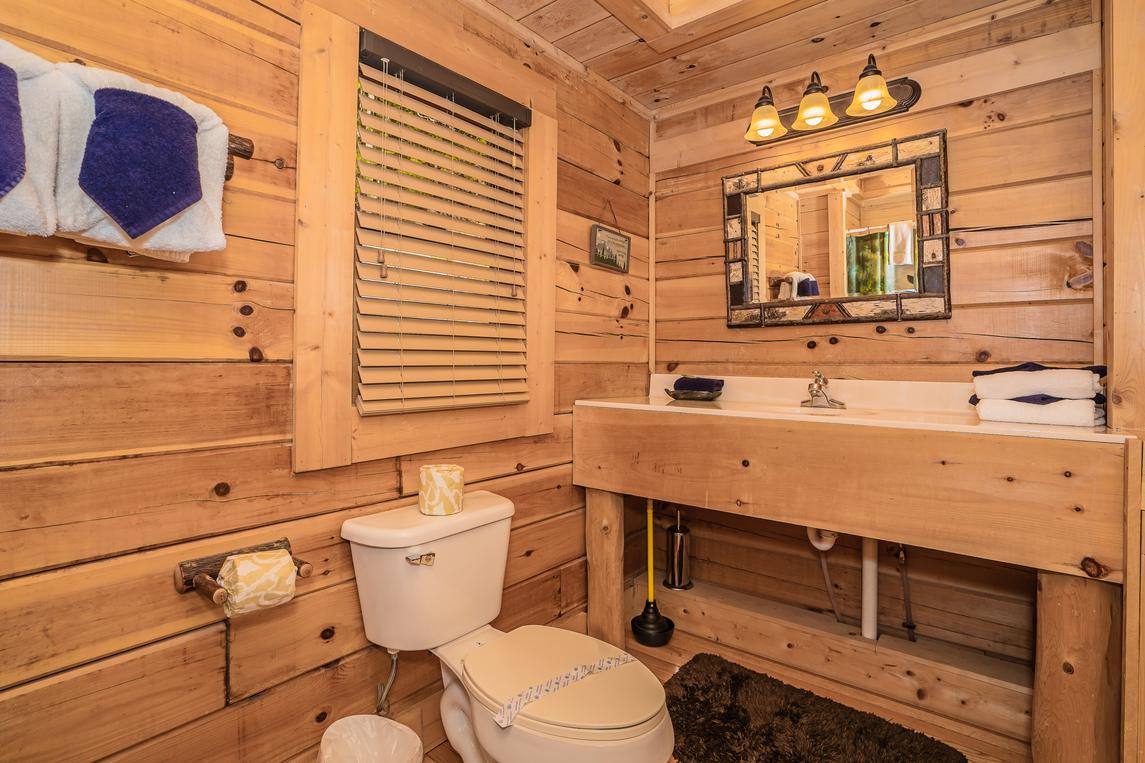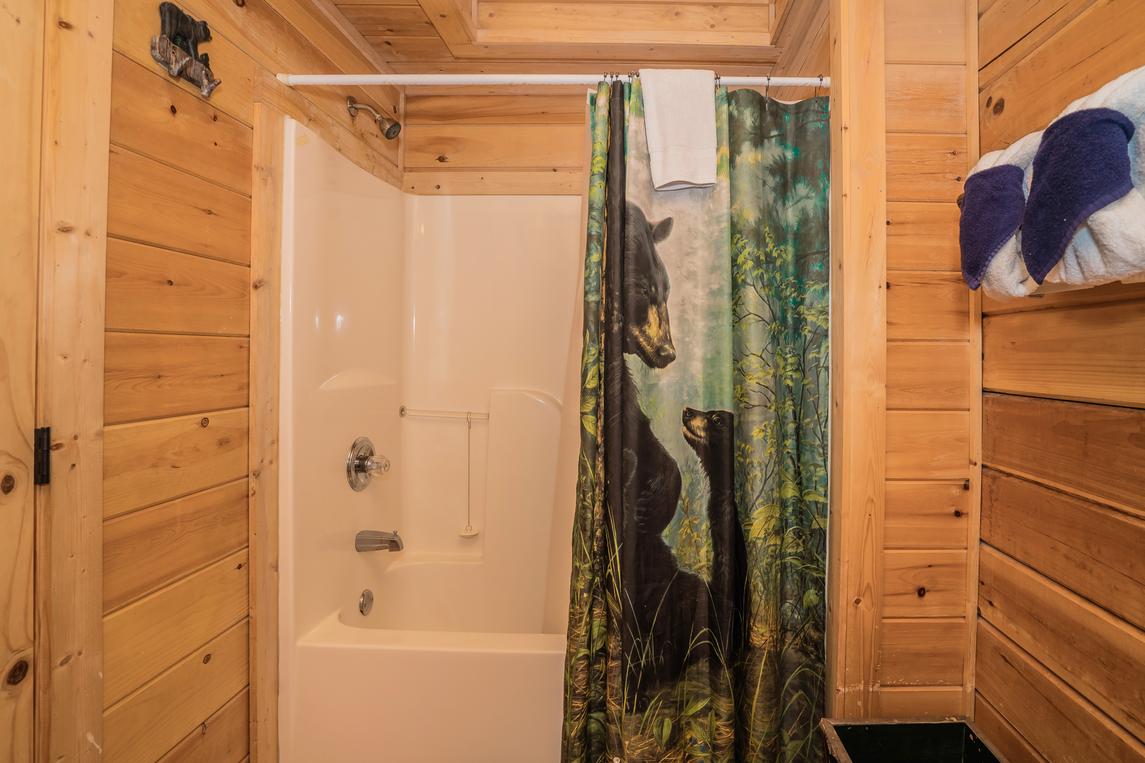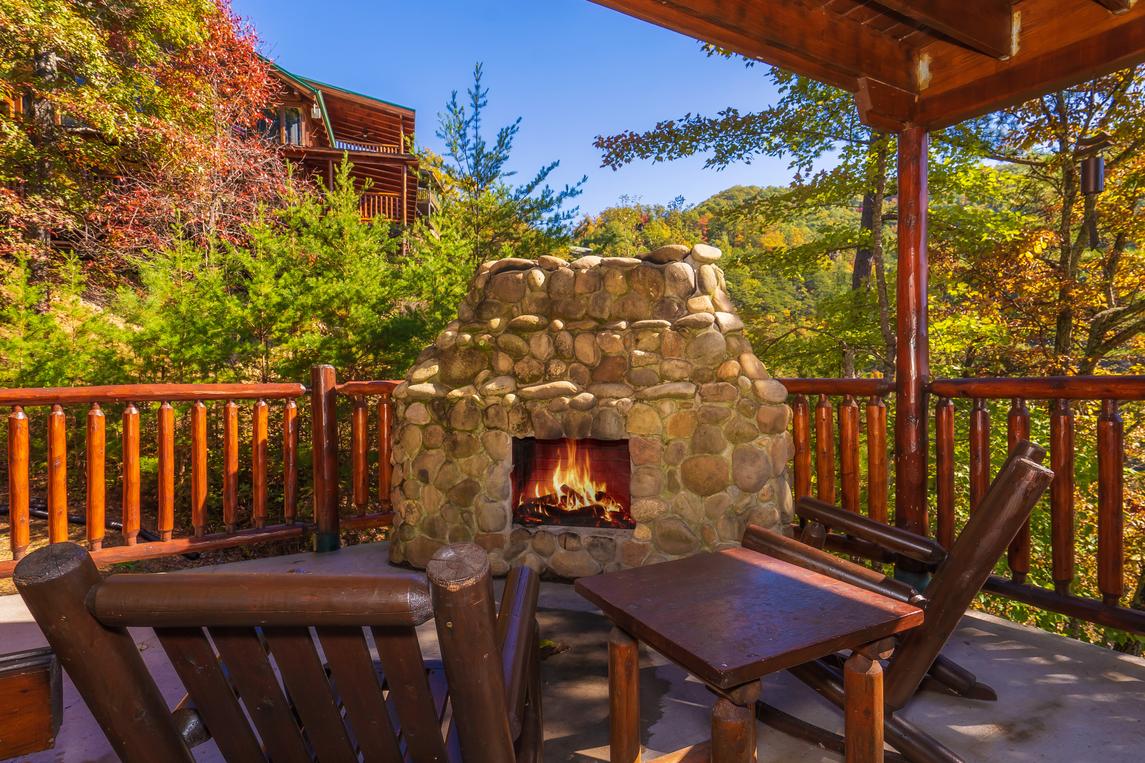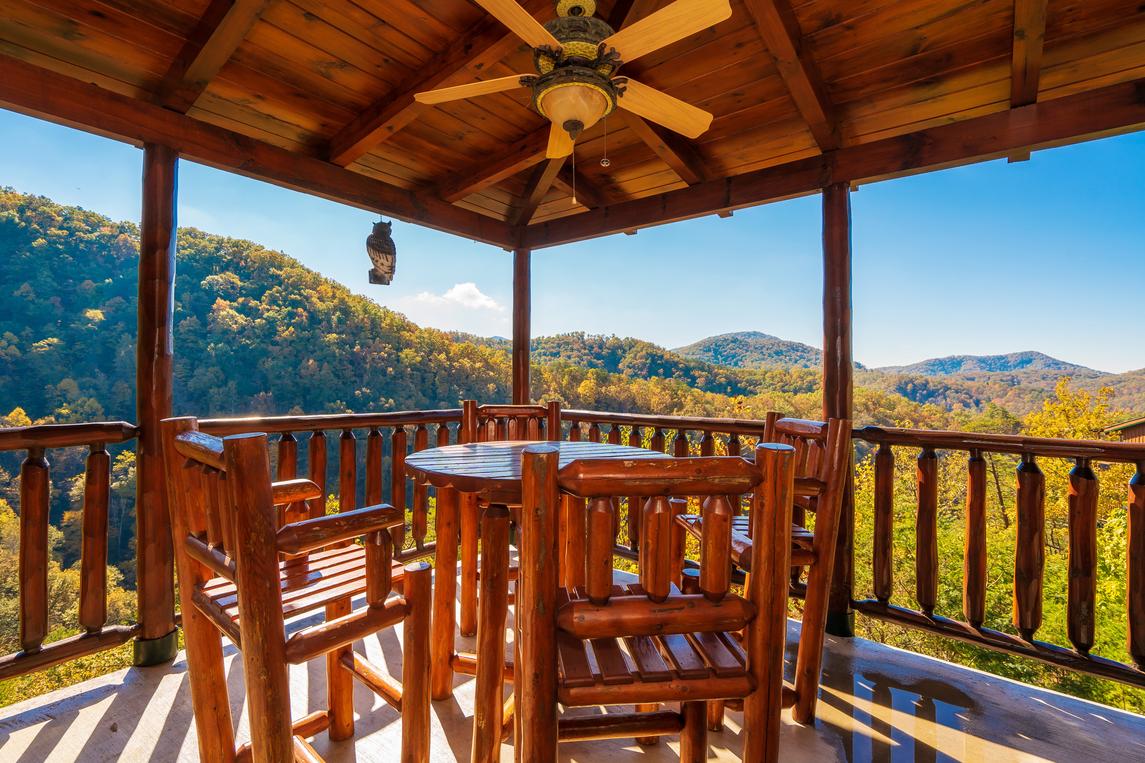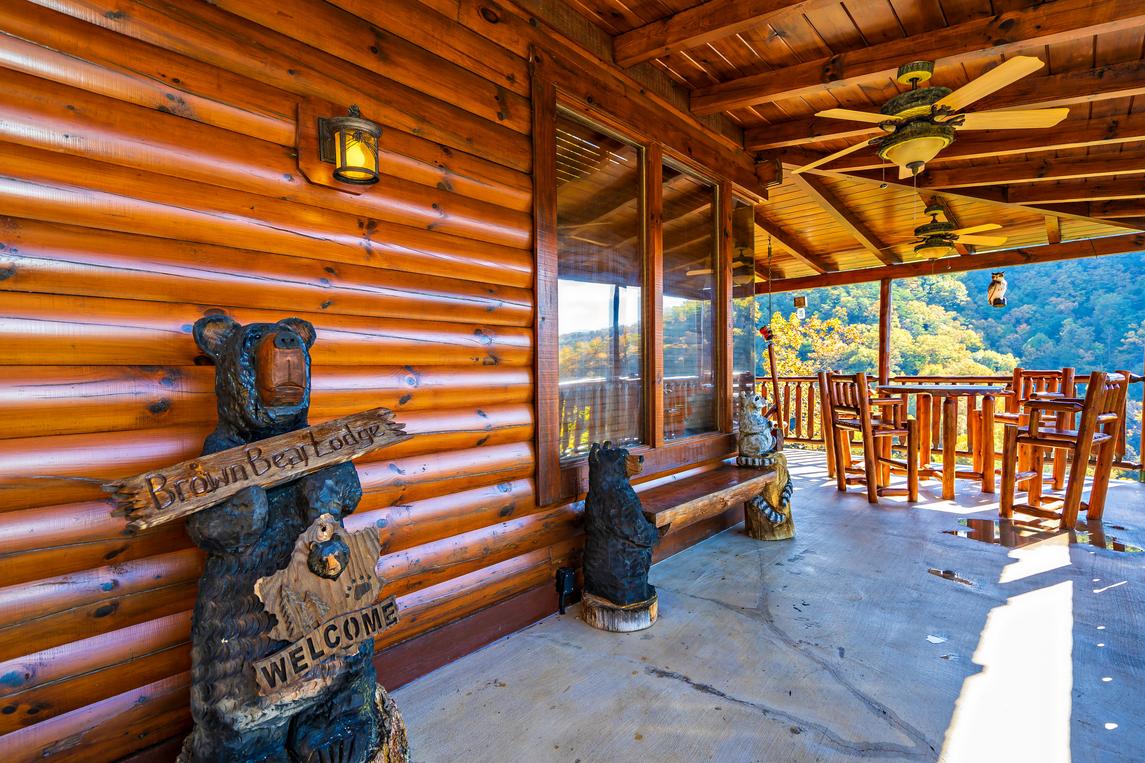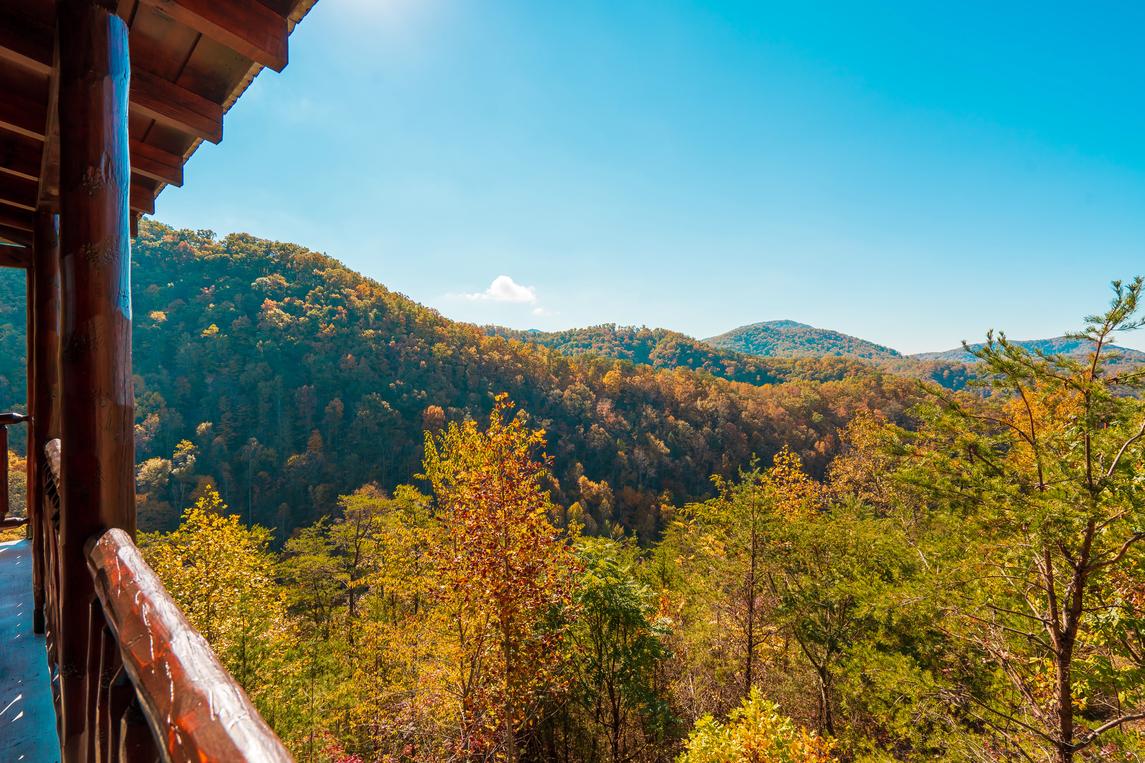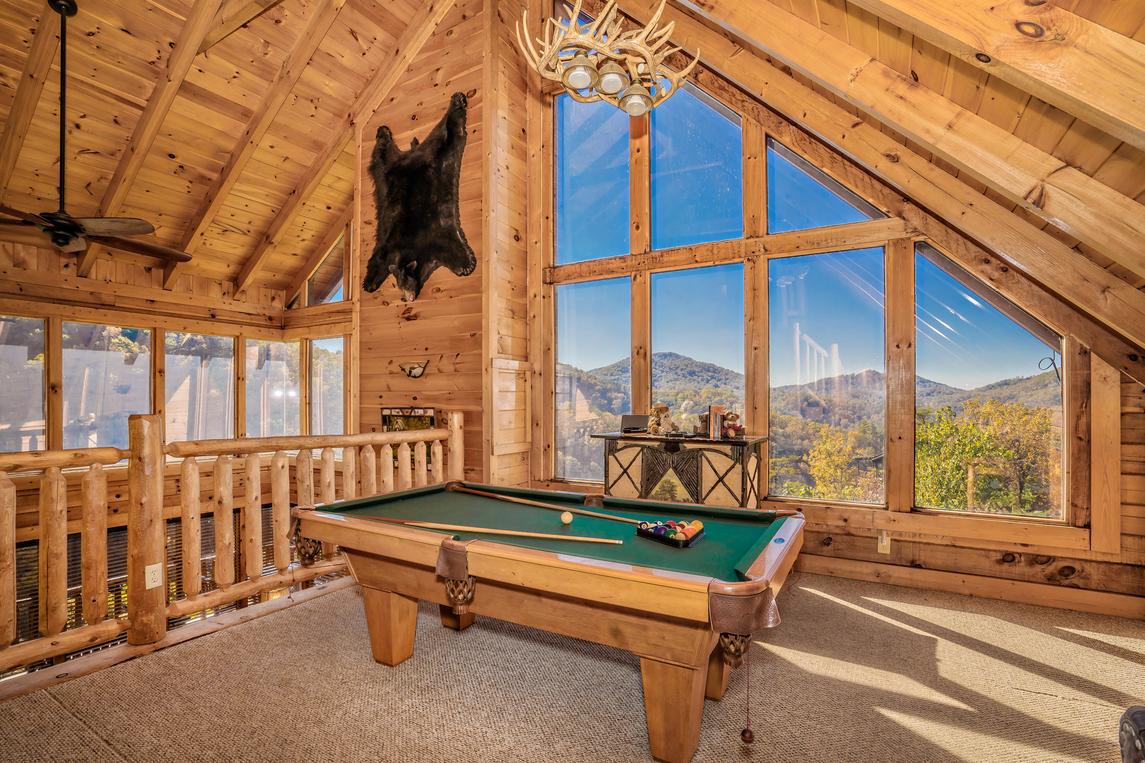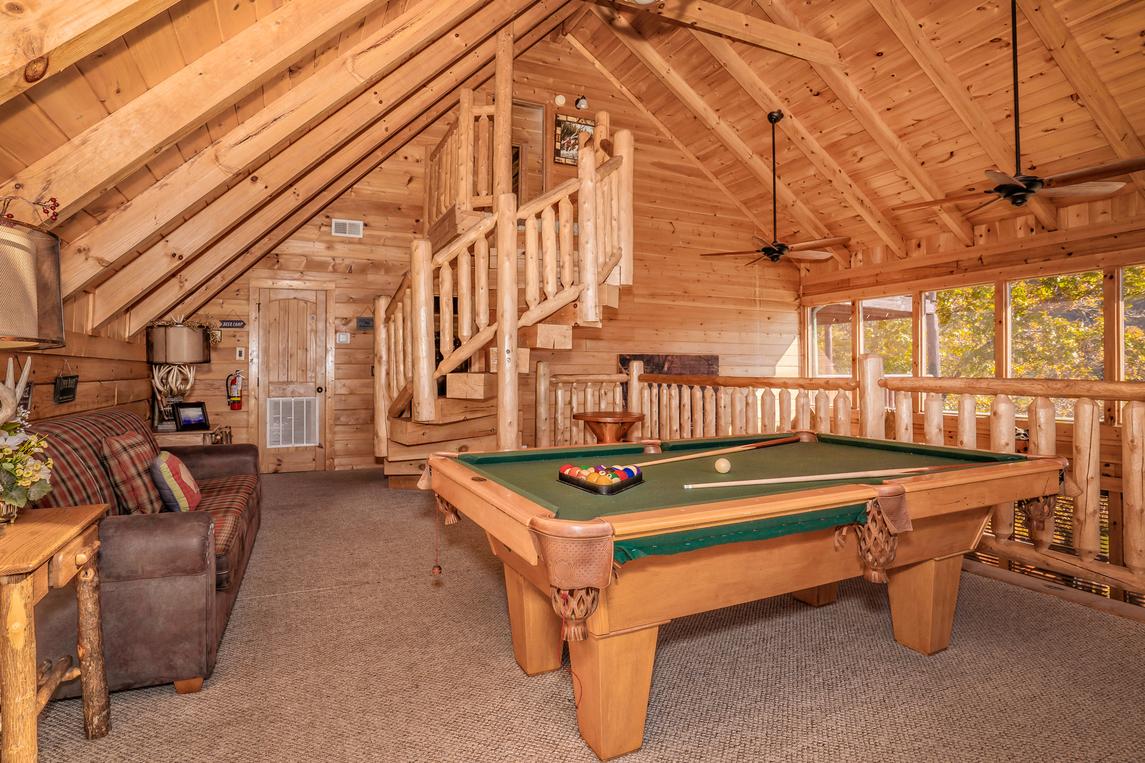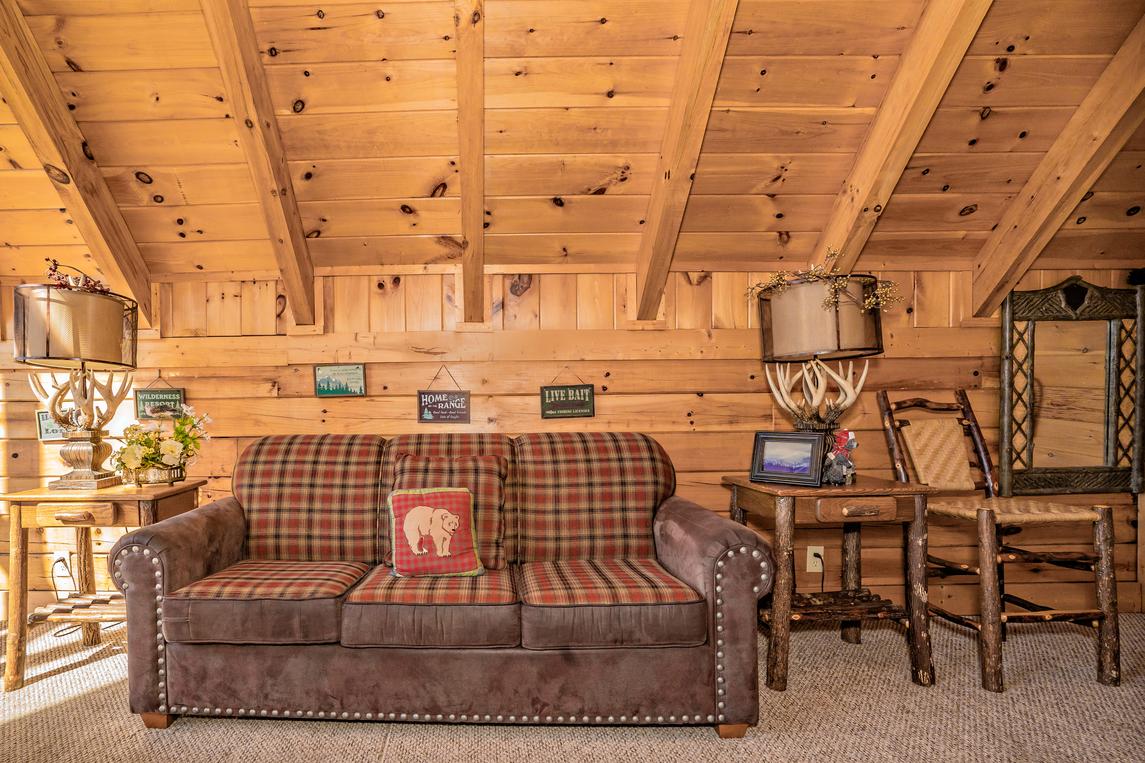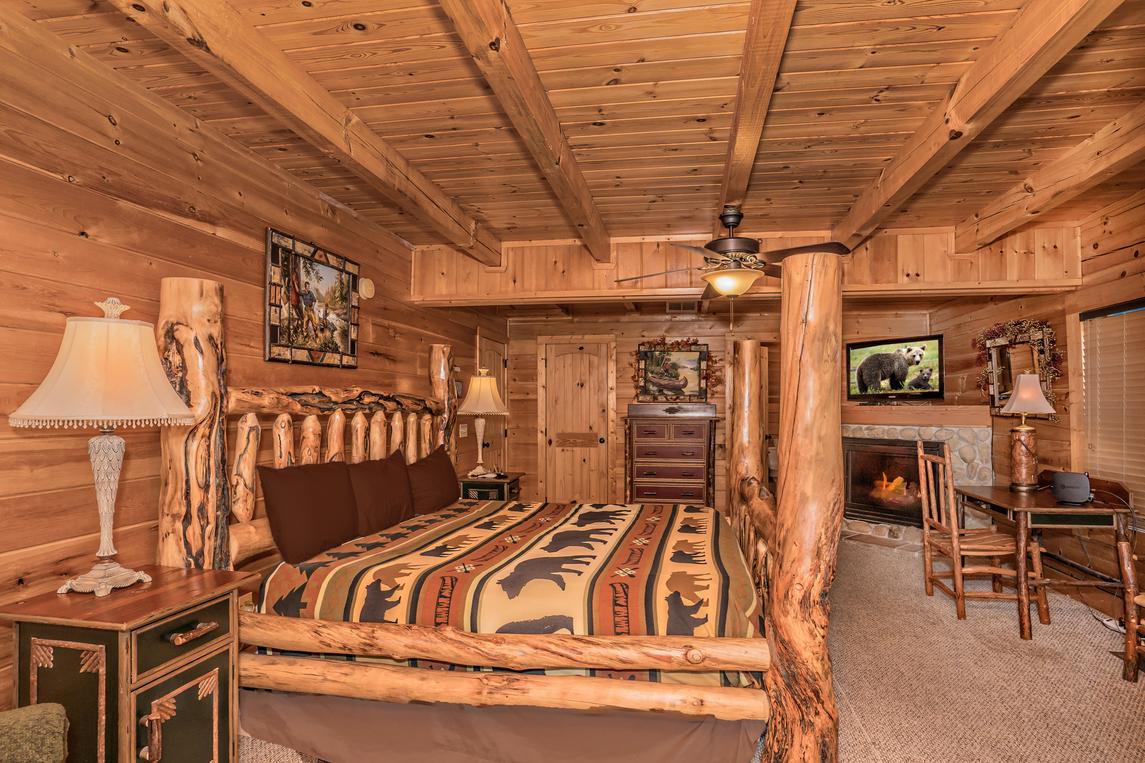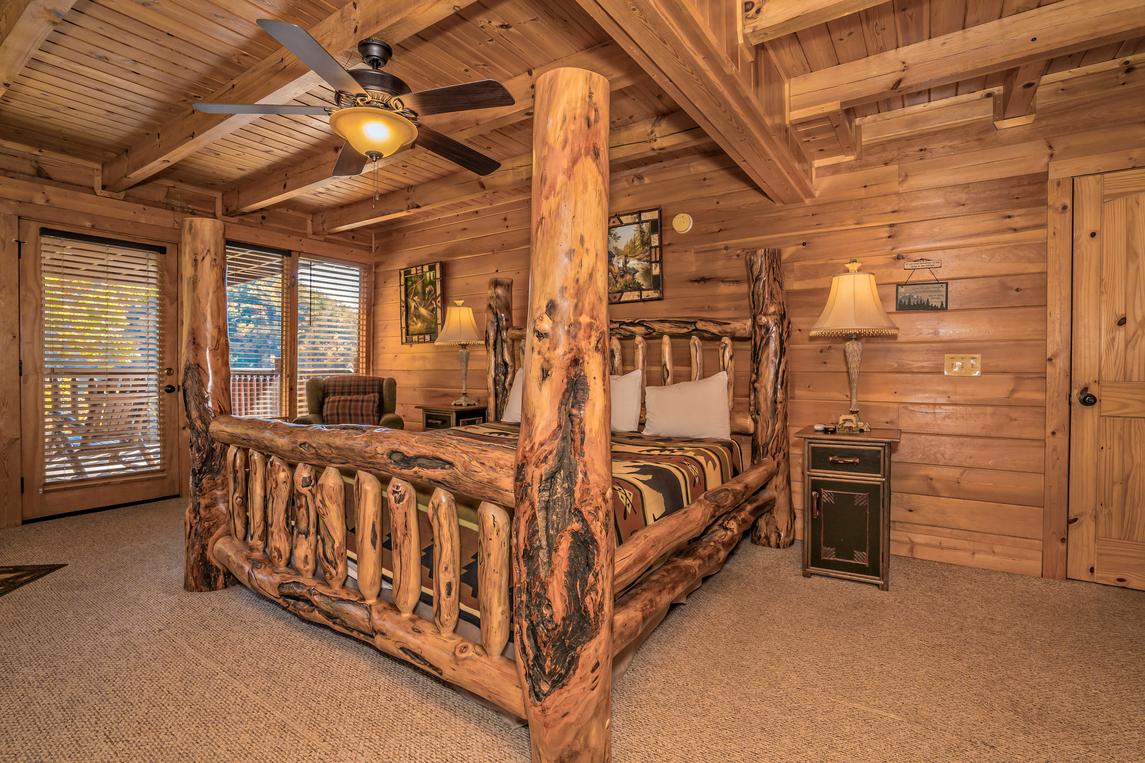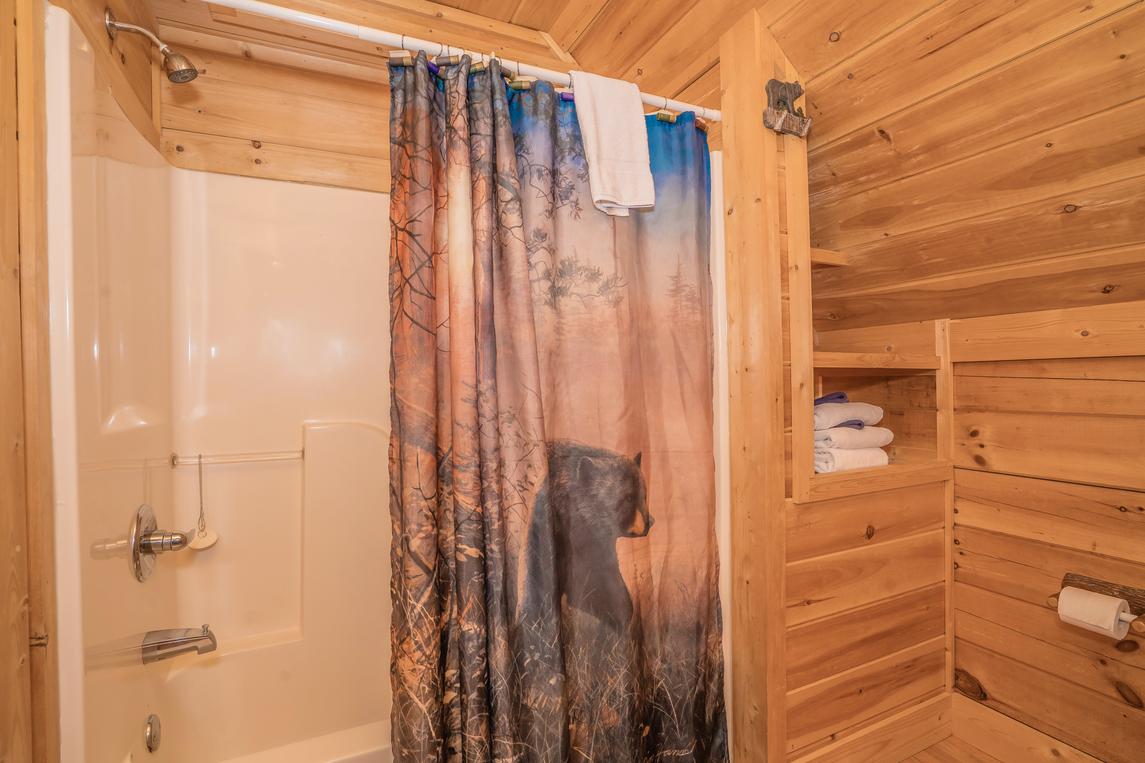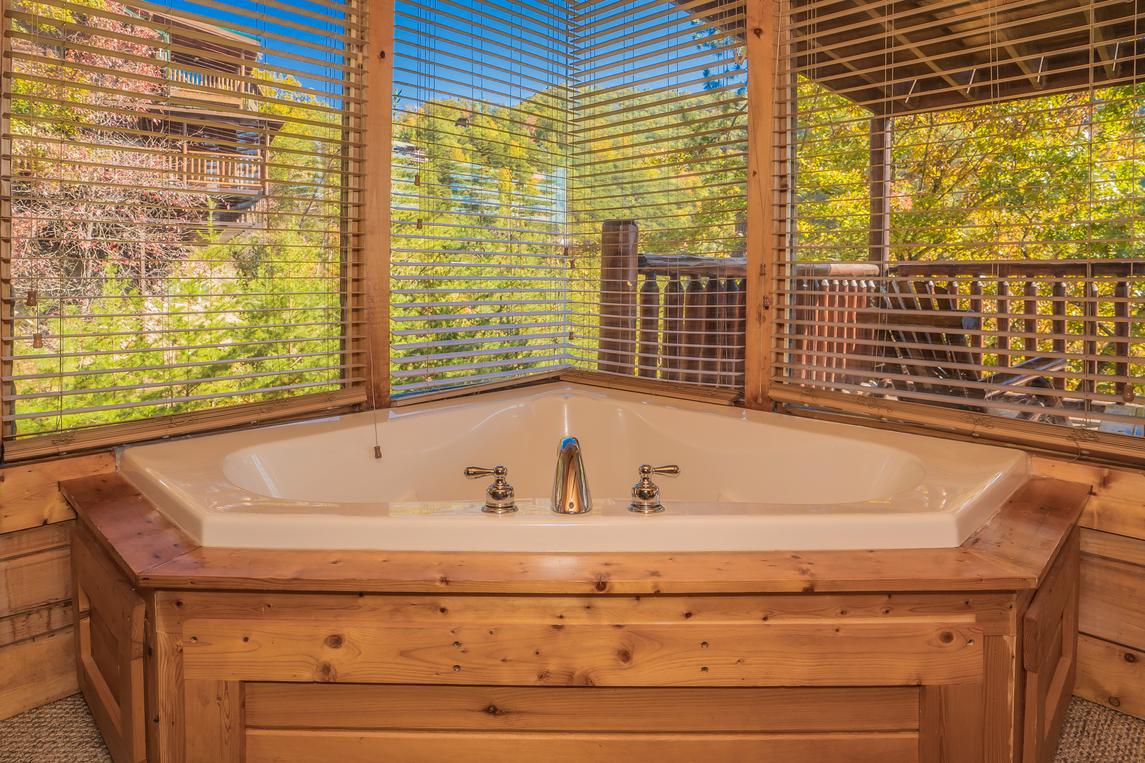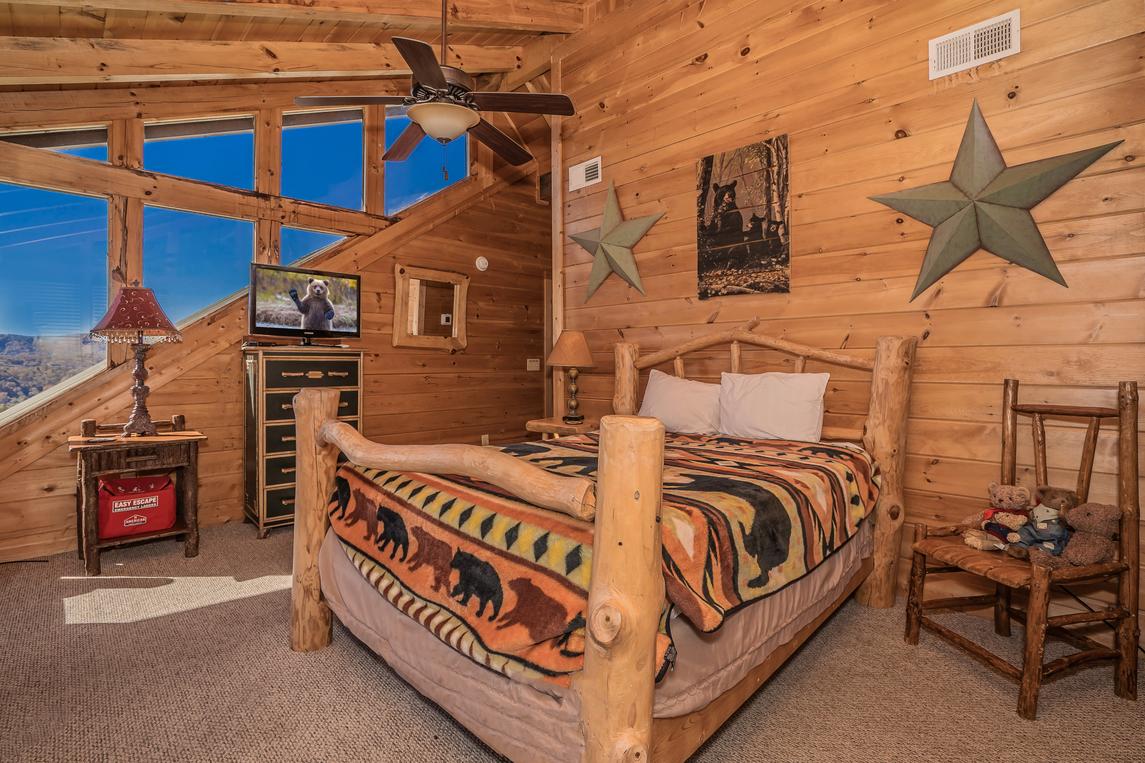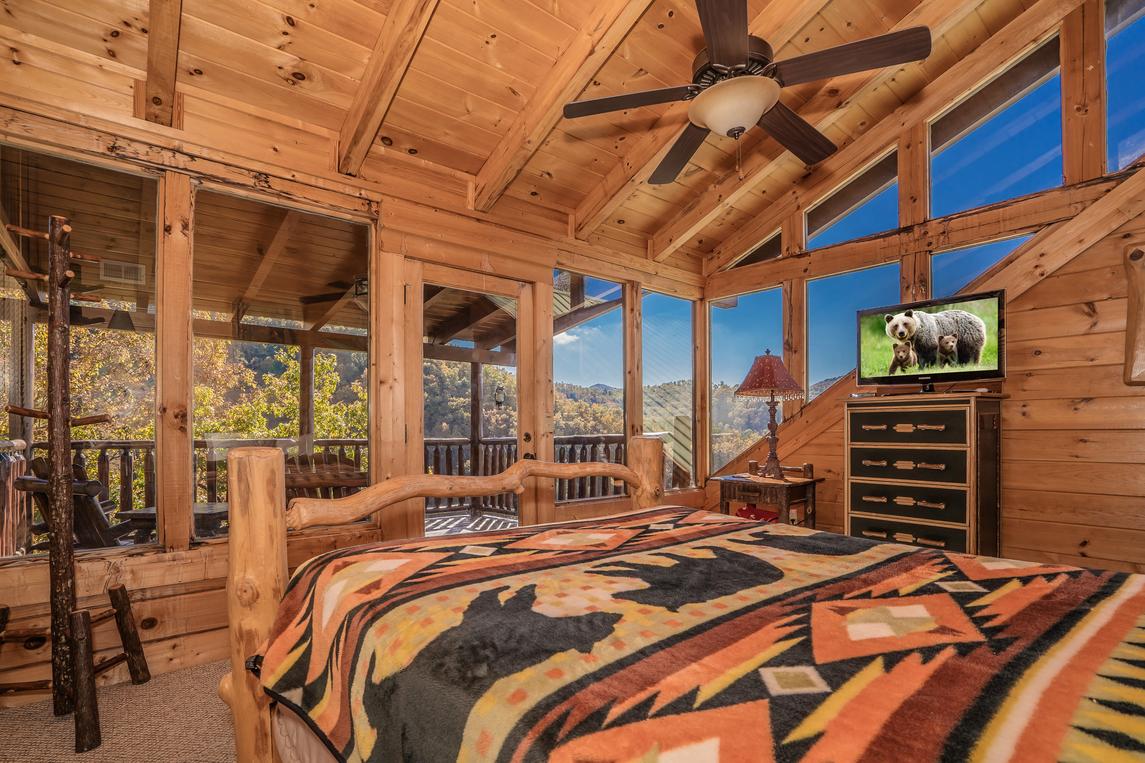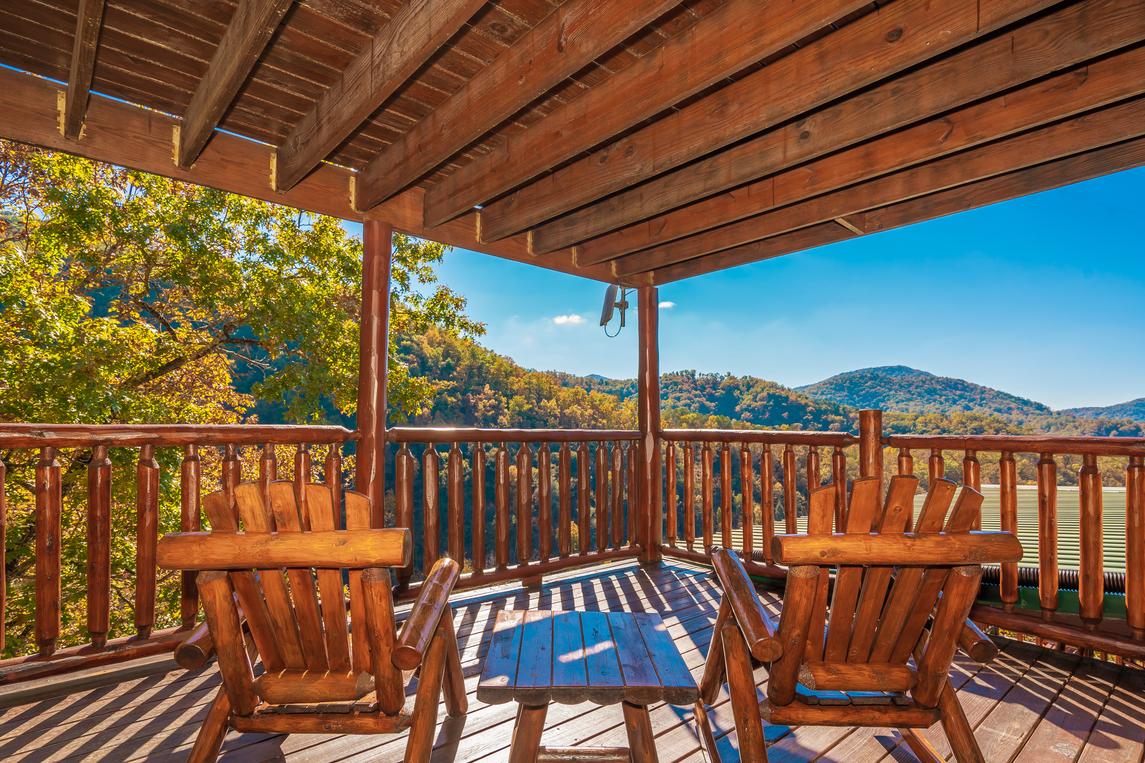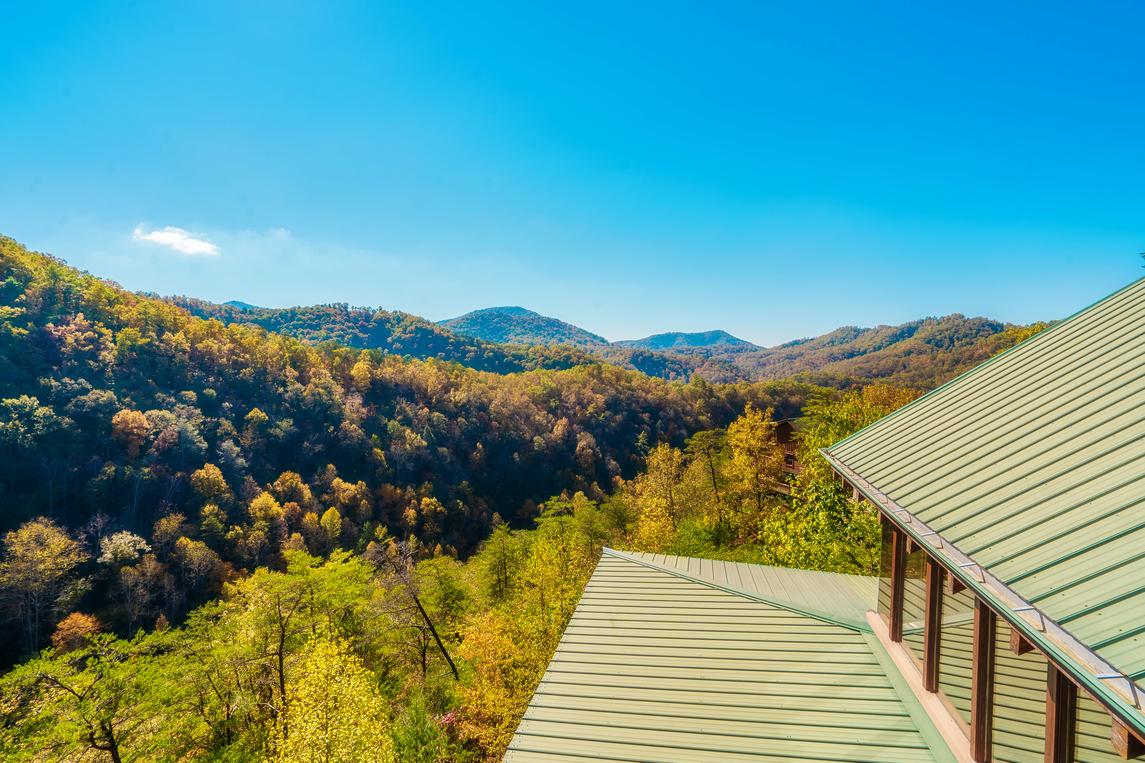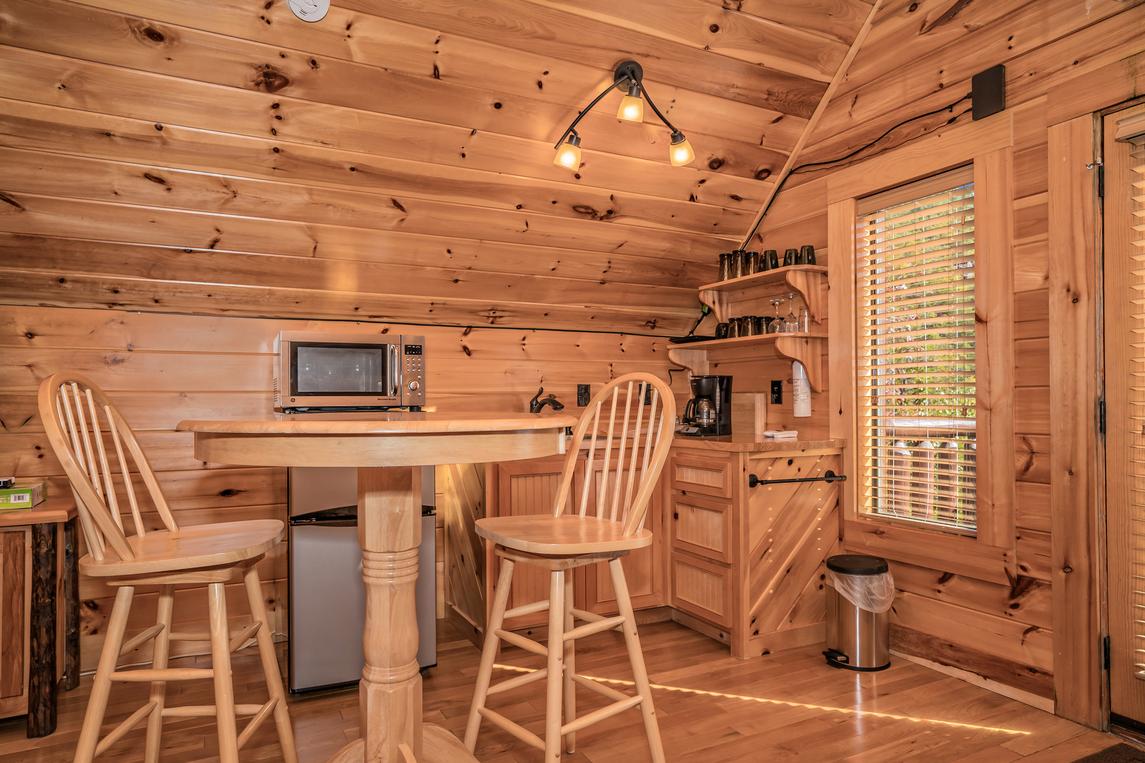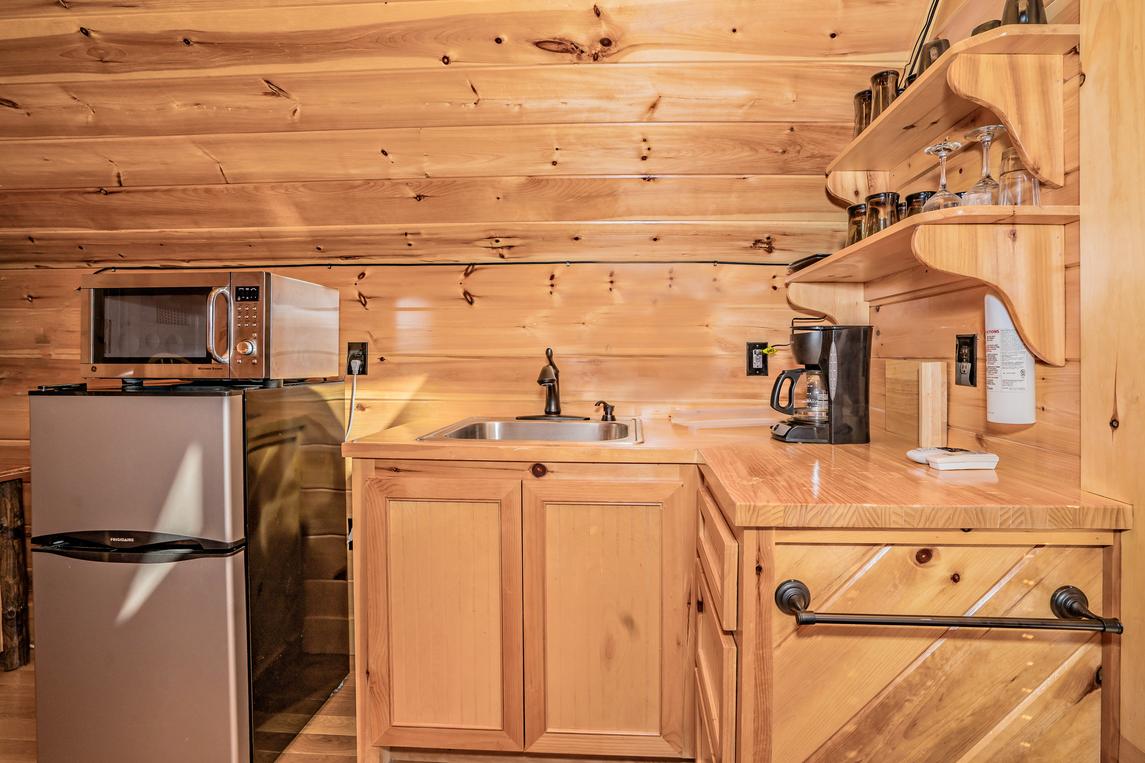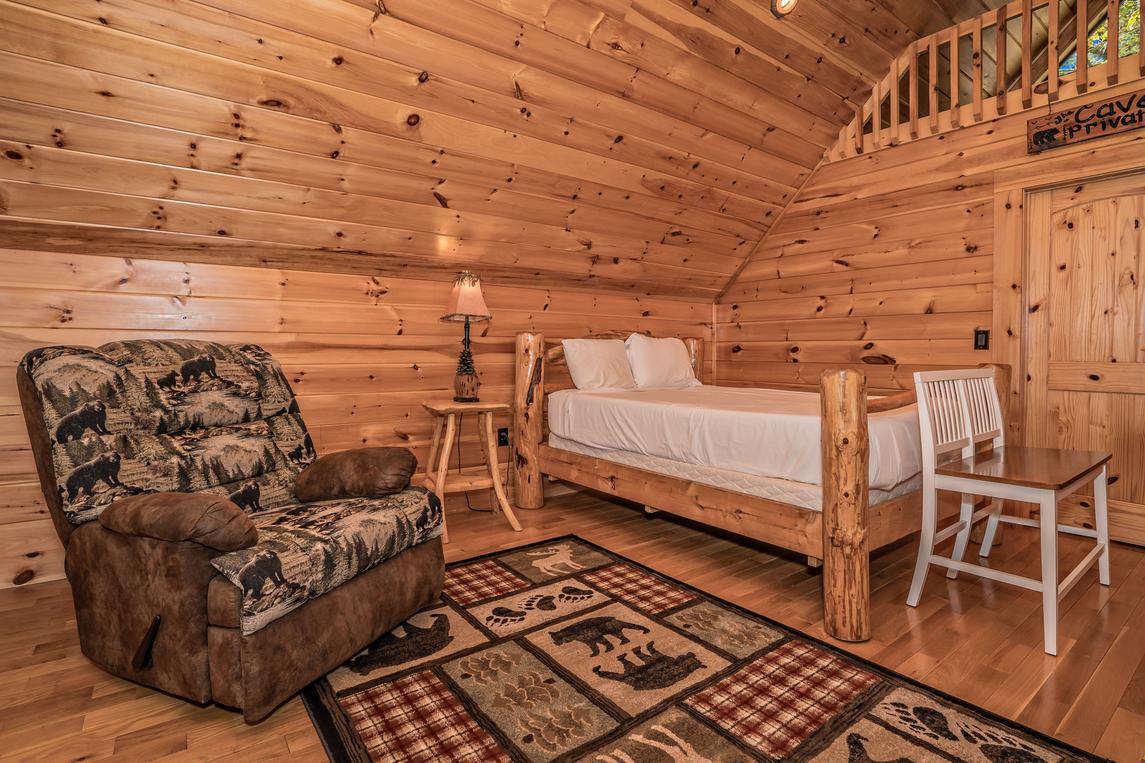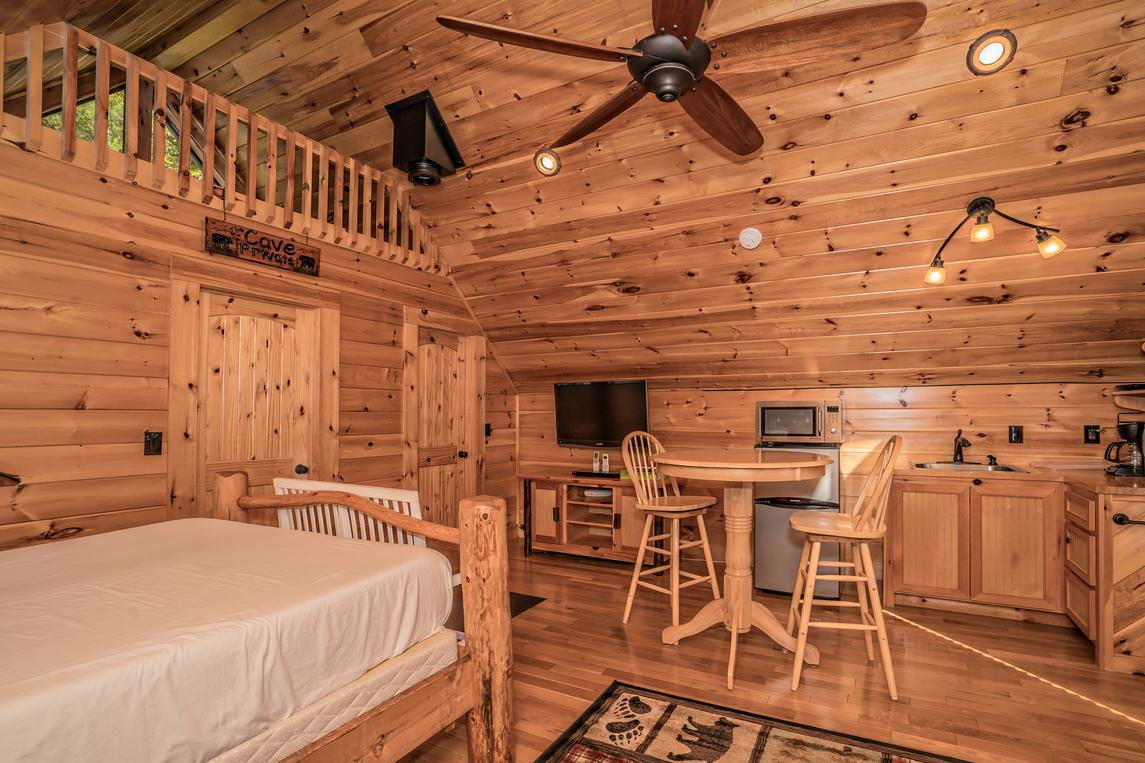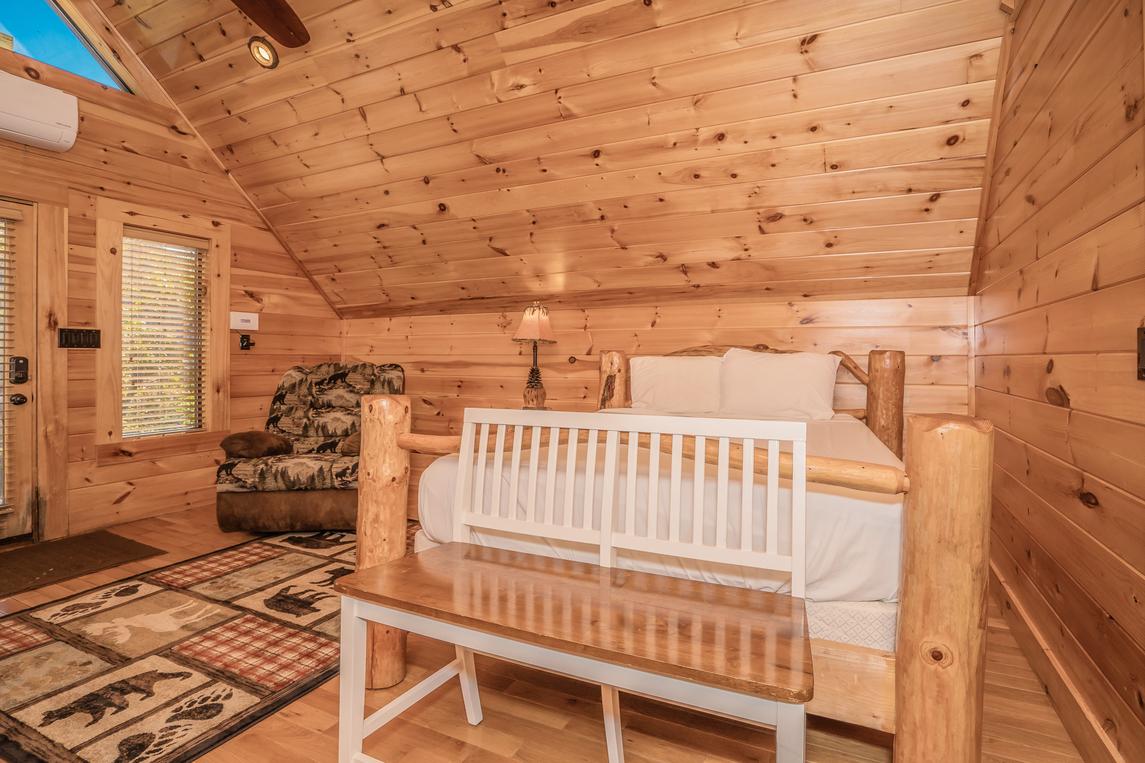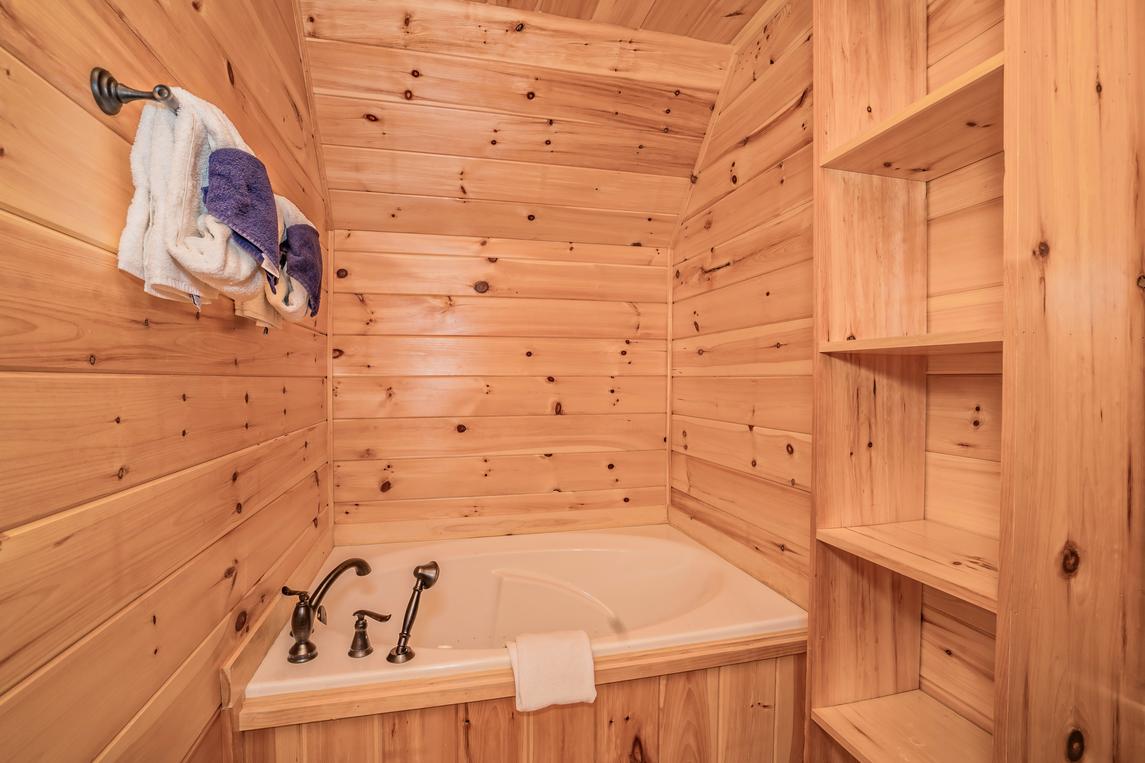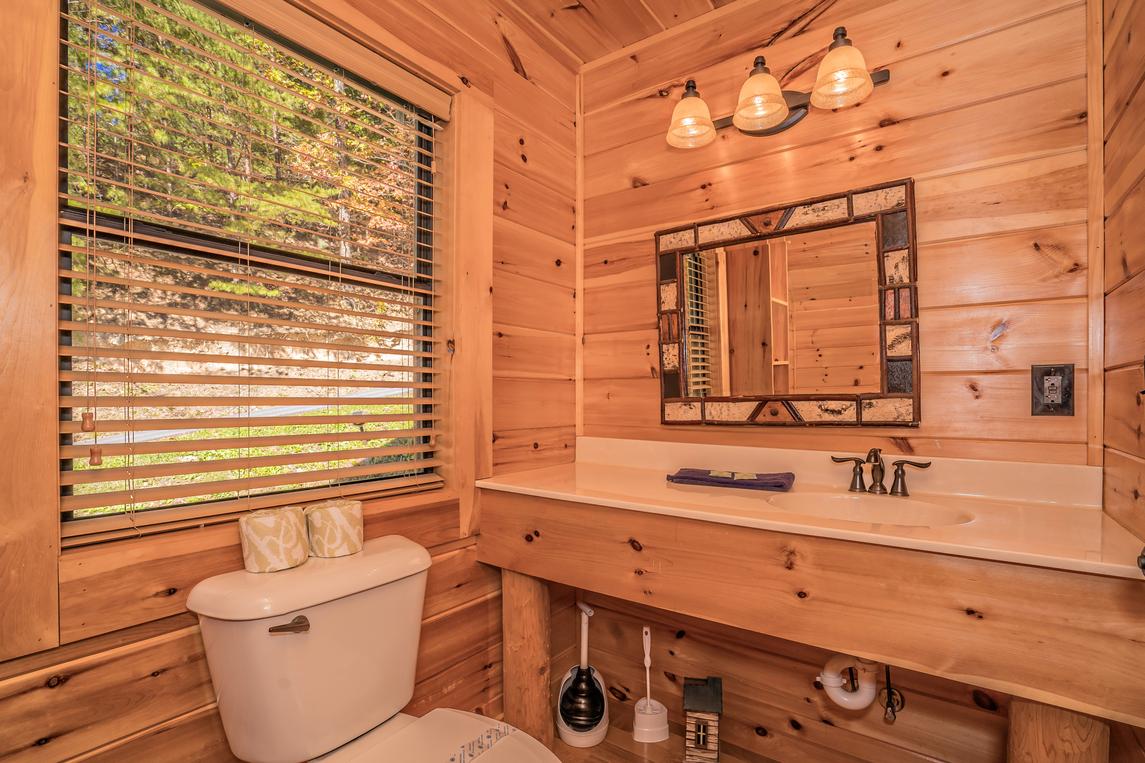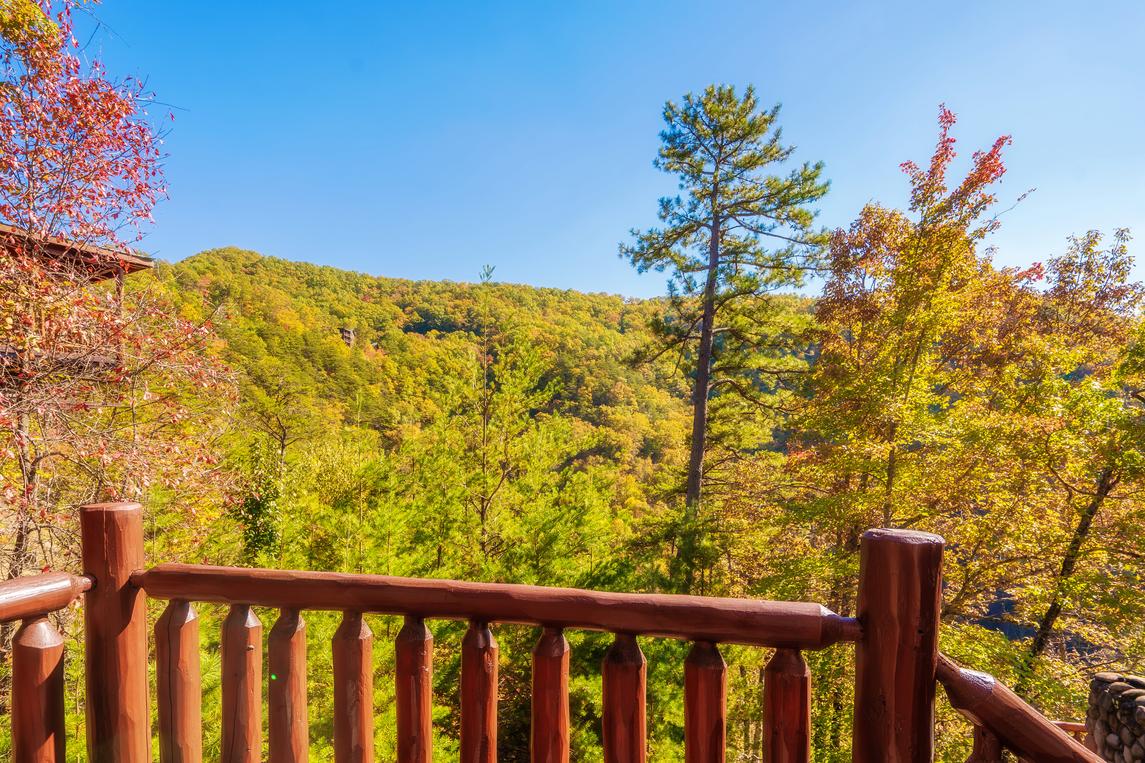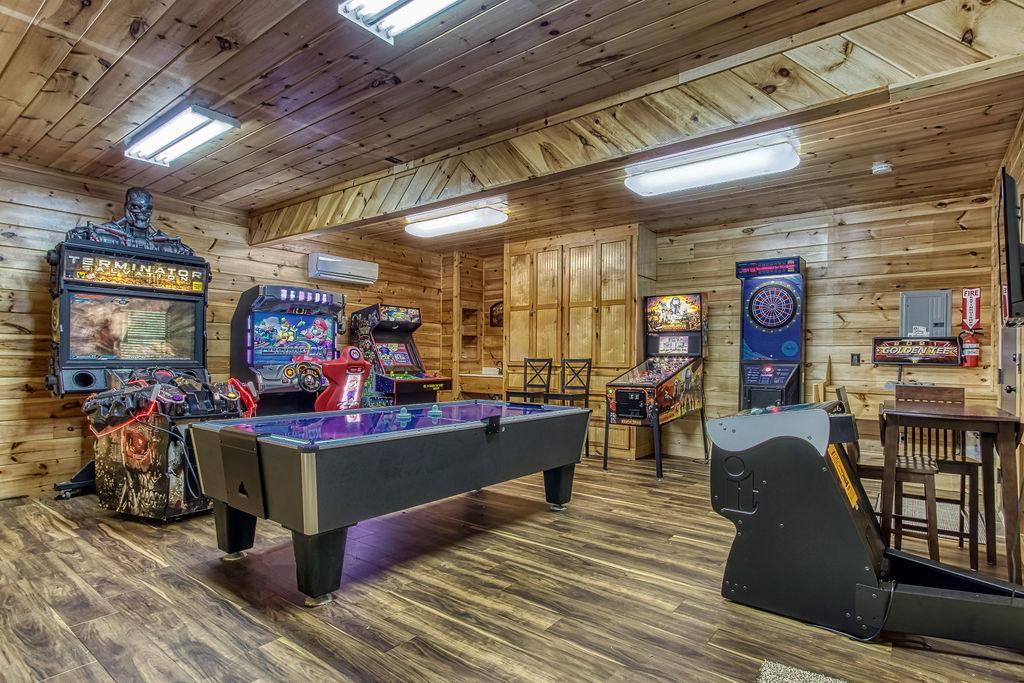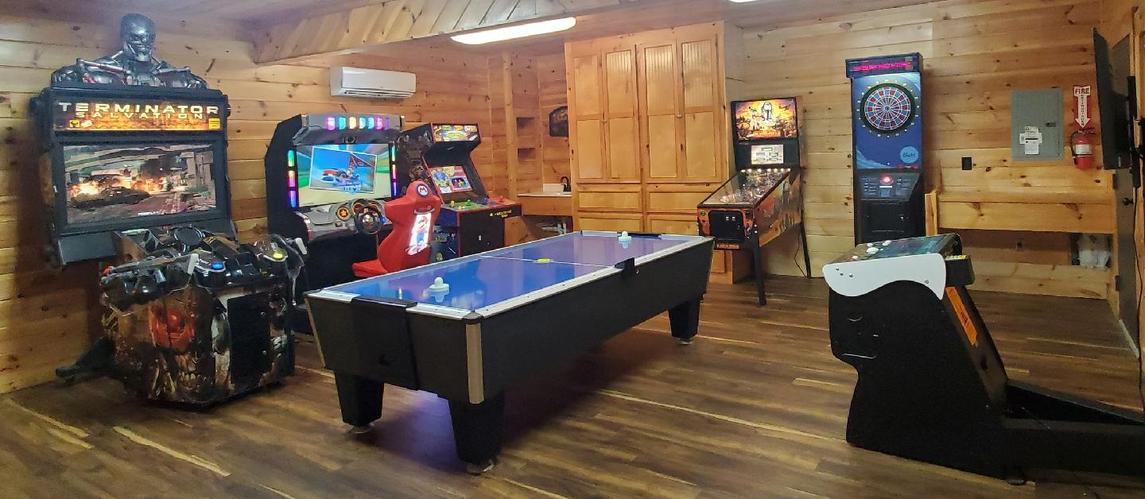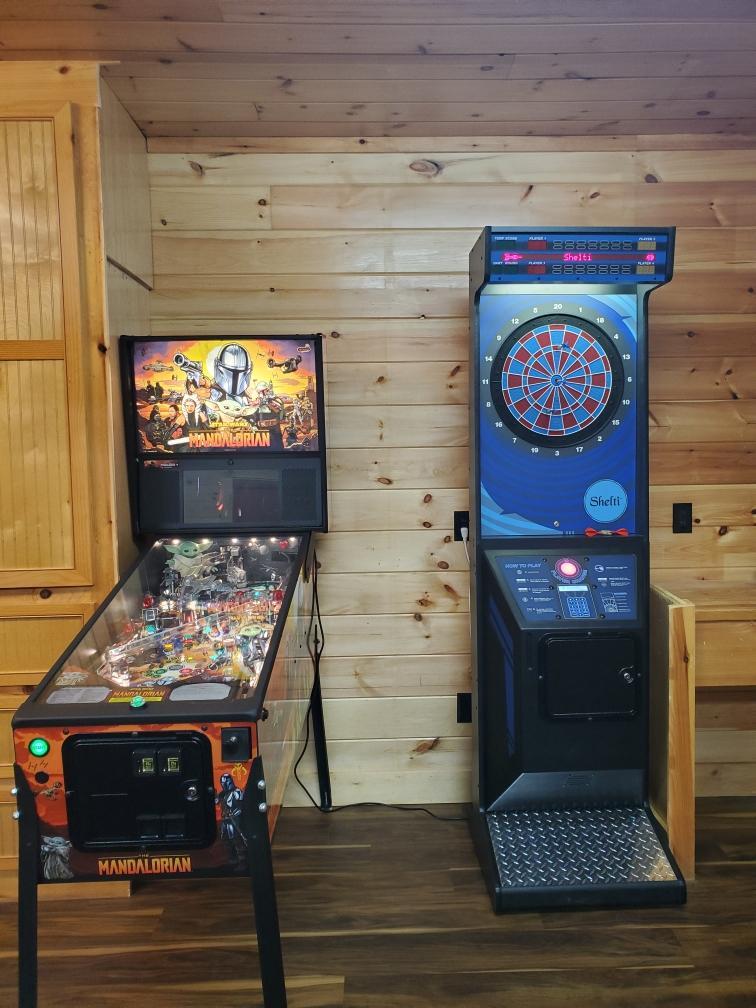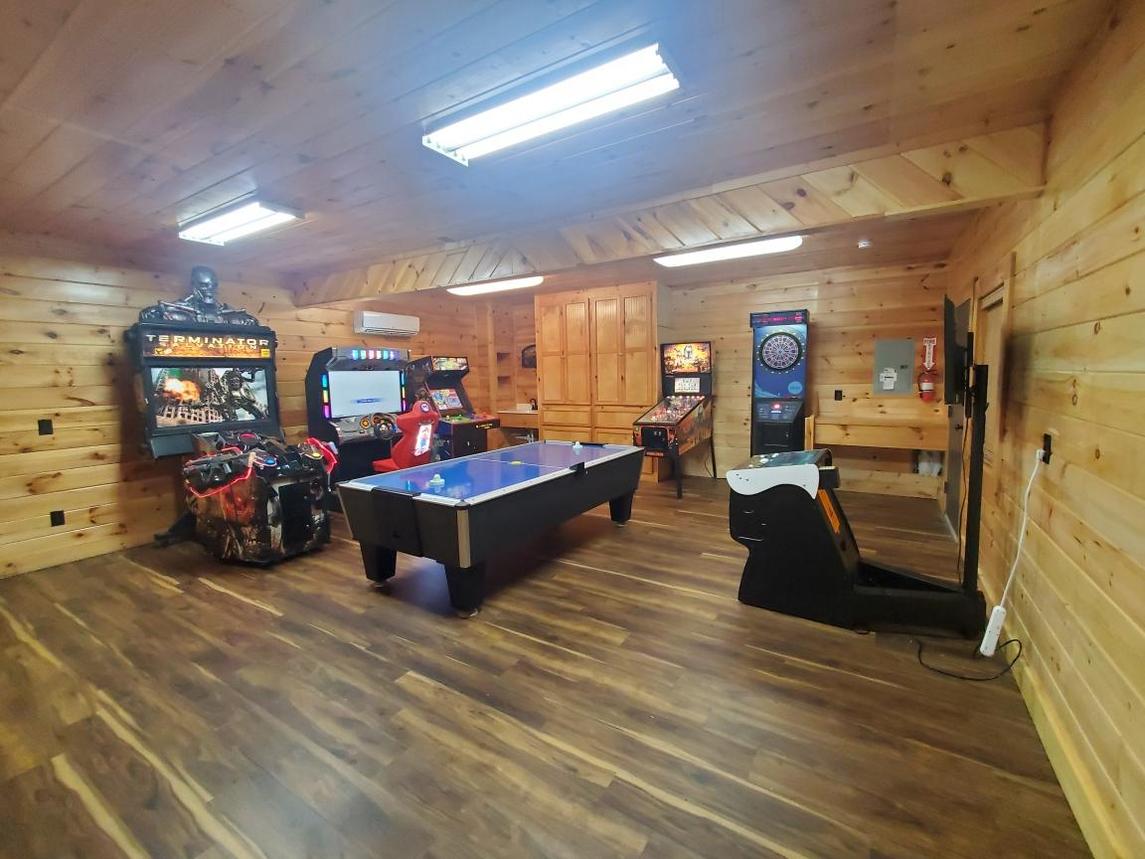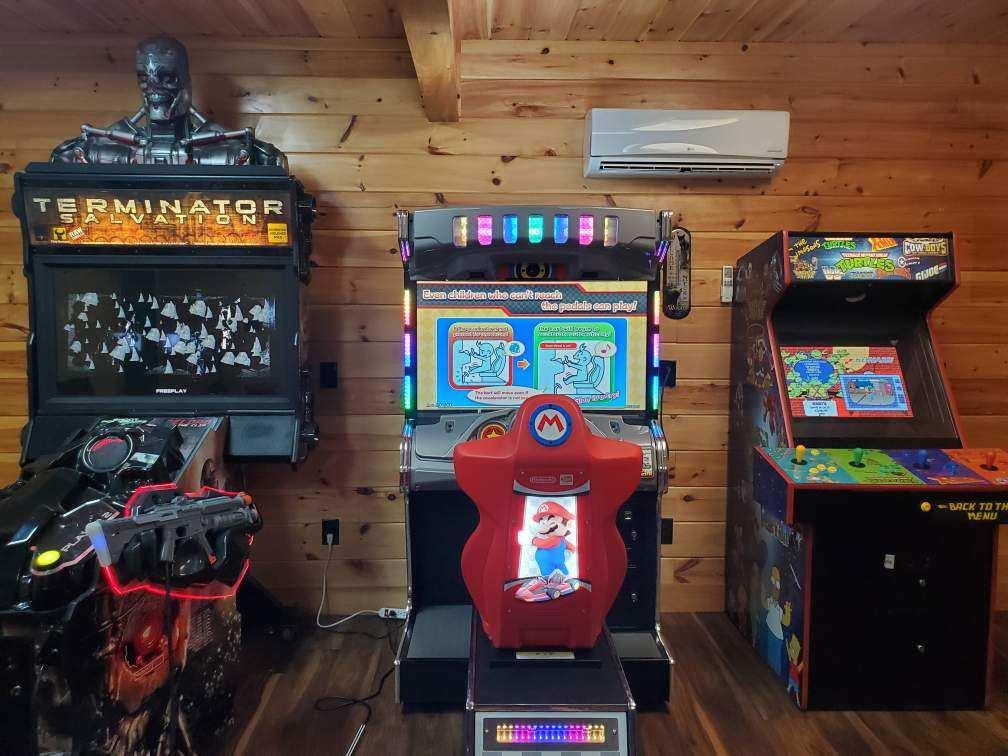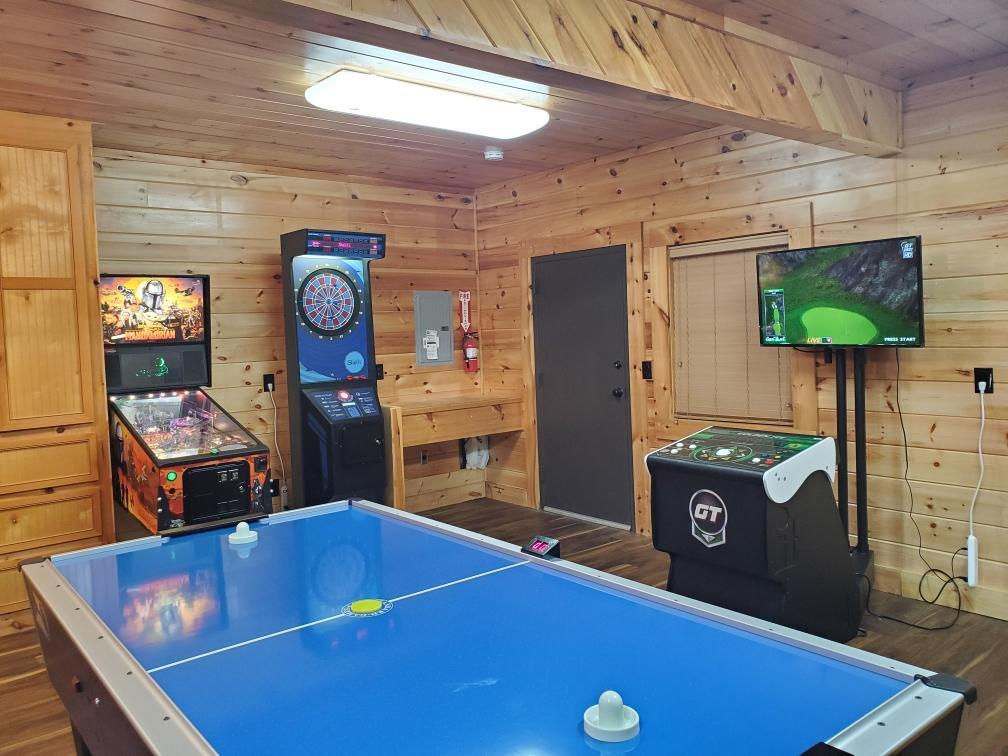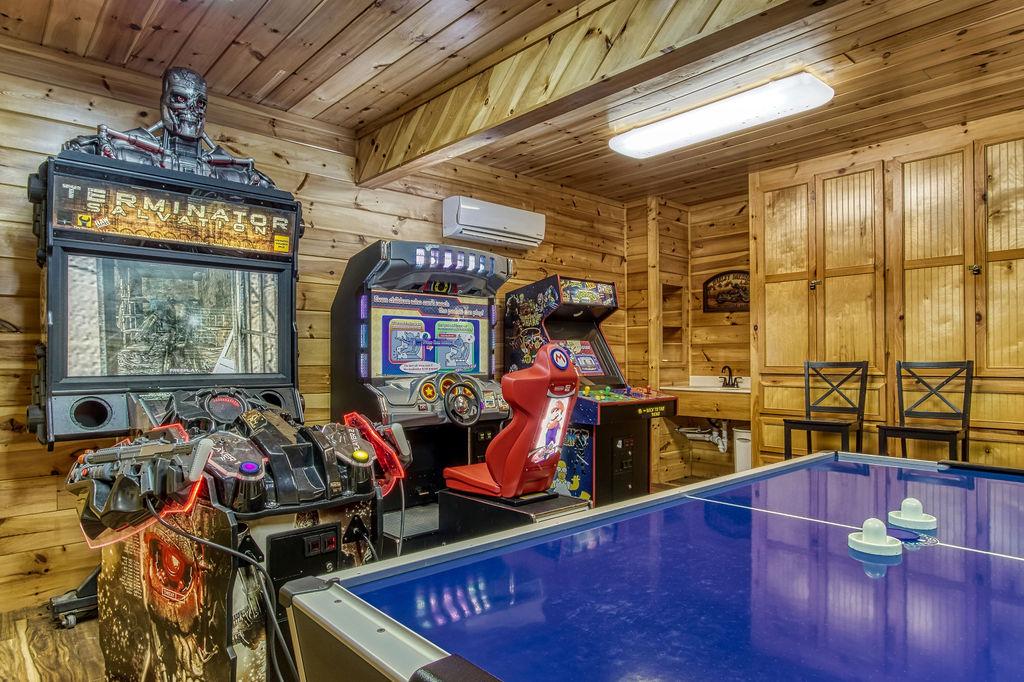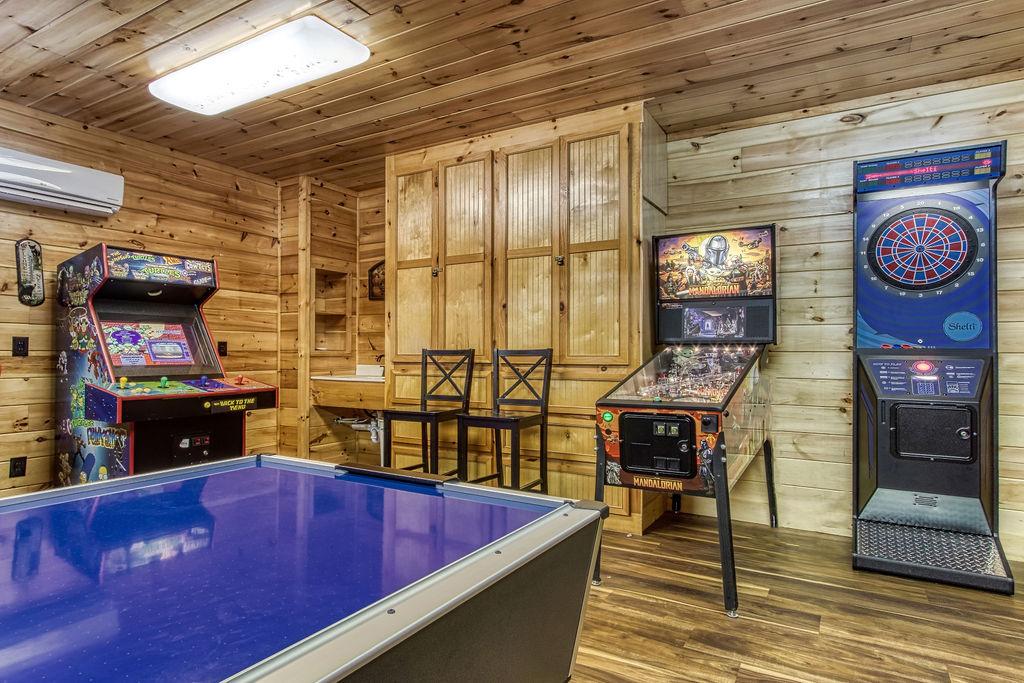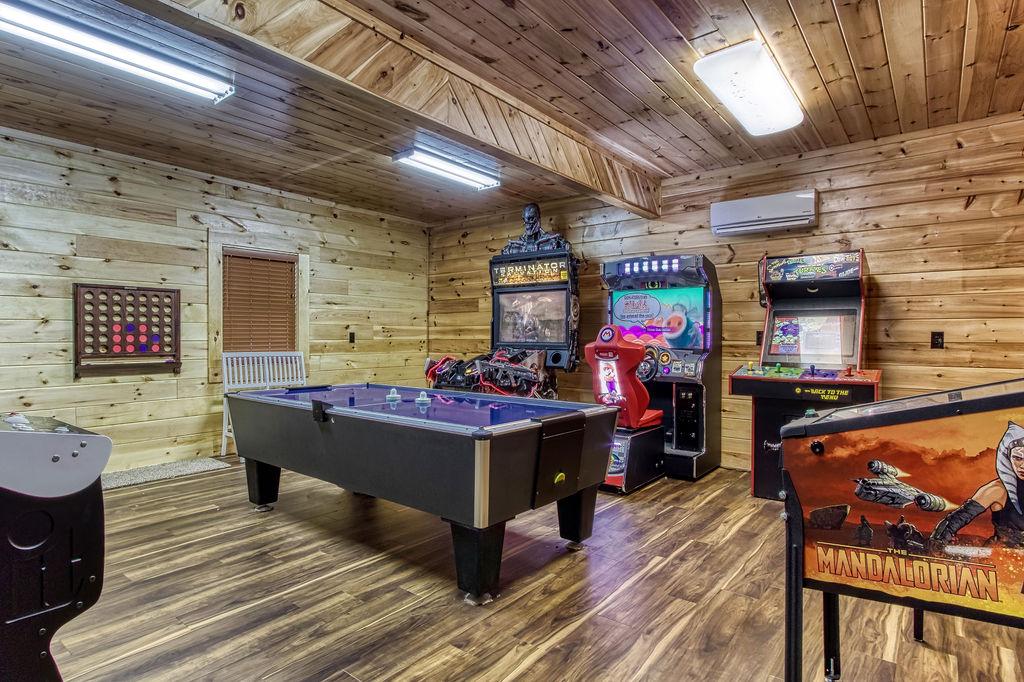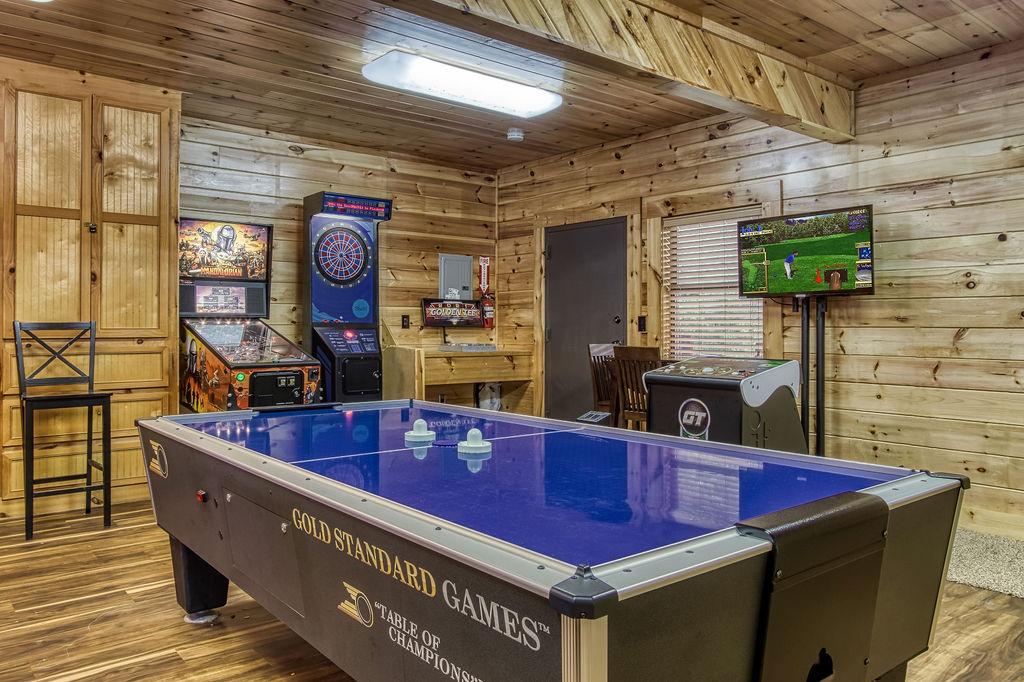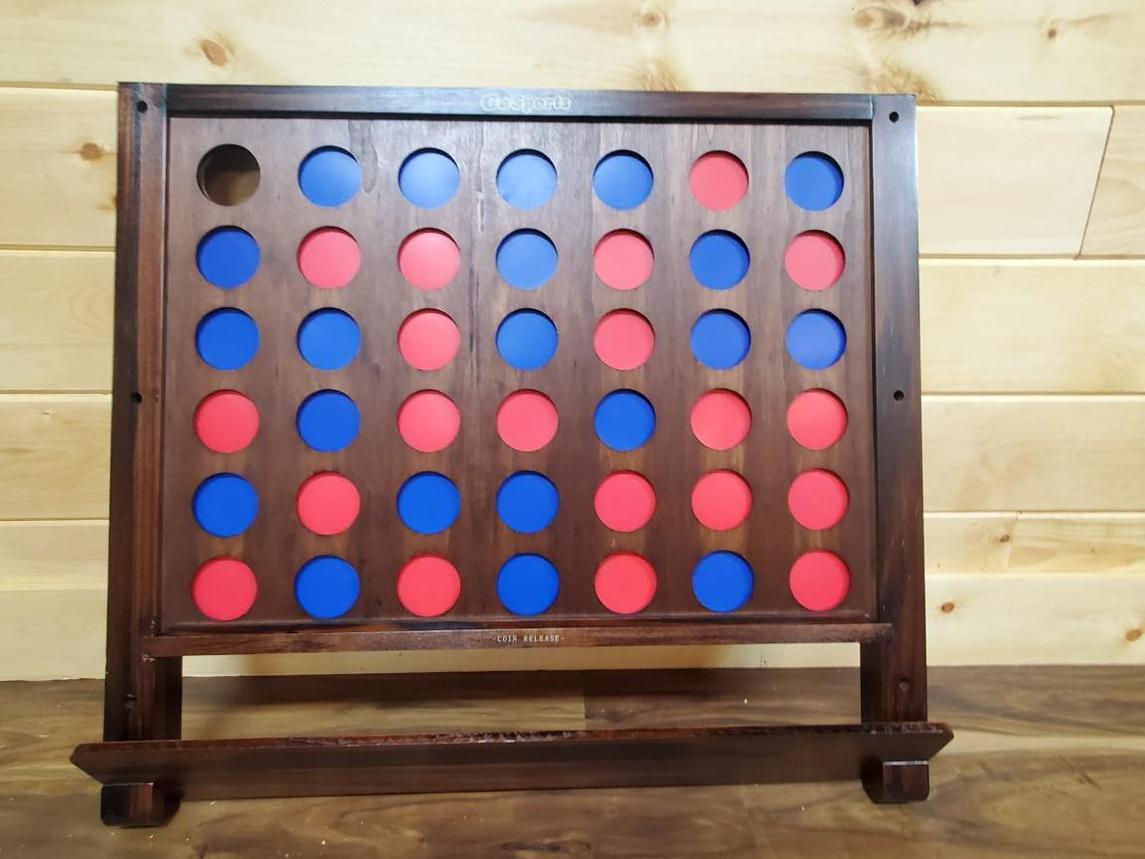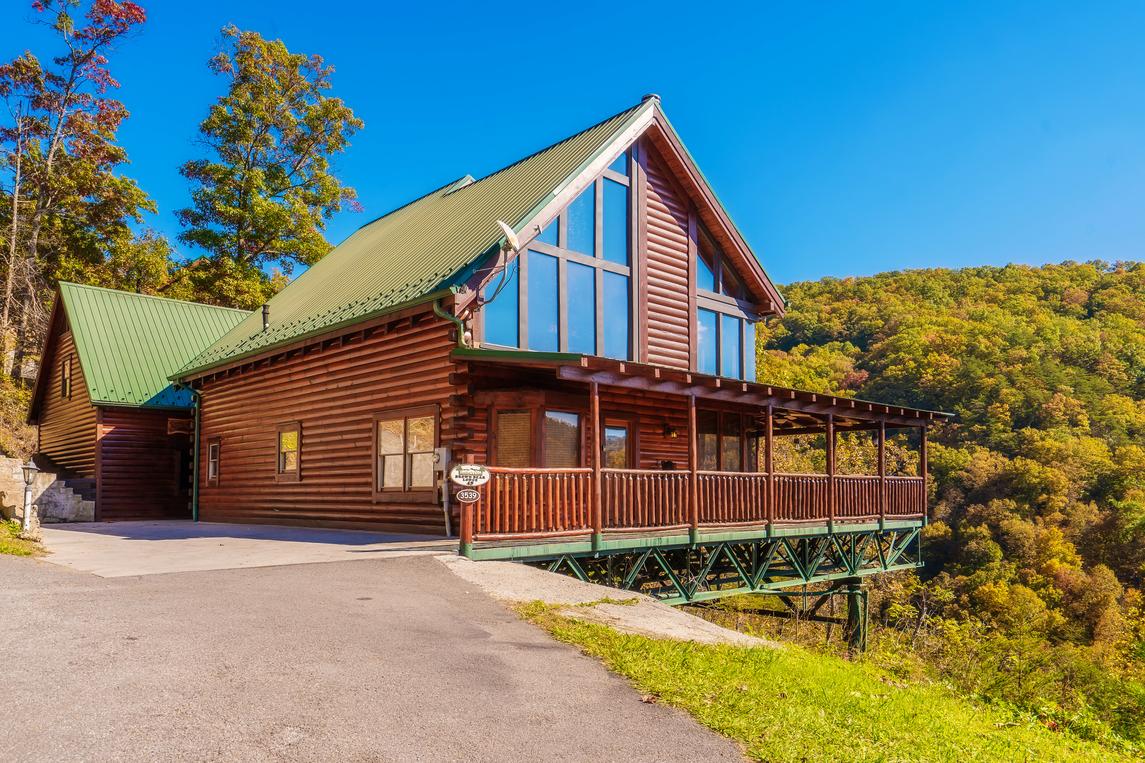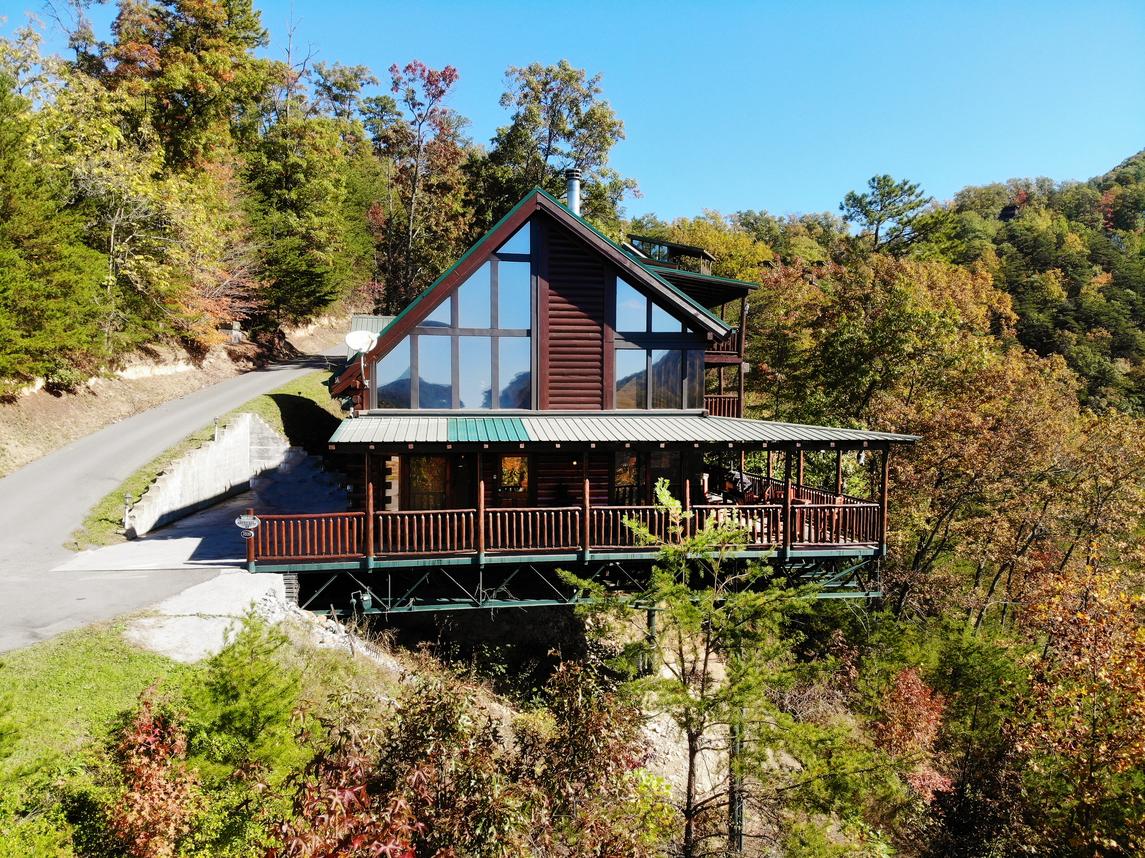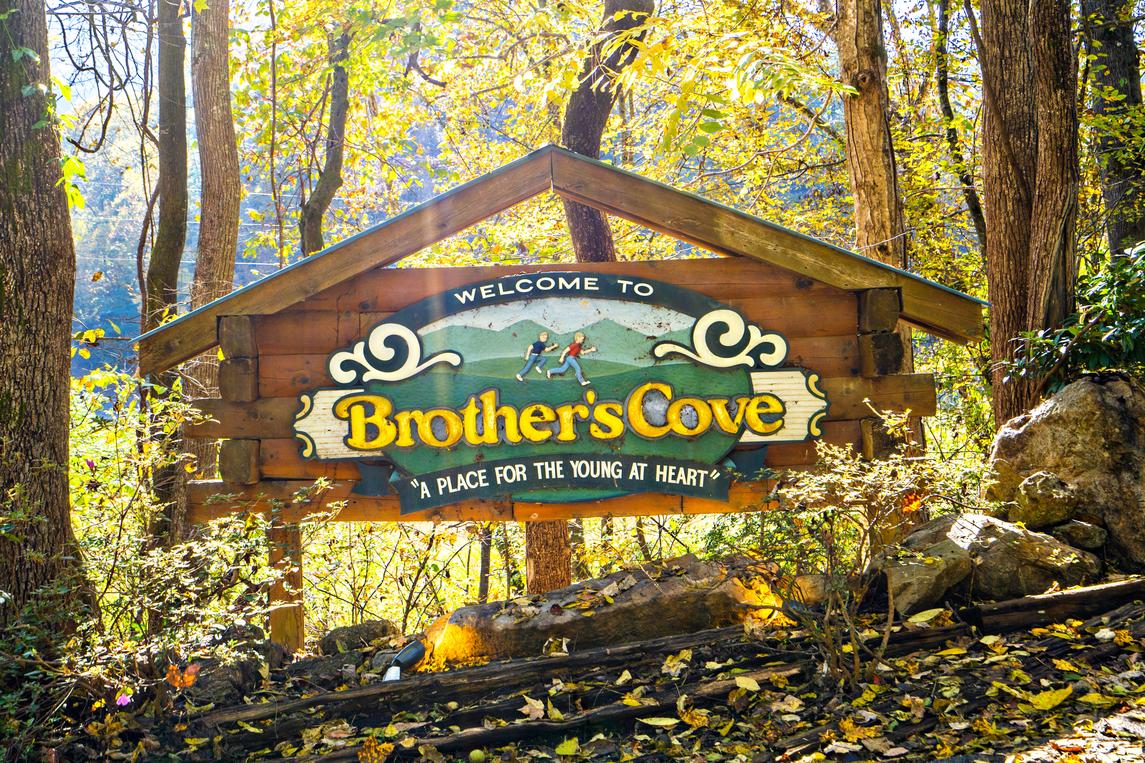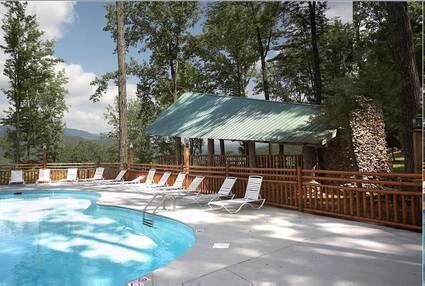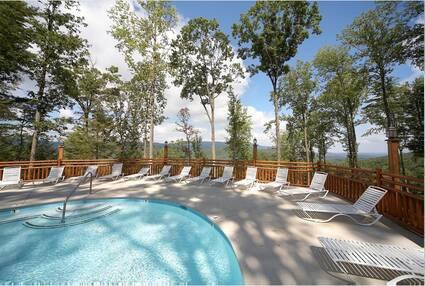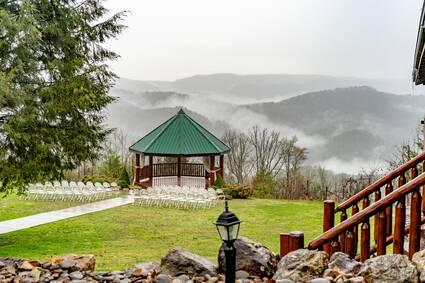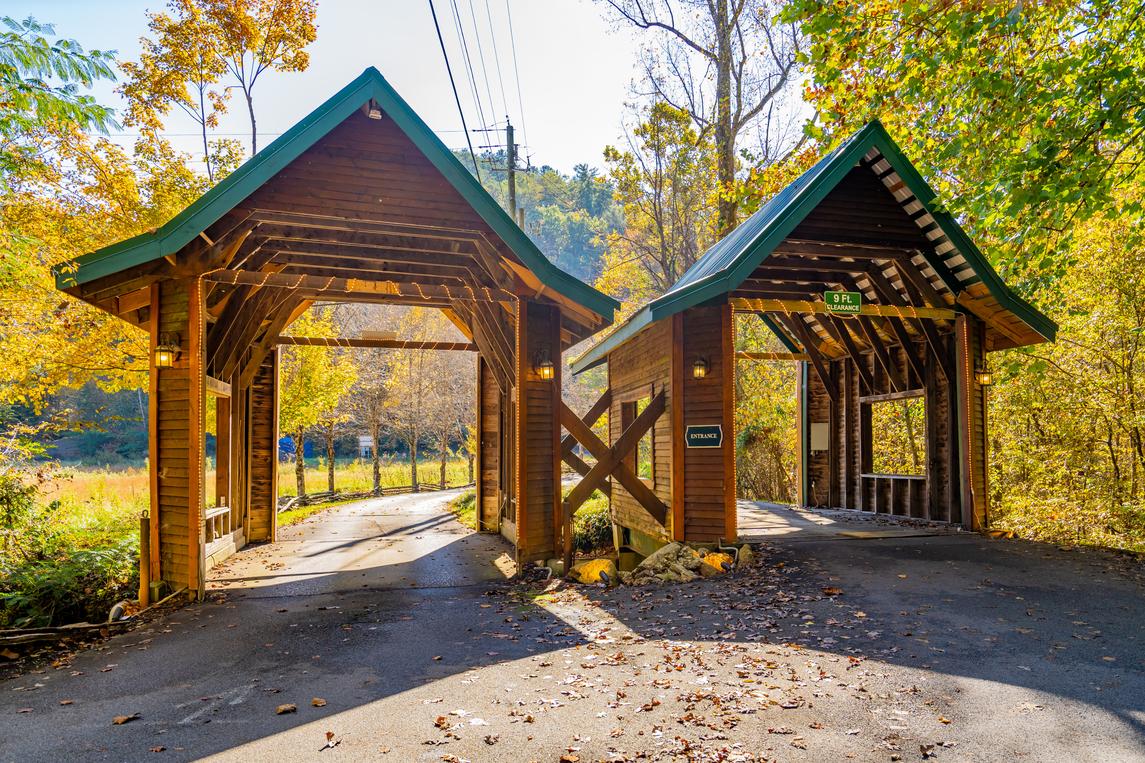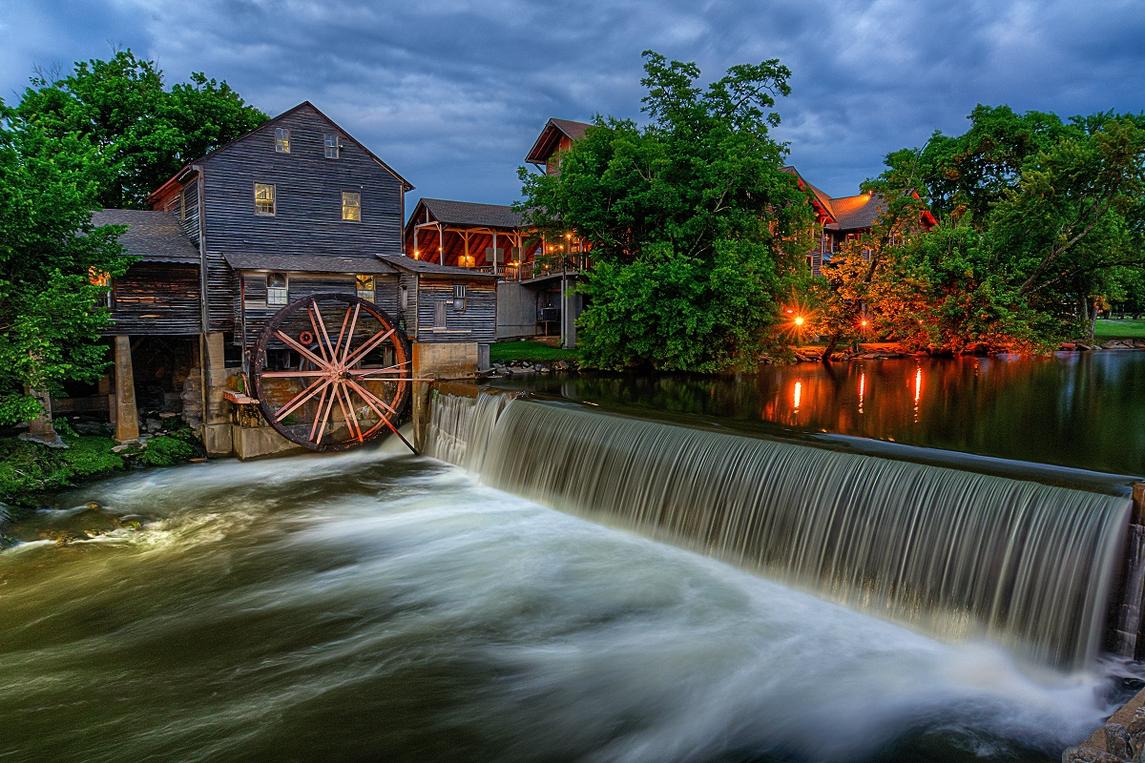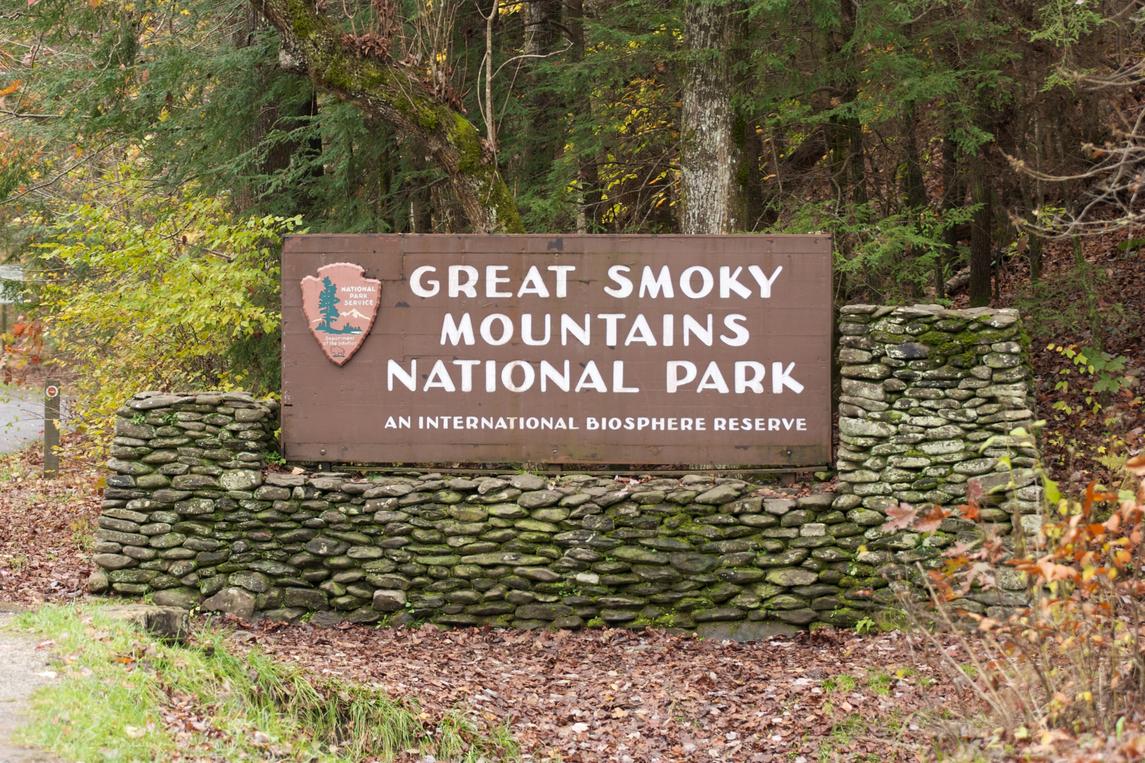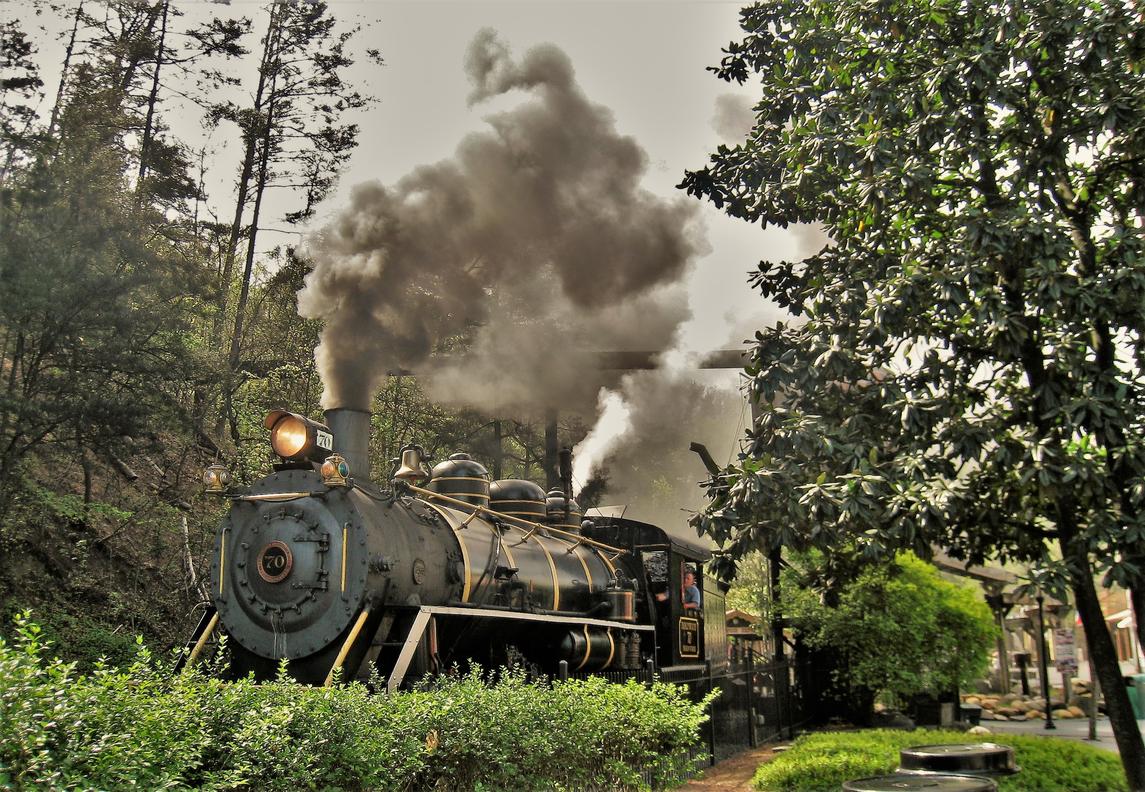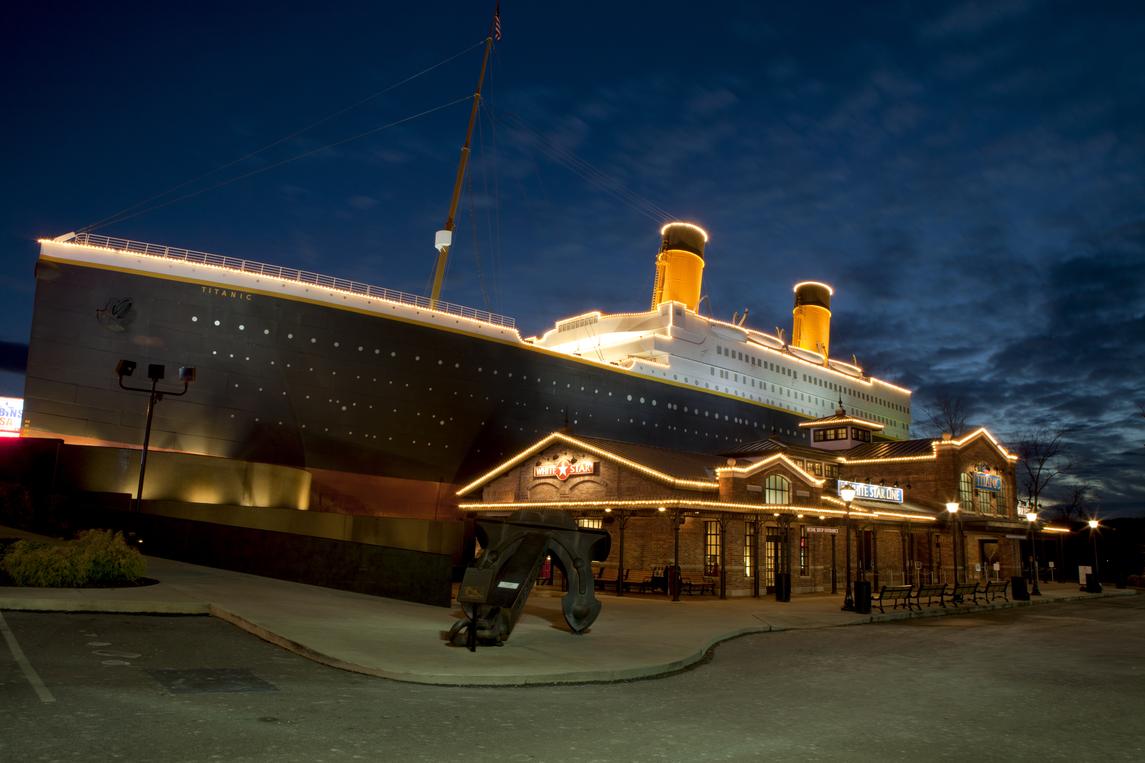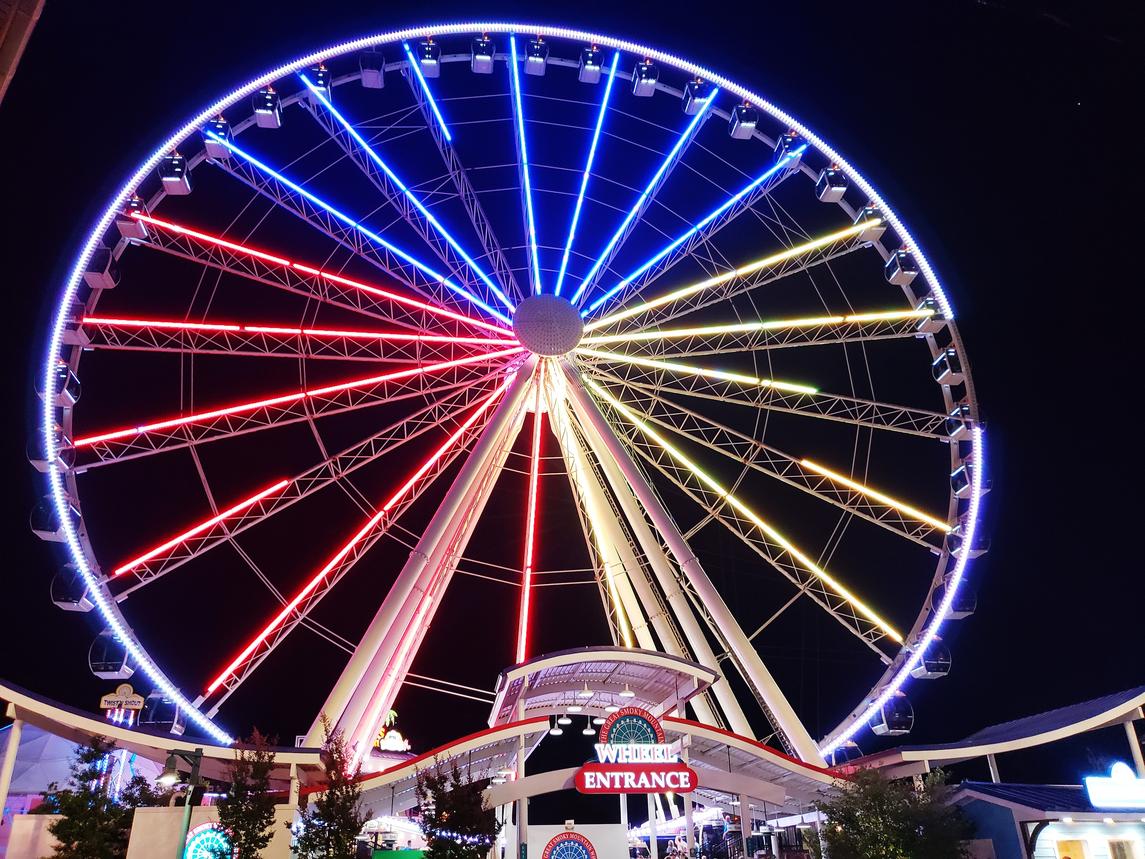 Description
Amenities
Reviews
---
"Brown Bear Lodge" is a beautiful 4-bedroom 4-bathroom that sleeps 12 with a grand game room. Under 10 miles from Pigeon Forge with paved Mountain roads. Located in the scenic area of Brother's Cove, a gated community that offers an outdoor pool, wedding venue, and gorgeous views of the Smokies. The main house you will be greeted with an open area of the living room and eat-in kitchen. The fully equipped kitchen has everything you need to cook just like you would at home and more with beautiful custom butcher board counters and stainless steel appliances. Gather around the dining table that seats 6 plus the kitchen bar that seats 4 more. After dinner snuggle up on the sofa which folds out to a sleeper sofa or reclining loveseat and enjoy a movie or the wood burning fireplace. There is a gorgeous King ensuite with a custom log bed frame that features a built-in bench, soak away in the jacuzzi tub with the gas fireplace lit. Plus this room has a private bathroom with a tub shower combination. Head out onto the main level deck and enjoy having a cozy fire in the outdoor fireplace while you take a dip in the bubbly hot tub. The second floor features an open loft with amazing mountain views with a pool table and a couch that folds out to a sleeper sofa. The 2nd large King ensuite has a gas fireplace, flat screen tv and a jacuzzi tub plus its own deck to enjoy the mountain views from plus a private bathroom. Up the spiral staircase you'll find a queen ensuite with amazing mountain views, a private bathroom plus a large deck to kick back and relax on while enjoying the sunset over the mountains. The final bedroom is a detached mother-in-law suite located behind the cabin. This suite has all the feelings of being a private villa in the mountains while still being right next to the rest of the family. This Queen suite features a kitchenette with a microwave, mini fridge and Coffee pot, A flat screen TV with a recliner and a bar style table for 2. The custom bathroom has a large Jacuzzi tub and custom vanity. Below the mother-in-law suite is an enormous gameroom with all you could hope for, between 2 virtual golf games, electronic darts, a star wars themed game, Mario kart and other arcade style games plus Air Hockey and Skeeball everyone will have a blast together. "Brown Bear Lodge '' is a gamer's paradise cabin is the perfect place to hide away in the mountains while still having all the amenities you could dream of with amazing mountain views. Don't miss your chance and book today!
Corey Adkins+
The cabi. was everything we could have wanted. After spending time in Gatlinburg or Pigeon Forge to be able to come back to the beautiful this cabin offers was a great way to start and end every day. The kids weren't the only ones who enjoyed the game room. Kids and adults all ended every night playing skee ball pinball and golden tee every night we were there. To top it off we had at least 1 bear walk by every day. Will definitely be going back.
Meeraben Tejani
Great cabin. Very clean. We have stayed here for 3 nights and had great great great time with family and friends. Yes, we saw black bear 🐻 came out to our cabin and kids enjoying seeing them. Overall great I am gonna visit this cabin again and again. Their view is awesome!!! Loved it
Quanthia Asberry
This Cabin was awesome.We did a couples geataway and everything was so nice.Game Room was awesome.This cabin is just right for a getaway to relax and party.We will be visiting again soon. QA
Brian Albanese
Wonderful cabin, clean and roomy!
Cristina C Smith
This cabin was perfect and so much fun to just chill in! Rental staff was very helpful and responsive.
mary bryant
A beautiful cabin with a spectacular view. Beds were comfortable and the cabin was roomy. This quickly become a place we didn't want to leave. Had to contact the office to get batteries for the remote and they were very quick to bring them. The kitchen was spacious and the grill on the deck was nice too. The game room fun, it was just a group of adults staying but it was like we were kids again. This was a very relaxing stay as we never left the cabin and we were there for 4 nights. I would definitely stay here again!! Loved it
Laura Jackson
Cabin was very nice! Great experience!
Candi Baza
Very nice . Our family loved it!!!
Beth-Ann Miller
This cabin was perfect for our family vacation. It had plenty of room for our family of eight. The views are absolutely beautiful and peaceful. The cabin has everything that you would need. We enjoyed the hot tub, pool table and game room! The best part of the trip was sitting outside each morning with a cup of coffee and each night with a glass of wine. We would definitely come back!
Stacy Dinger
The cabin is exactly as pictured. All of the rooms are spacious with great views. The back porch was our favorite spot. We would spend all day in town hiking or doing local attractions in Pigeon Forge or Gatlinburg and then head to the cabin to relax on porch. We were back to cabin before dark every night because the mountains are dark and some of the curves are tight but that is also how you get the best views. This cabin is one of the last on the mountain so you almost get a 360 view. Our only complaints are: water pressure in the showers were awful. We had four couples and we couldn't have more than one person in any given shower or the pressure was even worse. The other was the cooking pans. We made breakfast daily and none of the pans were good for cooking. Other than those two things we absolutely loved the cabin.
Tara Haley
Beautiful log home in the perfect location. We enjoyed the peaceful view and being so close to so many attractions and restaurants. It was the perfect family vacation. Thank you!
Natalie Louise Rankin
The only concern we had was there seemed to be exterior speakers for outdoors , but we could never figure out how they worked and it would be awesome if the water and ice worked on the fridge besides that this was are first time and we loved it and plan on doing it yearly . Thank you so much.
Jeffery Ramsey
The cabin was clean, well stocked and had a great view. We enjoyed the hot tub, pool table and swing. Great family trip.